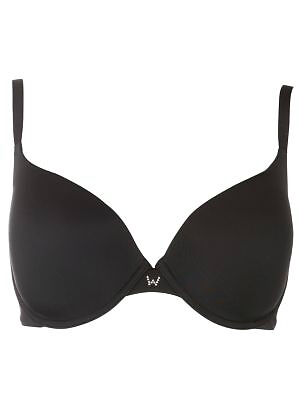 A good T-shirt bra builds an excellent foundation for clingy tops. T-shirt bras tend to feature smooth, full cups to shape, lift, and support breasts without adding underwear lines or lumps and bumps. These bras are practical and usually intended for everyday wear. However, this does not mean that they are available only in plain designs; T-shirt bras come in a range of colours, patterns, and sexy styles. The design of the bra generally depends on the part of the breast that needs shaping and support, on the wearer's body type, and on the style of clothing they will be worn with.
Several factors should be considered when shopping for T-shirt bras. The T-shirt bra chosen depends on the wearer's bra size and measurements, her breast and body type, and her personal tastes. The bra should be comfortable; a number of women find underwire bras too restrictive, while others prefer the added support. In some cases, a nude colour is more suited to the wearer's needs, as colours like beige do not show through light coloured tops and T-shirts. Some women love matching bra and knicker sets, or wearing dark coloured underwear with dark clothes. T-shirt bras are available from lingerie, clothing, and department stores, and online from sources like eBay.
How to Find the Correct T-Shirt Bra Size
The most important facet of bra buying is choosing a bra that fits. As measuring for a bra can be tricky, it is best to get fitted professionally. Many department and lingerie stores have specially trained, professional bra fitters to assist shoppers. Taking measurements for a bra should be done at least once a year, after weight changes, and when hormonal changes, such as pregnancy or menopause, cause changes to the body. Although professional fitting tends to be the most accurate option, bust measurements can be taken at home.
How to Take Accurate Bust Measurements
Two measurements are needed to calculate a bra size: the band measurement and the breast measurement. Taking measurements in or converting them to inches makes it easier to calculate bra size.
Band Size Measurements
Band size measurements are taken around the upper body, right underneath the breasts where a bra's band usually sits. The measuring tape should not be pulled too tight, but should be snug against the skin and held parallel to the floor. This measurement should be rounded up or down to the nearest inch. For example, a measurement of 31.5 inches should be rounded up to 32 inches and a measurement of 31.4 inches should be rounded down to 31 inches. If the rounded measurement is an even number, for example 32 inches, take an additional measurement by measuring around the back and across the chest, right under the arms. This measurement should yield an odd number one higher or one lower than the original measurement. For example, a measurement of 32.5 inches gives a rounded result of 33 inches.
Breast Measurements
Breasts are measured around their fullest part. The woman being measured can keep her bra on for this, provided it fits well and is not padded. To find the cup size, measure around the back and across the fullest part of the breasts. The tape measure should not be pulled tight and should be kept parallel to the floor. As with band size measurements, round the measurement up or down to the nearest whole number.
How to Calculate Bra Sizes
Bra sizes are calculated from bust measurements. To find the bra size, add five inches to the final rounded even number obtained when measuring for the band size. For example, a result of 31 inches plus 5 inches is equal to a 36 band size. To calculate cup size, subtract the band size from the rounded breast measurement. For example, a breast measurement of 38 inches minus a band size of 36 inches is equal to 2. Use the table below to identify the corresponding alphabetical cup size.
| | | | | | | |
| --- | --- | --- | --- | --- | --- | --- |
| Difference Between Band Size and Measurement | 1 | 2 | 3 | 4 | 5 | 6 |
| Cup Size | A | B | C | D | DD | E |
Bra sizes differ between styles and from one manufacturer to the next. The difference is usually within one cup and band size. For example, a woman who wears a size 36C from one manufacturer may also fit into a 34D or 38B from another. As is evident from this example, if the band size goes up one, the cup size goes down one. Similarly, when the band size goes down by one size, the cup size increases by one size. It is best to consult the seller for sizing guidelines.
Choosing a T-Shirt Bra According to Body and Breast Type
The wearer's body and breast type plays an important role in choosing a T-shirt bra. Fuller breasts need more support and less padding, while slender body types benefit from more padding and lift.
Breast or Body Type

Bra Recommendation

Full Bust

Rigid cups add shape and offer more support

Minimising bras decrease definition and make the wearer look heavy

Plus Size Figure

Wide band and broad shoulder straps offer more support and create a smooth look

Whole breast fits into the cup

Any underwire should sit flush with the breastbone

Average Figure

Moulded bra shapes the breasts without increasing bust size

Small Chest and Petite Figure

Petite bra sizes have best fitting bands

Push-up or padded bras enhance the cleavage and breast size

Uneven Breasts

Padded bra with padding removed on the larger side

Eliminate bagginess in smaller cup by shortening the strap

Sagging

Full cup bras add support and lift the breasts

Ensure band does not pull up, pushing the cups down in the process
A bra's support should come from the band mainly, not from the straps. If the straps cut into the wearer's shoulders, opt for broader straps and make sure the band measurement is correct. If the breasts spill out of the cups, choose a larger cup size. A well fitting bra should sit snugly between the breasts, with a band that is even with the cups. The breasts should fill the cups without bulging out of the cups or leaving them looking baggy. Opt for a low cut T-shirt bra if it will be worn with low cut clothing.
T-Shirt Bra Colours and Designs
T-shirt bras are available in a range of colours. Nude colours are the most versatile and beige can be worn usually with most colours. A white T-shirt bra should never be worn under a white or light coloured T-shirt as it shows through the material. Darker colours and colourful designs can be worn with dark coloured clothing. Matching knickers are often available, allowing the wearer to coordinate her look.
Finding a T-Shirt Bra on eBay
Searching for items on eBay is simple. Type a keyword or search phrase (for example "36B beige T-shirt bra") in the search box that can be found on any page to see the listings available. To narrow your selection, choose the most appropriate category and the required characteristics. Use the advanced search function to display more or fewer listings.
Before You Buy on eBay
Learn which eBay features tell you about the seller and the product. When buying clothing, particularly T-shirt bras, it is best to buy from sellers with returns policies.
Check the Seller's Feedback
eBay's seller feedback feature allows you to see how other buyers rate specific sellers' products and customer service. Detailed seller ratings provide additional information about aspects such as the seller's communication, the reasonableness (or unreasonableness) of postage and packaging fees, the accuracy of the seller's item description in the listing, and the amount of time taken for the seller to dispatch the item. Click on the number next to the seller's username to see the seller's detailed seller rating.
Check the Item Listing Page
The item listing page contains all the information you need to make up your mind about a seller and a product. This includes the item description, the seller's feedback and contact information, postage and packaging fees, the terms and conditions of the seller's returns policy, and the seller's accepted payment methods. If you have any questions about a listing, use the "Ask a question" link to contact the seller.
Conclusion
A good bra is a girl's best friend; this is doubly true of a good T-shirt bra. T-shirt bras are designed to eliminate bulges, bumps, and ridges created by lace or textured bras, while presenting a smooth, firm silhouette. This is achieved through sturdy construction and fuller cups, with broader bands that provide subtle, seamless support. A T-shirt bra should fit well and be comfortable to allow extended wear. The wearer's bra size must be available while shopping for bras. This can be obtained by taking measurements and working out the bra size at home, or by visiting a professional bra fitter.
T-shirt bras should be appropriate to the wearer's breast type and build. Some women require more padding, while others benefit from additional support. The bra's band should sit in line with the cups, the breasts should fill the cups without overflowing or leaving the cups baggy, and the middle should sit flush to the chest bone between the breasts. If this is not the case, then the bra does not fit and should be exchanged for a different style or size. Nude colours are generally more versatile than darker colours or patterned designs, and low cut bras should be worn with low cut clothing. A wide variety of T-shirt bras are available from eBay sellers and brands like Victoria's Secret.