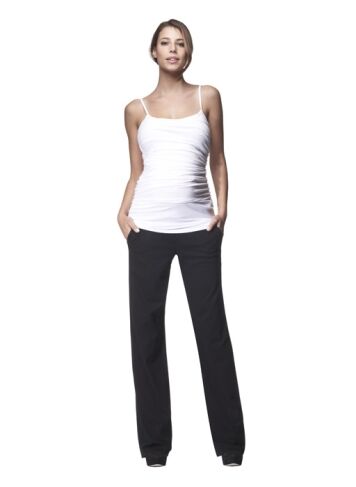 Tailored trousers are smart, elegantly cut trousers that are finished with details such as lining, hidden or covered buttons, and extended closures. They often feature creases along the front of the legs and are cut to define the figure and create a flattering silhouette. These trousers can be worn to work or for an evening out and are generally not suited for casual wear. Standard tailored trousers are cut with a mid to high rise, making them flattering on most body types.
The information contained in this guide can be used to choose the perfect tailored trousers. The wearer's measurements should be available while shopping and instructions on taking the necessary measurements are included, along with an approximate size guide to be used to establish the size range that should be considered. In addition to sizing, the length of the legs of the trousers should be taken into account, as well as cuts and styles that flatter particular builds and body types. A short overview of common fabrics used in tailored trousers is provided. The fabric chosen should be appropriate to the wearer's needs. Tailored trousers are available from clothing and department stores, and from online sources, such as eBay.
Measuring for Tailored Trousers
Having the wearer's measurements on hand while shopping makes it easy to find the right size in tailored trousers. UK clothing sizes are not standardised and tend to vary from manufacturer to manufacturer. As a result, taking accurate body measurements is the best way to find clothing that fits. Use a tailor's tape measure for the most accurate results. Measurements should be taken against the skin, while holding the measuring tape parallel to the ground and without pulling the tape too tight. For tailored trousers, the wearer's waist, hip, and inside leg measurements are needed.
How to Take a Waist Measurement
The waist measurement should be taken at the natural waistline, which is located at different points on different people. The natural waistline is the thinnest part of the waist between the navel and ribcage. If in doubt, ask the person being measured to lean to the side while standing. The body bends at the natural waistline.
How to Take a Hip Measurement
Hip measurements are taken at a point below the hip bones, around the fullest part of the seat. Measuring around the hip bones gives an inaccurate, often too small, result.
How to Take an Inside Leg Measurement
An inside leg measurement is used to establish the length of the leg and the corresponding trouser leg length. Measure from the crotch, along the inside of the leg, to where the bottom hem of the trousers should sit. This is often below the ankle bone, especially if the trousers will be worn with heels.
Fit Guide for Tailored Trousers
Tailored trousers should fit snugly, without being tight around the hips or seat. The hemline should sit an inch from the floor when wearing shoes. It may be necessary to buy two of the same pairs of tailored trousers and take up the hem of one pair to fall perfectly while wearing heels, and the other to fall just right when wearing flats. Consider the width of the trouser legs before buying. Straight and boot cut styles are flattering to most body sizes, but wide and skinny leg trousers should be approached with caution. For example, wide legs can make short women look bottom heavy, but look great on taller women.
Size Guide for Tailored Trousers
The size chart below can be used as a guide to find the wearer's approximate size of tailored trousers according to her measurements.
| UK Size | Waist (in) | Hips (in) |
| --- | --- | --- |
| 6 | 25 | 35 |
| 8 | 26 | 35 |
| 10 | 27 | 37 |
| 12 | 29 | 39 |
| 14 | 31 | 41 |
| 16 | 33 | 43 |
| 18 | 35 | 45 |
| 20 | 37 | 47 |
| 22 | 40 | 50 |
| 24 | 42 | 52 |
Sizes may vary from one manufacturer to the next. Where possible trousers should be tried on for the best fit. However, where this is not possible the wearer's measurements should be compared to the dimensions of the trousers. It is best to buy clothing from stores and sellers with returns policy in order to exchange or obtain a refund for ill-fitting clothing.
Trouser lengths are usually described as:
short, approximately 27 inches long
medium, approximately 29 inches long
long, approximately 31.5 inches long
If in doubt, buy tailored trousers that are longer in the leg as these can be taken up relatively easily. Trousers that are too short cannot be lengthened.
How to Choose Tailored Trousers by Body Type
Tailored trousers are meant to be flattering to the wearer's silhouette, but different cuts are better for particular body types. The table below lists the most common body types, a short description of the features of each, and style recommendations for finding flattering tailored trousers.
Body Type

Physical Features

Recommendations

Apple

Broad shoulders

Large bust

Undefined waist

Narrow hips

Avoid pleats in front, these accent the stomach

Avoid tight trousers

Choose flat fronts that fasten at the side

Choose slight flare low in the leg to balance the shoulders

Pear

Narrow shoulders

Small bust

Wide hips and thighs

Ample bottom

Avoid clingy fabrics

Avoid tightness across the hips and thighs

Choose flat front or soft pleats to accent the waist

Adjust if the waist gapes

Hourglass

Full bust

Bust and hips nearly the same width

Defined waist

Choose wide legs that drape well

Boyish

Small bust

Straight waist

Narrow hips

Avoid baggy trousers

Choose pleats to create the illusion of curves

Choose narrow fit to accentuate height
Shorter women should opt for narrow trouser legs as wide legs could make them look chunky. Higher waistbands and lower hems add length to the legs, and dark colours have a slimming effect. Plus sized women should avoid pleated trousers as pleats may spread and look unflattering. Trousers with more length in the legs may be required as larger builds tend to lift the hems.
Choosing the Right Fabric for Tailored Trousers
Fabrics made from natural fibres, such as linen or wool, breathe better and are often more durable than synthetic fabrics. However, blends offer a compromise between durability and price, and fabrics such as polyester, double knits, and wool blends are appropriate for office wear. Consider luxurious fabrics like silk or velvet for dressier events or evening wear, or opt for trousers with a rich sheen. Tailored trousers for formal and work wear should be in dark colours to make them more versatile. Casual tailored trousers are available in cotton and cotton blends, and commonly feature lighter colours or less formal patterns.
Finding Tailored Trousers on eBay
Finding tailored trousers on eBay is easy. Use the search bar displayed on every page and enter a keyword or phrase (such as 'black tailored trousers'). Narrow the search results displayed by choosing the most appropriate category and features. If you would like more control over the results displayed, use the advanced search feature. Many eBay sellers offer returns policies. Look for these sellers when shopping for clothing.
Before You Buy on eBay
Before you buy on eBay, learn about the item and the seller.
Check the Item Listing Page
The item listing page contains everything you need to know about the product and seller to shop with confidence. This page includes information about the seller's feedback and contact details, the item description, bidding and buying options, postage and packaging fees, the terms of the seller's returns policy, and the seller's accepted payment methods. If you have any questions about the listing, contact the seller by clicking on the 'Ask a question' link.
Check the Seller's Feedback Score
eBay's seller feedback feature allows buyers to leave feedback for sellers about their products and customer service. Detailed seller ratings include buyer feedback about a specific seller's communication, the reasonableness or unreasonableness of postage and packaging fees, the accuracy of the item description in the listing, and the amount of time that elapsed before the seller posted the item. This information can be accessed by clicking on the number next to the seller's username.
Conclusion
Tailored trousers are cut to flatter the wearer and create a sleek, smart silhouette, making them a firm favourite for office and formal wear. Detailed finishing includes lining, covered or hidden buttons, and extended or side-fastening zips and closures. Tailored trousers can be worn to work and dressed up for an after work evening on the town. Although they are usually formal wear items, casual tailored trousers are also available. These usually come in lighter colours and less formal designs and patterns. Tailored trousers are usually cut with a mid to high rise, which makes them flattering for most body types.
To find the perfect fit, have the wearer's measurements at hand while shopping. UK clothing sizes are not standardised and vary from manufacturer to manufacturer, but a sizing chart can be used to find approximate sizes. Trousers should fit at the waist and hips, and the bottom hem should fall approximately an inch from the floor. It is best to buy trousers that are a little bit too long as these can be taken up and customised as required. Certain cuts look better with particular body types and the wearer's build should be taken into account when choosing trousers. The fabric type chosen should fit the purpose of the trousers, with high sheen fabrics being more suited to evening than office wear and cotton giving trousers a more casual look. eBay sellers offer a range of tailored trousers suitable for a variety of body types and occasions.