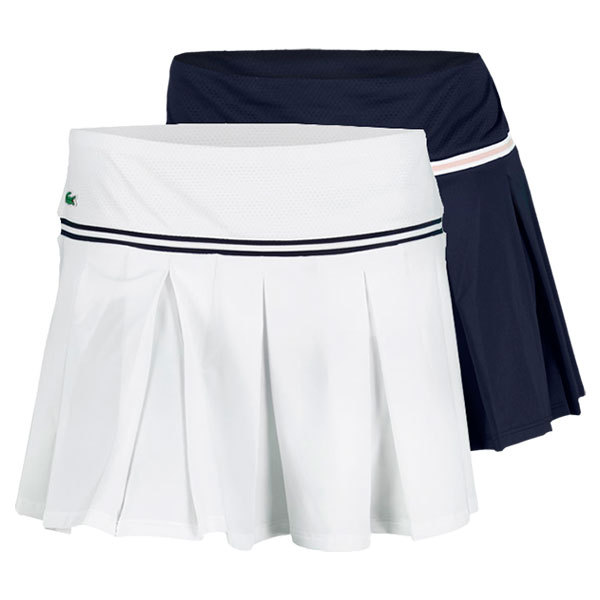 The average British woman is just under five foot four inches tall. Women are considered tall if they are over five foot ten inches tall: six inches more than the national average. Although many manufacturers and retailers offer clothing cut to suit tall women, choices are often limited. Short skirts do not suit all tall women and are not always in great demand, narrowing the available selection even further. One solution is to buy short skirts made for women who are of average height. However, the relative differences in proportion between women of average height and a tall women often lead to a poor fit.
When shopping for short skirts, tall women should consider factors such as their body shape, the effect they would like to create, and when and where the skirt will be worn. An understanding of the differences in the cut of clothing tailored for tall women assists in the buying decision, as does an understanding of how clothing cut for women of average height can be altered or adapted in the search for the perfect short skirt. Finally, some skirt colours and patterns should be avoided as they tend to create an unflattering look. Short skirts are available from department and clothing stores, or from online sites such as eBay.
Choosing a Short Skirt Based on Body Shape
Tall women, like shorter women, come in a variety of shapes and sizes. Some shapes are better suited to particular clothing styles. The table below lists a number of common body types and descriptions, with skirt style recommendations for each.
Body Type

Description

Recommended Skirt Style

Athletic

Long and lean

Slim, with small breasts and hips, and few curves

Avoid straight skirts without volume

Choose flared, A-line, bubble, puffball, full, pleated or ruffled skirts

Define the waist with a scarf or wide belt

Pear-Shaped

Hips and/or bottom are the largest part of the body

Breasts are small by comparison

Accentuate the waist

Choose A-line skirts fitted at the waist and flaring out below the hips to accentuate the waist and hide problem areas

Curvaceous

Hourglass shape

Large breasts and curvy hips and/or bottom

Wear straighter styles, like pencil skirts

Avoid skirts with pleats that start at the waistline as they may not stay folded

Wear a belt to accentuate the waist
In addition to the body's shape, the leg-torso ratio should also be considered. Some tall women have long legs and shorter torsos, some have longer torsos and relatively short legs, and others have balanced builds. A sash or belt strategically placed on the hips or around the waist can be used to balance the body. For example, short legs can be balanced by adding a wide belt to an outfit, and a sash belt lengthens a shorter torso. Printed fabrics draw the attention away from short torsos.
Using a Short Skirt to Accentuate or Minimize Height
Short skirts can be used to accentuate or minimise height. To flaunt long legs, wear a short skirt with high heels or high-heeled boots. A tailored pencil skirt worn with a fitted blouse also accentuates height, and an asymmetric hemline accentuates long legs. Women who want to minimise their height should opt for short skirts paired with flat shoes and tops that are not revealing. As fitted skirts tend to emphasise body length, these should be avoided by women who want to minimise their height. Creating horizontal lines across the body diffuses height, and a striped skirt can be used to achieve this effect.
Choosing the Right Short Skirt for the Occasion
Very short skirts are generally more suited to casual or party wear and are considered inappropriate for the office or boardroom. For professional wear, skirts should not sit much higher than the knee. A knee-length skirt looks great on a tall woman and allows her to show off her calves without revealing too much. When choosing a short skirt for party wear, consider fabrics that work well in the evening, such as satin and synthetics with added shine and lustre. Cotton, cotton blends, denim, and softer fabrics are more appropriate for casual short skirts. Stretch skirts are more suited to casual or evening wear, and stretch fabrics that hug the curves create a sexy, feminine look.
How Does Clothing Cut For Tall Women Differ from Clothing Cut For Women of Average Height?
The cut of tall women's clothing differs significantly from the cut of clothing cut for women of average height. For example, the backs of tops, jackets, and dresses are cut longer from the neck to the waist to accommodate longer torsos and the length of garments are lengthened proportionally from the waist to the hem. The bust shaping and arm holes are lowered and the sleeves and trouser legs are lengthened. In addition, hip shaping is positioned lower. Some short skirts, especially those with a more formal, tailored look, benefit from being cut for taller women, especially in stiffer fabrics. As the hip shaping is set lower, the skirt will be more flattering. Hip shaping that is set too high may cause unsightly bumps in the fabric and a poor fit.
Ruffled, casual, and puffy skirts cut for average women can be worn by tall women, provided the skirt is long enough. To measure the desired length of a skirt, measure from the natural waistline to the desired hem position on the leg. Consider buying an unhemmed skirt to allow the hemline to be adjusted. Mid-calf skirts designed for women of average height can be taken up, provided the cut allows for this. Remember to take the position of slits and pleats into account when buying short skirts intended for shorter women. While the slit may round off the skirt perfectly for a shorter woman, it could lead to indecent exposure for a taller one.
Choosing Short Skirt Patterns and Accessories
Tall women who are proud of their height should not be afraid to use large, chunky accessories and oversized bags to flatter their proportions. Bold, striking colours and simple skirts create the greatest impact; small, dainty patterns may become lost.
Finding Short Skirts for Tall Women on eBay
To find the perfect short skirt, type a search phrase or word (for example "tall skirt") in the search box that can be found on any page. Narrow your selection by choosing the most appropriate category and characteristics like colour and size. To increase or decrease the number of listings displayed, use the advanced search feature.
Before You Buy on eBay
Before you buy on eBay, get to know the seller and take a closer look at the item listing page. Consider buying from a seller who accepts returns.
Check the Seller's Feedback
eBay's seller feedback feature is designed to allow buyers to leave feedback about sellers' products and customer service. Detailed seller ratings give additional information about aspects such as the seller's communication, whether the postage and packaging fees were reasonable, how long the seller took to dispatch the item, and whether the item description was accurate in the listing. Click on the number next to the seller's username to find this information.
Check the Item Listing Page
The item listing page contains all the information you need about a listing. This includes the item description, the seller's feedback and contact information, the seller's accepted payment methods, terms and conditions of the seller's returns policy, and postage and packaging costs. If you require additional photos or any information about the item that is not contained in the description, then contact the seller using the "Ask a question" link.
Conclusion
Most British women are approximately five foot four inches tall. When it comes to clothing, tall sizes are designed for women who are at least six inches taller that the average. Most of the clothing offered by major retailers and clothing manufacturers is cut for women who are of average height, making the selection available for tall women fairly limited. Tall women can wear short skirts designed for shorter women, provided the skirts are long enough in the leg and cut in a way that will be flattering on a longer frame.
Understanding the difference between clothing cut for tall women and clothing cut for people of average height clarifies when it is best to shop in the section aimed at taller women. Although clothing can be altered to fit a taller person, care should be taken with features like slits. Body shape and build play important roles when shopping for short skirts, as clothing can be used to accentuate positive features and minimise unflattering ones. Belts and accessories can be used to help this process. The style of skirt and fabric chosen should be appropriate to the skirt's function, and the colour and pattern should flatter a taller frame. As with all clothing items, ensure that the seller has a returns policy in the event that the skirt is too short or otherwise does not fit. A range of short skirts for tall women is available on eBay.