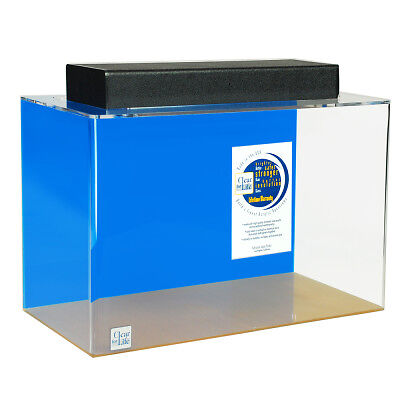 Introduction
Keeping fish is a rewarding hobby but before you commit to it you need to understand the elements involved including:
the ideal size and type of aquarium
the number and type of fish you intend to stock
the essential accessories
With the help of your local pet shop, it's also worth trying to estimate overall running costs including food and chemicals before you start your search on eBay. You'll need to be prepared to devote sufficient time to your fish on a regular basis so that they're able to thrive in a healthy environment. If your first aquarium is going to be a family purchase, make sure that all concerned understand that it will be a shared commitment.
Factors to Consider Before You Buy
Materials
Aquaria, or aquariums if you prefer, can be manufactured from either glass or acrylic panels. Each has advantages and disadvantages.
Glass is easier to clean
Glass is quite a bit heavier and has corners and edges that are prone to chipping.
Glass provides less insulation than acrylic but has greater rigidity
A glass base only needs support along the outside edges.
Acrylic is a lightweight material with smooth corners that are chip-resistant. Compared to glass, it offers a less distorted view of the fish inside but yellows over time and needs full-stand support under the base.
Shape of Aquarium
There are also choices here but the standard rectangular or bow-fronted designs provide the largest surface area in relation to tank capacity. Other shapes, for example cylindrical and spherical versions, distort spectators' view of the fish inside.
Size of Aquarium
There is a vast range of sizes available from a goldfish bowl to a 250 gallon public aquarium, but, as a beginner, you should opt for the biggest tank you can afford. There are some valid reasons for this:
A larger tank gives you the ability to upgrade fish stock without having to re-house those that are already established in their environment, thus reducing their mortality risk.
Larger tanks require less attention and are more forgiving of maintenance errors.
Fish appear to be healthier and happier when they have more room to manoeuvre.
As a general rule, the size of the aquarium can be calculated on the basis of one fish for each gallon of water. Start off with a 20 gallon tank, which gives you plenty of flexibility. The height of the tank should be no deeper than your arm's length to make it comparatively easy to maintain on the inside.
Buying Options
The list of components required to set up include:
an aquarium
a filtration system
thermometer
heater
thermostat
lighting
gravel
hood
stand
However, not all of these are essential at the outset (see the next section of this guide).
Accessories can be bought individually or as part of a package. It's worth costing the individual elements to see what kind of added value the package represents. If the discount is substantial, this route is worth considering. The only downside of buying an aquarium package is that you may want to upgrade some of the elements which might then negate the cost advantage longer term.
There is also a hybrid buying option whereby units are offered with a built-in filtration system and lighting to which you would then add any other accessories as separate purchases.
Accessories Explained
There are some essential accessories and others that are optional.
Optional items include lighting, hoods and stands. Lighting improves the visual attractiveness of the unit and can create stunning underwater effects, particularly if the background room lighting is relatively subdued. Hoods dampen domestic noise thereby creating a calmer environment inside the tank. They also minimise water evaporation and keep the enclosure secure from insects and other domestic pets. Stands are not essential for all aquaria but are advisable for those with a tank capacity of 20 gallons or over.
The essential accessories are:
heaters
filtration systems
gravel
decorations
Fish do not generate their own body heat so the water needs to be maintained at a temperature which is higher than that of the ambient room temperature. Aquarium heaters are supplied with a thermostat to keep the temperature at a pre-set level.
Filtration systems are absolutely essential to maintain the quality of the water and the health of the fish. These can be fitted at the side of the tank (power filters), submerged (canister filters) or positioned under the gravel (UG Filtration). Power filters and canister filters are generally easier to maintain. Gravel and decorations in the aquarium are also important in that they create an environment for the fish which imitates their natural habitat.
Decorations, principally rocks and plants, provide shelter and a hiding place as well as fulfilling a bacterial function which helps maintain water quality.
Positioning in the Home
Aquaria can be wall-mounted, built-in or free standing. Wall-mounted aquaria are slimmer and typically positioned at eye level. They are a convenient option in that fixing is secure and visibility good. Built-in aquaria can be difficult to access and maintain. They also provide little flexibility to change the design or capacity of the tank.
Free-standing aquaria are the most popular option. They need to be installed with the correct support and positioned near a power point and in a good viewing position. Avoid locating them in direct sunlight or close to radiators which could result in overheating. It's also advisable to keep aquaria away from internal and external doors which tend to create noise and disturbance. There is likely to be water spillage when you're carrying out maintenance on the aquarium so make sure the aquarium is not positioned close to household items that would be damaged by water, such as books or electrical items.
Guidelines for Stocking and Maintenance
Consult sellers on eBay to make sure that the aquarium set-up is compatible with the species of fish you intend to buy. When you buy the fish, make sure you check for any physical damage including split fins.
If you're buying an aquarium for the first time, it is sensible to start with just a few fish so that you can get used to feeding and maintenance regimes. Release additional fish in to the tank very gradually to help them to acclimatise. Carrying out this simple step will allow the bacterial population to increase in line with added waste production.
Do not over-feed, and scatter the food in small quantities, waiting for each portion to be consumed before you add more. To maintain water quality, avoid over-use of chemical additives. Aim to replace 25% of the water every month and clean the gravel at the same time.
How to buy Aquarium on eBay
Now that you know which Aquarium you want you can find them quickly and easily on eBay. To start shopping, go to the Pet Supplies category then the Fish portal. Click on the Aquariums/ Bowls/ Tanks sub-category portal.
While you shop, don't forget Fish, Filtration, Plants, Lighting and Heaters.
Categories
The Categories list on the left side of each page will help you narrow down your listings by item type.
Product Finder
Use the Aquarium Finder to quickly narrow down item listings by brand, model and condition (new or used).
Keyword Search
Search eBay listing titles for specific words. For example, if you want to find New Aquariums, type the keywords "Aquariums New" (without quotation marks) into the Search box. Click, "Search title and description" to expand your results. Visit eBay's Search Tips page for more tips on searching with keywords.
If you can't find exactly what you want, try browsing eBay Stores or tell the eBay Community what you're looking for by creating a post on Want It Now, or save a search on My eBay and eBay will email you when a matching item becomes available.
Buy Aquariums with Confidence
Make sure that you know exactly what you're buying and understand how eBay and PayPal protect you.
Know Your Item
Read the details in the item listing carefully.
Remember to add delivery costs to your final price. If you're buying a high value item, check that the seller will insure it until it is delivered to you.
If you want more information, click the "Ask seller a question" button on the seller's profile or the "Ask a question" link at the bottom of the item listing page.
Always complete your transaction on eBay (with a bid, Buy it Now or Best Offer) otherwise you will not be covered by eBay Buyer Protection.
Never pay for your eBay item using an instant cash wire transfer service like Western Union or MoneyGram. These are not safe ways of paying someone you do not know.

Know Your Seller

Research your seller so that you feel safe and positive about every transaction.

What is the seller's Feedback rating?
How many transactions have they completed?
How many positive responses do they have?
What do buyers say in their Feedback?
Are they positive about the seller?

Most top eBay sellers operate like retail shops and have a returns policy.

Do they offer a money-back guarantee?
What are their terms and conditions?

Buyer Protection

In the very unlikely event that you do not receive your item or it is not as described, eBay Buyer Protection covers your purchase price plus original delivery cost.