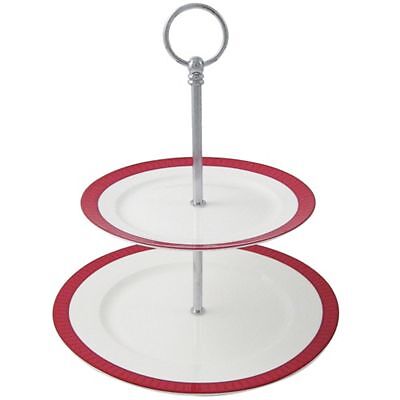 Cake stands make magnificent displays for a host of sweet or savoury delicacies. There are square and round tiered varieties, pedestals and ones with floating arms to provide a stunning display without taking up an inordinate amount of space. Cantilevered stacking sets with offset holes present an alternative to a tapered appearance. Cascading and stair styles are all within the realm of possibility for cake display. Although a tiered cake may appear to have one layer resting upon the one beneath, there are usually concealed structures like posts or struts providing hidden support.
In order to create a tower of cakes, layered on top of another, there are various important parts of a cake stand. A series of plates in graduated sizes will off the bases for the cakes to sit on. Sets offered for six tiers that can reach 3 feet high usually include 18in, 16in, 14in, 12in, 10, and 8in plates with the appropriate duplicates, supporting post selections and stand feet, a top nut and centre stand foot. These plates have a central hole to accept the supporting post which inserts into the plate above. The bottom, or base plate, has holes to accept peripheral columns around the exterior to provide the feet for the tower. Posts for full size cakes are longer than the posts for creating cupcake displays. In order to fix the cakes to the posts, the centre of the cake requires 'coring' to remove a plug and create a hole through which the post is positioned. Plastic, acrylic and metal varieties are all available.
Several styles use metal in an S-shape with platform resting on each of the curves to create three leaves in differing sizes. The makes the plates appear as if they are floating and are suitable for full size sandwich cakes and buns or muffins.
The plates of a porcelain cake stand have holes in their centres through which steel, screw thread posts are pushed. This makes the plate easy to dismantle for cleaning. A nut at the bottom of the base plate secures the post and washers separate the subsequent posts for each tier so they do not crack the china when pressure is applied. The top of the screw post often has an ornate handle, either in the style of a T-bar or a loop for carrying the cake stand to the table. Though most posts are simple slim rods, some have more ornate designs that reflect the ornamentation of the cake stand, mimicking the sweep and curve of candle holders. The plates on porcelain cake stands are available in decorative shapes such as hearts and lily pads, others have sumptuous lacy detail. If using a doily on a threaded porcelain cake stand, the doily requires a centre cross snip to allow the post to be threaded through. Centre posts of cake stands are not always metal screw posts. Some designs have made use of wood as the central support, tapering off in a conical shape.
Many porcelain cake stands have a base that is part of the stand. Famous china houses have produced cake stands with intricate base pedestals that flare out beneath the plate it supports. Some pedestals are separate bases upon which the matching plate sits. The plate base is either cradled in a lip or sits over the upper mount to keep it steady when in use. Some single supported cake plates come with a base like plate holders used for wall or standing displays. They are usually X-shape and each point has a 'clip' to hold the plate secure.
Ideal for children's parties are cartoon and Disney themed heavy cardboard stands with integral plates. Adult designs are also available for divas, car enthusiasts or cupcake fanatics. These kits come as flat packs and the central core threads through slots in the plates and splays out in a star shape to prove a well-balanced base. They are wipe clean items which are reusable.
Although cupcakes are easily displayed on regular cake stands, there are models specifically for their display. There are wire holds with multiple branches and coiled cups to hold the cupcakes. Other styles in porcelain have an arrangement similar to tiered porcelain cake stands with rods, but have dents like saucers for holding individual cupcakes rather than smooth surfaced plates.
Accessories
To enhance any cake display, frills, trims, and cases and doilies all contribute to the overall effect. Shiny, coloured foil containers add zing to a funky display. A plain cake stand will look spectacular if the cupcakes, fairy cakes or buns have enticing decoration. This may be achieved through icing or by decorative additions like rice paper butterflies or flowers, or a pretty stick with a themed decoration to match the bun cases. For larger cakes, artificial flowers or greenery add a special touch and won't contaminate the flavour, nor will they require hours in the kitchen being made from fondant icing. A drop of icing beneath an artificial flower or ivy trail will secure it in place while the cake is cut and served. Cake slices look elegant sat on a cake stand. Some styles are silver plated with patterns to match well-known patterns of silverware and cutlery. Others have ceramic handles to match the design of the cake pedestal or stand. The best cake slices have a wedge shape to lift a piece of cake so it won't crumble or lose any filling and a serrated edge so it can slice through sponges, madeira cakes, Battenburgs, and fruit cakes with the same ease. Comparison of Cake Tin Shapes and Sizes
CAPACITY

ROUND

SQUARE

Metric Litres

Imperial Pints

Metric Centimetres

Imperial Inches

Metric Centimetres

Imperial Inches

8

5 [basin]

14

5 1/2

1

2

18

7

5

5

2

2 [basin]

15 [in depth]

6 [in depth]

5 [in depth]

5 [in depth]

7

3

20

8

18

7

3

4

23

9

20

8

4

6

25

10

23

9

5

8

28

11

25

10

7

10

30

12

28

11

1kg [loaf tin]

2lbs [loaf tin]

18 [shallow tin]

7 [shallow tin]

13 x 23 [Swiss roll tin]

9 x 13 [Swiss roll tin]
Small Cake and Muffin Case/Tin Sizes
Cake Tin

Batter Capacity US cup

Batter Capacity UK fluid ounces

Diameter in inches

Diameter in mm

6-12 Standard size

1/4 – 1/3

2 – 2.8

5

Giant or Texas size

5/8

2

5

Miniature or Dainty size [gem pans]

1/8 [I tbsp.]

1 [I tbsp.]

- 2

Be aware when displaying muffins that the muffin tops will be larger than the tin diameter. Some Muffin-Top style tins/cups are 4 inches wide but only 1/2 inch deep. Fairy cake and mini fairy cake paper cases vary in size. Dimensions given are only approximate.

12 hole Fairy cake case sizes

Usually made as batch equivalent to the Victorian Sponge mix for an 7 inch sandwich tin. A standard ice-cream scoop will fill a fairy cake case – approx. 3 tbsp

Base: 2 height: 1.5 diameter across top: 3
Base: 2 height: 1.25 diameter across top: 2.75

Base: 50 height: 38 diameter across top: 80 Base: 50 Height: 32 diameter across top 70

24 hole mini Fairy cake case sizes

Base: 1.37 height: 0.7 diameter across top 2

Base: 35 height: 20 diameter across top 50
Cake Shape and Size
Cake shape and size will determine the cake stand size for display. Square and rectangular tins will produce a cake or tray bake that can be cut to bite-size pieces. Circular slices of Swiss roll can be displayed on any shape cake stand, pedestal or tiered, as can petit-fours and small buns, fairy cakes, cupcakes, or muffins. Novelty 'lollipop' cakes or French fancies on sticks have their own display stands. Layered squares, stars, and triangles have equidistant perforated holes through which the 'lollipop' stick is placed. These could be used equally well for small savoury titbits such as meatballs and canapés for an innovative presentation.
How to Find a Cake Stand on eBay
Begin by clicking the arrow beside Categories on the eBay homepage. This will open up a complete selection of categories on the site. First locate Home & Garden, click, then follow through to Cookware, Dining & Bar and then select Baking Accessories. At the bottom of the categories offered here, choose Other Baking Accessories where listings will appear along with suggested related searches to help refine choice. A different route to a search may be done through typing a pertinent word or phrase that eBay will look for in all its categories. For example, by typing into the main search box vintage cake stand, thousands of current results appear.
Conclusion
Whether trying to match a cake stand to an existing piece, or at least to coordinate with a tea set or dinner suite, there are plenty of choices available. Most cakes stands will come apart to some extent so they are easily stored despite their tall appearance. They are versatile and will look fabulous displaying any foodstuff in an elegant space-saving manner.