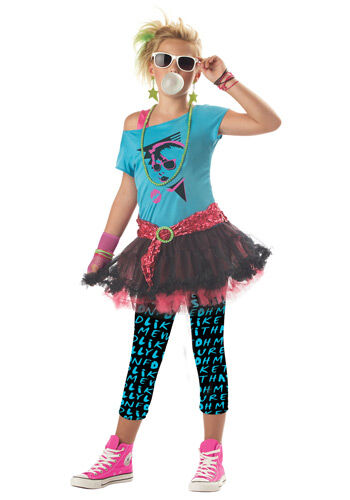 The 1980s saw significant global cultural and political change. The first Live Aid concert raised awareness of famine in Africa; Thatcherism sparked industrial change and violent protests; and the focus moved from the free love of the 1960s and 1970s to mass consumerism. The only thing bigger than women's shoulder pads was their hair, and perms became popular with both men and women. Punk, heavy metal, and glam rock left their mark on fashion and designer labels were much sought after. The impact and reach of television grew: MTV was launched, and American shows such as "The A-Team", "Airwolf", and "Miami Vice" gained popularity worldwide. Top films of the decade include "E.T. the Extra Terrestrial", the "Indiana Jones" trilogy, and "Top Gun".
In addition, the 1980s saw the advent of the video gaming and computing eras. Technological advances of the time were the Sony Walkman, microwaves, VHS video machines, CD players, and desktop fax machines. The cultural richness of the era makes finding 1980s inspired costumes for men relatively easy. To find a unique costume, consider people and things that made history and are synonymous with the era, including music styles and icons, films of the 1980s, and popular television programmes. These ideas lend themselves to costumes for individuals, groups of friends, and couples. 1980s inspired costumes can be homemade, found at specialist fancy dress and costume stores, or obtained from online sources, such as eBay.
1980s Music Inspired Costumes
A number of musical styles were popular in the 1980s. From punk to pop, this area era is rich with inspiration. Research the wearer's favourite performer or band, focusing on the best known media portrayals, to find the right costume.
Michael Jackson Costumes
Who can forget Michael Jackson's black and red leather trousers and jacket, the single sequined glove, sunglasses, and jheri curl from "Thriller"? The wearer should add the signature fedora and learn to moonwalk to add a hint of authenticity. Those who prefer a more subtle imitation can opt for a black suit, white shirt, and braces.
Punk Costumes
While the punk scene's roots lie in the late 1970s, the music and style gained momentum in the 1980s. Use a punk wig, tartan braces, studded collar and bracelets, and a leather jacket as the foundation for the costume. Add finishing touches such as clip-on jewellery, Doc Martens, and eyeliner to round off the look.
Rock and Metal Costumes
Draw inspiration from iconic bands like Guns 'N' Roses, Metallica, Iron Maiden, Slayer, KISS, and AC/DC for rock and metal inspired costumes. Choose a long, shaggy wig and bandana with tight fitting acid wash jeans for the Axl Rose look, or an adult size school uniform and cap to emulate the Angus brothers from AC/DC.
Hip Hop Costumes
The 1980s was the golden age of hip hop. Performers and groups like MC Hammer, Run D.M.C., and The Beastie Boys offer a wealth of costume ideas. An oversized necklace, large black framed glasses, a leather jacket, and black fedora can be used to transform the wearer into D.M.C.. while MC Hammer's trademark harem-style trousers are readily available.
1980s Film Inspired Costumes
1980s film hits include "E.T. the Extra Terrestrial", the "Indiana Jones" trilogy, "Top Gun", two "Star Wars" episodes, "Ghostbusters", "A Nightmare on Elm Street", and "Rambo". Before assembling a costume, take a trip down memory lane by watching a favourite 1980s film to perfect the details.
1980s Television Inspired Costumes
The 1980s spawned a number of TV programmes featuring manly men, including "Magnum P.I.", "The A-Team", "Airwolf", and "Miami Vice". These action packed American series became global phenomena, and offer a range of costume ideas. Children's programmes of the era include "He-Man and the Masters of the Universe", "ThunderCats", and "The Smurfs". Choose a favourite character, such as BA Baracus or Lion-O, or team up with friends to dress as a number of characters from a favourite show.
1980s Costumes Inspired by Toys and Video Games
The Rubik's Cube, while created in 1974, is an 1980s icon in its own right. Children and adults loved trying to solve this tricky puzzle cube. However, the decade was dominated by advances in computing and video gaming. The Mario Brothers, Donkey Kong, and Pac-Man featured in arcade games and, before long, these games could be played on home computers and gaming consoles. Choose an original arcade game hero or villain, or create a costume based on a popular toy or board game.
1980s Fashion Inspired Costumes
Towards the end of the decade, shell suits made their appearance. Create an eye-catching outfit with a brightly coloured synthetic shell suit and 1980s style wig. This costume can be adapted to his and hers, or group costumes. Alternatively, dress the wearer as a computer programming nerd, stock broker, or J.R. Ewing-esque Dallas oil magnate.
1980s Inspired Costumes for Couples
Many 1980s inspired costumes can be adapted or created for couples. For example, choose a film hero or villain and a leading lady, such as Han Solo and Princess Leia ("Star Wars") or Johnny and Baby ("Dirty Dancing"). Similarly, consider dressing as pop stars, like Michael Jackson and Madonna, or as cartoon characters, such as Smurf and Smurfette. For something different, consider notable events and people. Prince Charles and Lady Diana married in 1981 and this costume idea offers the female member of the duo an opportunity to dress elegantly.
1980s Inspired Costumes for Groups
A number of 1980s inspired costumes are great for groups. A group of friends can dress like the A-Team, or turn a wingman into the real thing by dressing as Maverick and Goose from "Top Gun". In addition, consider group costumes from:
"Ghostbusters"
"Star Wars"
"Miami Vice"
"The Smurfs"
"Mario Brothers"
"Pac-Man"
The focus does not have to be on heroes; also look at villain costumes. Pac-man lends itself to this idea beautifully, with one person wearing a Pac-man suit and the others dressing as ghosts.
Factors to Consider When Buying a 1980s Inspired Costume
In addition to the costume's theme, practical aspects such as fit and comfort should be taken into account. The wearer's approximate clothing size should be used as a guide when choosing the costume's size. Costume sizing is rarely an exact science and most are designed to fit men of average height and build. If the wearer is tall or has a larger build, ask the seller for specific measurements and compare these to the wearer's dimensions. Opt for stores or sellers with returns policies to ensure that costumes can be returned if they do not fit.
A costume that covers the whole body may become stifling after an hour or two and is not for everyone. It is best to consider the wearer's preferences before buying this type of outfit. Similarly, full face or full head masks tend to be hot and uncomfortable and are generally not practical when worn for extended periods. Choose a costume that allows the wearer adequate ventilation and freedom of movement.
Finding 1980s Inspired Costumes on eBay
Once you have decided on the perfect 1980s inspired costume, finding what you need on eBay is easy. Simply type a keyword or search phrase (for example "Michael Jackson costume") into the search box that can be found on every page to see the listings available. Narrow or expand your search by using the advanced search feature.
Before Buying on eBay
Before buying on eBay, learn about the item and seller. The item listing page contains all the information you need to shop with confidence. This includes the item description, the seller's feedback and contact information, bidding and buying options, payment methods, postage and packaging costs, and the terms of the seller's returns policy (if any).
eBay's seller feedback feature allows you to see what other buyers have to say about particular sellers' products and customer service. Detailed seller ratings provide additional information about the seller's communication, the reasonableness of postage and packaging costs, how long the seller took to send the item, and the accuracy of the item description on the listing page. Use the "Ask a question" link to contact the seller with any questions that you have about the listing.
Conclusion
The 1980s was a decade marked by cultural and political change. People moved away from the values embraced by the hippies of the 1960s and 1970s, and instead focused on making money and spending it. Designer labels, big hair, and flashy clothes characterise this period. To find the best 1980s costumes, turn to popular culture and events of the era for inspiration. Music, film, and television programmes offer a wealth of ideas. Video gaming, toys, events of the era, and technological innovation can be tapped for unique or original costume concepts.
Costume ideas can be expanded to include a partner, friend, or group of friends, with heroes and villains, both real and fictitious, offering numerous great costume ideas. In addition to the costume's theme and design, consider aspects such as comfort and fit. The costume should be comfortable enough to wear for at least a few hours without the wearer feeling claustrophobic or constricted, and it should fit properly. eBay sellers offer a wide variety of ready-made and partial 1980s inspired costumes.