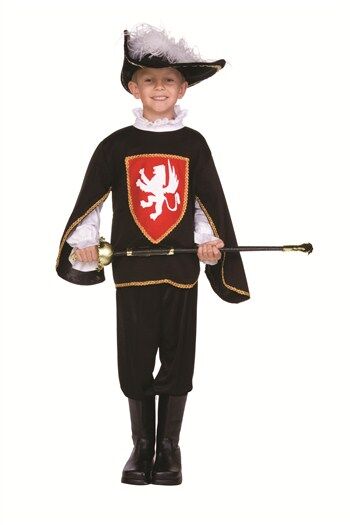 Whether worn for Halloween or during playtime on a regular day of the week, fancy dress costumes can be a great way for young boys to role play and explore their own imaginations and creative sides. With the diverse range of options in the market, boys and their parents can explore many different, unique takes on fancy dress costumes and find a choice that lets a boy truly unleash his inner storyteller.
While offline retailers and fancy dress shops may have a selection of items available, many consumers find the online retailer eBay to be among the larger and more comprehensive resources for finding boys' fancy dress costumes. On eBay, boys and their parents can look through scores of fancy dress costumes, accessing everything from classic Halloween looks to the latest trends. In addition to discussing the various categories of fancy dress costumes available for boys, this guide offers suggestions on how one can find a great costume for a boy on eBay.
Searching for Boys' Fancy Dress Costumes on eBay
There are several ways in which a parent can initiate a search for a boys' fancy dress costume on eBay. One can begin by running a search via the search bar found at the top of any page on the site. A general search term such as "boys fancy dress costume" can yield results that provide an idea of the overall range of options available. This also pulls up a number of related searches that can help narrow the selections for a costume. You can also use a specific term if you have a certain costume in mind.
Of course, to make a decision on a particular costume, it can help to have a clear understanding of the range of fancy dress costumes that are available for boys. The following section covers some of the more popular options of boys' fancy dress costumes available in the market as well via eBay.
Types of Boys' Fancy Dress Costumes
With the dynamic range of boys' fancy dress costumes in the marketplace, deciding on one can seem like a tall order of business. The following breakdown of the popular styles and categories of boys' fancy dress costumes is intended to help narrow down a search for a costume before initiating the buying process on eBay.
Animation and Video Game Characters
One of the popular categories among fancy dress costumes for boys is related to animated characters or video game characters. Many boys are excited about playing their favourite characters from the world of cartoons and video games, and parents can find an enormous number of options in this category. These costumes usually deliver a good deal of coverage, making them ideal for parents who may be concerned about trick or treating during cold weather. However, parents should keep in mind that some options come with weapon accessories.
Classic Halloween Characters
Another popular choice for boys' fancy dress costumes is one that delves into the fear factor that surrounds Halloween. These types of options can allow a boy to take on the role of a vampire, werewolf, zombie, or devil. This subset of boys' fancy dress costume can be slightly graphic and therefore intimidating for a child, so parents should carefully weigh their child's ability to levy a particularly scary look. There are some cuter options available that are usually marketed toward younger boys.
Storybook Characters
Every boy dreams about being a character from the world of storybooks. With the wide range of storybook character costumes out there, a boy can take on the role of anything from a knight to Robin Hood himself. These choices can be a great way to engage a boy's imagination and can work for Halloween or for playtime as well. Again, some of these options might come with weapon accessories; parents should carefully consider the selections if they are concerned about swords, bows and arrows, etc.
Superhero Costumes
Of course, no role can be more exciting and engaging for a young boy than that of a superhero. Classic super heroes such as Superman, Batman, Spiderman and Iron Man are tremendously engaging for many boys and become doubly so when a boy is allowed to play the part of his favourite action hero or super hero. Many of these items can come with masks, so parents should confirm that the child is comfortable with wearing a mask that can cover all or part of his face.
Animal Costumes
For boys who are especially attuned to the animal kingdom, animal costumes are another fun and creative option. Boys can wear a horse costume, a mighty lion costume, or even pretend to be a mythical dragon with these delightful options. These fancy dress costumes also make plenty of parents happy come Halloween, since they can be full-bodied and plush, providing added warmth during trick or treating.
Historical Costumes
Boys who are particularly entranced with history, including wars, may like to dress up as an historical character or figure with a fancy dress costume. These options can range across millennia and can include such choices as an Roman Centurion, a Viking, or even a Tudor prince. Parents might like to use this type of fancy dress to engage their child in a fun way to learn about a certain era through role playing and imaginary games.
Getting the Right Size in Boys' Fancy Dress Costumes
When selecting and purchasing a boys' fancy dress costume, it is important to get the size correct. Much like the clothing sold for boys, fancy dress costumes are typically sized in age ranges. However, the age ranges may be wider. If boys' clothing has two separate size categories for ages 8 to 9 and 9 to 10, the fancy dress costumes might place both sizes together in one category for ages 8 to 10. Fancy dress costumes can also be sized in XS, S, M, and L.
When looking for fancy dress costumes on eBay, a parent can verify the sizing with an individual seller. Parents can also use the following general size charts as reference when perusing listings:
| | | | | |
| --- | --- | --- | --- | --- |
| Age | 4-6 Years | 6-8 Years | 8 to 10 Years | 10 to 12 Years |
| Height (cm) | 110 - 116 | 122-128 | 134-140 | 146-152 |
| Chest (cm) | 58-61 | 63-66 | 69-72 | 75-78 |
| Waist (cm) | 55-56 | 57-59 | 60-63.5 | 64-68 |
By carefully taking a child's measurements and then cross-referencing them with this chart, a parent can get a general idea of the right fit of fancy dress costume for a boy. It is important to remember, however, that sizes can change from manufacturer to manufacturer, so sizes should be verified with sellers.
Tips for Wearing a Boys' Fancy Dress Costume
Parents should keep a few practical suggestions in mind when letting their son wear a boys' fancy dress costume for Halloween or during the colder months. Given how cold October can be, parents should consider having their child wear their Halloween costume with layers underneath. Thermal undergarments provide additional warmth without detracting from the lines of a costume. If a costume involves a weapon and parents feel comfortable letting a boy carry the weapon with his costume, parents should make sure that he knows how to handle the weapon safely, both for his own protection and the protection of others.
The Buying Process on eBay
Once you have decided on a fancy dress costume, you can run a search for it on eBay and begin looking at the individual listings in detail. If a listing catches your eye, click on its title to get to its detailed information page. On the listing's page, you can find important information such as a seller's available payment methods, shipping costs, and shipping times.
You may get to know a seller better by by clicking on the seller's name to access the seller's page. Learning about your seller is yet another crucial element of the eBay buying process, and one that can greatly improve your experience.
Evaluating Sellers on eBay
A seller's page on eBay provides important details about the seller such as the reviews and feedback that the seller has received from previous customers. You should look through a seller's past auctions, take into account the feedback received, and ask any questions that you feel need to be answered before choosing to go with a particular seller. In this way, you can help ensure the quality of your shopping experience on eBay.
Conclusion
Taking on the role of a character through a fancy dress costume is a wonderful way for a boy to explore his own imagination and try on a different personality. By playing the role of a knight, a cowboy, or an ancient king, he can engage his creativity, enjoy playtime even more, and make a big impression on Halloween or at a masquerade. While offline retailers can provide some of these options, parents can leverage no more dynamic resource in their search for a boys' fancy dress costume than the online auction site, eBay. On this website, parents can find almost any costume imaginable. eBay makes the process of finding a boy's fancy dress costume easy by enabling parents to carefully research their options and review past auctions and practices of sellers. With eBay's many functionalities, a parent can find the ideal fancy dress costume for a boy for trick or treating on Halloween, a masquerade party, or just for fun at any time of the year.