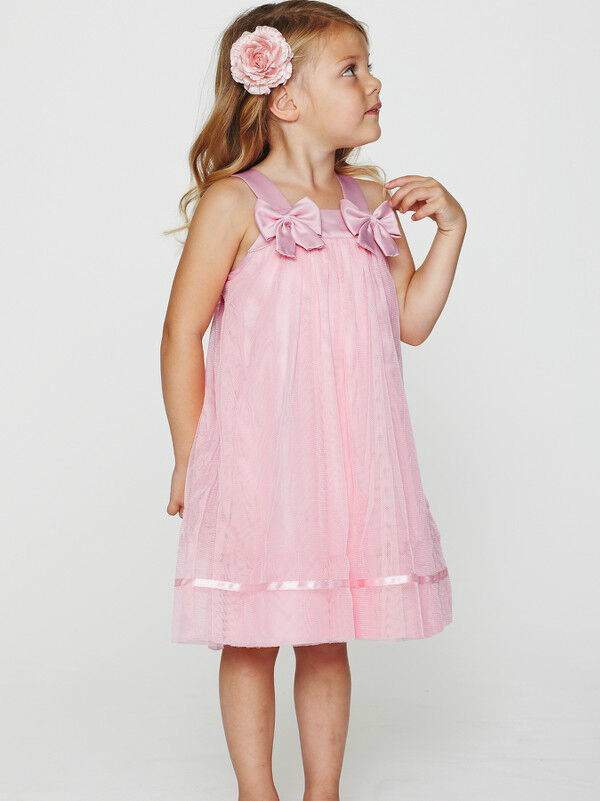 Nothing can be more thrilling for a parent or family friend than gifting a girl with a beautiful dress to wear. These charming items of clothing can help a girl feel stylish and grown up and come in a range of styles that can complement a girl's sense of style. From the classic pinafore dress to edgier, more modern options, girls' dresses are a unique way for girls to put their particular personalities on display.
While offline retailers and local shops can carry a limited selection of girls' dresses, online retailers such as the auction site eBay offer extensive catalogues of these items. On eBay, parents can find a wide array of dresses that can answer any need when it comes to girls' clothing. This guide offers information about the different types of girls' dresses available in the market, including options for summer and winter. Additionally, the guide provides tips on the process of finding and purchasing girl's dresses on eBay.
Shopping for Girls' Dresses on eBay
To shop for girls' dresses on eBay, a buyer can start off by running a search for dresses. A search bar is featured at the top of every page, providing customers with a quick and easy way to begin looking through listings on the website. If buyers want to get an overall idea of the girls' dress category, they can enter a general search term such as "girls dresses". If they wish to run a search for a particular item, they can enter a more specific term such as "girls plaid dress".
Of course, buyers should have a general idea about the overall looks and styles available in the world of girls' dresses to get the best results out of their purchasing experience. The following sections provide details on the popular dress options available in the market today and the range of looks and styles that can be achieved with these options.
Types of Girls' Dresses
There are a wide range of styles when it comes to girls' dresses. The following are some of the more prevalent options that have survived trend changes from year to year.
Smocked and Smock Dresses
Smocked dresses are loose and billowing dresses that have been dated to as far back as the 12th century in England. The smocked dress traditionally refers to a garment that features smocking, a stitching technique that creates an elastic-like structure at the bodice, neckline or arm holes.
The term "smock dress", however, can simply refer to a dress that follows a loose and flowing silhouette, such as a shift dress. These dresses emphasise a child-like look with their lack of structure.
Bishop Dresses
Bishop dresses are more formal options that are usually leveraged for significant events such as a christening or a communion. A bishop dress often features a smocked collar that evokes the look of a bishop's collar, as well as small, capped, puff sleeves. The bishop dress traditionally features a very straight bottom hem as well.
Shift Dresses
Girls' shift dresses are loose-fitting dresses that follow a straight line or an A-line and usually end at a straight hem around the knees. These comfortable dresses are often sleeveless and make great options for summer and spring wear.
T-shirt Dresses
T-shirt dresses are comfortable cotton and jersey dresses that mimic the cut and style of a traditional T-shirt with a skirt element integrated with the design. These casual pieces are excellent daytime and schoolwear choices, giving girls a level of comfort and ease that other dresses do not always extend.
Pinafore Dresses
A pinafore dress traditionally features a pleated, apron style front and can come with two square shoulder straps and no sleeves. In the modern world, however, the term pinafore can refer to any jumper-style dress that follows an A-line cut from the bodice to the hem. Pinafore dresses are good "in-between" dresses in the sense that they can work comfortably in both formal and casual environments. They are also quite common as a core element in school uniforms.
Party Dresses
Party dresses are a wide and diverse subset of girls' dresses. What these dresses have in common is a focus on a formal look and upscale design elements. Party dresses are often found in satin, silk, or velvet and can feature embroidered detailing and lace accents. Party dresses can also come with tulle underskirts or other elements that give the skirts of these dresses a formal structure. Other detailing accents include ribbon ties at the waist or a bow detail on the front just below the bodice area.
Summer vs. Winter Options in Girls' Dresses
While certain looks such as a floral work better in summer or spring than in the colder months, in general, girls' dresses can be worn at any time of the year when properly accessorised. Many sleeveless formal dresses, for example, can be worn in the winter with a jacket for the outdoors or a small dress cardigan indoors. While the fashion rule is becoming more flexible, white dresses should be reserved for the summer or for the role of flower girl in a wedding.
Getting the Right Size in Girls' Dresses
When purchasing a dress for a girl, it is important to make sure that the size is right. Girls' sizes are generally categorised by age groups: 3 to 4, 5 to 6, 7 to 8, 9 to 10, and 11 to 12. These age group sizes can also be referred to by a single number: size 4, size 6, size 8, size 10, size 12, size 14, and size 16.
To determine the right size for a girl's dress, the following measurements should be taken:
| Measurments | Description |
| --- | --- |
| Height | The girl should stand with her feet together flat on the floor and wearing no shoes. With her standing as straight as possible, measure from the top of her head to the floor. |
| Chest | Use a tape measure to get the girth of the chest just under the arms. |
| Waist | Use a tape measure to ascertain the girth of the girl's natural waistline. |
To ascertain the correct size in a dress for a girl, a parent can run these series of measurements and cross-reference them with the chart below. It is important to note, however, that these are just general guidelines and that sizes can change from manufacturer to manufacturer.
| Measurments | Value | 3-4 yrs | 5-6 yrs | 7-8 yrs | 9-10 yrs | 11-12 yrs |
| --- | --- | --- | --- | --- | --- | --- |
| Height | cm | 104 | 116 | 128 | 140 | 152 |
| Chest | cm | 56 | 61 | 66 | 72 | 78 |
| Waist | cm | 53.5 | 56 | 58 | 62 | 64 |
By taking careful measurements and using this chart to place a child within a size range, an adult can find a dress that is an ideal fit for any child. Given the speed with which children grow, it is advisable to buy one size larger than a child's current measurements to accommodate for a growth spurt.
Buying Girls' Dresses on eBay
Once you have a clear idea of the style of girls' dress you wish to purchase on eBay, you can begin looking at listings in detail. After you run a search for your item, begin clicking on the titles of listings that look appealing to you. This takes you through to the details page for the listing. On this page, you can find crucial information about the product, the shipping costs involved, and the payment methods accepted by a seller.
Evaluating Sellers on eBay
On the details page of each listing, you will also see the seller's name listed. By clicking on this name, you will be taken to a profile of the seller that can give you important insight to the seller's practices. When shopping on eBay, it is important to familiarise yourself with sellers to help guarantee the quality of your experience, so review the sellers' profiles to get to know their track records.
You can also learn more about a seller by looking through past auctions and reviewing the feedback the seller has received from other customers. You may even want to leave feedback of your own after your buying experience to help enhance the information available for future customers.
Conclusion
Girls' dresses are a fun and creative way for young girls to begin exploring fashion and dressing up. With the wide array of styles available on the market today, adults can find any number of dresses to suit a particular girl's needs and personality. Everything from jumpers to fancy dresses can be found in a diverse range of prints, colours, and fabrics via offline and online retailers. While offline retailers may have some diversity in their offerings when it comes to girls' dresses, online auction sites such as eBay provide a much larger and expansive collection of these garments. On eBay, an adult can search through countless listings in any subset of dress style for girls and even explore options they had not even considered before, thanks to the site's extensive range of options. By running a search and then carefully reviewing interesting sellers, consumers can leverage eBay as the ultimate tool in their search for girls' dresses.