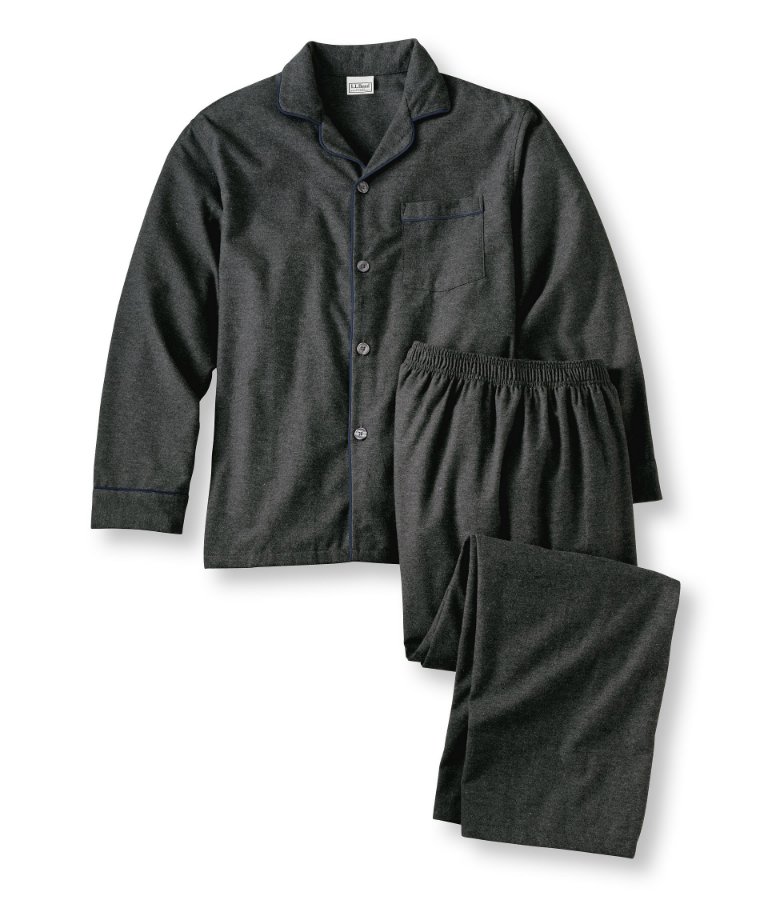 The right kind of men's nightwear can make the difference between a good night's sleep and a restless one. While some men prefer wearing minimal clothing while they sleep for maximum comfort, others opt for nightwear that is more substantial in design and can double as loungewear around the home. Nightwear often includes pyjama sets, footed pyjamas, and lounge pants amongst other types.
Men's pyjama sets contain both a top and bottom half. These separates may vary in arm sleeve and pant sleeve lengths. While some pyjama sets feature a matching top and bottom, others may consist of a simple plain coloured T-shirt paired with more elaborately designed bottoms. Popular sets are plaid in design and contain a loose fitting button up long sleeve top.
Although commonly associated with kidswear, footed pyjamas can also be found in adult men sizes. These pyjamas are one-piece and cover the entire body, including the feet. They are ideally worn in environments where colder weather is a factor. Footed pyjamas may be made of polyester fleece or terrycloth and generally feature a zip or snap fastening which runs from the waist to the neck. The bottom of the footed pyjamas typically feature vinyl fabric in order to prevent slipping while walking.
Lounge Pants are ideal for men who prefer both comfort and modesty. These pants can be worn for lounging purposes around the home as well as to bed. They are constructed of lightweight fabric such as breathable cotton or stretchy rayon lycra blends and often feature a drawstring or elastic tie. These pants may or not be paired with a T-shirt for increased coverage.
Men's nightwear is made to ensure ultimate coziness and comes in a wide array of styles, materials, colours, and designs. While material is ultimately a matter of personal preference, many men may choose to match their nightwear to that of the season. During the warmer seasons men may opt for a breathable cotton blend and in the autumn and winter, men may select more insulated pyjamas such as flannel or wool. Other pyjama material includes nylon and silk, although these choices are more difficult to care for. Patterns range from solids and stripes to intricate designs such as those related to sports teams and hobbies. The length of the legs and well as the sleeves can often vary depending on a man's personal preference and sleeping environment.
eBay is an excellent resource for buying men's nightwear. This guide will help buyers to take the proper steps needed to make an informed purchase.
How to Find Men's Nightwear on eBay
Men's nightwear can be found through various means on the eBay website. From the eBay homepage, buyers can use the search bar to conduct a search for "men's nightwear". This method is likely to result in a large number of listings, so if buyers have a specific idea about the type of nightwear they would like to purchase they should include additional search terms which will help to narrow their results, such as footed pyjamas, boxer shorts, or lounge pants. Once on the search results page, buyers may further filter their search by subcategory listings. These subcategory listings give buyers the option to choose between new nightwear and used nightwear, to search within a limited price range, and to search by item location.
For those who are unfamiliar with the various types of nightwear available, eBay offers an easy to navigate category search option. By following the provided category links, buyers will be lead to their correct destination. This is often the preferred way of searching as it allows buyers to see the presented options that they may have otherwise missed.
Narrowing Men's Nightwear Results on eBay
The number of search results for men's nightwear can be vast. Although eBay's large selection of products is often the main reason buyers are attracted to eBay, with so many choices, it may be difficult to settle for just one. Fortunately, eBay has filters in place, allowing for easy navigation of the site's features.
Searching by Condition
Many buyers seek men's nightwear that fits a particular condition. Nightwear can be found in a new condition, meaning that the item has not been worn previously and may even have its original tags. Buyers who only want to buy unworn nightwear should select the "New" box while buyers who are willing to buy previously worn nightwear will find appropriate items by selecting the "Used" box. This is often a matter of personal preference although used nightwear can often be found at a lower costs than that in a new condition.
Although you'll often be drawn to a listing by pictures of the item, always be sure to read the detailed item information before making a purchase. Sellers must use standard terminology to describe the condition of their items, as outlined in eBay's item condition look-up table, and each listing will include a brief definition of the item's condition in the Item Specifics section. If there are any queries about the item that are not answered in the item description, such as the seller's refund policy, then the seller can be contacted using the Ask a question link on the listing page.
Searching by Location
Depending on one's budget, buyers may want to limit their search to items that are being sold close to home. To find local sellers, buyers can filter the listing pages by item location. This allows buyers to limit the distance from a specific postcode. By using the Sort feature, buyers can arrange listings by distance in order of nearest location.
Postage and packaging costs can be expensive, especially if the nightwear is heavy. Factoring in postal insurance to protect the value of the nightwear adds to the cost. Therefore, if possible, it may be beneficial to arrange a local collection of the nightwear to ensure safe delivery.
Buyers should always communicate clearly with the sellers to see if they allow local collections. This information may be listed under the item description. While some sellers may not allow this delivery type, others are willing to work with buyers to ensure a positive transaction and to help to eliminate postage, packaging and insurance costs.
Buy Men's Nightwear with Confidence
Before making a purchase, buyers should always examine all listing images for signs of wear and tear to the men's nightwear. Listing photos can provide helpful insight to the buyer and let them know exactly what they are bidding on. If additional images or information is desired, the buyer can request this from the seller. The majority of good sellers will be happy to provide additional information in order to promote a positive transaction. However, it is possible to end up with nightwear that is not as the buyer had expected. To prevent being left with an unreturnable item, buyers should purchase men's nightwear from sellers that accept returns. It is also important to remember that postage and packaging costs are typically non-refundable. Information regarding returns and exchanges are generally included within an item description. If the description does not discuss the returns policy with respect to the nightwear, buyers should contact the sellers to ask about this important detail before committing to a bid.
Check a seller's feedback rating before purchasing men's nightwear. Ratings are determined by information provided by other sellers within the past 12 months. This information, along with the number of transactions a seller has completed, can offer insight into the level of service a seller provides. Upon receiving the men's nightwear, the buyer can leave feedback for the seller. This can help worthy sellers find new customers, or it can provide useful information about unprofessional eBayers. If you are dissatisfied with the nightwear, contact the seller to see if a resolution can be reached before leaving negative feedback.
Conclusion
Men's nightwear comes in different styles. Choosing the best type is simply a matter of personal preference. Some men may prefer the ease of boxer shorts because they can simply slip out of their jeans and are ready for bed; whereas, others may opt for lounge pants or pyjama sets as they are more modest in design and can be worn around the home or even for opening the door for a delivery. For optimum comfort, men should also consider fabric choice when deciding on pyjamas. Some material is better suited for the summer months while others provide warmth to the wearer on colder evenings. The selection of men's nightwear listings available on eBay is far larger than many other retailers can offer. Whether buying men's nightwear for one's self or as a gift, eBay offers buyers a wide selection of the most unique nightwear at some of the best prices. The category listings on eBay are designed to help buyers to narrow down their options, although buyers are free to input their own search details as well using the keyword search. Whichever route one decides to take, buyers should always familiarise themselves with a seller's returns policy and eBay's feedback rating system before placing a bid. Doing so helps to ensure a positive transaction and a pleasurable online shopping experience.