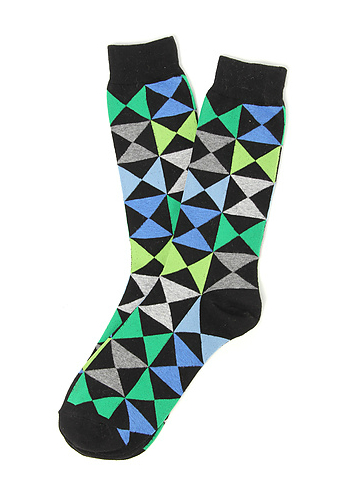 Men's novelty socks aare designed to be unusual in design, in addition to their intended, functional purpose. These socks not only provide comfort, warmth, and protection to the feet, but they signal that the wearer does not take himself too seriously, or at least that he feels obliged to wear a gift from a much-loved friend or relative. Men's novelty socks may rise to the ankle, calf, or knee. Longer styles extend well past the wearer's knee, reaching mid thigh. Most novelty socks are knitted, while others are crocheted or woven with patterns or other intricate designs. Men's novelty socks are found in a wide array of materials including silk, wool, cotton, nylon, and hemp. They are a great way for men to express their creativity and individual style.
Humorous novelty socks make a great gift. In order to help buyers to find men's novelty socks either for himself, a friend, or a loved one, this guide will discuss the various types, provide an insight into things to consider when buying, explain the features of men's novelty socks and how to care for them. Finally, it will suggest ways to search for and buy men's novelty socks at retailers such as eBay .
Types of Men's Novelty Socks
There are many types of men's novelty socks. Finding the perfect pair depends solely on the wearer's preference, personality, and style.
Sock Slippers
Sock slippers are a thick pair of socks that contain non-slip bottoms. Some have vinyl or rubber non-slip lines, whereas others have a thicker suede or leather sole. Sock slipper bottoms can also feature memory foam soles for increased comfort. These socks can be worn independently around the house as a pair of slippers, or with a pair of shoes for outdoor use. Sock slippers are known for their comfort and warmth. They can be found in a wide array of colours, sizes, and styles. There are many different brands of sock slippers which vary according to price and quality. Buyers should always read online reviews before deciding on a specific make. Most sock slippers are made of cotton, nylon, or a synthetic blend, but others can be found in fleece and wool. Fleece and wool sock slippers tend to be more expensive and often require special care, but these fabrics are known for their exceptional warmth.
Argyle Socks
Argyle socks are a form of casual wear. These socks feature a diamond shaped multi-coloured pattern which runs along the outer sides of the socks or just around the tops. Colours range from shades of blacks and greys to more outrageous looking pinks and greens. Men's argyle socks are most often associated with golf wear, but are also given as novelty gifts because of their unique pattern.
Toe Socks
Toe socks are knitted to contain a separate compartment for each toe, making them similar to mittens, but for the feet. These socks come in a wide array of colours, designs, and lengths. Some contain non-slip bottoms. In addition to their unique style, toe socks can help to reduce friction between the toes by preventing them from rubbing against each other. This ultimately hinders the forming of blisters.
Consider Fabric Quality
When buying men's novelty socks, buyers should consider the quality of the sock fabric. Some cheaply woven socks may develop signs of wear and tear quickly, but higher quality socks will be able to last for a longer time.
Buy in Bundles
Most novelty socks are sold as a single pair, but some may come in a pack . Buying a three or six pair pack of novelty socks is generally more cost efficient than purchasing each pair separately. As a man's sock size is unlikely to change, purchasing in bulk is not a bad idea, although multiple pairs of novelty socks may lose their ability to amuse over time.
Consider Sizing
As with other fashion garments, men's novelty socks vary in size. Some designs are labelled with the shoe size, whereas others are designated from small to extra-extra-large. When judging the correct fit for a man's feet, a size guide should use to match the man's shoe size to the appropriate sock size, as seen in the chart below.
| Sock Size | Shoe Size |
| --- | --- |
| Small | 2 - 4 |
| Medium | 4 ½ - 6 ½ |
| Large | 7 - 9 |
| X-Large | 9 ½ - 11 |
| XX-Large | 12 ½ - 15 ½ |
As with all garments, novelty sock sizes may vary between manufacturers. So, it is always best to consult a specific product's size guide before making a purchase. In addition to shoe size, some manufacturers may take into account other factors such as ankle and calf circumference. Others may use a one size fits all standard. This is a good option if the buyer is purchasing novelty socks as a gift and the recipient's shoe size is not known.
Features of Men's Novelty Socks
The word sock comes from the Latin term, soccus. These soft shoe accessories were first worn by comic actors in the Roman Empire. Therefore, it is only fitting that socks are sometimes humourous. Whether the novelty socks are for everyday wear, a holiday or a good laugh, they can be found in many unique patterns and designs. Christmas socks may feature a picture of Father Christmas, a reindeer, or trees and baubles; Halloween socks may contain the image of a witch, a pumpkin or be striped black and orange with the word "boo". For sports enthusiasts, novelty socks can be found in various club colours or containing a club logo. Novelty socks can also contain pictures of popular animated characters, such as The Simpsons, or funny quotes.
Men's Novelty Sock Embellishments
Embellishments can enhance the physical appearance of men's novelty socks. Socks containing a Superman or Batman design may feature a cape which dangles from the back of the socks, and others may contain buttons.
Caring for Men's Novelty Socks
Many men's novelty socks have embellishments, non-skid bottoms, or other intricate detailing, so special care should always be taken when washing them. Sock slippers and toe socks are usually machine washable. Those with non-skid bottoms should not be placed in the dryer. It is best to check the care label before cleaning the socks.
Finding Men's Novelty Socks on eBay
To begin shopping for men's novelty socks, go to the eBay homepage . For all related item listings on eBay, type "men 's novelty socks&" into the search box at the top of any page. You can look through all the results for the search, or narrow down the listings by condition and buying format. Keywords can also be used to find specific items. For example, to see listings of different types of sock slippers, type "men's novelty sock slippers" into the search box. Check eBay's Customer Support pages for additional information on searching with keywords.
Buy Men's Novelty Socks with Confidence
Read item listings for men's novelty socks carefully before making a purchase. Check the price of the item, as well its postage and packaging costs. Examine any available photos carefully for signs of wear. Novelty socks sometimes arrive as unwanted gifts, so it is possible to find a brand new pair on eBay cheaper than the original retail price. If additional images or information is desired, then ask the seller. Sellers will usually be happy to provide more details to promote a positive transaction. It is best to buy all items through eBay's prefered methods of payment including PayPal, credit cards, and debit cards.
Feedback Ratings
Check a seller's feedback rating before purchasing men's novelty socks. Ratings are determined by information provided by other buyers within the past 12 months. This information, along with the number of transactions a seller has completed, can offer an insight into the level of service a seller provides. Upon receiving the men's novelty socks, leave feedback for the seller. This can help worthy sellers to find new customers. If you are dissatisfied with a pair of men's novelty socks, contact the seller to see if a resolution can be reached before leaving negative feedback.
Conclusion
Men's novelty socks are a great addition to a man's wardrobe and can show that he has a sense of fun. Although there may seem to be an overwhelming variety of socks available, it is more than possible to find the perfect pair with a little bit of research, possibly undercover if the socks are a gift. While sports fans are sure to appreciate a pair of football themed socks, men with a sense of humour will delight in a brightly coloured pair or ones with a comic design. Whether buying the socks for a special occasion or as a funny gift, men's novelty socks can be found in many colours, styles, and patterns. Buyers should be sure to purchase high quality socks to ensure long lasting use. It is always a good idea to refer to a manufacturer's size guide to identify the correct sock size. For the money savvy buyer, purchasing men's novelty socks in packs is a great way to save money, and can provide a set of gifts to share amongst multiple male recipients. With the wide selection available at retailers like eBay, buyers are sure to find novelty socks that fit the sense of humour of any man.