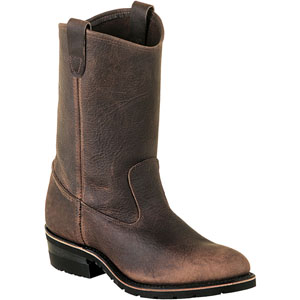 The chances are that when a shopper is looking for a used pair of boots, it is with a specific use in mind. Sometimes, people are looking for work wear. A lot of people find that when getting started in an interest or pursuit, it makes sense to get some low cost gear. Then again, just liking the look and feel of a pair of boots might make someone want to add a pair to their wardrobe. Although boots, like shoes, come in a multitude of different shapes and sizes, there is one basic difference between a boot and a shoe: boots support ankles. Across a wide range of activities, that support is important for effective and safe participation.
The main advantage of buying used boots is obvious: they will be cheaper than buying new. Less obvious is the chance that the previous owner has broken the boots in, making them immediately comfortable to wear. Against that, it is much more a matter of luck whether the type of boot wanted can be found in the right size. Before buying a pair of used boots, men should evaluate the different purchasing opportunities, and take care to avoid unsatisfactory or disappointing deals.
Types of Used Boots
What are the main types of boot? Boots can be divided into three broad categories: protective, whether related to work or a hobby; sports equipment; and lifestyle-related. Of course these are not hard and fast distinctions. It is moot, for example, whether riding boots of various kinds are more work- or leisure-related. People who work as motorcycle couriers wear the same kind of boots as those who like to take a weekend ride along country lanes.
Protective Boots: Work and Hobby Related
The most familiar type of protective boot is worn in a variety of industrial contexts. Typically they have thick rubber soles, and lace to ankle height; usually they are black. A common variant, especially on the second-hand market, is military footwear. Some types lace to the shin, or even to the knee. These types of boot sometimes feature steel toe caps for extra safety in dangerous environments.
Another type of working boot might generically be called the 'country boot'. In the UK, they are known as wellingtons. Elsewhere they go by different names, eagle boots, gum boots and so on. Their shared characteristic is that they are waterproof, and normally they reach just below the knee. There is a wide range of quality, from plain rubber materials aimed at short-term use in specific wet or muddy tasks, to more comfortably lined, longer term wear. Another kind of waterproof boot is used by fishermen. Waders can be high enough to reach the crotch, and are designed to be proof against lengthy periods exposed to river or sea water.
Sports Boots
When is a boot not a boot? When it is a sports shoe. Perhaps the most confusing area for terminology is among sports users. Many professional sports have evolved their specialised equipment in the light of new materials and techniques, but retained traditional terms. Soccer, rugby, and cricket have all undergone this kind of change. Modern football boots long since ceased to protect a player's ankles, likewise rugby boots.The principal difference between these two types is the length of stud. Rugby studs are longer owing to the thicker grass the game is played on. Cricket boots, aside from being white, have spikes rather than studs.
Leisure Boots
For most people, boot wear is connected to leisure pursuits. Sometimes these are activity-related, sometimes just a question of looking good. For pottering around in the garden, style is of the least concern. An old pair with some life still in them might be just the thing. For more vigorous outdoor pursuits, walking, hiking, or climbing, the condition the boots are in is of greater concern, so greater care about evaluating a potential purchase is advisable.
Some types of boot are very task-specific. They tend to be hard to come by on the second-hand market, partly because they are purchased initially by people who are pretty committed to their chosen pursuit. Skiing is one case in point, and motorcycling is another. When buyers are lucky enough to score a pair, they can can expect them to be in good condition; on the other hand, be ready for a sad story attached.
When it comes to horse riding, the same rarity applies, if not more so. On the other hand, cowboy boots are among the commonest types of boot on the preowned market. There is a whole subculture attached to cowboy boots, and a wide range of quality. Beyond all-leather versus combinations of leather and manmade materials, there are hand-stitched and embellished items that are attractive to shoemakers who specialise in cheap imitations. Here, the second-hand market might just deliver a more authentic pair than buying new.
Finally there are explicitly fashionable types of boot, where buyers can expect to see a lot of familiar brands like Dr Martens, Timberland, Kickers and so on. Sometimes it is necessary to pay a premium for the brand name even when buying second-hand, because people look out for bargains in their favourite lines.
The Condition of Used Boots
Of course the main consideration when buying used boots is their condition. When buying online this can be difficult to evaluate, but here are some broad categories for guidance.
Nearly New Boots
First of all, there is the category that covers as-new, nearly-new, little-used, and similar terms. The usual reason for someone to sell is that the boots were an unwanted gift, or else they were bought for an activity that no longer interests the seller. Sometimes it might be that the seller bought the boots overseas, and found them to be the wrong size. This is something to be particularly alert to.
Lightly Used Boots
There is no hard and fast distinction between 'little-used' and 'lightly used'. The idea is that the boot will have been worn enough to be broken in, but not so much that the sole has become worn. Wear and tear is difficult to evaluate from a photograph, but flat spots and worn heels are easy enough to spot.
Well Used Boots
Sometimes, especially with leather boots, well worn soles and heels are not such a big problem, because it is easy to get a pair refurbished at much lower cost than that of buying a new pair. These can be some of the best bargains. Maybe they are chancier purchases, but at the same time, the cost of making a mistake is correspondingly lower.
Evaluating an Advert
What should a potential buyer look for in an advert for used boots? There are the usual factors, such as the seller's reputation. Beyond that, the main thing to evaluate is the way the advert is worded. If there is a story behind the sale, or an account of the seller's reason, the buyer is more likely to feel comfortable with the purchase. Multiple, good photographs are also an asset. The main things to look for in a picture are: what they look like to another person in the front-on view, and what condition the soles are in. An inside picture showing the manufacturer's lettering will indicate light wear, but also requires a bit more skill with a camera to portray.
Perhaps the most important element is the size, and buyers are advised to look for the system as well as the size. For example, 'UK size 9' indicates both the foot size and the place where the size is recognized. If this isn't clear, contact the seller. If the seller does not know, then another purchasing option might turn out to be more satisfactory.
UK Boot Sizes
Most people buying shoes already 'know' their size, from a history of buying the old fashioned way in high street shoe shops where they have tools for measuring a customer's foot. It is not something that one easily can do at home, because raw foot size does not translate directly to one of the international size systems. Typically, these systems are based on the 'last', or the form around which manufacturers build their lines of shoes and boots.
Surprisingly, perhaps, continental sizes are not all that common in the UK. One might expect the European system to be altogether more rational, but the 'Paris point' on which it is based is two-thirds of a centimetre.
Men's Shoe Size Comparison Chart
When buying shoes, the most important factor to consider is shoe size. Each part of the world has its own system for shoe sizes. The following chart compares shoe sizes in the most common systems, as well as the size in centimetres.
| Europe | US | UK | cm |
| --- | --- | --- | --- |
| 37 | 4.5 - 5 | 4 - 4.5 | 24.67 cm |
| 38 | 5.5 - 6 | 5 - 5.5 | 25.33 cm |
| 39 | 6.5 | 6 | 26.00 cm |
| 40 | 7 | 6.5 | 26.66 cm |
| 41 | 7.5 | 7 | 27.33 cm |
| 42 | 8 - 8.5 | 7.5 - 8 | 28.00 cm |
| 43 | 9 - 9.5 | 8.5 - 9 | 28.66 cm |
| 44 | 10 - 10.5 | 9.5 - 10 | 29.33 cm |
| 45 | 11 | 10.5 | 30.00 cm |
| 46 | 11.5 - 12 | 11 - 11.5 | 30.66 cm |
| 47 | 12.5 | 12 | 31.33 cm |
| 48 | 13.5 | 13 | 32.00 cm |
| 49 | 14.5 | 14 | 32.66 cm |
Other countries, such as Japan, Australia, China, and Mexico, have their own systems, so buyers must always make sure which system the seller is using is using if they are to purchase boots of the correct size.
With all that in mind, it should be possible to import a pair of used boots if all relevant criteria have been met. Remember that the cost of shipping is likely to be much higher than from a UK-based source. In the event of a dispute, it might cost more to return the item than would be received in compensation. The main hazard that is likely to be encountered is the similarity between UK and US sizes, and the strong chance that the item will not specify the system in use. All the same, common sense suggests that if the item is located in the US, it is sized in the US system.
Buying Men's Used Boots on eBay
The quickest way to get started is to type keywords into the search bar on the eBay home page. More general searches like "men's used boots" will generate far more results than a specialised search such as "men's used combat boots". Some searches will bring up thousands of results, so you can filter the results by various criteria to make the list more manageable, and to eliminate boots you are not interested in. If you did not include the keyword "used" in your search, you can filter out the new boots before you continue. Other filtering options include size, brand, style, and colour. You can also enter in your price range, if you are shopping on a budget, and sort the result by price to list the biggest bargains first. Remember that the search window is always available, and can be used to search within filtered results.
Conclusion
Buying used boots is a great way to buy protective boots or other boots required for an activity you want to try out, without having to spend too much money on something you may decide you do not want to continue. Among the factors to consider when buying used boots are the size of the boots, their condition, and their purpose. For work boots and protective boots for activities that are hard on the feet, such as hiking, it might be best to find nearly new boots that you can wear-in yourself, while boots that will be worn less often, such as gardening wellingtons, can be more worn-in.
eBay is a great place to look for used boots, with its well thought out filters, convenient purchasing options, and the many ways that buyers can research or track the items they are seeking. Although there are disadvantages to buying second-hand items, both in terms of quality assurance and consumer protection, the advantages can easily outweigh these for the buyer on a budget.