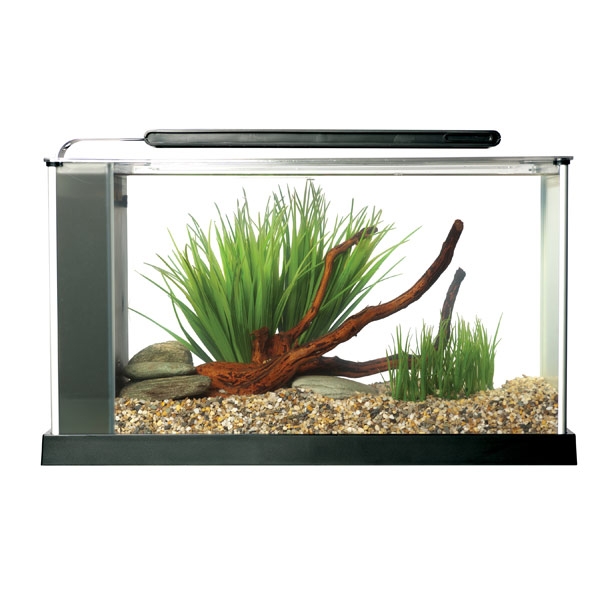 Playing a Serious Role in Your Aquarium
The vast majority of aquarists are drawn to making their aquarium as natural looking as possible by buying plants for their tanks, which make them look aesthetically pleasing. This eBay guide aims to help with this plant buying process.
Live plants have a much more serious role to play in your aquarium than being mere decoration. You will find that plants act as a hiding place for fish, and that they are much happier and relaxed when plants are present in the tank.
It is also worth mentioning that live plants produce oxygen, and use up the nitrogenous wastes that fish give out, making them highly desirable in your aquarium.
Many beginner aquarists are sceptical about keeping plants in their aquariums. For many aquarists, live plants die off, rot, and pollute their aquariums. Others think that without an expensive CO2 system, keeping plants alive is just not possible.
This eBay guide has been produced for those new to aquatic plants, giving you a few useful pointers on buying plants for your aquarium, and how to care for them.
Aquatic Plants – Different Varieties, Different Needs
The truth is many new aquarists simply choose the wrong plants for their aquariums. You must remember, plants are like all living things; they have requirements and needs which must to be met.
Some aquatic plants require bright light, while others thrive well in a darker environment.
Some plants can survive well on their own, while others need regular maintenance.
Some plants like warm water whilst others prefer cool water and so on.
Basically, each plant species has its own needs; however, they can be fitted into two different categories:
Hardy Plants – These species of plants thrive and grow well in most conditions.
Sensitive plants – As the name suggests, these species of plants only thrive in very specific conditions.
The following are three different types of hardy plants which are recommended for amateur aquarists:
Cryptocorynes
Anubias
Java Ferns
These plants are amongst the easiest to grow in your aquarium, as they thrive in a wide array of conditions, and will adapt to almost anything, so long as their vital requirements are met.
Cryptocorynes
Requiring very little maintenance and care, there are many different species of Cryptocorynes available.
The smaller varieties of this species of plant thrive better when planted close together, while larger species such as Cryptocoryne Crispatula should be planted further apart from one another.
In terms of water temperature, they do well in slightly cooler waters; low 70s Fahrenheit, through to warmer temperatures at around mid 80s Fahrenheit.
Anubias and Java Ferns
Both of these species of plants come in different varieties, and are readily available.
Unlike many aquatic plants, Anubias and Java Ferns do not require substrate in order to thrive. As these plants grow, so do their roots, which secure the plant onto rocks and other items which may be present in the aquarium.
Both of these plants thrive well in coldwater aquariums, and in tropical fish tanks.
Aquatic Plants – Plan Before You Plant
Before you start planning your aquarium, it is a good idea for you to have a rough idea of what kinds of plants you wish to grow. Amateur aquarists would be well advised to stick to aquatic plants that are not particularly exotic or costly.
From oxygenating water to maintaining balanced water chemistry, aquatic plants have an important role to play in your tank, and that is why you should follow these basic plant care tips:
Before planting new aquatic plants, it is important that you remove any decaying or yellowed leaves, as they will put a drain on the plant's nutrient supply.
You should also remove any dying roots, as they will rot in the substrate. Know the difference between healthy and dying roots. Healthy roots are normally pale and rigid, whereas dying roots are limp and brown.
If you are planting stem plants, make sure that you remove the bottom few leaves, as they will receive little light.
The growing tip of the tubers should be exposed, with the plant placed at an angle in the substrate.
As previously mentioned, some plants such as Java Ferns and Java Moss need to be attached to rocks or bogwood to thrive, rather than being planted in substrate.
Bear in mind that many plants reproduce using runners; however, the new plants can be separated from the parent plant once they have established themselves as individuals. This is usually when the plant reaches about one-third of the size of the parent plant.
Aquatic Plants; Short Guide to Preventing Disease
Try to adhere to the following steps to prevent disease in your aquarium:
You should only buy plants for your aquarium that look healthy.
Don't buy plants for your aquarium where the fish don't seem healthy, as plants can carry malicious microorganisms which can infect the fish in your tank.
For extra peace of mind, you should sterilise the plants you buy for your aquarium before planting them. You can do this by using a dilute solution of potassium permanganate, so long as the fish in your aquarium can handle traces of it. Keeping the plant in potassium permanganate for 10-15 minutes will kill most malevolent microorganisms.
It is important not to panic if the leaves of a plant die or turn yellow, or if they dissolve after planting. Sometimes the shock of being re-potted can make plants lose their leaves.
Aquatic Plants – Nutrients
Just like terrestrial plants, aquatic plants need nutrients in order to survive. Macro nutrients include:
Nitrogen
Phosphate
Potassium.
Other metal nutrients which aquatic plants need to thrive include:
In addition to these nutrients, aquatic plants require other elements to grow. If you fail to provide these nutrients, the growth of plants might be stunted and they may develop yellow leaves, or even worse.
The following are ways in which nutrients can enter your aquarium:
Through tap water
In fish food
In potting soil and substrate
Purchase fertilisers intended for aquarium use
Fertilisers intended for terrestrial plants contain too much nitrogen, and as such, they will cause harm to your aquarium. Algae will grow, and they can injure fish. Before adding fertilisers to your aquarium, you must bear in mind that filling your tank with a lot of fertilisers will not aid plant growth.
Why Choose eBay to Buy Plants for Your Aquarium?
EBay is a popular place for users to purchase aquarium plants, mainly due to the different species available, and prices that are hard to find elsewhere.
How to Search for Aquarium Plants on eBay
Now that you've educated yourself about aquatic plants for beginners, you can now start your search for them on eBay. To begin your search, go to the All Categories link on the homepage of eBay. Click Pet Supplies, select Fish, and then click Live Plants which appears on the left-hand side of the page under Categories.
Keyword Search
Search eBay listing titles for specific words. For example, if you want to find Cryptocorynes, type the keyword "Cryptocorynes" (without quotation marks) into the Search box. Click, "Search title and description" to expand your results. Visit eBay's Search Tips page for more tips on searching with keywords.
If you can't find exactly what you want, try browsing eBay Stores or tell the eBay Community what you're looking for by creating a post on Want It Now, or save a search on My eBay and eBay will email you when a matching item becomes available.
Buy Plants for Your Aquarium on eBay with Confidence
Make sure that you know exactly what you're buying and understand how eBay and PayPal protect you.
Know Your Item
Read the details in the item listing carefully.
Remember to add delivery costs to your final price. If you're buying a high value item, check that the seller will insure it until it is delivered to you.
If you want more information, click the "Ask seller a question" button on the seller's profile or the "Ask a question" link at the bottom of the item listing page.
Always complete your transaction on eBay (with a bid, Buy it Now or Best Offer) otherwise you will not be covered by eBay Buyer Protection.
Never pay for your eBay item using an instant cash wire transfer service like Western Union or MoneyGram. These are not safe ways of paying someone you do not know.
Know Your Seller
Research your seller so that you feel safe and positive about every transaction.
What is the seller's Feedback rating?
How many transactions have they completed?
How many positive responses do they have?
What do buyers say in their Feedback?
Are they positive about the seller?
Most top eBay sellers operate like retail shops and have a returns policy.
Do they offer a money-back guarantee?
What are their terms and conditions?
Buyer Protection
In the very unlikely event that you do not receive your item or it is not as described, eBay Buyer Protection covers your purchase price plus original delivery cost.