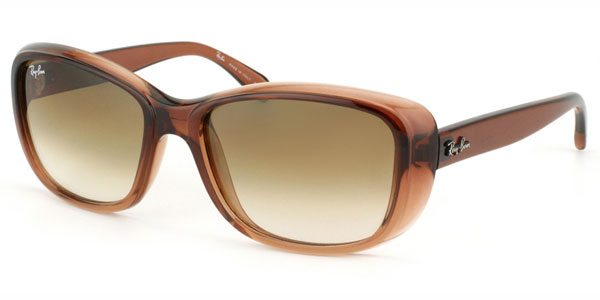 Women's sunglasses are designed to be both functional and stylish. This protective eyewear shields the wearer's eyes from the damaging effects of the sun's rays. The three main components of sunglasses are the frame, lens, and nose bridge. Each component varies in shape, colour, material, and style. Lenses may be polarised or darkened in order to reduce glare. Each different colour of lens serves a unique purpose. While red, grey, green, and brown lenses minimise colour distortion and are best suited for driving, the contrast enhancement of yellow lenses is useful those who enjoy sailing.
Frames come in an array of materials, designed to directly benefit the wearer. While nylon frames are lightweight and flexible, metal frames are more rigid. Frames can surround the lens completely, go around only half of the lens, or be absent, as in frameless sunglasses. When buying a pair of sunglasses from the online auction site eBay, it is necessary to know the various types that are available and the proper steps and precautionary measures that should be taken to make an informed purchase.
Types of Sunglasses
There are many different types of sunglasses. These sunglasses vary in the design of the frame, the frame material, and the features that they offer wearers. When determining which sunglasses are the most appropriate, buyers should consider the types of activities that they intend to do while wearing sunglasses.
Aviator Sunglasses
Aviator sunglasses were created in 1937 by Ray-Ban. These sunglasses were worn originally by commercial and Air Force pilots. They are characterised by their oval shape and silver or dark grey iridescent lenses that are set in a silver frame. More traditional styles may feature military green tinted lenses in a gold frame. Aviator sunglasses are manufactured by a number of companies; some brands also feature these sunglasses with prescription lenses.
Cat Eye Sunglasses
Cat eye sunglasses,, were popular during the 1950s and 1960s, and are commonly associated with secretaries and librarians, even though they were sported by the icon Marilyn Monroe. The sunglasses feature a thick, horn rim and flared outer edges. The frames, once reserved for optical spectacles, gained widespread popularity when Audrey Hepburn wore a pair of cat eye sunglasses in the film, "Breakfast at Tiffanys".
Sports Sunglasses
Sports sunglasses are designed for those who are physically active, especially those who take part in contact sports. Sports sunglasses are usually secured to the wearer's face with an elastic headband. The arms of the sunglasses are made of rubber to help the sunglasses stay in place during high levels of activity. These sunglasses are lightweight and contain shatterproof frames which can be made from materials including plastic and carbon fibre. The lenses are also shatterproof to eliminate the chance of glass fragments entering the wearer's eyes in the event of an accident. Lenses are made of polycarbonate and have scratch resistant properties. Many lenses are interchangeable and offer added UV protection from the sun's rays.
Wrap Sunglasses
Wrap sunglasses are designed to contour the wearer's face. These sunglasses contain thick frames and arms that shield the eyes from all angles, offering added wind, debris, and UV protection. Their snug fit allows them to stay securely placed, making them ideal for wear during sport or fitness activities. Wrap sunglasses are lightweight and generally contain flexible frames.
How to Find Women's Sunglasses on eBay
Buyers can find women's sunglasses through various means on the eBay website. From the eBay homepage, keywords can be typed into the search bar, for example, "women's sunglasses". This method is likely to render a large number of listings. Once on the search results page, buyers may further filter their search by subcategory listings. These subcategory listings give buyers the option to choose between new and used sunglasses, to search within a limited price range, and to search by item location.
Alternatively, buyers with a more specific idea about the type of sunglasses that they would like to buy should include additional search terms such as "women's cat eye sunglasses". eBay's effective search facility allows shoppers to narrow down the search results. This is a great tool that allows buyers to focus in on a certain type of sunglasses from the overwhelming number of listings available.
Search for Sunglasses by Brand
Sunglasses are often recognised for their brand name. Many popular designers even go as far as to brand their logo onto the arms of the sunglasses. While Ray-Bans are known for their classic style, Gucci, Chanel, and Dior have trendy and modern looks. Buying designer sunglasses can significantly increase the cost of the eyewear, as buyers are paying for not only the quality, but also the branding. Buyers can consider looking for a used pair of designer sunglasses in the hope of finding a chic bargain.
Search for Sunglasses by Frame Colour
Sunglasses come in a wide array of colours from traditional black frames to more modern blues. Deciding which colour frames are best depends on a woman's skin, hair, and eye colouring, along with the colours of the clothing that she usually wears. Women with golden or peach undertones, that is, who have warm toned skin or brown eyes, look best in frames that are gold, tortoise, brown, or aqua. Women with pink, ruddy, or blue undertones, that is, with cool toned skin and blue eyes, look best in frames that are silver, black, blue, and purple.
Hair colour can also affect how the colour of the frames complements the wearer. Women with black, red, grey, or blonde hair look best in lighter frames, while tan, brown, gold, and copper frames are better suited for women with brown, deep red, and dirty blonde hair.
Search for Sunglasses by Protection
Buyers should always purchase sunglasses that provide 100 per cent UVA and 100 per cent UVB protection. This includes sunglasses labelled as UV400, which successfully block all sun rays with wavelengths up to 400 nanometres, that is, all UVA and UVB rays. Long term exposure to UVA and UVB rays can have harmful effects that result in cataracts and other eye problems.
Search for Sunglasses by Lens Technology
Lens technology is designed to help wearer's to see better in certain conditions. This technology ranges from polarised and anti-reflective coated lenses to mirrored and gradient lenses. Polarised and anti-reflective coated lenses are designed to reduce glare, which is caused when light reflects off flat surfaces such as roads and water. This lens technology is ideal for women who enjoy water sports or winter sports in the snow.
Mirror coated lenses limit the amount of light that enters the wearer's eyes. Mirror coatings come in an array of colours. Choosing the right colour is solely a matter of personal taste.
Gradient lenses are tinted from the top down, with the top of the lens containing the darkest tint. These lenses are ideal for driving as they screen the eyes from overhead sunlight, while allowing light to enter through the bottom of the lens so that the wearer can still see the road.
eBay's Feedback Rating System
Once buyers find the women's sunglasses that they wish to buy, it is important to always check the seller's feedback rating to see how other buyers have rated them. Sellers with high feedback ratings are recognised by the eBay community for high levels of customer service. If a seller is an eBay Top-rated seller, that means that the seller has received consistent positive feedback and has a good reputation for dealing fairly on eBay.
Preferred Methods of Payment
When purchasing on eBay it is best to buy an item with a validated form of payment. A credit card or debit card, as well as PayPal are the preferred methods of payment. A buyer should never chose to pay by cash or cheque.
When considering a purchase, buyers should familiarise themselves with the forms of payment that the seller accepts. This information should be listed in the item description. All sellers are required to offer at least one approved method of payment. When paying by credit card, the seller never has the ability to view a buyers credit card information. For a complete list of payment options, buyers should refer to How to Pay on eBay.
Conclusion
eBay has a large number of women's sunglasses to choose from. Many of these sunglasses, including designer brands, may be found for a fraction of their retail price. Whether buying sunglasses for sport, for a holiday, for a rare British sunny day, or to hide the eyes after a late night, eBay offers buyers the most unique eyewear at some of the best prices. There are various types of sunglasses ranging from the stylish cat eyes and aviators, to the more functional sports and wraps. When searching on eBay, it is a good idea to narrow down the listings. This allows buyers to focus on sunglasses that best meet their requirements. Whichever type a buyer decides on, the sunglasses should always contain adequate protection from UV rays. Those who take part in water sports and related activities also benefit from the features of polarised, anti-reflective, and mirrored sunglasses. Before purchasing sunglasses, buyers should always familiarise themselves with the items available on eBay to help to ensure a positive online shopping experience.