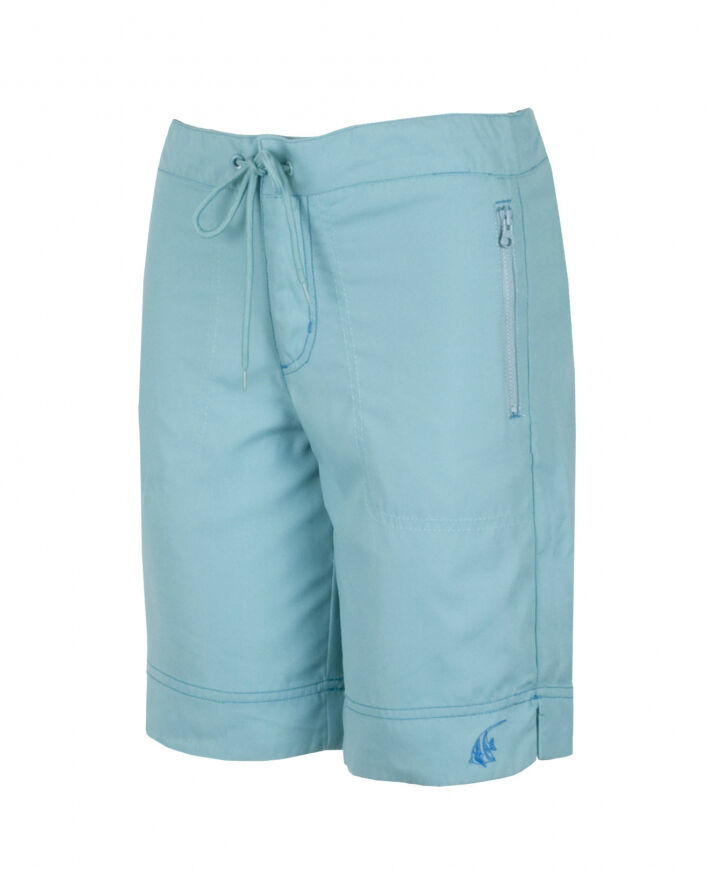 Women's board shorts were originally designed for water sports, such as surfing in much warmer climates than can be found off the coast of Cornwall. Board shorts, like many items of sportswear, have become more versatile, and are now considered acceptable beachwear. They are designed to be both functional and comfortable. These shorts offer greater sun protection than traditional bikini bottoms, and are still best suited for activities in the water. Board shorts are designed to fit snugly around the waistline, eliminating the probability of having a swimsuit mishap when they are very wet.
Women's board shorts come in a variety of lengths, colours, and designs. Some women prefer board shorts with slimmer legs, while others enjoy the comfort provided by a looser leg width. Board shorts are designed to be quick-drying, lightweight, and durable: most are made from nylon or polyester. Some women prefer to wear board shorts with bikini bottoms underneath, whereas others enjoy the comfort of wearing the shorts alone. In order to help buyers to purchase women's board shorts, this guide will discuss the various types of board short fabric, features and sizes, and what to wear under them. Also, it will describe hybrid board shorts and suggest ways that buyers can search for and buy women's board shorts on sites such as eBay.
Types of Board Shorts Fabric
The choice of fabric of the board shorts depends on the type of activities that they will be used for. While some shorts are better suited for holiday surfing, others are better for lounging by the pool or even worn as outerwear for hiking. In order to increase mobility, most board shorts have stretch stitching at the seams.
Four Way Stretch
Four way stretch fabric is super lightweight, stretching in four different directions. This allows the wearer to have a greater range of movement and is ideal for those who do lots of vigorous activities, especially in the water. In addition to its greater flexibility, four way stretch fabric is known for it quick drying properties. However, these features come at a price and four way stretch fabric tends to be more expensive than other types.
Two Way Stretch
Two way stretch fabric extends horizontally, but not vertically, and therefore offers less mobility than four way stretch fabric. This fabric is lightweight and quick drying, perfect for those spend a lot of time in the water.
Micro Suede
Micro suede fabric is not elastic. This fabric is known for its softness, breathability, and water-repellent qualities. Micro suede board shorts tend to be relatively inexpensive in comparison to other types.
Hybrid Board Shorts
Hybrid board shorts are designed to be worn both in the water and on land. These shorts usually have the same patterns as ordinary shorts, such as cargo shorts or golf shorts, but they contain water friendly features. This means that the wearer can move easily from the beach to a cafe or casual restaurant, when doing the same in a bikini would be inappropriate. They are perfect for summer at a theme park where the water rides, like the Flume in Alton Towers, are often a main attraction.
Women's Board Shorts Features
As more women are wearing board shorts over their swimsuits or even as a substitute for a swimsuit, manufacturers have begun to make shorts that have special features, such as an anti-microbial treatment, and seamless properties as seen in the chart below. Women's board shorts are designed for optimal use in the water, so many of these features take that key use in water as their starting point.
Feature

Description

Ties

Secured at the waistband

Prevents shorts from falling over hips

Fly

Velcro or lace up for use in water

Neoprene prevents complete opening, just enough for shorts to be pulled on

Seamless

Prevents chafing

Reduces possibility of rash

Eliminates tearing along seams

Anti-Microbial

Prevents growth of bacteria

Helps to reduce odour

Pockets

Waterproof

Protects belongings, such as a hotel room key

Designed to be well draining.
When shopping for board shorts, buyers should always search for features that will best suit their water needs. The above listed features will help a woman to enjoy the water without having to worry about the comfort and durability of the shorts.
What to Wear Under Board Shorts
What a woman chooses to wear under board shorts is ultimately a matter of personal preference. Board shorts were originally designed to be worn with nothing underneath, but in an effort to prevent discomfort and chafing, many women opt to wear underwear or bikini bottoms under the shorts. Board shorts are designed to be quick drying, so wearers should consider the effect of wet undergarments and how that may slow down the drying process for the shorts.
Women's Board Shorts Sizing
Most women's board shorts use a standard waist measurement. In order to ensure a perfect fit, women should measure their waist before making a purchase. The measurement should be compared to the manufacturer's size guide. It is important to note that most board shorts do not have elastic waistbands as the ties are more secure and reduce the risk of the shorts being lost in the waves.
The length of women's board shorts are measured from the crotch to the inside hemline. Most shorts fall just at or above the knee, although shorter micro board shorts styles have become more popular in the last few years. The seams are usually two to three inches, but many styles are now seamless.
Buying Women's Board Shorts
Women's board shorts can be found at various bricks and mortar department stores and sporting goods retailers. Buyers who want to ensure they are purchasing a correctly sized pair of board shorts should measure their waist and compare this with the sizing label. Alternatively, buyers can choose to buy a new or used pair of women's board shorts online at sites such as eBay. For buyers looking to pay a competitive price or who want a specific type of board shorts, eBay offers a large selection of products.
Buying Women's Board Shorts on eBay
Buying women's board shorts online offers buyers a wide variety of choice for their price range. Buyers can easily search for women's board shorts by typing in women ' s board shorts into the search on eBay's home page and a wide selection of related listings will be displayed. For those who know exactly what type of board shorts they want, eBay offers the advanced search feature to narrow down listings based on category and price.
It is important to read the item's description carefully before finalising the purchase. This will provide buyers with information on the condition of the board shorts and any other relevant details, like colour and size. Most sellers will also provide delivery details, in particular any postage and packaging fees that a buyer should add to the price of the shorts. It is sensible to ensure that the seller has a returns policy before completing the transaction so that the board shorts can be returned if they do not fit. Sellers may be contacted using the "Ask a question" link. Sellers are typically happy to answer questions about their items in order to have a smooth transaction.
Buy with Confidence
Choosing "Top-rated sellers" on eBay ensures that the seller has a history of good customer service. These sellers must receive consistent positive feedback ratings and complete a high number of customer transactions per year in order to be considered for top rated status. Buyers can recognise Top-rated sellers by the badge on their listings page. This feature makes eBay a secure online marketplace to buy and sell women's board shorts.
Conclusion
Women's board shorts are both functional and comfortable. They may have been originally designed for surfing and other water sports, but they have now become an acceptable addition to the holiday and casual wear wardrobe. They offer an alternative to bikini bottoms and can be worn from the beach to the cafe. Although there may seem to be an huge variety available, it is more than possible to find the right board shorts with some research, after deciding where they will be worn. Women who participate in extreme water sports may appreciate the flexibility of a four way stretch fabric, those who enjoy lounging by the pool may prefer a less expensive micro suede fabric, and others may favour the adaptability and look of hybrid board shorts.
Buyers should familiarise themselves with the features of board shorts before purchasing a pair. Anti-microbial treatment may extend the life of the shorts, while pockets can help to secure the wearer's valuables. Rather than an elastic waistband, board shorts have ties which hold the shorts in place. In order to keep the shorts from falling off at an inopportune moment, women should measure their waistline to ensure a snug fit. With so many listings to choose from, eBay can help any women to find the perfect board shorts for their next holiday in the water.