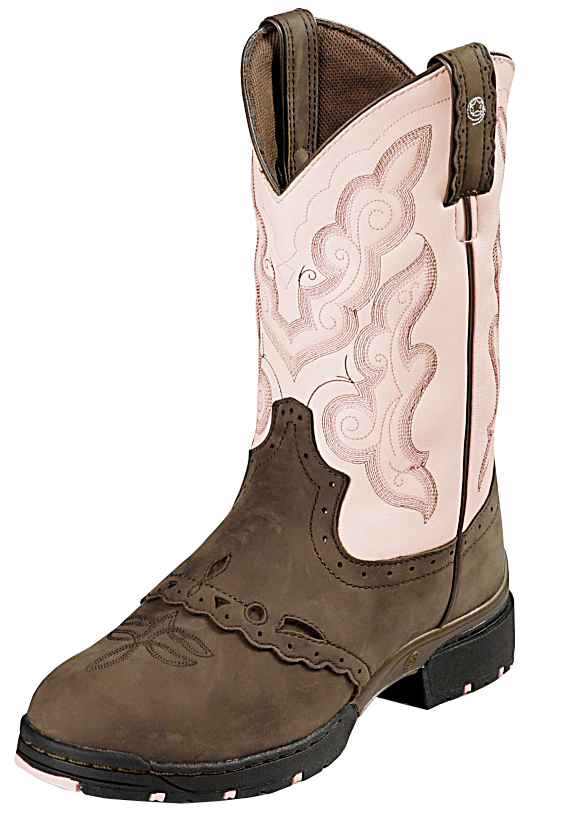 Women's boots come in many different styles and range in length, colour, and size. Popular lengths include ankle, mid calf and knee. Boots can be any colour, but are mainly available in black and brown. Women's boots can also vary according to the heel: from flat to a stiletto or wedge. Boots may be designed for fashion, function, or a combination of the two. More traditional boots are made of leather, or rubber in the case of the Wellington boot. Modern boots can often be found in a wider array of materials including suede, canvas, and synthetic.
Women's boots can be styled in a way that is appropriate for a particular outfit: some women prefer to wear their boots tucked under their trousers, while others prefer to tuck their skinny jeans into the boots, which make the boots more of a feature. Women who would like to buy a pair of boots can shop on eBay where a large selection can be found for any budget. This guide will discuss the different types of women's boots and recommend ways to search for them and have a successful shopping experience on eBay.
Types of Women's Boots
There are different types of women's boots designed for an array of situations, coming in a variety of materials like rubber, suede and leather boots. Some are more appropriate for the winter, such as boots from the high-quality brand Sorrel and others can be worn all year round.
Wellington Boots
Wellington boots were originally made of leather. As these boots quickly became worn for practical reasons, they started to be fabricated in rubber, which allowed wearers in the farming industry to keep their feet dry when working in wet conditions. Modern women's Wellington boots are typically made from rubber or another waterproof synthetic material such as polyvinyl chloride. The boots contain sturdy soles and typically reach just below the knee, although they can be found in various lengths. Today, they are even worn as fashion items, having being popularised by celebrities at muddy summer festivals, like Glastonbury. Wellington boots are made in a wide array of colours, designs, and patterns.
UGG Boots
Women's UGG Boots are designed for both warmth and comfort, and are usually seen when the weather turns cold. These boots are casual and have flat soles. Traditional UGG boots are made of a sheepskin, suede-like material and have a soft fleece interior. However, with their continued rise in popularity, the makers of UGG boots have begun to create versions in other materials such as wool, leather, and denim. UGGs are available in different lengths, but the lower calf and mid calf models are the most popular. Shorter length UGGs can be worn under boot cut jeans and longer lengths are usually worn over skinny jeans or with skirts. As well as the expansion in the range of materials, UGGs are now available in colours other than tan, grey and black. The fashion conscious shopper can find them in pink, blue and other colours. Many UGG boots contain decorative detailing such as buttons or puffy fleece on the outside of the boot. Ranges are even available covered in sequins. As the UGG boot has been so popular with consumers, other manufacturers have begun to produce boots that are similar to the trademarked UGG. These alternative versions are usually less expensive.
Cowboy Boots
Cowboy boots were originally worn by American cowboys as they drove cattle across the range. The boots were designed to reach mid-calf as to protect the wearer's legs in the rough terrain. The low heel of the boots helped to steady the rider's foot in the horse's stirrup. Traditional cowboy boots were made of leather or hide for durability, but more modern cowboy boots made for women's fashion are constructed from a number of animal skins, which are then dyed various colours. Intricate stitching and leather tooling helps to decorate the exterior of the boots, as do silver and metal toe tips. Women should buy snug fitting cowboy boots as they tend to stretch with use.
Searching for Women's Boots
Women who would like to buy a pair of boots on eBay should begin their search on eBay's home page. From here, buyers are can use the search bar to look for any type of women's boots. Typing in "women's boots" returns a large number of search results. If the buyer has a particular pair of boots in mind, then, using more precise keywords such as "women's pink cowboy boots" limits the search results. eBay's advanced search feature can also help to narrow the search. From here, buyers can filter by category, price, buying format, or a combination of the three.
Searching by Size
Buyers can use eBay's filter system to limit their search by boot size. It is important to note that sizes can vary between manufacturers, so ask the seller whether the boot is a standard fit or whether it is tighter or looser than the label suggests. This will help to give you an idea of the sizing before finalising the bid.
Searching by Style
Women's boots come in a wide array of styles. While ankle boots are ideal for women who wear their boots under jeans, mid calf boots and knee high boots are better styled over the trousers or with a skirt. Buyers are also able to select types of boots such as Wellingtons using this filter.
Searching by Brand
Searching by brand is an ideal way for buyers looking for boots made by a specific manufacturer. Some shoppers may be happy with a version of the boot that is not the original as it will be less expensive, but others prefer to pay the extra amount to have the pleasure of wearing the brand and experiencing the often higher quality associated with the boots. An example of this would be searching ''Marc Jacobs boots'' or ''Ugg Boots''.
Searching by Main Colour
Women may find that searching by colour is the best search method for their particular requirements. Sometimes boots are needed to match the dress code of a particular occasion. Black and brown boots are well suited for a work environment, whereas red boots will make a bold statement at the next social occasion. Women should pay close attention to the colour in the item description as one person's magenta is another person's purple. Ask the seller for clear photos taken in good light if the colour is particularly important.
Searching by Heel Height
Searching by heel height is a great way to narrow down the type of boots. Older or very active women who race around during the day may feel more comfortable in boots with a low heel, whereas younger women on a night out may prefer the look of high heels.
eBay Shops
Sellers that have an eBay Store are distinguished by a red door icon that appears with their details. By clicking the red door, buyers are lead directly to the seller's store where all of the listings that the seller has available on eBay can be viewed. This is a great feature for buyers who have found a seller that they have grown to trust.
Item Returns
When buying boots on eBay, women should always read a seller's item description carefully. This ought to mention if a seller offers returns. If the item description does not provide this information, then the buyer can use the "Ask a question" link which send the message directly to the seller. Buying women's boots from a seller who accepts returns is a good idea because it can be difficult to size boots properly without trying them on first. In the event of the boots being returned, the seller may refund the price of the boots, but they may not refund the postage and packaging costs. It is best to be clear on what the seller's policy is before placing a bid.
Feedback Ratings
Seller feedback ratings are based on the feedback left by past buyers. Positive feedback usually indicates that the seller has a good reputation within the eBay community for dealing with customers fairly and negative feedback can be a caution to buyers thinking about purchasing from a seller. Sellers with consistent positive feedback are recognised as a Top-rated seller. A Top-rated seller badge is shown clearly with the seller's name.
Conclusion
With the wide variety of women's boots available on eBay, any woman can successfully find the right pair to fit her requirements. Whether looking for stylish boots or something more practical, eBay's selection far exceeds that of many other retailers. While Wellington boots and UGGs are better suited for winter wear, fashion boots are versatile and can be worn all year round. Some women like ankle boots because they can be easily tucked under trousers; others prefer to show off their boots by wearing them over skinny jeans. Women's boots come in a wide array of colours, materials, and heel height. While brand names are a major selling point for some women, others place a higher value on style or practicality. It is best to buy boots from sellers who have a returns policy in case the boots do not fit properly. By getting to know the seller, women can ensure a positive and successful transaction and have a new pair of footwear to boot.