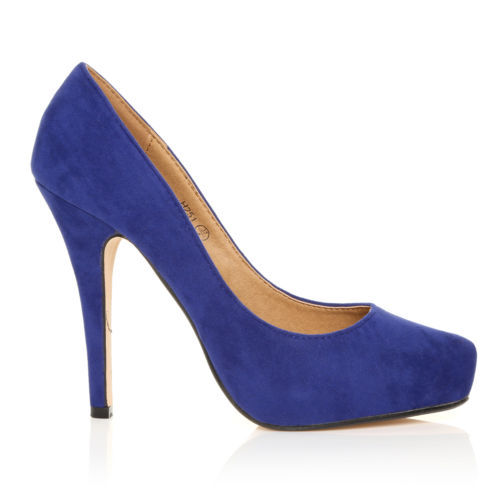 Originally created for riders for utilitarian reasons, high heels used to be worn by men and women alike until the 19th century. Since then, women's heels have been a sign of elegance and femininity. Fashionable heel shapes have greatly evolved over the years. While platform heels or flats largely dominated the scene since the 1960s, the post-2000 era brought back the stilettos of the 1950s and 1980s, only more glamorous than ever.
High heels have been one of the most ubiquitous trends in shoe fashion, especially over the last decade. From the iconic designer heels that filled Sarah Jessica Parker's closet on "Sex and the City" in the early 2000s, to the skyscraper-stilettos that dominate the fashion shows of the world, high heels seem to be here for the long run.
eBay offers a great variety of women's heels, including both used and new shoes by top designers. This guide provides information regarding the types of women's heels one can find on eBay as well as some considerations about their quality and material. Additionally, it discusses some of the most popular trends in high heels.
Women's heels are a symbol of elegance and femininity, and any modern woman can gain very useful knowledge from reading this guide, in order to make a more informed decision when shopping for heels on eBay.
Types of Women's Heels
There are many different types of women's heels. The most visible variation between them is naturally the height, but shapes and styles also play a major role in the differentiation of women's heels.
Stiletto Heels
Stiletto heels are long and thin, above 5 cm. They have the disadvantage that they are harder to walk on, as they offer little support. On the other hand, they make women look taller and legs look more sculpted. Since the beginning of the 2000s, stilettos have been considered the ultimate touch of elegance when it comes to getting dressed for a special occasion.
Cone and Prism Heels
Cone heels are round heels that are wider at the sole and get narrower towards the ground. A more unusual variant of cone heels are prism heels, which have three sides.
Spool Heels
Broad at the soles and near the ground, spool heels are narrower around the midsection. They were common in the 1950s and made a comeback in the 1990s when they were popularized by Canadian designer John Fluevog and music icons like Madonna, who was often seen wearing them.
Wedge
Wedge heels run from the front to the back of the sole. They broaden near the heels and get narrower at the toes. Invented by Salvatore Ferragamo in 1936, wedge heels were big in the 1970s. They made a spectacular comeback in 2006, and they have not ceased to frequent on the world's catwalks since then.
Chunky
Chunky heels are very popular because they can be made higher without making walking as difficult as stilettos. They come in various shapes, and are quite easy to find.
Heel Heights
Heel heights are usually measured from the middle point of the top of the heel down to the top of the heel cap, always at the back of the shoe. Naturally, the height of the heel does not determine the exact number of extra centimeters added to the wearer's barefoot height. For example, wearing a 7 cm heel does not make a woman 7 cm taller. Shoes with a platform on the front sole, on the other hand, can add extra height, as they bring in a height that is not subject to the pivoting angle of the foot.
Women look for elegance in heels, not only height, although many are looking for both. Thinner heels can make women appear taller than a chunky platform, so, sometimes it is not all about height, but the illusion of height.
Extremely high heels are not for everyone. Walking on high heels with elegance is a learned skill, and a woman who cannot pull it off had better stick to heels under 3 cm. Moreover, women with back problems should be mindful of the size of their heels, as they can be very damaging. It is also recommended that women who wear extremely high heels very often should try to protect themselves from possible back problems by strengthening their core and abs.
Finding Quality Heels
Sole attachment is one of the first things that can reveal right away whether a shoe is of good quality. Stitched-on soles should look even and secure, while glued-on soles must have no space around the edges that might lead to peeling off. Any kind of sole must look seamless and safely attached.
Rubber on the heel is also a sign of quality. Shoes without a layer of rubber on the heels are less safe, and they might cause the shoe to slip on certain surfaces. Heels need to have some sort of grip, and rubber always does the trick.
The inside lining tells a lot about a shoe's quality as well. Good quality shoes are lined with leather all over their inside surface. If the the lining is made of vinyl, the foot is not able to breathe, therefore, leather should always be preferred.
As with the lining, leather is the prime material for manufacturing shoes in general and high heels in particular. However, it is now possible to find " vegan shoes", made from non-animal materials. While plastic and other synthetic fibers make poor quality shoes, quality vegan shoes, such as those made of breathable microfibres, can last as long as leather ones. It is a good idea to ask about material when sellers claim that heels are "vegan", because plastic shoes may not harm animals, but they can harm feet.
Women's Heel Sizes
When purchasing women's heels on eBay, there are two sizing considerations to take into account. One is, of course, shoe size, and the other one is the height of the heel itself. When it comes to shoe sizes, these tend to remain constant within each country or region, but there are different sizing systems all over the world.
International Shoe Sizing Chart
There are different shoe sizes for men and women in some areas, including the UK and the US. Therefore, when looking at conversion charts, it is always important to check that they refer to women's shoe sizes.
| | | | | | | | | | | | | | | | | |
| --- | --- | --- | --- | --- | --- | --- | --- | --- | --- | --- | --- | --- | --- | --- | --- | --- |
| Europe | 35 | 35.5 | 36 | 37 | 37.5 | 38 | 38.5 | 39 | 40 | 41 | 42 | 43 | 44 | 45 | 46.5 | 48.5 |
| UK Women | 2.5 | 3 | 3.5 | 4 | 4.5 | 5 | 5.5 | 6 | 6.5 | 7 | 7.5 | 8 | 9.5 | 10.5 | 11.5 | 13 |
| USA Women | 5 | 5.5 | 6 | 6.5 | 7 | 7.5 | 8 | 8.5 | 9 | 9.5 | 10 | 10.5 | 12 | 13 | 14 | 15.5 |
It is important to always consider the shape and style of the shoe to pick the right size. For example, people with wide feet normally need a bigger size when it comes to pointy shoes. Another important sizing consideration has to do with the material of the shoes; while leather does tend to become more flexible over time, plastic heels are not going to be broken in by use. This means that a leather heel that seems tight at first might fit perfectly after wearing it for a week, whereas this will not be the case with poor quality synthetic heels.
How to Buy Women's Heels on eBay
eBay is a great place to find glamorous women's heels. The first step to acquire them is naturally the search. Begin by typing keywords such as " women's heels " directly into the search box. If you are looking for a specific item, you may input "silver stilettos" or " leather wedge". Specific searches will always bring up fewer results, so if you do not find what you are looking for, it is a good idea to go back to the more comprehensive searches, as people do not always choose the right tags for their products.
Once you have found a pair of heels that seem to fit your needs, it is time to check the seller's track record and ask questions about size and material. Finally, reading the small print of shipping and return policies is always a must, because you need to know what to expect in case you need to return an item. Shipping costs and times should also be considered, as they influence both pricing and purchase convenience.eBay's extensive women's heels listings offer variety, safety, and reliability for anyone looking for dazzling women heels for any season.
Conclusion
The women's heels category includes a wide variety of items. The most important aspects to take into account when shopping for women's heels on eBay are: heel types, current trends, heel height, shoe size, and material. Additionally, one must never forget to review the seller's track record.Try searching high street brands such as Ted Baker and Warehouse for affordable alternatives to designer brands.
While priorities may vary between buyers looking for glamorous stilettos for a special occasion and those in search of an elegant pair of heels they can also wear to work, anyone who takes all of the above mentioned aspects into consideration can count on being satisfied. Whether looking for fashionable one-time trends or classic elegance, eBay has everything to make the process of purchasing women's heels extremely easy and satisfactory.