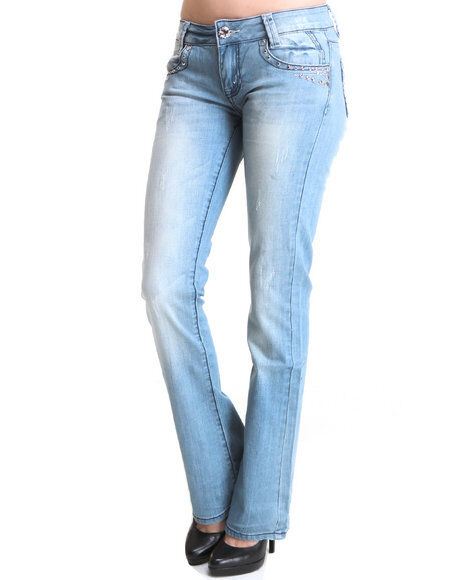 Iconic French designer Yves Saint Laurent once called jeans "the most spectacular, the most practical, the most relaxed and nonchalant" garment in the world. He said that if there was one thing he wished he had invented, it was jeans. Invented in 1873 by Jacob Davis and Levi Strauss, the original jeans were called waist overalls, and they were primarily used as work trousers. They were popularised as "jeans" in the 1960s, when the baby boom generation adopted them as their preferred type of trousers.
There are many characteristics that have made women's jean a wardrobe essential. Among other things, they do not require ironing, they are hard-wearing, and they are easy to wash and maintain.This guide describes the most popular types of jeans, offering care tips and advice on finding the right pair of jeans for each woman and body-type. Additionally, it offers useful tips regarding the types of denim available in the market and information on the standard jeans sizes used in different regions of the world. Whether looking for casual jeans for everyday use or fancy designer jeans for a special occasion, this guide provides everything that is needed to become an expert at shopping for women's jeans on eBay.
Different Kinds of Women's Jeans
There are brand-name jeans that can last for many years and cheap jeans that do not stand the test of time. Cheaper, low-quality jeans can have a shorter life-span, but they may be just perfect if one is looking for a trendy, glamorous look. In fact, fashions in jeans change very fast, and most shopping experts agree that it is best for women to spend their money on good quality jeans that work for their bodies, regardless of what the latest trends may be. After all, one can always look trendy in a cheap pair that might only last for as long as the trend is in fashion.
The variety of women's jeans available on the market can be overwhelming. Therefore, it is important to consider some key aspects before one starts shopping for them on eBay.
Different Types of Denim
When it comes to the fabric's weave, all kinds of denim are cotton twill, but there are lots of variations. Left-hand twill tends to be softer, right-hand twill is the most durable and common type, and there is also broken twill. The twill is classified according to the direction of the weaving. Broken twill, which was created by Wrangler, alternates between left-hand and right-hand twill to diminish the leg-twist effect.
As for the quality of the cotton, the finest cotton fabrics make for softer, smoother-looking denim. When the cotton is high-quality, the denim is also more durable, and this aspect plays a major role in the pricing of women's jeans.
The most visible aspects of jeans are dyes and finishes. When jeans have been dyed before weaving, their colour tends to last longer; these are called yarn-dyed jeans. When denim has been dyed after weaving and construction, its colours are initially stronger, but they also fade faster than in the case of yarn-dyed jeans.
Washing and Finishes
Stonewashed jeans are among the most popular. These jeans are washed using chemicals or pumice stones; a process that makes the denim lighter and softer. Sandblasted jeans are blasted with sand in areas where natural wear might occur. The effect is that those areas become lighter, thus also becoming a center of attention. As a rule, one should buy jeans that are lighter in areas that one is looking to emphasize.
Whiskered jeans, the kind that show crease lines on the lap area, have become quite popular over the last decade. These lines can be created through printing, sandblasting or using laser technology. Since the resulting lines are horizontal, women with bigger legs should avoid heavily-whiskered jeans, as they can make legs appear wider.
Different Cuts of Women's Jeans
Jeans' cuts change with the times, and you never know what may come next. For example, when everyone thought high-waist jeans were dead and buried, they made a stellar a comeback in 2007, populating the catwalks and red carpets of the world, as if they had never left. Although only women with nearly perfect bodies can pull off more than two or three jeans' cuts, it is good to know all of them, in order to make an informed decision, which must always be based on a combination of personal preferences, current fashions, and body-type.
The Good Old Classic Cut
These high-waisted jeans are loose on the hips and narrower on the legs, which has the effect of emphasizing the belly section. Also known as "mom" jeans in the United States, they are not well-suited to most body types and look best on rather petite women. Paradoxically, they were originally created to conceal that to which they actually draw attention; a big belly and large hips.
Boot Cut Jeans
Boot cut is a type of cut that looks good on a wide variety of female body-types. Hugging the hips and thighs, boot cut jeans grow looser near the foot. Waist-rise may vary, and it plays a key role in finding the right type of boot cut jeans.
Flare Jeans
Flare jeans are today's response to the fashionable bell-bottoms of the 1970s. Rebranded as flare jeans during the 1990s, the modern version of bell-bottoms is tighter on the leg and thigh than its predecessor, while the extra bell-like width from the knee down has been maintained.
Women whose only slim area is the lower leg may look bigger in this kind of jeans. Naturally, they emphasize the hips and thighs and are therefore best-suited for slim women, especially those with bigger calves.
Skinny Jeans
These close-fitting jeans made of stretchy denim are not well-suited for every woman's figure. They generally look the best on women with near-perfect legs. However, they hug every curve, with the effect that women with a flat behind should avoid them, as they leave this area rather exposed.
If one chooses the right rise to make them the most flattering around the belly area, skinny jeans are a safe bet for any woman with slim, toned legs and thighs.
Straight Cut Women's Jeans
The cut of this type of jeans is straight from below the hip and down to the foot, with the effect that it makes women's legs look longer. Straight cut jeans can be flattering for many common body types.
Denim Colours
There are two kinds of denim dyeing; indigo dyeing and sulfur dyeing. Shades of blue are obtained through indigo dyeing, while sulfur dyeing produces all other colours.
Coloured denim has recently become very popular, and it is now possible to find jeans in the widest variety of colours, from light green to purple and from crimson to fluorescent yellow.
The Holy Grail of the Perfect Fit
Jeans are so popular that, in their quest for the perfect fit, women often stick to the same brand and model for years. All body types are different, and the elusive perfect fit has to do with the particular cut of a pair of jeans as well as the size number on the tag.
Naturally, shopping for jeans online is much easier when one knows the particular model and size in question. However, as fashions change, it is sometimes necessary to buy new, unfamiliar models, and a size chart is absolutely required.
The fact that one can get into a pair of jeans does not necessarily mean that they are going to look good. However, finding a size that fits is the first step in the path to finding the perfect pair of jeans.
Jeans Sizes Comparison Chart
This chart pairs UK, US, and a variety of European sizes with hip, low-waist, and high-waist measurements.
| | | | | | | | | | | |
| --- | --- | --- | --- | --- | --- | --- | --- | --- | --- | --- |
| Size UK | 2 | 4 | 6 | 8 | 10 | 12 | 14 | 16 | 18 | - |
| Size US | 0 | 2 | 4 | 6 | 8 | 10 | 12 | 14 | 16 | 18 |
| Size Europe | 30 | 32 | 34 | 36 | 38 | 40 | 42 | 44 | 46 | 48 |
| Size France | 32 | 34 | 36 | 38 | 40 | 42 | 44 | 46 | - | - |
| Size Italy | 34 | 36 | 38 | 40 | 42 | 44 | 46 | 48 | 50 | 52 |
| Waist | 60 cm | 62 cm | 65 cm | 67 cm | 70 cm | 72 cm | 77 cm | 80 cm | 84 cm | 86 cm |
| Low Waist | 66 cm | 67 cm | 70 cm | 72 cm | 75 cm | 77 cm | 82 cm | 85 cm | 89 cm | 91 cm |
| Hips | 88 cn | 89 cm | 91 cm | 94 cm | 96 cm | 99 cm | 103 cm | 107 cm | 110 cm | 114 cm |
Taking one's measurements accurately is one of the keys of succeeding in the search for the perfect fit.
Tips for Taking Care of Women's Jeans
All kinds of jeans last longer when washed properly. It is convenient to always read the instructions on the jeans' tag before washing them. For better results, they should be turned inside out and washed in cold water, preferably in a delicate program, unless they are hand-washed. Dry cleaning is recommended in the case of dark jeans.
As for drying, jeans must be hung upside down to dry. If using a drier, it is best to choose a low heat program. Jeans should never be washed in hot water or after every single wear.
How to Buy Women's Jeans on eBay
There are numerous reputable sellers offering a wide variety of women's jeans on eBay. When searching for women's jeans, if you are not very sure what you want, it is best to look throughout the whole jeans subcategory, under women's clothing, to see what is available. If you have decided that you want skinny jeans or a specific kind of stonewash, you can search for keywords such as "skinny stonewashed jeans", and you can do the same if you have decided that you need flare jeans or the more traditional boot cut jeans. If you know the brand or colour you are looking for, you can add one or two more keywords to narrow down your search. For example, you may additionally input "dark blue Levi's".
When you feel like you have found the perfect pair of jeans for you, it is time to ask questions. If you are not familiar with the specific brand, model, and cut, you must make sure you get the range of hip and waist measurements the jeans have been designed to fit. You may be a different size than the usual, depending on the specific cut, so it is very important to ask the seller for as much information as possible.
It is also important to check the seller's track record, shipping costs, and return policies. Experienced women's jeans sellers know that their product is all about the fit, and they are usually prepared to exchange the jeans, in case you have miscalculated the size.
Conclusion
Buying women's jeans online requires a bit of preparation. One must decide on the cut, finish, and colour of the jeans, while making sure the price and the size are also right. The most important aspects to take into account when buying women's jeans on eBay are: selecting the most flattering cut, checking the size, and reviewing the seller's track record. People buying a pair of jeans for everyday use aim at finding the most durable, comfortable jeans, while those in search of something to wear on a night out usually pick something with a potential to emphasize the best of their features, in a fashionable cut and colour.
The most important aspect of buying a pair of jeans is never what they look like on a model or a hanger, but rather, the way they look on the woman buying them. Learning a bit about the different cuts and looking at size charts can help any woman make the right decision. Luckily, eBay boasts an impressive variety of women's jeans in all colours and sizes to fit every female body-type and every taste.