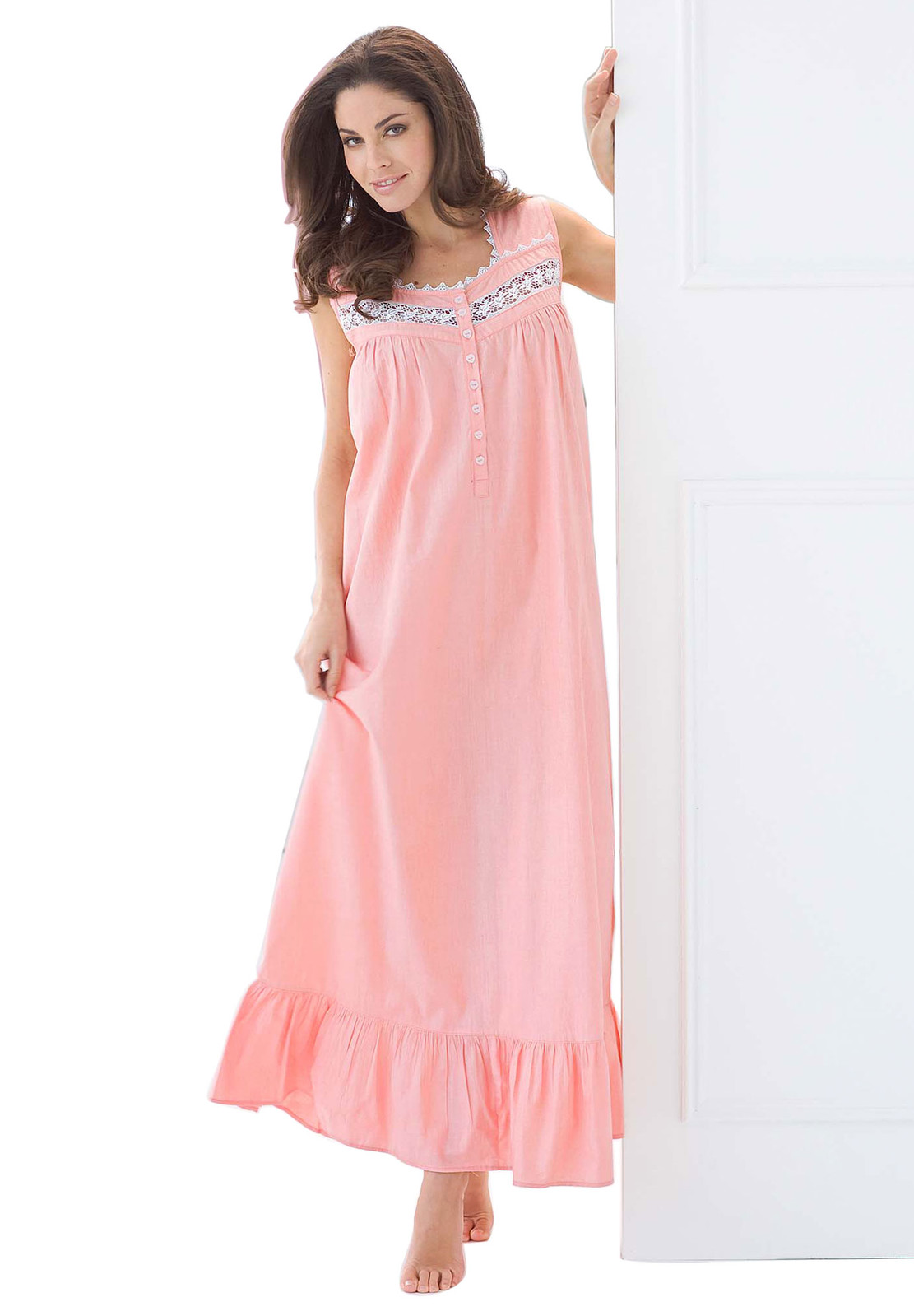 Nightwear is the umbrella term clothing manufacturers tend to use to describe everything from a pair of thick cotton pyjamas worn on cold winters night to a black, lacy lingerie gown worn on special occasions. Women often have many different pieces of nightwear in the closet and they wear them depending on their mood and need. After all, while lingerie may be sexy, it isn't exactly comfortable for sleeping or lounging around the house. Buying a new nightwear piece or set begins with determining which style the buyer wants, and then focusing on the particulars such as colour and material. For example, a woman who wants to wear something both comfortable and sexy to bed may prefer the style of a strappy chemise over a pyjama top and bottoms. Department stores sell nightwear, as do retail stores like Victoria's Secret and Ann Summers, but buyers will find the greatest selection for the best possible value on eBay.
Nightwear Styles
The first thing to understand about nightwear is that it comes in many different styles. As with any piece of fashion, some women prefer one style over the other during different seasons or special occasions. Thermal nightwear, sometimes affectionately called long johns, as well as sleepsuits, are made for cold blustery winter nights. Thin nightgowns, on the other hand, are worn during the summer and are usually paired up with a robe or dressing gown depending on preference. Pyjamas at a bit more comfortable than regular clothes and some women will even wear them outside of the house on quick errands. Intimate occasions may tend require a lovely piece of silk lingerie perhaps. Some of the most common nightwear styles are listed below.
Pyjamas
Pyjama styles are grouped together because they either include a top and a bottom, or a single one piece suit with pant legs. Thermal underwear and sleepsuits both fall into this category. Women wear pyjamas because they want to be comfortable while they are sleeping without needing to look too sexy or revealing. College students who live in the dormitories often wear pyjamas, as do young women with roommates or busy moms who sometimes have to get up in the night with their young children. The main idea here is comfort. Pyjamas don't include any buttons or tight material. Elastic waistbands or drawstring ties hold up the bottoms on pyjamas instead of zippers and buttons. Even thermal underwear and sleepsuits use buttons instead of zippers. They come in soft materials with cotton being a popular choice. Pyjamas come in all colours and many include patterns or characters.
Nightgowns
Like pyjamas, nightgowns come in many different styles. Long sleeved nightgowns with a high neckline are worn during the cold months by women who either don't like to wear pants to bed or just prefer the softer style of the nightgown. Short sleeved nightgowns that hang down to the knees make an excellent choice during the summer, while a strappy chemise adds a sensual touch to the bedroom. Though they are meant to be comfortable, nightgowns will sometimes include design elements like lace or ruffles to make them seem more stylish. Therefore, choosing the right nightgown is a matter of personal style and comfort level. Nightgowns come in many different materials such as warm cotton to smooth silk.
Lingerie
Designed for fun rather than practicality, lingerie is the sexiest example of nightwear. These are the short and sweet pieces that look enticing and flirty, but they may not be the most comfortable pieces of clothing in the world. A corset top thins the waist and uplifts the bust area. Many women accessorise their corset with a suspender belt worn around the hips that holds up their stockings. Sometimes women may just choose to use a lacy pair of matching bras and panties for lingerie and cover it up with a thin negligee. While beautiful, lingerie is not meant to be useful and most women take off their lingerie before going to sleep, replacing it with a pair of pyjamas or a nightgown. Lingerie comes in all colours, from a simple black to a rainbow of shades.
Robes and Dressing Gowns
Robes are the outerwear of the nightwear family. While certain kinds of robes, like a bathrobe, can certainly be worn alone, most are designed to be worn over pyjamas, nightgowns or lingerie. Choosing the right dressing gown depends on what it is going to be worn with, otherwise the robe will clash. For example, if the buyer has a white silk nightgown, then a white silk robe is a fantastic complimentary piece. A white cotton robe, however, will look out of place. Fabrics used for robes are the same as other pieces of nightwear, and perennial favourites include cotton, terrycloth, and silk. While some manufacturers make robes only in one size, it is a good idea to purchase a sized robe that matches dress size so that it will fit across the shoulders with ease.
Nightwear materials
Clothes made for sleeping must be comfortable, so manufacturers will usually only use the finest fabrics on the production line. Buyers need to understand the differences between fabrics when making a purchasing decision, since the material affects pricing, care, and lifespan. For the utmost in comfort, most manufacturers choose to use breathable fabrics that feel light against the skin such as cotton and silk. Cotton is an organic fabric that comes from plants, and when it is very finely woven, it feels incredibly soft and warm against the skin. Silk comes from the silkmoth, and when it is spun into a fabric the result is a glossy, smooth material that feels cool against the skin.
Cotton vs. Silk
Between the two, silk is the more expensive option. It is also harder to care for silk products, as one would have to follow wash directions carefully during cleaning. Silk must also be hand washed since the rotating arm inside most washing machines can lead to the damage of this fabric. Once washed, silk fabrics must be hung to dry. Because hand washing takes so long, many homeowners opt for dry cleaning, which can be quite expensive at times. Cotton, on the other hand, can be washed in a washing machine. However, this fabric does shrink if exposed to high temperatures, so only wash cotton in warm or cold water. Likewise, dry cotton on medium settings. With proper care, both cotton and silk can last for many years, even well past the lifetime of many synthetic fibres.
Caring for Lingerie and Other Delicates
Lingerie, along with other intimate apparel, often includes delicate fabrics like lace or gossamer. Treat these as carefully as other fine fabrics like silk. They should not be exposed to any rough washing, so that means they must be hand washed. Dryers can also damage these pieces because of their high heat and tumbling, so air drying works best. Also, if the lingerie includes decorations like bows or rhinestone clips, see if they can be removed prior to washing. If not, never put anything with sequins or rhinestones into the washing machine, as this makes the material fall apart. Instead, hand wash and dry the item.
Buying Nightwear on eBay
When it comes to purchasing nightwear customers have two primary options; they can visit a local department store or clothing store to find the best deals, or they can stay at home and try to find those same deals on the web. Smart shoppers know that sites like eBay usually have better deals than they would find in a department store simply because they can buy directly from the seller without having to pay high overhead prices. Also, while many name brand stores will sell nightwear for extremely high prices, customers can find those exact same styles on eBay from cheaper labels for a third of the price. The selection is also unmatched, with thousands of auctions for nightwear pieces going on at the same time.
Finding Nightwear on eBay
To get started finding good deals, customers have to know where to look when buying on eBay. The best place to start is by getting familiar with the search engine. eBay's search engine responds to whatever terms are entered into its box. Using highly specific terms, such as "women's white babydoll size 8" results in fewer auctions, while broader terms like "women's white babydoll" results in more auctions. Limiters that can affect the search include the style, material, designer, and colour. Also, keep in mind that sellers use different terms to mean the same thing. For example, while nightgown is commonly used all over the world, some sellers might use the term nightdress instead. Therefore, doing a search for both terms will give the buyer more potential auctions to explore.
Conclusion
Nightwear is a wonderful way to stay comfortable during the night, or to add a touch of fun into any wardrobe. What pieces are chosen largely depends on the woman's own personal style and needs. A mother who needs a practical outfit during the night will want a different style than a boyfriend who is buying a gift of lingerie for his girlfriend. Smart buyers should always examine the different styles before choosing the one that best meets their needs. Once they have a style they want, they can then start deciding about specifics like material and colour. Caring for nightwear properly is also important to ensure that the pieces continue to look good for years to come. Since nightwear is so highly personal, customers prefer starting with a large selection before narrowing down the results. eBay is an amazing source of nightwear simply because the selection offered online is unmatched at local department stores. Whatever the choice may be, finding the right piece of nightwear is all a matter of preference and patience.