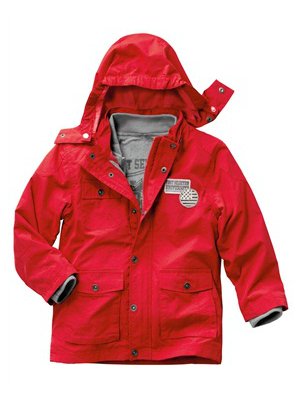 When winter sets in, children need protection from rain and icy weather, and few garments offer more protection than the parka coat. With a heritage which stretches back to the warm outer garments worn by the Eskimos, parkas have long been favoured for their waterproof qualities. Parkas are distinguishable from anoraks due to their length. Most parka designs extend beyond the waist to the knees. They often come with deep hoods and a flap that closes over the throat and chest, providing added protection from the cold winds and driving rain. Parkas can vary from the luxurious, padded with duck down, to more practical designs that are padded with polyester and covered with nylon fabric. Given the tendency for boys to subject their clothing to hard wear and to outgrow their clothing quickly, the question of cost can be of particular importance. This makes searching around for the best deal an essential part of shopping for a boy's parka. At eBay it is possible to find a wide selection of boy's parkas at reasonable prices.
The Features of a Parka Coat
A parka coat is the ideal coat to keep a boy warm and dry in even the iciest of winter weather. A true parka is more than simply a warm outdoor coat, or an 'anorak'. A well designed parka will be warm, comfortable and keep the wearer dry in in even the most challenging conditions. Although parkas do vary, there are certain style traits they all share.
Hood
A parka comes with a full-sized hood that protects the face from the wind and the rain, keeping the wearer's head dry. The rim of the hood is normally edged with fur, which provides additional comfort, and the hood will normally feature a drawstring to enable it to be pulled snug around the face.
Full-Body Coverage
A second characteristic of the parka is its full-bodied shape and generous fit, which allows for plenty of clothing to be worn underneath while preserving freedom of movement. This may be complemented by an internal drawstring, to enable the coat to be gathered at the waist. Parkas are long. It is this characteristic that distinguishes it from a simple anorak. Some parkas are long enough to reach the knees, giving still greater protection against the elements.
The Fasteners
A parka normally has a stout zip or sometimes buttons at the front, to close all the way to the top. A further characteristic is the ability to pull a flap of cloth right up beneath the neck and fasten it, in order to give full protection to the throat and upper chest area, which are vulnerable in freezing weather.
Waterproof Layers
In order to give the best weather proofing, parkas are normally composed of several layers. There will be a waterproof or at least shower proof outer layer, beneath which comes a layer of soft stuffing material. The inner lining will often be fleeced for warmth. Or there may be a detachable fleece inner lining to allow the parka to be worn in less extreme conditions, too.
The Layers that Make Up a Parka
A common parka design includes a durable, water resistant outer shell, behind which lies a layer of soft, insulating padding, followed by an inner lining which is often fleeced. This means that a parka can be made of a variety of different materials.
The Outer Shell Layer
The primary purpose of the outer shell is to act as a barrier. The outer shell protects the parka's insulating layer, and therefore the wearer, from wind and rain. The outer layer need only be thin, as it is not the main warmth-retaining, insulating layer.
The outer shell may either be made from a natural material such as silk, cotton, or leather, or it may be a synthetic material, such as nylon.
Leather
The original inspiration for the parka is believed by some to be a traditional Eskimo coat, made from locally hunted leather. However, leather is not naturally very waterproof as it becomes easily saturated. It needs regular applications of oil to be able to protect the wearer from heavy rain.
Silk
Silk is an excellent, lightweight material. It is woven very tightly, with the result being a smooth and wind resistant textile. However silk and leather are expensive, and therefore are rarely used to in the manufacture of contemporary parksa
Cotton
United States military parkas were once made with a woven cotton outer shell. Cotton is still used in some parkas, but generally the cotton is blended with nylon. This reflects the fact that cotton is not very durable just on its own. Unblended cotton is not water resistant and becomes saturated when wet.
Nylon
Many parkas today skip the cotton altogether and simply use a nylon outer shell. For reasons of both durability and price, a parka with a nylon outer shell is probably the best option for a boy.
The Padding Layer
The padding in a parka is never seen, yet it is one of the most important layers. Without it, the parka would not be able to insulate the wearer from the cold.
Down
A top quality parka coat might be lined with goose down or duck down. These materials are supremely light, and soft, and offer excellent insulation. Down parkas are also supremely expensive, and few shoppers would want to spend so much on a boy's parka, considering that most boys will outgrow their parkas in just two seasons.
Polyester
Wool is a practical and warm material for padding a parka. It was used by the United States military for military issue parkas, but the wool padding was later replaced polyester. Polyester is in fact is an excellent material, being cheap, lightweight, and offering effective insulation from the cold. It is therefore the most common material used to pad parkas today. It is the ideal choice for the cost conscious shopper.
Inner Lining
The same considerations of cost and lightness apply to the inner lining as to the outer shell, and for this reason nylon is often the preferred choice. However, some parkas have a detachable fleece lining, to further enhance the parkas insulating properties. While others may have expensive breathable linings, these parkas are generally not purchased for boys due to their cost.
Comparing the Different Types of Boy's Parkas
Parkas vary in the protection they offer as well their prices depending on the materials used to manufacture the different layers found in parks. This table compares the advantages and limitations of different materials.
| | Silk | Wool | Cotton | Down | Nylon | Polyester |
| --- | --- | --- | --- | --- | --- | --- |
| Outer Shell | Tightly woven silk is windproof and ideal, but costly and therefore rarely if ever used today | | Good to look at but not hard wearing, cotton is only waterproof if waxed or mixed with nylon. Therefore it is not used as much as in the past. | | Cost effective and durable, nylon is also waterproof and light, making it ideal for the outer shells of parkas. | |
| Padding | | Warm and reasonably light, wool is more expensive than synthetics. | | Luxurious, lightweight, very warm and soft, but equally expensive. Down is reserved for the most upmarket of boy's parkas. | | Light, affordable, and very warm, all qualities which make polyester the ideal choice. |
| Inner Lining | Silk would make a good inner lining, but its cost means that it is not commonly used to make parkas. | Wool in the form of fleece is a great inner lining, but cheaper and lighter materials are more common. | Cotton or cotton and nylon fleece is a good option for the inner lining. | | Cheap and light, nylon is a very popular choice. | As with nylon, cost, lightness and durability make this a good choice. |
A practical and affordable choice would be a parka with a nylon outer shell and polyester padding. A parka with down padding is certainly a luxurious choice, but as boys grow quickly, a parent will have to replace an expensive down parka in two seasons.
Shopping for a Boy's Parka on eBay
If you are thinking of buying a boy's parka coat, the first thing to decide on is how much you are prepared to pay, and what materials you prefer. The chances are that you will choose the sensible option, which is a nylon or polyester parka. The vast majority of boy's parkas are made from polyester and nylon.
When it comes to actually buying the parka, you have several options. One option is to take the boy shopping to a high street shop that sells boys' clothing. Given the short attention span of many boys, and their dislike of visiting shops to buy clothes, many parents prefer to visit online marketplaces such as eBay. With eBay, not only do you not have to drag a reluctant boy from shop to shop, but it also offers the advantage of a far greater selection from which to choose.
On eBay you can find hundreds of boy's parkas, both new and used, including famous name brands. From the eBay home page simply enter a search term like 'boys clothing parka' to bring up a results page with potentially hundreds of listings for parkas. By looking at the photographs it is simple to select a style and colour that everyone agrees on, and by shopping online at eBay the whole experience is both quicker and more pleasant.
Conclusion
The parka is a warm and practical item of winter clothing, which has remained popular due to its many advantages. A parka should be of a good length. If possible, a parent should choose a parka for their son that will extend down to the boy's knees. The size of the parka should allow ample clothing to be worn beneath it. The parka should also come with a strong zip that goes all the way up to the neck. Most parka designs include a flap of cloth to pull across the throat for extra protection, and a large, deep hood that is often fur trimmed.
Although it is possible to find parkas filled with expensive goose down, for most purposes, man-made materials such as nylon are the best for a waterproof outer shell, while polyester makes an excellent warm, lightweight, padding material.
When buying a parka for a boy, it is helpful to be able to look at as wide a range as possible, in the shortest time. Shopping at eBay has the advantage of a full selection of parkas for boys in a variety of styles and colours.