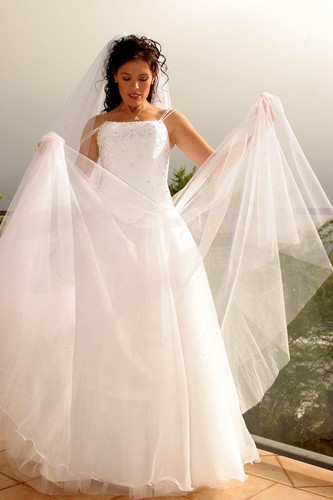 A lightweight fabric made from a combination of silk and cotton, chiffon is commonly used for wedding gowns. The qualities that make chiffon the ideal choice for a wedding gown are its lightweight and smoothness. Wedding gowns made from chiffon are stiff enough to look great, but stylish and comfortable at the same time. Chiffon is also ideal for saving money because it is not a pricey material like satin or silk.
Chiffon wedding gowns are available in a wide variety of styles and colours, from traditional white to ivory and vibrant colours such as red and green. Women can choose chiffon wedding gowns with various embroideries and accessories as well as with long tails. It is important for a bride to feel comfortable on the most important day of her life, so choosing a wedding gown that is easy to walk and move around in is essential. Knowing the advantages of chiffon as a fabric can help one make an informed and sensible selection when buying a chiffon wedding gown.
History of Chiffon
Chiffon is a luxury fabric that has been used for wedding gowns and other garments since the beginning of the eighteenth century. Wedding gowns are made from several types of chiffon, including silk chiffon, specialty chiffon, and polyester chiffon. The term 'chiffon' comes from the French 'chiffe', which means 'rag'. The main characteristic of chiffon is the soft-flowing texture of the fabric, which gives wedding gowns and elegant and fluid look.
From the eighteenth century to the middle of the twentieth century, chiffon was made exclusively from silk. After that, other fabrics such as nylon and polyester began to be combined for making chiffon, which led to an increased popularity and demand because of the lower price compared to silk chiffon. Polyester chiffon is easier to maintain and is more practical, two reasons for which it is nowadays frequently used for bridal gowns.
Characteristics of Chiffon Wedding Gowns
The main characteristics of chiffon are lightweight, transparency, and simplicity of the weaving pattern. This fabric also features a soft finish and, in many cases, chiffon has to be layered because it is very transparent. Some types of chiffon can be very stiff, so women should take this aspect into account when choosing a wedding gown. If a bride is looking for a flowing dress, she should consider a more fluid kind of chiffon. Chiffon wedding gowns are flattering for all body shapes and it is up to the buyers to choose a style that fits perfectly to the bride.
Chiffon Wedding Gowns Styles
Chiffon wedding gowns come in various styles and brides should choose their dress style first, before the wedding bouquet, veil, hairstyle, and shoes. Some wedding gown styles are more suitable for a certain body shape than others, so buyers should carefully take this aspect into account when shopping for bridal dresses.
Empire Wedding Gowns
The main characteristic of empire wedding dresses is the so-called empire-waist, which is closely fitted around the bust line. This has been a popular choice for wedding gowns for centuries and is a good option for brides with smaller busts. The illusion of a bigger chest is created by the dividing line in the fabric. While chiffon empire wedding gowns are not a very good choice for hourglass figures, they are perfect for women without a defined waistline, as they may make them appear thinner.
A-Line Wedding Gowns
Chiffon wedding gowns with an A-line never go out of style. This classic style is ideal for women who are heavier in their hips, but A-line wedding dresses can actually be flattering for any figure. These dresses are available in a variety of styles, many of them featuring embroidery designs, intricate beading, and delicate lace trims.
Ball Wedding Gowns
Ball gowns are elegant and they are a good fit for pear-shaped, full-figured, and thin women. Other women who may consider this style for their wedding dress include those with an hourglass figure and petite women. Chiffon ball wedding gowns are often accessorised with lace motifs or embellished with beads and they are best paired with high heels.
Mermaid Wedding Gowns
As their name suggests, mermaid wedding dresses resemble the shape of a mermaid, being closely fitted on the top and widening out at the level of the knees. This style of chiffon wedding gown is suitable for women with a small waist and bust. Petite women and those with a short waist should avoid chiffon mermaid wedding gowns.
Sheath Wedding Gowns
Sheath wedding gowns made from chiffon are simple and they are intended to show off the bride's figure without too much detail. This style is ideal for women who wish to accentuate their slim hips and long legs. Sheath gowns are flattering for thin and petite women, but are not recommended for full-figured brides.
Choosing the Right Size
Perhaps more than in the case of other types of clothing, a wedding gown should fit perfectly. A wedding is a special moment in the life of a woman and it is essential for her to look at her best in a wedding gown that fits properly. It is recommended to have measurements taken professionally before shopping for wedding gowns. If taken at home, the measurements for the bust, hips, and waist should be as accurate as possible. In many cases, a chiffon wedding gown can be adjusted but, by taking measurements accurately, this may not be necessary. The table below offers some guidelines related to wedding gowns sizing.
| | | | | | | | | | | | | | |
| --- | --- | --- | --- | --- | --- | --- | --- | --- | --- | --- | --- | --- | --- |
| UK | 6 | 8 | 10 | 12 | 14 | 16 | 18 | 20 | 22 | 24 | 26 | 28 | 30 |
| US | 2 | 4 | 6 | 8 | 10 | 12 | 14 | 16 | 18W | 20W | 22W | 24W | 26W |
| EU | 32 | 34 | 36 | 38 | 40 | 42 | 44 | 46 | 48 | 50 | 52 | 54 | 56 |
| Bust (cm) | 83 | 84 | 88 | 90 | 93 | 97 | 100 | 109 | 114 | 119 | 124 | 130 | 135 |
| Waist (cm) | 65 | 68 | 70 | 72 | 75 | 79 | 83 | 86 | 98 | 104 | 109 | 115 | 121 |
| Hip (cm) | 91 | 92 | 96 | 98 | 101 | 105 | 109 | 112 | 121 | 126 | 131 | 136 | 141 |
| Height (cm) | 160 | 160 | 165 | 165 | 170 | 170 | 175 | 175 | 175 | 175 | 175 | 175 | 175 |
When taking the measurements for a wedding gown, it is recommended to do so with the undergarment one plans to wear on the day of the wedding, especially the bra. In order to choose the right length, buyers should wear heels similar to those that are actually part of the wedding outfit. Besides measurements for hips, bust, and waist, some sellers specify information regarding the inside sleeve and arm girth, so it would be a good idea to take those measurements too.
How to Find Chiffon Wedding Gowns on eBay
Finding the right chiffon wedding gown is a task that may take weeks or even months for the majority of brides to be. With so many things to be taken into account, from style, colour, size, accessories, and more, buying a wedding gown cannot be a decision to take lightly. Fortunately, there are so many styles to choose from, either online or in high-street stores, that eventually you will find a chiffon wedding gown that will fit you perfectly and will make you look amazing on your wedding day.
eBay has a great selection of chiffon wedding gowns and finding your ideal style is not difficult. You can choose from thousands of wedding gowns, ranging from contemporary trends to vintage styles. Begin your search by typing 'chiffon wedding gown' in the search bar on eBay's home page. In a few seconds, you will get many pages with relevant results and you can start browsing for the gown of your dreams.
One can think that the selection available on eBay is too extensive and this may be true. If this is the case, try to refine your search by adding extra elements, such as size, colour, style, condition, and brand. When you find a dress that you would like to buy, pay close attention to the sizing information in the product description in order for the dress to look perfect and avoid shipping fees for returns.
Conclusion
Chiffon wedding gowns are popular choices with brides because they are versatile, comfortable, and flatter a wide variety of figures. These wedding gowns come in a large range of styles and buyers should take several factors into account before deciding upon a certain model.
Before embarking on the journey of searching the ideal wedding dress, buyers should first decide on a budget and look for chiffon gowns in the appropriate price range. This can protect the wedding budget, as brides are less inclined to buy something that may destabilise it by simply restricting to a certain price range.
eBay offers a wide selection of chiffon wedding gowns, in all styles and price ranges, so it is easy for a bride to be to browse for the ideal wedding gown and find it quickly. With so many styles to choose from and a simple search system, eBay is an excellent destination for the perfect chiffon wedding gown.