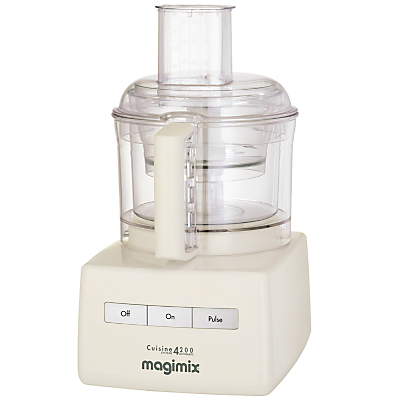 There are many food processors on the market, and it is not always clear which may be the best. Food processors provide many functions for making time in the kitchen easier and can assist with many projects big or small.
Types of Food Processor
There are three main types of electronic machines regarded as food processors. They are mini choppers, which are, in effec,t small versions of food processors; kitchen machines or mixers, which are usually larger than food processors, and food processors named as such.
Mini Choppers
The smaller versions of food processors are mini choppers. These appliances are popular because they are small enough for permanent storage and display on a kitchen worktop, and, by being readily at hand, they get regular use. As they have no accessories, they are simple to dismantle for cleaning and reassembly, so several batches of different small portions of chopped or pureed food are easily produced. Three different shape types are available for mini choppers. One is like a scaled down version of traditional, regular-shaped food processors with its motor contained inside a main housing. Beside it are the bowl, blade, and lid. Another type has the motor beneath with the bowl etc. sitting on top with a similar appearance to the set-up of a small jug blender. The third version has the motor and housing in the lid above a glass bowl. The power of mini choppers is limited to a single or double speed capability, usually operated via a button.
Kitchen Machines
Kitchen machines are larger than food processors and the preferred appliance of professionals when baking cakes or creating batters as part of a recipe. They have been around longer than food processors with the most famous being the Kenwood Chef, which brought ease and reliability into domestic kitchens for cooks. The top of the machine is lifted to provide access for attaching beaters, blades, or hooks to the motor housing and offers variable seeds to suit the required function. Many are available with accompanying accessories such as liquidisers or jug blenders, chopping and slicing attachments, and even a mincer attachment for some models as an extra purchase. Its excellence for whipping and whisking ensures fluffier or stiffer consistency for ingredients and thus better results for certain recipes. Bowl sizes are approximately 4.6 litres, which permits great capacity for batch cooking.
Food Processors
Food processors come into their own when larger batches of ingredients require chopping, shredding, grating, slicing, or mixing together. They save time and prevent cutting accidents that can occur when using a knife or a mandolin. Preparation of vegetables for soups, salads, and stews or casseroles becomes a simple task and saves time. Those models with jug blender attachments or liquidisers will produce milkshakes, smoothies, purées and mayonnaises. Many biscuit recipes are ideal for making in a food processor. Cake mixes, dough kneading, and whisked or whipped items are made using the appropriate attachment, though the results are not as spectacular as those from a kitchen machine. Speed is variable, and many models also offer a pulse function to ensure the correct consistency for mixed ingredients.
Type of Machine

Mini Choppers

Food processors

Kitchen machines

Use

Small tasks for dry/moist food. Ideal for pureeing baby food.

Chop, grate, shred, and slice dry/moist food. With accessories may function as a blender, dough kneader, whisk

Main use for making cakes and bread mixes. With accessories may perform many other tasks

Pros

Small, take up little space, easy to clean, no accessories to fit

Range of tasks [above] can be completed at variable thicknesses or specialist options

Some models have an extra-wide feeder tube to accept larger items

Choice of professionals for whisking/whipping

as the tools behave in contrary motion and produce much more aerated eggs and cream mixes

Hot or Cold

Cold contents advised

Either [with care]

Either [with care]

Cons

Not suitable for wet processing as this would overheat the machine

Unable to cope with hard dry items such as coffee beans

Food needs to be small enough to fit the machine

Lots of accessories make storage and access to the correct item awkward

Generally not as good as a kitchen machine for

kneading dough or whipping batter

Noisy

Large and heavy to store, accessories may also take up space

Without specialist accessories, they do not grate/chop etc.

Best Application

Chopping and pureeing for dips

Bulk chopping and slicing etc.

Particularly good for cake or batter mixing, dough kneading or whisking and whipping tasks

Possible Attachments

Extra Accessories

None

Blender/liquidiser jug, beaters for whisking and whipping, blades for slicing, grating, shredding, kneading and mixing hook

Splash guard, jug blender/liquidiser beater, dough hook chopping and slicing attachments
Best to Make

Mini Chopper

Food Processor

Kitchen Machine

Smoothies/Milkshakes

No liquids

Use jug blender or liquidiser attachment

Purées

Only small amounts

Use jug blender or liquidiser attachment

Mayonnaise

No

Use jug blender or liquidiser attachment OR whisk in a kitchen machine's bowl

Whisked Eggs or Cream

No

Use whisk attachment

Whisk/whip with beaters

Grate or Slice

No

Use accessory blade

Only with attachment

Cake mix

No

With attachments

Chopped vegetables/nuts

Small amounts

Use chopping blade

No

Bread dough

No

Use correct blade

With dough hook
Consider Requirements for the Job
Bakers and cake-makers will benefit most from a kitchen machine which kneads and whips better. Preparation of baby food portions is easily done with a mini-chopper. General preparation of vegetables and ingredients for household cooking is best served by a food processor. Each appliance has its own strength. By adding accessories it is possible to have a machine to perform the most popular functions in a kitchen that suit the user and their budget.
Accessories
Different appliances offer different tools. A kitchen machine requires extra attachments if slicing and grating are desired functions. A food processor will become more versatile by attaching a jug blender to create soups and other liquid-based recipes.
Size
Space is often an issue when items need to be stored. Not only will the appliance require storage space if it is not permanently on display, but the worktop where it is used needs to be considered. If cabinets are situated above the work space, they may affect the position of the appliance for opening lids, adding ingredients via a feeding tube or lifting a housing motor on a kitchen machine.
Feeder Tube Width
On food processors with feeder tubes, the wider the opening, the larger the items that can be placed through them. When trying to save time making breadcrumbs or slicing potatoes for example, this gets rid of the requirement to pre-chop them before using the food processor.
Bowl sizes
The larger the bowl size, the greater its capacity and, therefore, the facility to make sizeable batches of mixes and ingredients. Some food processors feature a mini bowl and blade that sits within the 'parent' bowl, a handy means for processing small amounts of items like nuts or herbs if there is no mini chopper available in the kitchen. Kitchen machines have bowl sizes around 4.6 litres.
Dishwasher Safe
If an appliance has a dishwasher safe label, it can join the other items during a wash and save time and effort in the kitchen. Of course, they are able to be washed in a basin or sink, regardless, but do check the manufacturer's recommendations about water temperature regarding the appliance.
Accessory Storage
With the number of available accessories for some models, storage space is an issue in some kitchens. Certain models come with an integral compartment or box to keep all the extras in one place. Examples of Some Brand Name Food Processors
| Brand Name | Mini Chopper | Food Processor | Kitchen Machine |
| --- | --- | --- | --- |
| Antony Worrall | | * | |
| Argos Cookworks | | * | |
| Assistent | | | * |
| Bosch | * | * | * |
| Cuisinart | * | * | |
| Dualit | | * | |
| Gordon Ramsay Cooks | | * | * |
| James Martin by Wahl | * | | |
| John Lewis | | * | |
| Kenwood | * | * | * |
| KitchenAid | | | * |
| Lakeland | * | | |
| Magimix | * | * | |
| Philips | | * | |
| Russell Hobbs | * | * | |
| Tefal | * | * | |
| Tesco | * | | |
| Villaware | | * | |
How to Find a Food Processor on eBay
Many retailers and individuals sell electrical kitchen appliances on eBay and a food processor is no exception. Once the Categories tab is clicked, read through the selections offered in All Categories and under Home, Furniture & DIY choose Cookware, Dining & Bar. From the categories offered on this page click on Small Appliances. Once more, on the new page, read through the categories and choose Food Processors where further filters are available to refine a search by brand, functionality, condition, and price. Another means, if already on eBay, is to utilise the search box at the top of any page by typing in, for example, mini chopper to get results.
Conclusion
Convenience, speed, and precision are all offered by food processors when preparing food in the kitchen. Different models offer different levels of function. Many brands are endorsed by celebrity chef names, and others are renowned manufacturers of kitchen appliances. Size, capability, and price will affect choice, and it is also important to consider space and storage when making a decision about which product to purchase. Reviews and recommendation are available online for most brand name products if a comparison is required.