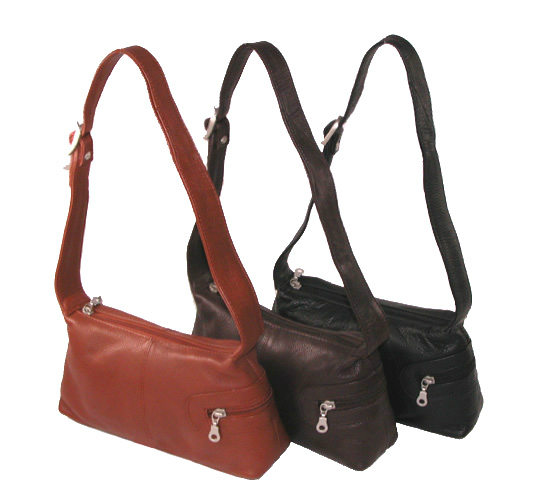 Leather purses are essential accessories for every woman and for this reason they come in a wide range of fabrics, styles, colours, and sizes. Whether one is looking for a purse for everyday use or for a more elegant one that goes well with a special occasion bag, there are plenty of styles available both in high-street shops and online.
Even though purses are made from a range of diverse materials, leather is the most popular of them, simply because it is resistant and provides the purse with an elegant look. Purses are made from different kinds of leather and women should consider the benefits of each type before deciding to buy a leather purse. Other elements that should be taken into account when looking for the ideal leather purse include size, colours, number of compartments, and more. By considering their options carefully, buyers can make an informed decision and buy a leather wallet that satisfies all their requirements, as well as their taste.
Basic Requirements for Choosing a Leather Purse
The basic function of a leather purse is to store different small items, such as bank cards, coins, photos, notes, and more. Women are often interested in finding a purse that has many compartments in order to keep as many items as possible in it. Women who do not regularly carry much currency should opt for purses with several debit or credit card compartments. On the other hand, women who opt for conventional currency should choose a model that features money pockets.
Besides their function, leather purses are a fashion accessory, so it is important to pay attention to detail when it comes to buying a practical purse that is trendy as well. In many cases, women choose purses that go well with their handbags and are interested in colour, finishes, and size. Being aware of the variety of purses available on the market is essential for finding a leather purse that fulfils all the buyer's requirements.
Styles of Leather Purses
Buyers who are not used to the wide selection of leather purses available in high-street stores and online may tend to rush when buying a new purse. However, it is essential to consider the style of the purse carefully before purchasing it, in order to make sure it satisfies all requirements. Some women only need a small purse for their ID and some currency, while others may opt for purses with plenty of compartments, flip-out ID carriers, special security pockets, and other extra features.
Clutches
One of the most popular types of leather purses, clutches are not only ideal for carrying necessary things, but they are fashionable accessories as well. Also referred to as evening purses, clutches have been an essential element of an elegant outfit since the nineteenth century. Leather clutch purses are great for accommodating small items such as credit cards, make-up items, keys, driving licence, and mobile phone. There are plenty of designs to choose from, with leather clutch purses being available both in classic rectangular designs and in creative circular, hexagonal, or triangular shapes. As for the enclosure of clutches, snap and zippers are often used.
Coin Purses
Coin purses come in various styles and they may have a number of different useful features. Some of the styles buyers can choose from include coin squeeze purses, coin purses with a key fob, photo coin purses, and credit card coin purses. Leather coin purses are convenient accessories for keeping one's essential belongings and are available in many colours. Whether a buyer is looking for a coin purse with a classic design or wishes to make a statement with a funky coin purse, the choice is wide and there is a style for every taste.
Wallets
Leather wallets are a good choice for day-to-day wear and they should not miss from any woman's handbag. There are numerous styles and sizes to choose from and again, one should consider the necessities before purchasing one. For instance, women who use to carry a checkbook should opt for a check-book wallet. Leather wallets are available from many designers and they typically feature one or more currency compartments, a zippered coin section, several credit card slots, plastic photo holders, and an ID slot. Women who wish to opt for a fun style may choose leather wallets in funky colours and patterns.
Envelope Purses
Leather envelope purses are a perfect addition to any formal outfit. Some of the styles come with detachable straps, allowing women to wear them as shoulder bags. Envelope purses are suitable for special occasions and usually they feature a zip pocket on the back and a clasp fastening at the front.
Bi-Fold Leather Purses
Bi-fold leather purses are ideal for women who wish to keep it simple, as the purses are easy to open and they offer flexibility when it comes to organising items. Most bi-fold leather purses are quite slim and feature several slots for credit cards, security pockets, and flip-out ID carriers.
Tri-Fold Leather Purses
A tri-fold leather purse is the ideal complement to a satchel, handbag, or women's brief. These purses are more spacious than the bi-fold ones and they usually feature multiple credit card slots, coin pockets, ID windows, and one or two interior note compartments. Tri-fold leather purses are perfect for everyday wear as well as for gifts.
Types of Leather
Leather purses come in a variety of styles, but they are not all made from the same type of leather. Buyers should choose a purse made from their favourite type of leather, but they should also consider the characteristics of other leather kinds in order to make an informed decision.
Full-Grain Leather
Purses made from full-grain leather are high-quality items that are characterized by an increased degree of durability. Full-grain leather is usually made from cow skin, which undergoes minimal treatments during the manufacturing process. A full-grain leather purse may show some imperfections in the leather, which give it a more natural look. The only downside of a full-grain leather purse is the fact that they can be quite pricey, but they are well worth it, considering their exceptional durability.
Split-Grain Leather
Formed from the lower layer of cattle hide, split-leather is smooth to the surface and it may be coated with urethane for increased durability. Split-grain leather purses are often cheaper than the full-grain leather ones. They are popular choices because of their thick and firm feel.
Top-Grain Leather
Top-grain leather is thinner and more flexible than full-grain leather and it is a popular choice for purses manufacturers because of its good resistance to stains and impeccable finish. A finish coat is sometimes added on the surface of top-grain leather in order to protect it.
How to Find a Leather Purse on eBay
If you want to give your wardrobe a make-up and wish to purchase a new leather purse, the best place to do so is online. Even though the high-street stores offer plenty of models, you can find even more styles online.
eBay offers an extensive selection of leather purses in all styles, sizes, and colours. Whether you are looking for a black clutch purse for a special evening or purple coin purse for everyday wear, you can be sure there is something suitable for you on eBay. In order to find your perfect purse, just use eBay's intuitive search system, by simply typing 'leather purses' in the search bar on the home page. You will instantly get multiple results pages to browse for your favourite item. To make your search even easier, you can refine your search according to your preferences. You can narrow the results by colour, price, size, condition, and style.
When buying leather purses on eBay, make sure you read all the information provided in the product description carefully, in order to avoid having to send the item back because it was not the right fit for you. Do not hesitate to contact the seller directly before buying a leather purse if you have additional questions.
Conclusion
Leather purses are fashionable accessories and many women are constantly looking for new styles and trends. Leather purses are essential for any woman's wardrobe and it is important to match them well with outfits and handbags in order to create a fashionable look. Women prefer to have multiple purses for different occasions, so the best way to find the desired styles is browsing through hundreds of models before selecting the perfect one.
There are several elements to take into account when purchasing a new leather purse, including the size, style, and purpose or occasion. Functionality is essential when it comes to leather purses, and many women prefer purses with multiple compartments to accommodate all their small items. Closures such as zippers, buttons, flaps, or snaps are also essential to consider when buying a new purse. eBay offers a wide selection of leather purses, so it should not be too difficult to find the proper style for any occasion.