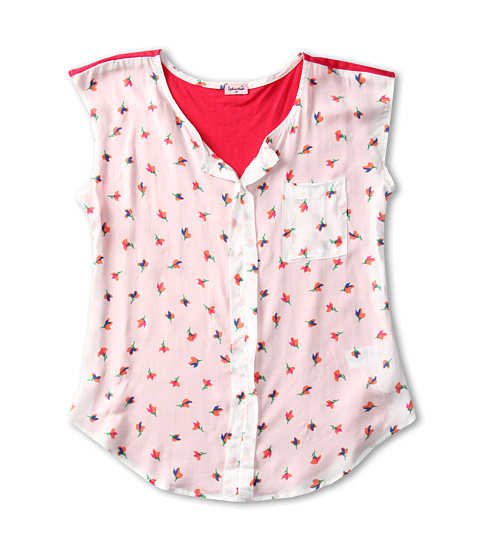 Every girl needs a few blouses in her closet, whether she is required to wear them as part of a school uniform or needs to dress up once in a while. Blouses provide a more finished look than what a jersey top typically gives to an outfit. Blouses are quite versatile; they look great with skirts for dressy occasions but can also go casual with jeans, so they are an essential part of good wardrobe basics for a girl. As the marketplace offers a plethora of options when it comes to girls' blouses, it may be difficult for a parent to know where to begin shopping. Picking out girls' blouses requires making decisions on the material, colour, pattern, size, and quality, as well as design details such as the collar style and sleeve length. Getting the right fit is also important, since blouses fit differently from stretchy T-shirts and other knits. With its wide range of offerings in this category, eBay is a great online retail option where one can be sure to find blouses for girls.
Girls' Blouses Defined
Some consumers are confused as to the difference between a blouse and a top, as well as how to differentiate between a shirt and a blouse. While there are no hard boundaries when it comes to types of clothing, there are a few details that can help classify garments.
Shirts and Blouses vs. Tops
The word "top" can be confusing because it has both a general and a specific meaning. A top can be any garment worn on the top half of the body, although this term would not include jackets or waistcoats, and usually not jumpers. More specifically, "top" usually refers to a jersey garment as opposed to shirts and blouses, which are almost always sewn from woven fabric and are more structured. Typically, shirts and blouses can feature details such as plackets and buttons, cuffs, and collars. While tops can have some of these features as well, and the lines are a bit blurry between the two types of garments, as a general rule, the knit vs. woven guideline is a useful one.
Shirts vs. Blouses
Here again, "shirt" can refer to many different upper-body garments, including T-shirts, but specifically, a shirt is generally tailored, somewhat fitted, and styled more like a man's shirt. Most feature some type of collar (even a barely-there banded collar), and long sleeves usually end in cuffs. A shirt almost always includes buttons down the front. Many styles feature one or two breast pockets.
A blouse, on the other hand, it generally looser and more feminine-looking. A blouse may feature lace, embroidery, smocking, or other embellishments. Not all blouses button in front; some, such as gypsy styles, can be pulled over the head. A blouse may feature ties at the neck or waist, an elasticised waist or cuffs, or other unusual design elements.
Girls' Blouses: Fabrics and Care
As mentioned earlier, blouses are almost always made of woven materials. Woven fabrics can wrinkle and need a bit more attention than jersey.
Girls' Blouses: Fabrics
Many adult women's shirts come in gorgeous fabrics such as 100 per cent linen and 100 per cent silk, but these materials require special care and are usually unsuitable for girls' everyday apparel. Most girls' blouses come in 100 per cent cotton and cotton blends or polycotton. These fabrics are generally used in both the winter and summer seasons, although some blouse materials, such as corduroy, are specific to one season or the other.
Fabric Care
Girls' blouses, as mentioned, usually come in easy-care fabrics. Most are machine-washable and can be tumble dried in a machine as well. Shirts are more likely to require pressing for a crisp look. Blouses are usually softer, looser, and have some drape, although some (especially those of pure cotton) do need a bit of pressing occasionally. Many blouses are made of fabrics that are intended to look crinkly.
Girls' Blouses: Colour and Pattern
The overall look and style of a blouse is primarily dictated by its colour and pattern. Girls should have as much input as possible in this area when it comes to shopping and buying decisions.
Girls' Blouse Colours
Girls' blouses come in every colour imaginable, from the palest pastels to the most vivid brights. Some of the neutrals that women so often wear, such as black, brown, grey, and beige, can look odd on young girls, particularly in combination with extremely plain and tailored styles. Pretty colours are more youthful and generally are preferred by most girls, although neutrals mixed with colours in multicolour patterns and prints, or in very feminine and youthful designs, can work. Just take care that the overall look is not too mature for the girl in question.
Girls' Blouse Prints and Patterns
The patterns found on blouses are not always the same as those found on shirts. For example, tartans and plaids are usually found on tailored styles of shirts as opposed to feminine styles. Stripes are among other patterns that tend to lend themselves to shirts instead of blouses. More commonly seen blouse patterns are florals, dots, and graphic or abstract prints.
Girls' Blouses: Quality and Fit Checks
When purchasing any kind of apparel, one should always check for quality and fit. A blouse should have strong, well-sewn, even seams. Patterns should match up at seams as well; wonky patterns are an indicator of poor quality and result in a cheap-looking garment.
Getting the Right Fit
The following size chart is a good one to follow if one is unsure of a girl's current top size. There is no real sizing standardisation among clothing manufacturers, so a garment from one company may fit differently than a garment in the same size that is produced by another company. Still, this is a good general guide.
| Chest Measurement in Centimetres | UK Girl's Blouse Size (Approximate Age in Years) |
| --- | --- |
| 55 | 2 to 3 years |
| 57 | 3 to 4 years |
| 59 | 4 to 5 years |
| 61 | 5 to 6 years |
| 63 | 6 to 7 years |
| 66 | 7 to 8 years |
| 69 | 8 to 9 years |
| 72 | 9 to 10 years |
| 75 | 10 to 11 years |
| 79 | 11 to 12 years |
| 83 | 12 to 13 years |
| 87 | 13 to 14 years |
| 89 | 14 to 15 years |
| 91 | 15 to 16 years |
Around age 12 or 13, many girls have grown large enough that they can start transitioning into wearing women's clothing. This depends on the parents' discretion as well as the maturity of the girl and the appropriateness of style. A low-cut blouse is inappropriate, but many casual blouses may work well on an adolescent.
Girls' Blouses: Design Features
Blouses may be categorised according to certain features such as the sleeve length or collar style. Choosing a style of blouse depends on the girl's body type as well as factors such as the occasion and weather.
Sleeve Length
The sleeve length of a top often correlates to the season, but not always. Blouses with long sleeves are more often intended for cold-weather wear, while short sleeves are more comfortable in summer. However, some summer blouses have longer sleeves, or at least three-quarter sleeves. The colour, fabric, and overall design are other indicators as to the appropriate season, although many blouses can be worn year-round if styled well. For example, a blouse may be worn solo in warm weather and then layered beneath a jumper or jacket in winter.
Collar Style
A blouse with buttons usually features some type of collar. Woven tops with a classic collar or button-down collar are usually shirts and not blouses, although there is a great deal of cross-labelling when it comes to these two garments. Blouses that pull over the head are less likely to have a traditional collar but may feature a mandarin collar or a ruffled neckline.
Where to Find Girls' Blouses
Girls' blouses are available just about anywhere children's apparel is sold, including department stores, independent clothing chains, discount retailers, and clothing outlets. Blouses can also be purchased online through retail websites, classified advertisements, and Internet auctions. Additionally, many mail-order fashion catalogues still exist. Pre-owned garments may be found at consignment shops, charity stores, yard sales, and online auction sites.
Buying Girls' Blouses on eBay
eBay has a very well-organised system for fashion shopping. Girls' blouses are easy to find in one of many ways. The first method is to do a keyword search from the homepage for "girls' blouses". The results of this search show up in both kids' and women's clothing, so you can check both locations for variety. You can also use the advanced search feature available on any page, so that you can filter the results based on specific parameters including price range.
Either way, you can narrow down the listings by clicking on various category filters visible on the page. Some options for filtering include size, brand, style, colour, and material. Budget and bargain shoppers can also enter a specific price range for blouses. No matter what method you choose, it is always a good idea to determine the quality of the seller from whom you are interested in purchasing items, before you place an order.
Conclusion
Blouses for girls provide a well-groomed look and offer wardrobe variety as well. Shopping for blouses does require a bit more attention than what one might spend on jersey tops, since the fit of a blouse is an important consideration. Most girls' blouses come in cotton or cotton blended with a synthetic, such as polyester, rendering the garment easy to wash, dry, and care for.
Blouses for young girls come in a wide range of hues, and neutrals may work if done right. When purchasing a blouse, the occasion and weather also determine the choice of the pattern and sleeve length of the blouse. Collars vary as well and can be rounded, pointed, or stand-up, among other styles. Most important when buying girls' blouses, however, is fit. Children's growth can be unpredictable, and girls should be measured before purchasing new garments. Although girls' blouses are available in mainstream retail shops, one can find a large selection online at the auction site, eBay.