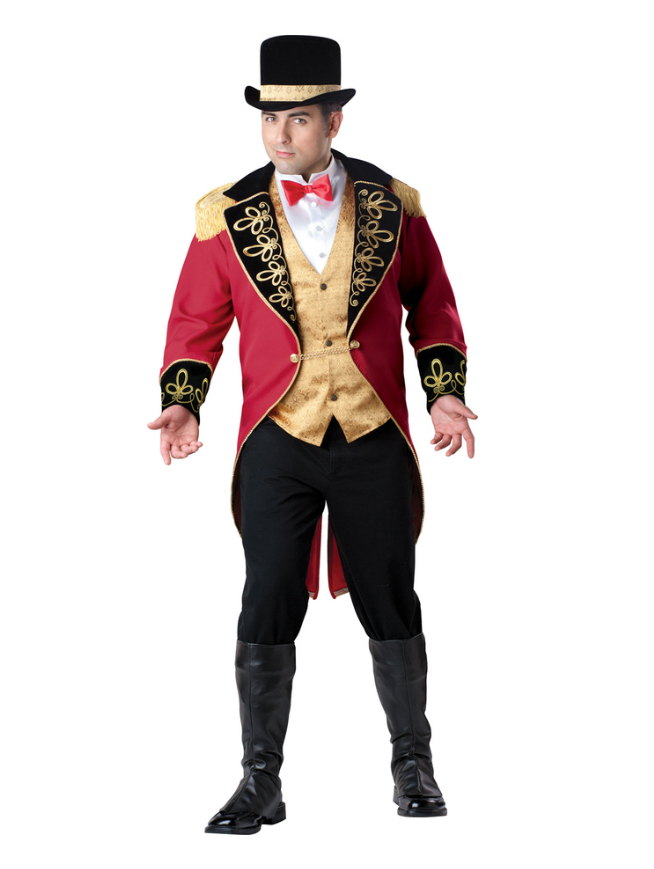 Every once in awhile, there comes a time, be it Halloween, Christmas, Easter, a theme party, or a play, when the opportunity arises to put on a fancy dress costume and escape the drabness of everyday life. There is something intriguing about wearing a mask, a magician's robe, or a funny hat and seeing the world through a different lens for a moment. In less dramatic terms, one might simply establish as a fact that people sometimes like to dress up in fancy dress costumes.
The online retailer eBay is a great place to look for just the right costume to wear for Halloween or to a friend's hippie-themed stag party. At this website, one can find hundreds of fancy dress costumes of all kinds, from accessories such as fake beards and skeleton masks to historically accurate period costumes. The large number of sellers and the useful filtering options that help narrow down one's searches make eBay an ideal source when it comes to men's fancy dress costumes.
Shopping for Men's Fancy Dress Costumes on eBay
Finding the right fancy dress costume on eBay is easy, inspiring, and fun. Browsing through the huge range of different costumes is a great way to get ideas and inspiration. The person who is not quite sure what to wear to the next party may find it useful to conduct a broad search for "fancy dress costumes" using the search bar on eBay's main page. Simply scrolling through the listings and pictures is bound to spark a few ideas. Pirates, video game characters, gangsters, zoo animals, rock stars, monsters, and ghosts are only a few examples of the type of fancy dress costumes that one might stumble upon by conducting a general search on the website.
The person who knows what he wants to dress up as may choose to narrow down his results using more specific keywords. This is helpful, for instance, if one wants to search for the classic mask from the "Scream" film series or look for a convincing Spiderman costume to blow the other guests away with. This more specific approach saves time and is ideal for quickly finding the right costume on eBay.
Another approach to shopping for men's fancy dress costumes on eBay is to browse through relevant categories. The best way to know what categories to look in is to determine the sections of the site most fancy dress costumes are posted under. For instance, it might be that historically accurate period costumes are posted in a different category than entertaining Halloween party costumes. Conducting a keyword search for any type of fancy dress costume can guide the user to the relevant categories for related items.
Fancy Dress Costume Ideas
Fancy dress costumes are a great opportunity to finally live out those sides of one's personality that one does not otherwise get to express in daily life. The following sections discuss some ideas for fancy dress costumes that men might want to consider for different occasions or settings.
Men's Fancy Dress Costumes for Halloween
Halloween has grown to become a worldwide phenomenon. Kids dress up as witches and ghosts in many corners of the world to go trick-or-treating, while adults in Europe and other parts of the globe have discovered the fun of dressing up as dark creatures of the night, often throwing parties for the occasion. Popular male dress-up themes during Halloween are inspired by the classic forces of dark, such as skeletons, zombies, monsters, and phantoms. Other popular costumes include famous horror film characters such as Freddy Krueger, or Jason from the "Friday the 13th" franchise.
Men's Fancy Dress Costumes at Stag Parties
Another common occasion for men to dress up in funny costumes is at stag parties. Or, rather, the person for whom the stag party is thrown is often lovingly forced by his friends to put on an outfit during activities such as playing paintball. A simple search for "stag party costume" on eBay generates hundreds of results for an immense array of more or less flattering fancy dress costumes. Banana suits, viking costumes, crash test dummy bodies, wigs, funny masks, and inflatable animals are just a few examples of what one might want to see one's soon-to-be-married friend wear during an epic last night on the town.
Men's Fancy Dress Costumes at Tribute Parties
There comes a time in every man's life when he and his friends suddenly realise that they are no longer in their vital twenties, and the golden years of youth are definitely over. Some individuals consider this a golden opportunity to celebrate. Nothing beats a nostalgic tribute party to one's favourite decade, be it the 1960s, 70s, or 80s. The great thing about these classic decades is that they were practically dress-up parties already as they happened. Hippies were trying to achieve world peace in colourful garments, rock stars were experimenting with different identities, and the average person was not afraid to push the fashion boundaries. A party paying homage to "the golden years" is an invitation to have fun with fancy dress costumes.
Men's Fancy Dress Costumes at Theme Parties
There is probably no topic in the entire world that has not set the stage for a great theme party. From celebrities, animals, and cartoon characters, to sports, boy bands, heads of state, and TV shows, there is nothing that cannot be turned into a party. Theme parties often specify a framework within which guests are free to experiment and be creative. If the theme is "cinema", there is room for as wide a spectrum of costumes as there are film genres. Even a narrow theme, such as "video games", presents a world of opportunities.
Men's Fancy Dress Costumes for Performing Artists
In addition to the wide selection of entertaining fancy dress costumes discussed thus far, there is also a huge assortment of costumes on eBay that were designed for more professional use. Period costumes are great for anyone looking to set up a local stage performance of "The King and I" or one who simply wants to impress at the theme party by looking like a medieval knight.
Other Men's Fancy Dress Costumes
Finally, there are hundreds of listings on eBay for traditional costumes such as Santa Clause, the Easter bunny, St. Patricks Day leprechauns, and classic red-nosed clowns.
Truly, there are no limits as to what type of fancy dress costume one might find on eBay. The trick is to use as relevant search terms as possible and learn how to filter the results.
Buying Men's Fancy Dress Costumes on eBay
eBay is a large website with a number of sellers and different products on offer. Luckily, there are innovative ways to narrow down one's search so that it becomes more relevant to the particular fancy dress costume one is looking for.
Filtering Results for Men's Fancy Dress Costumes on eBay
Depending on the type of fancy dress costume, it may be useful to filter listings according to certain criteria. For instance, a buyer looking to get a Halloween costume might want to narrow down the search results to display only horror themed costumes, leaving out Christmas and pirate listings. Other useful filtering options include sorting the results by main colour, condition, shipping options, and seller rating.
Evaluating Listings for Men's Fancy Dress Costumes on eBay
Once you have found a relevant listing for a man's fancy dress costume, the next step is to have a closer look at it to see if it is indeed something you may want to buy.
Pictures of the Fancy Dress Costume
Usually, listings contain one or several pictures of the costume in question. Pictures may depict the actual costume that will be shipped to the buyer, or the seller may use generic images to give an idea of what the costume looks like.
Description of the Fancy Dress Costume
Additionally, most sellers offer descriptions of the items they are selling. This may include information about whether the costume is new or used, what condition it is in, the terms of shipping, and other information that may be valuable for a prospective buyer.
Evaluating Sellers of Men's Fancy Dress Costumes on eBay
Another great feature on eBay is the elaborate seller feedback system. Buyers who make purchases on the website are able to rate the experience they had with the sellers by using a five-star rating scale. After the costume has been delivered, the buyer can rate the seller on dimensions such as communication, dispatch time, and whether the shipped item was as described in the listing. Potential buyers can then evaluate the ratings and make informed choices before making their purchase decisions.
Some sellers have achieved eBay's top rated seller status, meaning that the large majority of their buyers had positive experiences in working with these sellers. Working with top rated sellers on eBay adds a degree of assurance to buyers.
Conclusion
Dressing up in fancy dress costumes is a great way to spice up life. Halloween, Christmas, Easter, theme parties, and local stage performances are all occasions that present people with the opportunity to try on alternate personas. One great place to buy a fancy dress costume is eBay, which offers hundreds of listings for all kinds of typical and atypical models. Superheroes, celebrities, zombies, monsters, film characters, and hippies are only a few examples of what people can dress up as for different events and celebrations. Finding the right fancy dress costume on eBay is a matter of conducting relevant searches. One can keep a search very broad, or narrow down the search results based on criteria such as theme, size, or shipping terms. With its innovative filtering options, eBay makes the sometimes overwhelming number of listings more manageable so that individuals can find the fancy dress costumes of their choice more easily.