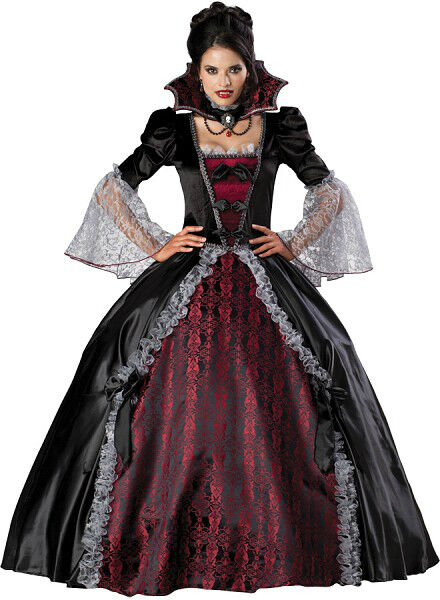 Fancy dress is a special costume that is typically worn at a party where everyone dresses up. Fancy dress is very popular during Halloween and New Year's Eve parties, but is used throughout the year on other occasions because it is fun. Women's fancy dress costumes range from Alice in Wonderland to witches and celebrities. Hiring a fancy dress costume is one option, but it is also possible to buy one. A good quality fancy dress outfit lasts for a long time and can be worn to numerous parties.
eBay is a large auction site that lists many fancy dress costumes. Buying from eBay is convenient and can be done from the comfort of the home. The colourful pictures included in the item listing make choosing a fancy dress outfit for the next costume party easy. Women can browse and shop for a vast range of fancy dress types, including princess gowns, cat costumes, nurse outfits, and many more.
Types of Women's Fancy Dress Costumes
Categorising women's fancy dress costumes can be done using different principles. However, there are certain groupings that are sensible and can be used in order to make the world of fancy dress a bit clearer. Some of the most popular fancy dress costumes for women include fairy tale characters, holiday-related costumes, celebrities, occupational fancy dress, animal costumes, and kinky adult costumes.
Fairytale Characters Fancy Dress
With a fairy tale characters fancy dress costumes,, every girl can fulfill her dream of becoming a princess. Fairy tale fancy dresses do not end with princess gowns, though. Classic Disney heroines, such as Cinderella, Belle, Ariel, Snow White, and Alice exist side by side with wicked queens and fairies. Modern fairy tale fancy dress outfits, such as Princess Fiona from "Shrek", are also available.
Women are not limited to female characters. If they like, they can choose to be the huntsman or Robin, it is just a matter of personal choice. If they want to be a superhero they can dress up as Supergirl or Wonder Woman.
Holiday Themed Fancy Dress
Special fancy dress outfits exist for Halloween, Easter, St. Patrick's Day, and Christmas. When invited to a holiday party, if in doubt, then use the standard costumes associated with the theme as a safe bet.
Halloween is associated with scary creatures that feature in horror films. For Halloween, women can dress up as witches, zombies, vampires, aliens, and skeletons. Any evil, otherworldly creature will do.
Easter is the time of cute bunnies, colourful eggs, little lambs, and chicks.
Saint Patrick's day is a holiday that originated in Ireland. Green is the main colour worn on St. Patrick's day and classic outfits include leprechauns, and anything that contains gold, symbols for luck, and shamrocks.
There are many choices for Christmas fancy dress outfits. There are the obvious elves and Mrs. Father Christmas costumes, as well as angels and Mary. Women may also like to dress up as the Christmas tree, Rudolph the Red Nosed Reindeer, and penguins.
Celebrity Fancy Dress
Dressing like a favourite idol for one night is possible with celebrity-inspired fancy dress. Women can transform into scandalous Lady Gaga or look to the past and embody one of the Spice Girls. When it comes to actors, the fancy dress can represent a character they played in a film or TV series. The themes are always changing as new celebrities emerge and the old fade, but some famous people have managed to leave their mark on the history. For instance, Marilyn Monroe's white dress is an iconic outfit that will be in style for many years to come.
Occupational Fancy Dress
Some jobs are difficult and everyone admires the people that do them. With occupational fancy dress it is possible to take on a new a job for one night without the real demands of the role. Very often, occupational fancy dress has a sexy undertone because people in uniform can be found quite attractive. Popular occupations include nurses, soldiers, housemaids, and firegirls.
Animal Fancy Dress
Dressing up as an animal can be as simple as adding bunny ears and a tail to the daily outfit or as complex as wearing a full animal costume. The latter can be quite warm, so the weather and the level of comfort of the wearer should be considered. The animal costume can be either sexy and tight, or loose and cosy.
Cultural Fancy Dress
If the party theme is something like "around the world", then dressing up as Indian princess might be appropriate. When wishing to embody a very British look, a milk maid costume comes in handy. Dressing to represent a country does not necessarily mean staying human, as it is also possible to embody things that are symbols of that country, such as the Statue of Liberty for the United States. When considering a cultural theme, always avoid dressing up as a stereotype as this could cause offence, so choose the outfit wisely and tastefully.
Miscellaneous Fancy Dress Costumes
The list of fancy dress costumes is never comprehensive because there are just so many types around. Some even do not even fit a category. More peculiar fancy dress costumes include food and drink, the rubik's cube, and traffic lights. It is possible to transform into anything.
Searching for Women's Fancy Dress on eBay
With a specific fancy dress idea in mind, it is easy to start shopping on eBay. You should just type the keywords into the search box found on the main page. However, if you do not know the kind of style or theme you prefer, you can type in "fancy dress" and see what eBay has to offer. Browsing through these initial results, you may get a better idea of the fancy dress look that you are after. Although you could spend endless hours browsing through all the fancy dress costumes eBay has to offer, it is a lot easier to narrow down the choice. Pick one or a few styles or themes that sound interesting and search again. For example, you can type, "lady pirate fancy dress" or "ladies animal fancy dress". If you are looking for a fancy dress outfit for a special occasion, such as Christmas or Halloween, you may want to browse for costumes that are suitable for these parties. In that case, searching for "ladies Christmas fancy dress" and "ladies Easter fancy dress" will yield the desired results.
As there are many themes available and the broad variety can seem a bit daunting at first, it is useful to read the list of options again to settle on a preferred theme. You might be surprised how a particular theme jumps out as the best choice.
Buying Women's Fancy Dress on eBay
Once you have picked the desired fancy dress costume, you can start the buying process. Not only the price and auction time matter, but the seller is also an important factor. The same fancy dress outfit may be available from more than one seller, so you should do a bit of research to find out who is the best one to buy from.
First of all, the seller should be trusted if you want to receive a good service and fast delivery. eBay buyers can leave feedback and rate the sellers, so start by reading the feedback. Some useful icons next to sellers' names can also show how much experience they have and whether they can be trusted. Another good sign is that the seller answers any questions you may have about the product or delivery promptly. For example, you may want to know about possible returns or exchanges if the fancy dress does not meet your expectations. This information may be listed under the seller's policies, along with accepted payments methods, and postage and packaging fees, but if it is not there, then feel free to ask.
Conclusion
Women's fancy dress outfits are a great way to be someone else, if only for one night. They are used at many celebrations from Halloween and Christmas, to themed office parties. Dressing up can be lots of fun, especially with the wide selection of fancy dress costumes available on eBay. The themes and styles include fantastic fairy tales, holidays, celebrities, occupations, animals, and cultural costumes, as well as more peculiar ones, such as food and objects. The final costume decision is largely determined by the type of party, the time of year, and whether there is a theme or the costume can be chosen freely.
Searching for a fancy dress costume on eBay is an easy process and can be done in many ways depending upon how much information is known about the desired costume at the start. Women can begin with more general search terms and look for inspiration by narrowing the choices down until they find something that pleases them. After selecting the right costume, a good seller should be found. The quality of the seller and the level of customer service can be determined by studying the seller's profile and reading the feedback. With enough research and imagination, women can find the perfect fancy dress costume for their next party.