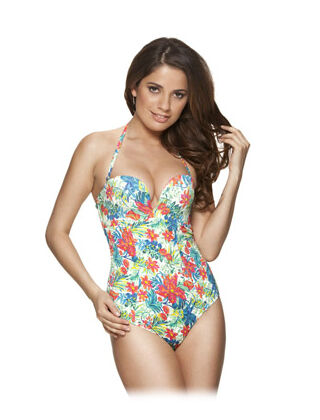 Summer is the perfect time of year for backyard barbecues, poolside parties, and family holidays. Buying a swimsuit for the summer season is not only essential, but it is a purchase many women go out of their way to actively avoid. It's not that buying a swimsuit in and of itself is difficult. Swimsuits are found in department stores and clothing stores year round, though the greatest selection is in spring and summer. Online websites like eBay also have large collections of swimsuits, so finding the right piece is not the issue. Instead, the problem often comes from women not knowing which swimsuits are right for their body type, so they try on many unflattering swimsuits that may only make them frustrated with the entire process. Put an end to this distressing matter by checking out this ultimate guide to getting a swimsuit. The key to buying the best swimsuit is for the customer to know their body type, and then understand what styles and colours look best on her type.
Swimsuit Styles
Before customers start looking for a swimsuit, it is necessary to understand swimsuit lingo. Sales associates often toss around words like tankini, shortini, and blouson without ever explaining exactly what they are. There is no need to get overwhelmed with bathing suit terms and styles. Essentially, there are only two kinds of bathing suits, the classic one-piece swimsuit and the two-piece bikini. Designers will often include different cuts into both kinds of swimsuits to create different styles, but keep in mind that swimsuits either have one or two pieces. The chart below helps to explain some of the most common bathing suit styles found in stores.
| Name | One piece or two piece | Description |
| --- | --- | --- |
| | Both | Top part of a swimsuit that has a tie around the neck. |
| | Two-piece | Bikini top that uses two triangles of fabric over the bust area and ties around the neck |
| | Both | Top part of a swimsuit that has a strapless design around the bust |
| Blouson | Both | Top part of a swimsuit that features shoulder straps and a draped lower section |
| | Two-piece | Top part of a swimsuit that resembles a tank top and has shoulder straps |
| Shortini | Two-piece | Bottom part of a bikini that features a boy short high waist design |
| | Two-piece | Bottom part of a bikini that has a small skirt around the hips |
| | One-piece | Bottom section of a one piece suit that uses a small skirt |
Body Type
On average, most women fall into one of four body types: banana, pear, apple, and hourglass. Charmingly enough, these body types are often given the nicknames of the fruit they resemble. A woman needs to take her measurements and write them down to determine which body type she falls into. Much as a banana is slender without any curves, the banana body type is determined by measurements that are all similar to one another. If the chest, waist, and hips are all almost the same, then she has a banana body type.
Pears are bigger on the bottom than they are up top. If the bust is small, the waist is big, and the hips are the biggest of all, then the woman is a pear body type. Apples, the opposite of pears, are bigger on top than they are on the bottom. Apple types have larger busts, thicker waists and smaller hips. Finally, the hourglass is the most commonly sought swimsuit for women. Those women who have this particular shape have busts and hips that are almost the same proportions while the waist is noticeably smaller.
Buying Swimsuits for a Banana Body Type
The idea behind buying the right swimsuit for a banana body type is to add curves where there are none. Athletes and petite women often fall into this category. Choose a top with padding that accentuates the bust area. Halter and triangle tops are ideal since they tie around the neck, making the shoulders look bigger and the waist smaller. Ruffles and other decorations can be added to the top to make the bust seem bigger. Select a bottom with a high cut like the shortini for the illusion of bigger hips, or pick a style that has tied sides. One piece suits are not recommended since all that fabric only seems to highlight the rectangular shape of this body type. Instead, for those who want to cover up, choose a tankini style that splits at the waist, breaking up any blocks of fabric. Choose light coloured swimsuits to make the bust and hips look bigger.
Buying Swimsuits for a Pear Body Type
The key to looking at swimsuits for a pear body type is to select styles that diminish the size of the hips and waist while accenting the bust. One of the easiest ways to do this is to pick a light coloured top for a bigger bust and a dark coloured bottom for a smaller backside. Triangle and halter tops make the shoulders and bust look bigger because they tie around the neck, but stay away from bandeaus that only make the shoulders look smaller. Low cut bottoms make the hips seem smaller, but stay away from high cut bottoms or wide cut bottoms like the shortini that have the opposite effect. Retro style one piece swimsuits with support around the bust and design elements around the waist are also excellent choices for this body shape.
Buying Swimsuits for an Apple Body Type
Apples have the opposite problem of pears. While pears want to make their shoulders and busts bigger, apples need to reduce the appearance of their bust while highlighting their hips and waist. Choose a dark coloured bandeau top that makes the bust area look smaller. Stay away from halters and triangles that will only increase bust size. Select bottoms with a high cut like the shortini to make the hips look bigger and the belly look smaller. Try to stay away from low waist bottoms and styles that end right at the hip, because this will only make the waist look narrower than it already is. Pick brightly coloured bottoms to help make the hips seem fuller. One piece suits should have minimal bust design, waist-flattening features, and laces or ruffles around the hips.
Buying Swimsuits for an Hourglass Body Type
The wonderful thing about being an hourglass body type is that buying a swimsuit should not be a big problem. Most swimsuits are designed for this ideal shape, so women can freely choose from all styles. However, be careful with bandeau tops, since these can flatten the curves of the bust area. Also, make sure the one piece suit is narrow enough for the hourglass shape around the waist. Sometimes one piece suits will look unflattering because the fabric is stretched around the bust and hips, while it hangs loosely at the waist. The best way to prevent this is by purchasing the right size.
General Sizing Tips
Getting the right size is crucial for swimsuits. A size too small and the skin will bulge around the swimsuit for an unflattering look. A size too large and the swimsuit will look baggy. While trying the swimsuit on is always the best option, this is not always possible for online purchases. Therefore, customers should follow these general sizing tips for correctly sizing their swimsuit.
Specific Sizing Tips
Buy a swimsuit one dress size larger. For example, if the woman wears a size4dress size, then buy a size6 swimsuit. This prevents the swimsuit from digging into the skin. Make sure the swimsuit has between 10 to 15 per cent Lycra content. Lycra is a slightly stretchable, but supporting fabric. It will help the swimsuit hold its shape. Large busted women need the extra support of racerback straps or thick straps on their swimsuit. Thin straps just won't work. Soften the look of pudgy tummies with ruching and draping around the waistline on one-piece or tankini styles .
Buying Women's Swimsuits on eBay
There are several reasons why buyers prefer buying swimsuits on eBay, as opposed to local stores, chiefly because of the selection and price. Stores usually have a limited selection, and they force women to buy the same size top and bottoms. While this may work well for hourglass and banana body styles, the apple and the pear probably need different sizes of tops and bottom. eBay's marketplace allow buyers to purchase tops and bottoms separately so that you can find the correct size. Prices on eBay are also a good deal lower than they are at retail stores that have to account for high overhead costs. On eBay, the buyer only pays what they want to for the item and nothing else.
Finding Women's Swimsuits on eBay
Use the search engine eBay to find the right auction for women swimsuits. Buyers can search by size, style, and colour. For example, if you want a halter top bathing suit, then simply type "women's halter top swimsuit" into the search engine to browse the results. If you want a more narrowed search, such as for a size6halter top, then type "women's size 6 halter top swimsuit" into the box. You can narrow the results further by adding terms for colour or brand. Remember, the more specific the terms, the narrower the auction results will be. Broader terms are best used for casual browsing.
Conclusion
There is no need to fear venturing into the local store or searching on the computer for the right swimsuit any longer. By understanding the consumer's body type, potential purchasers can find the perfect swimsuit that will look positively stunning at the pool or beach. Swimsuits are essentially sold as either one-piece or two-piece suits, and they come in wide range of different styles and fabrics. Choosing the correct style based on what looks flattering on the right body type is a sure way to achieve satisfaction. Styles like a halter top may in fact look fabulous on pear, banana and hourglass body types, they are unappealing for apple types. Furthermore, sizing the suit correctly also plays in a big role in how well the piece looks while being worn. eBay sells many different swimsuits in all styles and sizes, allowing customers to mix and match pieces to their heart's content until they find that one perfect swimsuit combination they cannot pass up.