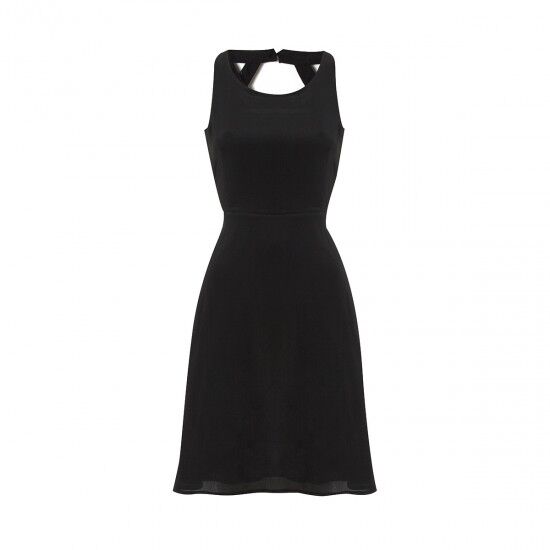 The little black dress is affectionately known as the "LDB" and is thought to have originated from the 1920's designs of Coco Chanel who famously said women think of all colours except the absence of colour. I have said that black has it all white too. Their beauty is absolute. It is the perfect harmony. The little black dress has achieved what its creators set out to do and became a sort of uniform for women around the world. The "LBD" was designed to be versatile, long lasting, and most importantly available to the widest market possible which is why today the little black dress can be found for sale in stores from high end fashion retailers, boutique store, cheaper department stores, and sites such as eBay.
The little black dress is a simply cut design and the hemline is usually not longer than knee length. This dress has become an essential item for all women's wardrobes. If a consumer is in the market for their first "LBD" or looking at purchasing a dress in general, this buyers guide describes some features a shopper should look for to help in the purchase of an ultimate little black dress.
Tips for Buying a Little Black Dress
The little black dress is such a versatile piece of clothing it pays to have more than one in a wardrobe so if it's a budget permits, a consumer should buy more than one "LBD". This dress can be worn to parties, out to dinner, to lunch with friends, to work or school and even down to the local supermarket. Matched with the right accessories the "LBD" is perfect for any occasion and any season.
If affordability is a problem then buying one little black dress suitable for various occasions is the best investment. Further, if money is a problem a cheap little black dress can be easily disguised with more expensive accessories. Buying vintage can give consumers a quality made dress can be purchased for far less than something similar if purchased new. No matter how much a consumer spends on their ultimate little black dress they will get their monies worth.
Considerations
When purchasing an ultimate "LBD" try to purchase one that will provide longevity. To do this buy one that is made from natural fibres like cotton, silk, cashmere, wool, or linen. Buying a dress for when 10 kilos might be lost is poor planning. Thus, buying a dress that fits and feels great now, and flatters the figure, is the wiser choice.
Hemlines and Dress Cuts
The most flattering hemline on a woman is either just below the knee or just above. Playing up the best features will help the dress wearer feel confident in their appearance. Everyone has something they are self conscious about so play down that feature and play up the womanly features everyone loves. Look for a dress that flatters those areas and hides the ones that are not so flattering. For example if a woman dislikes her upper arms she should buy a dress with sleeves. The sleeve length whether it be capped, 3/4 length or short will come down to personal preference.
Dress Maintenance
A little black dress should be easy maintenance, it should be easy to care for, easy to slip on and if it gives its wearer the benefit of looking slimmer then this is an added bonus.Always remember the 3 to 1 ratio rule, three parts conservative, 1 part racy. Just because the dress looks good on the hanger does not mean it must look good on everyone because this is not always the case. Don't be afraid to shop around and try the dresses on since various body types lend themselves to various dress types.
Body Type
Think about body shape before purchasing a little black dress. Women that are bigger breasted look better in a halter dresses whereas backless dresses and sheer shoulder dresses are not be the best choice. That doesn't mean there isn't a sexy dress for women with this body shape. Try a dress with sleeves or straps instead. Remember a little black dress should be one of the most comfortable things a woman owns and one of the outfits that makes a woman look her sexiest. Eliminate dresses that make it hard to walk, sit or dance the night away.
Big Busted
Woman that are big busted should try a v-neckline, a wrap dress, or something similar. Staying away from boat necklines and puffy sleeves will also remove any negative attention.
Small Busted
If a woman has a small bust and wants to add a little volume to this area "LBD's" that have pleats, ruching or that gather just under the bust are the best to buy. "LBD's" with a soft ruffle or a cowl neckline are also a great choice. Avoid dresses with deep v-necklines.
Large Waistline
If the waistline is a problem steer clear of dresses that do not have an empire waist, drop waist or if it is a shift style dress. If the empire dress has a little bit of flair this is the best dress especially for pear shaped women as it hides everything and makes the woman look 10 kilos lighter.
Sizing Charts
When it comes to purchasing a little black dress, manufacturers offer measurements in both centimetres and inches. The chart below is a typical sizing chart designers follow, although measurements may vary between manufacturers.
| UK Sizes | Bust (cm) | Bust (in) | Waist (cm) | Waist (in) | Hips (cm) | Hips (in) |
| --- | --- | --- | --- | --- | --- | --- |
| 6 | 78.5 | 31.0 | 60.5 | 23.75 | 86.0 | 33.5 |
| 8 | 81.0 | 32.0 | 63.0 | 24.75 | 88.5 | 34.75 |
| 10 | 86.0 | 34.0 | 68.0 | 26.75 | 93.5 | 36.75 |
| 12 | 91.0 | 36.0 | 73.0 | 28.75 | 98.5 | 38.75 |
| 14 | 96.0 | 38.0 | 78.0 | 30.75 | 103.5 | 40.75 |
| 16 | 101.0 | 40.0 | 83.0 | 32.75 | 8.51 | 42.75 |
| 18 | 108.5 | 43.0 | 90.5 | 35.75 | 116.0 | 45.75 |
Knowing one's size is very important when buying a little black dress. The last thing a woman wants is to purchase a dress that is either too big or too small. By following the sizing chart above, a woman should have no problem finding the perfect fit in a little black dress.
International Single Size Conversion Chart
When buying a little black dress, a woman must understand the difference in sizing between countries. From the UK to the United States to Australia, no size is measured exactly the same. The chart below lists the different size options for women, depending on their location.
| | | | | | | | | | | | | |
| --- | --- | --- | --- | --- | --- | --- | --- | --- | --- | --- | --- | --- |
| UK | 4 | 6 | 8 | 10 | 12 | 14 | 16 | 18 | 20 | 22 | 24 | 26 |
| EU | 32 | 34 | 36 | 38 | 40 | 42 | 44 | 46 | 48 | 50 | 52 | 54 |
| US | 1 | 2 | 4 | 6 | 8 | 10 | 12 | 14 | 16 | 18 | 20 | 22 |
| AUS | 4 | 6 | 8 | 10 | 12 | 14 | 16 | 18 | 20 | 22 | 24 | 26 |
As the above chart shows, sizes vary significantly between countries. Thus, purchasing a little black dress from the USA or Europe is quite different from that of the United Kingdom or Australia, so make sure to carefully consider what size is appropriate between countries.
How to Wear a Little Black Dress
"LBD's" are so versatile they can be dressed up or down. The best little black dresses will take an outfit in any direction from chandelier earrings and a bib necklace to cowboy boots. One of the great things about an "LBD" is that the core outfit colour is black and means anything can be worn with the ensemble from the wildest jewellery, animal print shoes, or a brightly coloured bag. Don't be afraid to experiment as this is one dress that will allow the woman to get away with almost any accessory. Make sure it fits perfectly by zipping it, buttoning it, or clasping it all the way to the top while trying it on because wearing a dress that doesn't fit properly will do nothing for confidence or the overall look.
Formal Little Black Dress
If a woman wants to give her little black dress a polished look she should wear it with an updo. If the dress is a knee length "LDB" wear it with sheer pantihose and a nice pair of stilettos. Try not to over accessorise and only wear one or two pieces of jewellery for the added wow factor. Keep the shiny jewellery to a minimum that way a stylish elegant look which is polished and classy will be achieved.
Casual Little Black Dress
Using the same dress, dress it down with a cardigan or tunic for a secondary look. Match the little black dress with accessories like a patent leather clutch and a shiny pair of stilettos, Use jewellery with less pizzaz or wear a pair of chunky wedges or some toned down flats with a pair of leggings and a brightly coloured bag for a classy casual look.
Finding a Little Black Dress on eBay
If looking for your little black dress on eBay, you will have thousands of options to choose from in all shapes and sizes. Start the search for a little black dress on the eBay home page or any web page on eBay since all of them have search bars available. If a particular designer is preferred, just type it into the search bar and add "little black dress" next to it. If no designer is preferred, type "little black dress" into the searchbar for all results.
If you find a little black dress you absolutely love and must have there are a few things you need to verify. Check to see if the seller has a positive feedback score to determine if the seller is reputable. If the listing information is sparse, you can ask the seller a question directly.
Conclusion
In finishing your search,make sure the little black dress is made for longevity. Quality checks include researching the material and how to care for it after repeated wear. Remember that the little black dress can be dressed up or dressed down to suit the occasion and season. Do not over accessorise but do try to use minimal elegant accessories to give a classy, elegant look. Always buy a dress that feels great to be in because if a woman feels great she will look great. The dress needs to fit well and feel comfortable. The perfect little black dress should flatter a woman's favourite assets and draw attention away from the areas that create self consciousness. If buying a dress online always use a sizing chart to obtain an ideal fit. Try and buy from a seller who has a return policy and a good reputation. It doesn't matter what your budget is there is as there is something out there for everyone.