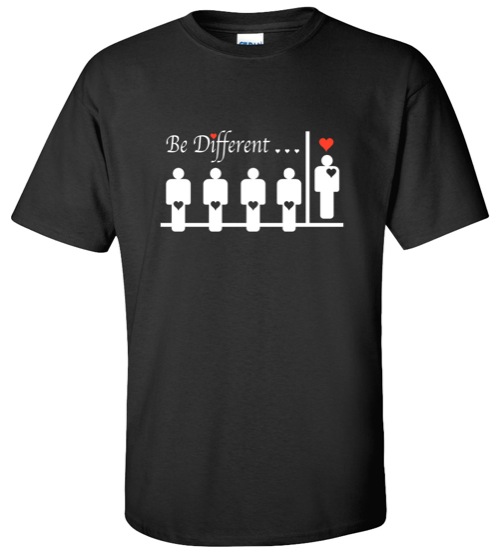 In recent years, thanks to the doors opened by the Internet, a steadily increasing number of people have discovered the pleasure and benefits of buying used clothes. Not only are second-hand clothes often very affordable, but they also offer nearly endless chances of finding unique things to wear. One great segment of the used clothes market to consider is the one for used T-shirts. Young people around the world like to get used T-shirts because they offer an opportunity to express one's personality. In short, used T-shirts are considered to be cool, useful, wise, and creatively encouraging, all at the same time. Those into music, film, cartoons, and other popular culture pay tribute to old bands, movies, and classic characters by wearing used T-shirts with original vintage prints.
Likewise, individuals bitten by the fashion bug like to sway away from mainstream culture by wearing colours, patterns, and fabrics that were common in earlier decades. Used T-shirts are also perfect for engaging in activities that involve wear and tear, such as physical workout or home remodelling. Many people have also discovered the benefits of buying high-quality brands at more affordable prices online than at regular retail stores. Online stores such as eBay make used T-shirts more accessible to individuals, regardless of geographical location.
Used T-Shirt Options
Part of the charm of buying used T-shirts lies in the endless opportunities to express one's personal style and preferences. Many people want to express their personality through clothes that cannot be found in mainstream stores. In the used T-shirt market, there is an immense array of T-shirts in every conceivable colour, shape, size, and design. For finding an official T-shirt from the 1985 world tour of a favourite rock band or for simply something out of the ordinary for the party next weekend, the used T-shirts market is the place to look.
Used T-Shirts With Original Prints
Music enthusiasts could give almost anything to get their hands on an original vintage T-shirt with a printed logo of an obscure 1990s band that had a cult following back in the day. The same goes for film buffs, cartoon lovers, and passionate gamers; for fans of these shows, nothing beats having an original Star Wars-, Superman-, or Super Mario Bros.- themed T-shirt in the wardrobe.
Type of Print
Naturally when buying a used T-shirt with print, it is important to check that the quality of the print looks all right. One way to determine the likely quality of the print is to check what type of printing method was used to make it. Screen-printing is the more common technique used on vintage T-shirts, involving the application of water based inks or, particularly after 1959, plastisol. The latter is both more common and durable than water based inks. Any high quality T-shirt with the original print intact is probably a plastisol printed T-shirt. Other possible decoration techniques included airbrush, embroidery, and appliqué. Depending on which technique was used, the print may be of lesser or higher quality today, and the buyer should take care to find out how to best treat and maintain the print.
Used T-Shirts With Unique Designs
Another reason for buying used T-shirts is the plethora of available designs. Getting a used T-shirt is a great way to separate oneself from the mainstream crowd or to find something personally meaningful to wear. Patterns, colours, and the shape of used vintage T-shirts were, some would argue, more fashionable than what is offered in most modern stores today. What happened to the adorable dots of the 1960s, the stylish stripes of the 1970s, and the crazy thermochromatic dyes of the 1980s? The fact is that they are all still around, only more commonly in the used clothes market.
Anyone looking to relive a favourite decade of life will likely find a used T-shirt that he or she likes. One important thing to remember when getting a vintage T-shirt is that the fit was often tighter during the 1960s and 1970s, and wider during the 1980s and 1990s. Though this is certainly part of the charm of vintage T-shirts, it may be wise to keep this in mind when browsing the market.
Usefulness of Used T-Shirts
Fashion aside, another good reason for buying used T-shirts is found in the wording itself, namely that these are T-shirts that have been previously used and thus proven to be of good quality. There are many times in life when one would rather not put on a brand new T-shirt or even an older one that still looks great. For going jogging, working out in the gym, or perhaps taking a trip to the country, it is ideal to have a set of T-shirts that one can wear without having to worry about getting them wet and dirty.
There are always people out there looking to replace their old sets of standard T-shirts, and what better fate for the old T-shirts than to live out their final years as part of the wardrobe in the home of a long distance runner? It is not uncommon in the market for used T-shirts to find two-for-one deals or bulk offerings at very affordable prices. Anyone looking for something basic, yet durable, to wear to the gym or when repainting the living room, would be wise to look at the range of affordable used T-shirts available in the marketplace.
Bringing Creativity to Used T-Shirts
In addition to wearing used T-shirts with original prints, many people have discovered the fun of printing their own T-shirts. Again, used T-shirts here provide a great opportunity for personal expression. While it might be expensive and a bit wasteful for a budding logotype designer to get a brand new T-shirt each time he wants to try out a new print, it is better to get a used T-shirt instead. Not only is there a huge variety of different designs to choose from, but experimenting on used T-shirts is also a great way to save money when learning how to make T-shirt prints.
Economic Benefits of Used T-Shirts
Though we live in a world that encourages throwing out and replacing old items with new ones, more and more people are realising the economic benefits of buying used clothes such as T-shirts.
Brands
Though it is certainly not always the case, high quality garments are often associated with well-known brands. Unfortunately, in turn, well-known brands tend to be associated with what many people consider to be a little above their budget threshold. This is where used T-shirts enter the picture. Instead of shopping in expensive boutiques, the person looking for a T-shirt of a well-known and high-quality brand is very likely to find what he or she is looking for in the used market.
What's more the individual can purchase the T-shirt at a price lower than what it sold for at retail. The bigger brand names within the fashion industry are typically associated with timeless flair. This means that getting a used T-shirt, one that is perhaps two or three years old but still in great condition, is a great option for the fashionable shopper. When T-shirts of a well-known brand are sold on the used market, they are typically in good condition and sometimes even look brand new.
Used T-Shirt Fabrics and Sizes
The main practical aspects to consider when shopping for a used T-shirt are fabric and size. The fabric of a used T-shirt has bearing on its comfort, fit, and durability and is important to consider in relation to the ways that the used T-shirt will be used.
Cotton
Cotton is probably the most common fabric used in standard T-shirts. Particularly, what is known as "combed cotton" is used a lot, to create a strong, yet soft and smooth material. When a T-shirt is claimed to be made of 100 per cent cotton, it is usually made from a long-fibreed cotton called supima. Such cotton is strong, soft, and highly durable. Cotton is ideal under most circumstances, and perhaps even more so during physical exercise such as jogging.
Polyester
Almost as common as cotton is polyester, which is a strong and durable fabric derived chemically. The downside of polyester T-shirts is that they tend to be non-breathable and are thus not ideal in warm rooms or physically demanding environments, where they tend to make the person warm.
Linen
Better suited for keeping a cool body temperature are T-shirts made of linen. Linen is derived from the flax plant and woven into a textured fabric that takes little time to dry. The downside of linen is that it tends to wrinkle easily.
The fabric of a used T-shirt is, of course, an indication of its overall quality. A good rule of thumb is that cotton, particularly the long-fiber type, is usually of reliable quality.
Used T-Shirt Sizes
Size when buying clothes can be a hassle to get right. A size that seems to fit perfectly, when wearing one kind of T-shirt, oddly feels too small or large in another. However, there are a few guiding measurements that tend to work for most adult men. The chart below displays those measurements.
| Size | Width (cm) | Length (cm) |
| --- | --- | --- |
| Small | 46 | 71 |
| Medium | 51 | 74 |
| Large | 56 | 76 |
| Extra large (XL) | 61 | 79 |
When buying T-shirts from the 1960s and 1970s, it is often the case that they are somewhat tighter than modern T-shirts. In the 1980s and 90s, the opposite trend was popular, meaning that used T-shirts from those decades are sometimes wider than modern shirts.
Buying Used T-Shirts on eBay
Another excellent source to browse for and purchase used T-shirts is the Internet which includes several online marketplaces with vast offerings. eBay, for instance, has hundreds of listings for used T-shirts of all kinds, including classic pop culture gems and functional standard models.
Searching for Used T-Shirts on eBay
An easy way to search for used T-shirts on eBay is to go to the main page and type "used T-shirt" into the search bar. Those looking for a particular print, such as of a band or a movie, might want to add that to their keyword search, for example, "Nirvana used T-shirt" or "Pulp Fiction used T-shirt". Searching in this manner will take you to a page where all listings related to the search are displayed.
The number of available listings may at first seem overwhelming, but there are several useful ways to filter out and narrow down your results. If you forget to include the "used" criteria in your search, you can tick a box to display only used items. You can also filter results by size, brand, colour, pattern, fit, and design. You may also want to filter results according to the location of the seller, for instance "UK only", "European Union", or "worldwide".
Conclusion
Used T-shirts from earlier decades or ones with vintage designs are a great way to express one's personality. Used T-shirts are also very practical in their purpose. Not only is the freedom to choose nearly limitless, but, in many cases, the T-shirts are also very affordable. Rather than sticking to the mainstream department store one always visits when it is time to update one's wardrobe, browsing the market for used T-shirts is a fun and inspiring way to get new ideas. The music lover, film buff, and cartoons fan have an endless source of original print T-shirts to delve into, while one who is simply interested in getting an affordable and functional T-shirt has an even bigger gallery of options to choose from.
The quality of the print, size, and fabric are among the important factors to take into consideration when shopping for used T-shirts. The Internet, with auction sites such as eBay, has an abundance of used T-shirts on offer. With its wide variety of listings of used T-shirts, eBay makes it easy to find the used T-shirt that one desires.