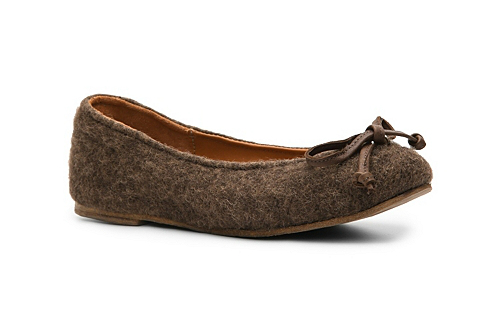 The time period for what is considered vintage wear typically spans from the 1920s to the 1960s. The popularity of vintage wear has increased over the past decade as wearing secondhand clothing has become more common, partly due to celebrities being seen in vintage wear and the environmentally friendly nature of recycling and reusing clothing as opposed to throwing it away.
Vintage women's flats come in a number of styles. These shoes were known for their fashionable designs, featuring bows, buckle straps, and other embellishments. Many vintage flats have padded arch support and flexible insoles, increasing the comfort level of the shoes. These shoes are made in a variety of colours and fabrics. In order to help women to buy vintage flats, it is useful to understand the various types, how they are sized, how to examine them for damage, and how to care for vintage flats properly. Vintage flats can be found at vintage shops, charity shops, car boot sales, and online retailers such as eBay.
Styles of Vintage Flats
There are various styles of vintage women's flats that differ according to their design and their era. Deciding which pair will best fit a woman's outfit depends solely on personal taste and the era that she is interested in.
Vintage Flat Mary Janes
A pair of Mary Janes was the footwear of choice during the flapper era of the 1920s. They have a closed, rounded toe, a thin outsole and one or more straps over the top of the foot, which is fastened with a buckle or button. Some also have ribbons instead of straps that can be secured with a bow. Although some Mary Janes have a low heel, many are flat. Vintage Mary Janes are typically found in black or patent leather Many flappers paired the shoes with short, tasselled dresses that showed off the woman's knees; a risque look for that time.
Vintage Flat Peep Toe Shoes
The peep toe was introduced in the 1930s. During the 1940s, large numbers of women entered the workforce as part of the war effort. Wartime austerity and the fact that the peep toe was not a practical work shoe, meant that its popularity was unable to soar until the 1950s. This shoe has an opening at the toe, wide enough to allow a glimpse of the toe. At a time when modesty had a high value in society, this feature was considered racy.
Vintage Flat Tassel Loafers
The tassel loafer reached its height of popularity during the 1950s. This style of vintage flat resembles a slip-on moccasin and is decorated with a tassel on its upper, near the toe. Tassel loafers are made of leather and have a broad flat heel.
Vintage Flat Brogues
Originally designed as men's shoes, brogues can also be found in women's versions. Brogues are lightweight, making them perfect for dancing during the 1950s rock and roll era. These flats are usually made of leather and have decorative holes in the shoe's upper. Brogues were designed as functional wear, and the holes originate from the time when the shoes were worn outdoors and needed to be drained easily. More modern versions still feature the perforations, however, brogues are now considered more formal footwear.
Sizing Vintage Flats
Vintage flats sizing is slightly different to modern shoe sizing, perhaps by half a size. So a vintage size 6 may be equivalent to a modern size 5 and a half or size 6 and a half. Like all shoes, vintage shoe sizing often varies between manufacturers so buyers should measure their feet and compare the size to the dimensions of the inner part of the vintage shoes before completing a purchase. To measure their feet properly, women should use a flexible tape measure and stretch it from the heel to the tip of the toe. It is also important to take note of whether the desired vintage flats contain a pointed tip, as this area should not be accounted for in the measurement of the shoe.
It is also important to measure the width of the foot at the widest part, most often the ball. Vintage flats that are less than three and a quarter inches wide at the ball of the foot are categorised as narrow or slim. Most vintage flats will indicate this by printing an "N" or "S" directly following the shoe size. Vintage flats that are normal in width are indicated by a "B" or "M", while those marked "C" or "W" are considered wide.
The largest women's feet today are significantly longer than they were 50 years ago. This makes it more difficult to find vintage shoes in larger sizes.
Examining the Vintage Flats for Damage
When buying vintage flats, buyers should always check the shoes for any signs of wear and tear or other other damage that could affect the shoes' ability to be worn.
Wear and Tear of Vintage Flats
Buyers should examine the soles of the vintage flats. If the soles are pulling away from body of the shoes, are significantly worn, or cracked, buyers should factor in any cost of repairs that need to be performed to return the flats to a wearable condition. A tear on the seam of a leather shoe may be able to be mended, but it is much more difficult to repair for vinyl shoes. Tearing along the seams could be an indication that the shoe's material has been compromised. Buyers should be wary of any vintage flats with deteriorating lining. Lining is irreparable and must be removed from the shoes before they are worn in order to prevent any powder residue from coming into contact with the wearer's feet. The shoes should also be examined carefully for any signs of scratching. While scratching on white, brown, or black leather vintage flats is generally an easy fix, it may be more difficult to refurbish coloured leather shoes.
Hardware on Vintage Flats
Buyers should examine the vintage flats thoroughly to ensure that all buttons and snaps are in good working order. Hardware is usually able to be repaired, at a cost.
Finish of Vintage Flats
Before purchasing a pair of vintage flats, buyers should always check the shoes' finish. If the flats have a slightly sticky feel, this is a good indication that the finish is ruined. The finish of the shoes cannot be restored. Therefore, it is best to avoid vintage flats with this type of damage.
Properly Caring for Vintage Flats
Most vintage flats are delicate, so buyers should take extreme caution when caring for the shoes. Shoe fabric and threads are highly susceptible to dissolving if they come into contact with strong cleaning products. It is best to wipe the shoe's fabric clean carefully with a delicate water-based solution. Vintage flats should be stored properly in a cool, dark place.
Where to Find Vintage Flats
Most vintage women's flats are sold in charity shops, at car boot sales, and in vintage shops. Some shops focus on just vintage accessories, while others offer accessories spanning a wide range of decades. Buyers looking for vintage women's flats can also search online retailers. The most desired vintage flats are often sold at auction to the highest bidder. Sometimes, items become available when the owner decides to sell their personal collection. Buyers can find vintage women's flats through eBay's online auction listings.
How to Buy Vintage Women's Flats on eBay
When browsing for vintage women's flats on eBay, pay close attention to the description of the item that you are interested in buying. Reading the full listing and looking at the photos carefully, will give you a better idea of the condition and authenticity of an item, and by getting to know the seller, you can feel more confident about purchasing from him or her.
Understand Item Condition
You may be drawn to a listing by the photos of the item, but always read the detailed item information before making a purchase. Sellers must use standard terminology to describe the condition of their items.
Research the Seller
By analysing detailed seller ratings and reading reviews from past customers, you can decide if you are comfortable to buy from a particular seller. For a quick way to find the best sellers on eBay, look for those who have been awarded Top-rated status.
Conclusion
Vintage women's flats can be found online easily; even those inexperienced with how to find vintage wear can buy flats that will be treasured for a lifetime. Although it may seem difficult to distinguish between vintage and modern flats, it is more than possible to find an authentic pair with just a little bit of research. Buyers should familiarise themselves with the styles of vintage flats to ensure that they are buying a pair that would have been worn at a particular time. Common styles include Mary Janes, the peep toe, and the tassel loafer.
Unlike more modern versions, vintage flats can be differentiated by their brand and by their unique sizing, especially with respect to the width of the flats. Vintage women's flats should be in good condition, without visible signs of wear and tear, or a significantly damaged finish. While some features may be able to be repaired, others are considered irreparable. It is important that women understand how to care for vintage flats properly in order to maintain and preserve their quality. With so many vintage flats to choose from, eBay can help a woman to find the perfect pair.