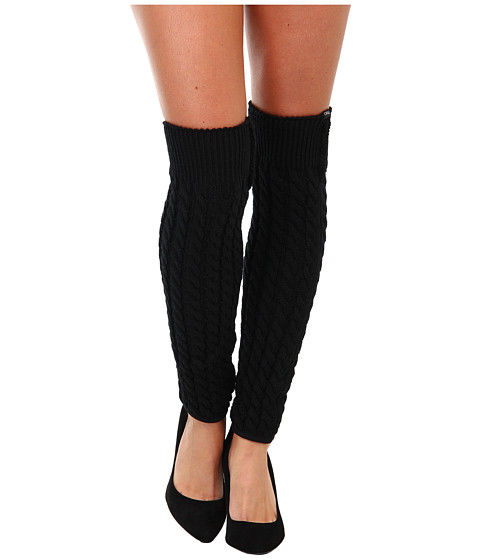 Leg warmers are accessories that are similar to socks, but are footless and worn to cover the parts of the leg. Leg warmers can vary in length, but most start just below the knee and end near the wearer's ankles. They may also vary in width depending on the stretchiness of the material. Some leg warmers are worn stretched out fully, while others are worn in a scrunched up look. Although originally knitted from pure wool, leg warmers are now made in an array of fibres including cotton, synthetic, or a blend of the two. Smarter leg warmers are made in textured fabrics, like chenille.
Leg warmers can be plain, block colours; they can be multi-coloured with patterns; or they can have embellishments, such as buttons, bows and snaps. In order to find the right pair of leg warmers it may be interesting to know about the history of the garment, the various types, and how to wear them properly. Leg warmers are available in dance shops, and department stores, but possibly only in the winter. Buyers looking for leg warmers will find them available on eBay all year round.
A Short History of Leg Warmers
Leg warmers were originally designed for dancers and often worn in combination with leggings or tights. Their purpose was to keep a dancer's leg muscles warm during the first part of his or her exercise routine until the legs were warmed up fully. This was thought to reduce cramping and prevent muscle injury associated with stretching cold muscles. In the early 1980s, leg warmers became a major fashion craze among teenage girls, after they were popularised by films such as "Fame" and "Flashdance". Their popularity later crossed genders as boys adopted the fashion.
Types of Leg Warmers
There are various types of leg warmers, each one having special features that help it to cater to the wearer's requirements. Some women may wear leg warmers as a fashion accessory, but others may wear them for a specific purpose. So, when choosing the best type, buyers should consider the activity that the leg warmers will be worn for.
Cycling Leg Warmers
Cycling leg warmers are designed specifically for cyclists. They are usually worn during cold weather as way to prevent bulky winter clothing from getting caught in the mechanism of the bike. Unlike traditional leg warmers, cycling leg warmers usually extend from the wearer's ankle to the top of the thigh, near the groin. These leg warmers are insulated and designed to fit snugly. When it comes to cycling leg warmers, sizing is key. Loose leg warmers can get caught in the bike chain while overly tight leg warmers may cut off the wearer's circulation, causing discomfort and numbness.
Sizing Cycling Leg Warmers
When sizing cycling leg warmers, women should measure both their height and the thickest part of their thigh. The circumference of the thigh area is a key to determining the correct size. Next, women should measure the inside leg from their crotch to the ankle. Buyers can use the chart below as a reference for determining the correct cycling leg warmer size.
| Measurement | Extra Small | Small | Medium | Large | Extra Large |
| --- | --- | --- | --- | --- | --- |
| Height (cm) | 164-172 | 172-180 | 180-188 | 188-196 | 188-196 |
| Thigh (cm) | 48-51 | 51-53 | 53-56 | 56-59 | 59-61 |
| Inside Leg (cm) | 103-106 | 106-109 | 109-112 | 112-115 | 115-118 |
When buying cyclist leg warmers, it is important to consider that sizes vary between manufacturers. Buyers should always consult a company's size chart before making a purchase to ensure proper sizing. Some manufacturer's may also take a woman's weight into consideration with respect to sizing, so it is important to have all measurements on hand.
Stirrup Leg Warmers
Stirrup leg warmers contain a strap which wraps around the bottom of the wearer's foot. The strap is usually made of the same material as that of the leg warmer and is designed to help to keep the legwarmers close to the feet and prevent them from riding up. A reinforced elastic top helps to hold the leg warmers up.
Dance Leg Warmers
Dance leg warmers usually cover the tops of the wearer's feet, and fit under the foot, leaving the heel exposed. They reach up to the dancer's calves and sometimes as far as the thigh for ballet dancers. They feature a non-skid pad that grips the floor, helping to prevent dancers from slipping.
Acrylic Leg Warmers
Acrylic fabric is widely used in cable knit leg warmers and is known for its softness, warmth, and lightweight properties. This is an extremely popular choice of fabric for leg warmers because it maintains its shape well and is highly elastic. Although acrylic holds its colour and is both stain and crease resistant, proper precautions should be taken when washing it to prevent pilling. Ideally, acrylic leg warmers should be hand washed or dry cleaned. If machine washing, then it is best to wash the leg warmers in cold water on a gentle cycle in order to preserve the fabric's appearance.
Fluffy Leg Warmers
Fluffy leg warmers, also known as fluffies, are made of faux fur. These leg warmers are known for their bright colours and exotic prints. Fluffies are popularly worn as club wear and some even contain built in lights. This material provides some warmth, but is mainly worn as a fashion item. It should not come into contact with water, which can destroy the lining and cause damage to the synthetic fibres. Women should use a soft bristled brush designed for clothing to carefully untangle the faux fur after wear. This will help to prevent the fabric from becoming matted. If needed, approved cleaning solutions can be applied, although dry cleaning is always the preferred option. Faux fur leg warmers should be given adequate storage room in order to keep the fabric from becoming flattened.
How to Wear Leg Warmers
There are many ways to style leg warmers. These accessories can be worn under boots, allowing just a few inches of the leg warmers to peep out. When paired with a skirt and tights, this will provide women with a chic look, perfect for any autumn or winter event. Leg warmers can also be worn over a pair of skinny jeans. Women should scrunch the leg warmers up and allow them to rest just over the tips of the shoes. Whichever way a woman decides to wear her leg warmers, they should always coordinate with her outfit and be in tune with the season.
When the weather is warmer, women can opt to wear leg warmers that are made of a lightweight fabric such as cotton. Cotton is known for its breathability and allows air to pass freely through the material. Brightly coloured leg warmers are also ideal for warm climates. Cable knit leg warmers are best suited for cooler weather, especially when worn over leggings or another base layer. The cable knit not only adds texture and dimension to the leg warmers, but also provides extra warmth and comfort to the wearer.
Leg warmers are best worn for dance, fitness or casual occasions and should be worn during the day as opposed to night, except in the case of fluffies.
Where to Find Women's Leg Warmers
Most women's leg warmers are sold in dance shops and department stores. Buyers looking for leg warmers can also browse items available at online store that specialise in socks. Fashion fans of the 1980s can find plenty of women's leg warmers in eBay's online auction listings.
How to Buy Women's Leg Warmers on eBay
When browsing for women's leg warmers on eBay, read the description of the item that you are interested in buying very carefully. Look the photo to get a good idea of the condition of the item. By getting to know the seller, you can feel more confident about making a purchase.
Feedback Ratings
Buyers should always check a seller's feedback rating before purchasing women's leg warmers. Ratings are determined by information provided by other sellers within the past 12 months. This information, along with the number of transactions that a seller has completed, can provide information about the level of customer service that a user provides. Before buying, check that the seller has a returns policy, just in case the leg warmers are a poor fit. Upon receiving the leg warmers, you can leave feedback for the seller. This can help good sellers to find new customers and earn Top-rated seller status. If you are dissatisfied with the leg warmers, you can contact the seller to see if a resolution can be met.
Conclusion
Although there may seem to be an wide variety of style, fabrics and colours, it is more than possible to find the perfect pair of women's leg warmers with just a little bit of care. First, buyers should consider the function of the leg warmers. Some women like the stylish aspect of the leg warmers, while others wear them for a more functional purpose, like cycling or dancing. Buyers should take sizing into account when making a purchase, especially for specialist pairs for cycling, because not all leg warmers fit all body types. Leg warmers should snugly cling to the legs without being excessively tight. Depending on the weather, women may opt for various fabric choices. Cotton is ideal for the warmer months while cable knit is better suited for colder times of year. Women must also consider their wardrobe as the leg warmers should complement the wearer's ensemble. With so many leg warmers to choose from, eBay can help any woman keep warm, while remaining fashionable.