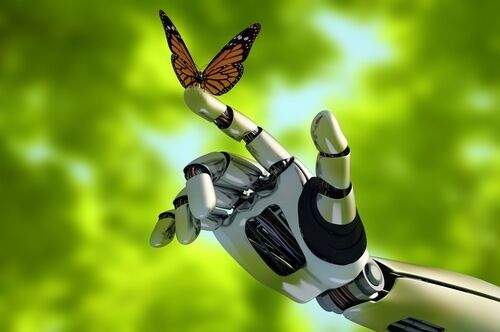 Arduino's Uno is a simple microcontroller board that can be hooked up to a computer and set up to interact with the physical world. More than just an electronics hobbyist's plaything, it can be used to construct complex projects, control machines or build your own electronic products.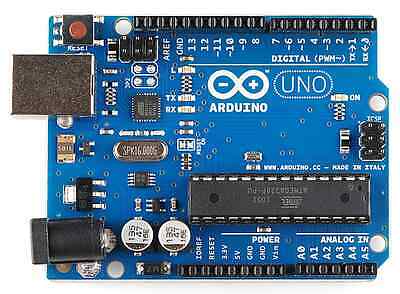 Arduino Uno board
The Uno is one of Arduino's standard boards and is based on the ATMega328 microcontroller, with an open source programming language to allow anyone to write software for it. The Arduino Uno R3 (revision 3) is 2.7 inches long and 2.1 inches wide and it has a number of inputs and outputs that allow you to attach devices such as motors, sensors, cameras or even your smartphone, to create novel electronics projects.

There are six analogue inputs on one side, several ground pins, plus 5V and 3.3V pins to power components. On the other are 14 digital input/output pins, six of which can be used for pulse width modulation – to simulate analogue output if needed.

A reset button allows you to restart any code loaded on the Arduino. Power, transmit (TX) and receive (RX) LEDs show when the board is on or off and whether it is sending or receiving data. Power can be supplied to the board by a USB connection, an AC-to-DC adapter or an attached battery. Recommended voltage for the Uno is between 6-20V, any more than 20V and you risk breaking the components.
Setting up the Uno
To start with you will need to install the Arduino's IDE (integrated development environment) software onto your computer. This allows you to program the board and begin developing the Uno for new projects. Windows,
Mac
and Linux operating systems are all supported. You will need to connect the Uno to your
PC
using a USB A-to-B cable, the kind you would use to connect a printer.
When you connect the Uno it draws power from the computer USB link and the board's green power LED (PWR) should light up. Get the latest IDE version from Arduino's download page and unzip the file. Installation varies slightly for each operating system and detailed instructions are available on the Arduino website. On Windows 7, Vista and XP it is a simple process that requires the user to manually update the board's driver software in the Control Panel using a file from the IDE download. Once installed you simply double click the Arduino application and you are ready to begin.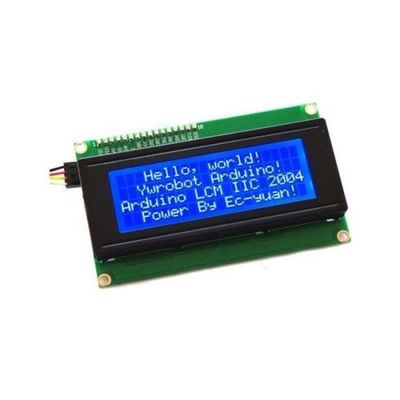 Arduino's programming language is a physical computing language called Wiring, based on the Processing multimedia language. Programs are called 'Sketches'. First test your Arduino Uno by opening the example sketch 'Blink' in the menu File > Examples >
1. Basics > Blink. Arduino's software then allows you to choose the Uno from a list of Arduino boards in the Tools > Board menu. Select the serial port of your board from the Tools > Serial Port menu (COM3 or higher usually) and click on Upload to send Blink to the board. The Uno's RX and TX LEDs will flash and once the program is sent the message "Done Uploading" will appear in the software status bar. A few seconds later the orange pin 13 LED should start to blink. Your Arduino is now up and running.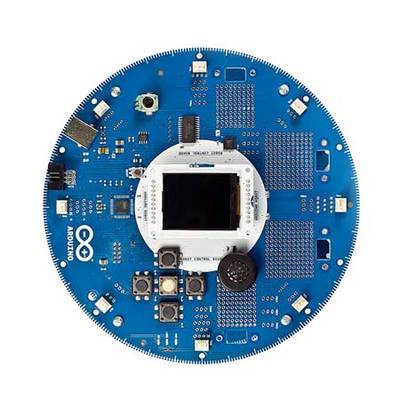 Arduino libraries
Besides Sketches there are a whole host of Arduino libraries, pre-written code that others have written for the Uno, all accessible through the Arduino website or from a vast number of other enthusiasts. Start at the Arduino Tutorial page online. Alongside the Blink example there are lots of good basic program examples to test the inputs and outputs of the board such as 'Fade' to demonstrate how to fade an LED and 'Button', which allows you to set up a push button to control an LED. You can work through the sketch and circuit tutorials showing how to control digital, analogue and control mechanisms of the Uno, then move onto setting up sensors and displays.

Example libraries are included in the Arduino software or you can download them from the Arduino Playground. Playground is a wiki where people share code, circuit diagrams, tutorials and DIY tips. It has a user code library for you to download to your PC. Many Libraries come with example Sketches so you can look at how programs are written and start writing your own when you feel proficient enough.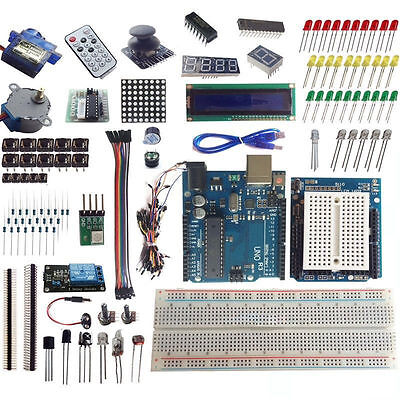 Starter kits
Whether you want to hook your Arduino Uno up to your computer and its network or create stand-alone projects with their own DC or battery power supply, you may find that a
starter kit
is a good purchase to try your hand using different components. Starter kits often include jumper wires, batteries, switches and a variety of electronic bits and pieces such as resistors and potentiometers. Motors, temperature sensors, LED and LCD displays are also popular components in start kits.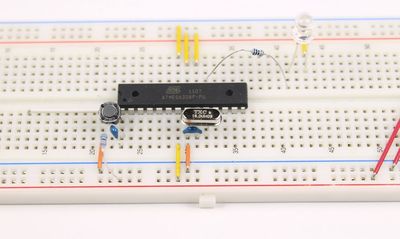 Breadboard
To test each project you create using the Uno it is best to start by prototyping before soldering all the components together into a final build.
Breadboards
give you the perfect opportunity to run wiring out from the Uno and connect it to other components and circuits. If you are testing new parts or analysing a circuit then the breadboard can be set up without soldering again and again until you are happy with the results. Each typical breadboard contains conductive strips for you to connect components and two power rails for positive and negative power connections. You can simply power your breadboard from the Uno's power and ground pins via the USB connection or connect an external benchtop power supply.
Wiring
Use
solid core
wiring for prototyping with your breadboard as stranded wire can separate when you press it into the holes. It is recommended to use 23 SWG gauge wire (or 22 AWG US equivalent). Be sure to have a wire stripper to accurately remove the wire's plastic outer layer to the desired length. About a quarter inch is fine usually.
Sensors
Using simple code you can control and interact with a wide range of compatible sensors – light, temperature, pressure, humidity, acceleration or proximity among others. Connect them to available pins on the Uno board or via a breadboard, through your computer to get information on the outside world.
Shields
Another feature of the Uno is its compatibility with a wide range of Shields. Each Shield is a pre-built circuit board that fits on top of the Arduino board to provide extra capability. Examples include colour LCD displays, a cellular shield to add mobile phone functions and an ethernet shield to connect the Arduino to the internet. Shields are stackable one on top of another – as long as they have the same form factor (size and position of inputs/outputs) – and are often supplied with example sketches or libraries.

When stacking shields it is also important to ensure that they do not use overlapping pins as some use every available pin on the Arduino, others only a few. A prototyping shield sits on top of the Uno and allows you to put a breadboard on top or simply solder directly to the shield's prototyping area to complete your project.
Other Arduinos
Besides the Uno there are a family of related Arduino boards that you may wish to investigate. The Arduino Lilypad is often seen in wearable electronics projects, scaled down Arduino Minis and Nanos are great for small scale projects, and the Arduino Robot has two processors, wheels and is ready made to create your own mini robot. Other makers produce their own Arduino boards based on the originals and a little research will uncover lots of alternatives to this versatile microcontroller.