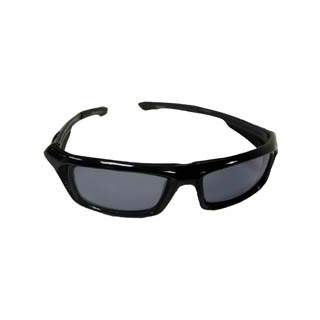 Wrap sunglasses have continued to be popular in recent years, becoming a leader in men's eyewear. Their design is both functional and fashionable: starting from the front and following the contours of the wearer's head. They are characterised by a singular, smooth, semi-circular lens that covers a large proportion of the eye area in a similar way to protective goggles: they are known for their oversized look. These glasses provide good coverage for both direct and peripheral vision. Some wrap sunglasses have two lenses, similar to traditional sunglasses, but this is uncommon.
Wrap sunglasses typically feature a minimal plastic frame and a plastic nose-piece. These glasses come in limited colours and designs. In order to help buyers to purchase a pair of men's wrap sunglasses, this guide will discuss the history of wrap sunglasses, their construction, and their advantages and disadvantages. The guide will provide information on their features, and help buyers to search for and buy men's wrap sunglasses at retailers such as eBay.
The History of Wrap Sunglasses
Wrap sunglasses made their debut into the fashion industry in the mid 20th century. Before then, sunglasses were worn for their functionality. Jacqueline Kennedy popularised the glasses as a fashion accessory in the early 1960s. Soon the trend spread to the wider consumer and the popularity of the sunglasses extended across the globe until they were sported by both women and men.
Construction of Men's Wrap Sunglasses
Wrap sunglasses have three main components: the lens, frame, and nose bridge. Together, these parts help to protect the wearer's eyes from the effects of the sun.
Lens
When purchasing a pair of wrap sunglasses, buyers should consider the colour of the lenses. This will directly affect the way that a man sees colour while wearing the sunglasses. Lenses come in various colours including red, grey, green, and brown. A grey or green lens is best for driving. Some studies have labelled blue light harmful as it is linked to an increased risk of eye damage from diseases such as macular degeneration. A brown or amber lens will hinder the passage of blue light. Browns and ambers are ideal for sports sunglasses as they enhance contrast.
These colours help to reduce colour distortion, which in turn maximises their safety. Wearer's may base the colour of their lenses on the latest fashion trend, but they should also consider the intended use of the sunglasses. In the chart below, buyers are able to see the popular colours of lenses and their associated benefits.
Lens Colour

Benefits

Greys and Greens

Considered neutral

No colour distortion

Browns

Increases colour contrast

May cause slight colour distortion

Turquoise

Ideal for medium to high light conditions

Enhances contrast without causing colour distortion

Oranges and Yellows

Increases both contrast and depth perception

Causes distortion

Yellow lenses used by pilots, sailors, and fishermen

Blues and Purples

Used for aesthetic reasons
Some wrap sunglasses have an interchangeable lens function. This allows the wearer to swap the colour of the lens as desired and is thought to be more practical and cost effective than carrying around multiple pairs of sunglasses. The wearer may choose to change lenses for different light conditions or for certain activities.
Frames
Wrap sunglasses typically have frames that are made of plastic or nylon because of their lightweight properties and flexibility, which allows them to contour to the wearer's face easily. They are full frames, that is, they extend completely around the lenses. Frames for wrap sunglasses are available in different colours and patterns, designed to fit any man's style. Some are single colours and others contain the trademark logo of popular designer names.
Nose bridge
The nose bridge of wrap sunglasses helps to prevent pressure marks which are often formed by the weight of the frames on the wearer's cheeks. Some nose bridges are in a low position on the sunglasses and may be better suited for men with larger noses, whereas others are placed at a medium or high level and fit small noses better.
Features of Men's Wrap Sunglasses
High quality wrap sunglasses have safety features that help to protect the wearer's eyes from harm and the long lasting effects of the sun's rays. When buying sunglasses, shoppers should always take the amount of UVA/UVB protection and polarisation that the sunglasses offer into account along with the lens colour.
UVA/UVB Protection
Unprotected eyes become susceptible to cataracts and other permanent eye damage.UVA/UVB protection helps to shield the wearer's vision from the effects of the sun's rays. It is recommended that wrap sunglasses offer at least 99 to 100 percent UVA and UVB protection, although most offer complete coverage. Some wrap sunglasses are labelled as UV 400, which means that they block all light rays with wavelengths up to 400 nanometres. This is another way of stating they offer 100 percent coverage from all UVA and UVB rays.
Polarisation
Polarised wrap sunglasses obstruct the glare that occurs when sunlight reflects off of flat surfaces, such as water. The glare is ultimately neutralised by the sunglasses by blocking the magnetic components of light. Polarisation is ideal for sports enthusiasts, including sailors, fishermen, and skiers, as it helps to improve visual clarity.
Advantages of Men's Wrap Sunglasses
Wrap sunglasses offer many advantages over traditional eyewear. These glasses protect the wearer's eyes successfully without limiting their field of vision: they shield the eyes from all angles as opposed to just straight ahead. They also prevent dirt and dust particles from coming in contact with the wearer's eyes because their design means that the glasses frames fit snugly over the face. This design also helps to minimise the amount of sun and wind exposure to the eyes.
Some wrap sunglasses can be worn with a pair of corrective lenses, decreasing the cost of having to buy prescription sunglasses. This allows spectacle wearers to change their look, and style their prescription glasses under more fashionable wrap glasses. For men who have an active lifestyle, wrap sunglasses are an excellent alternative to regular sunglasses as their snug design decreases the possibility of the glasses falling off during a morning run or the ascent of a cliff face. Wrap sunglasses are usually made with thicker arms and lenses than more traditional sunglasses, which makes them more durable for sport and other physical activities. Their hinges are also robust and last well over time.
Disadvantages of Men's Wrap Sunglasses
Although some wrap sunglasses are intended for wear over corrective lenses, most of them do not offer this functionality. Also, most wrap sunglasses frames are unable to accommodate prescription lenses because of the optical distortion that is generated by the curvature of the sunglasses.
Buying Men's Wrap Sunglasses on eBay
Men's wrap sunglasses are available to buy on eBay. Buyers simply need to navigate to the appropriate category by entering the keywords men's wrap sunglasses into the search bar. The more specific a buyer is in their search, the more precise search results are likely to be. If using the glasses for sports activities, buyers may opt to search men's polarised wrap sunglasses. Buyers can use eBay's advanced search feature to narrow down results based on price, buying format, or the location of the seller.
As with any type of men's sunglasses, buyers should make sure that the glasses have adequate UVA and UVB protection. Buyers can use the "Ask a question" feature on a seller's listing page if this information is not available under the item's description.
Once buyers find the men's wrap sunglasses that they wish to buy, it is important to check the seller's feedback rating to see how other buyers have rated their service. If a seller is an eBay Top-rated seller, that means that the seller has a good reputation for dealing fairly on eBay. It is also wise to check whether the seller has a returns policy in the event that the wrap sunglasses do not look as good as you had hoped.
Conclusion
There is a huge variety of items to choose from, so it is more than possible to find the perfect men's wrap sunglasses for every type of activity with just a little bit of research. Wrap sunglasses are best for any man who actively participates in outdoor activities. These glasses can protect the wearer's eyes against damage associated with the sun's effects, including UVA and UVB rays. The construction of the sunglasses is designed to maximise protection from all angles, so that dust, wind, and rays from the sun cannot affect the eyes.
The lenses of these glasses come in various colours. While some men may prefer the aesthetic value of blue lenses, others may match the colour of their lens to the benefit that it provides. For those constantly trying new activities, wrap sunglasses that allow for interchangeable lenses are a great investment. In order to minimise glare, men should opt for polarised wrap sunglasses. With so many men's wrap sunglasses listings to choose from, eBay can help any sports enthusiast, or a man who just wants that sporty look, to equip himself for his next adventure.