On this page
Fisher Price Discover 'N Grow
Bright Starts Comfort and Harmony
Fisher-Price Rainforest Jumperoo
Baby by Chad Valley
Mamas & Papas Baby Bouncing Cradle
Hauck Lounger
Cosatto Bobbin
Graco Sweetpeace Baby Swing
BabyBjörn Babysitter Balance
Chicco Jolie
A baby bouncer or bouncing chair is an ideal place when your baby needs a safe place to rest or play while you get on with some chores. Small, cosy and comfortable, a bouncing chair will enable your baby to discover how to kick their legs and bounce to make the chair move, teaching them cause and effect. Some have toys attached to keep them amused and some have vibrations, sounds and rocking motions so that when your baby has done with all that activity, they can drift off to sleep.
These chairs can't be used for long, as once your baby can roll over, or start to pull themselves up on furniture, you should no longer use them, for safety's sake – usually by around 5 months. Always make sure someone is supervising your baby when they are in the chair and never leave them alone.
Our parenting expert is Sally J Hall, Editor
of B Baby Magazine
and Author of Eco Baby
.
Fisher Price Discover 'N Grow Bouncer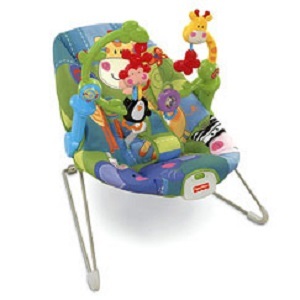 eBay loves: Bright and colourful, lots of features.
Watch out for: Not all babies like vibration.
RRP: £49.99

A great place to keep your little one entertained, the Discover 'N Grow bouncer can be used for both playing and relaxing. With a comfortable padded seat, it will be cosy for babies from birth to around 5 months and your little one is held safely into the seat with its integral 3 point harness. The flexible support legs mean that as your baby kicks, the chair will bounce, which will delight him.
There's a vibration feature, which will help soothe your baby in the same way a car ride would, which is great if you have a fractious baby. Two toy bars hang over the baby but these can be pushed back out of the way when you want to interact with your baby. On the bars are a giraffe, a monkey and a penguin with rattles in them, which will not only be bright things for your baby to look at but will help develop their hand-eye coordination. The seat is nice and light, so you can take it from room to room with you (don't lift it with your baby in it for safety) and all you'll need is a couple of batteries, which are not included in the price. The covers can be removed for washing.
---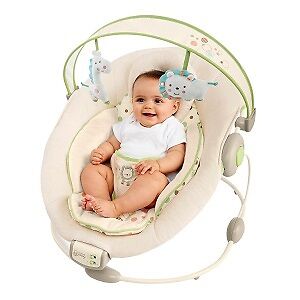 eBay Loves: Nice neutral colours, good features.
Watch Out For: Main seat cover not removable.
RRP: £54.99

The Bright Starts Comfort and Harmony Bouncer is a cosy and generous sized seat with deep padding made from soft plush, which will hold your baby safely from birth. For newborns there are two recline positions for additional comfort. There are an amazing seven songs to help amuse your baby, with a handy volume control. As she starts to relax, there's also a vibration feature which will help her drop off to sleep, which is controlled by buttons on the front.
Over the baby's head is a soft and removable toy bar with two cute plush toys, a lion and a giraffe in pale colours with pastel accents, and there are embroidered touches that embellish this seat. There is a head support pillow and bolster insert, also a padded foot area. This extra padding can be removed as your baby grows. The seat has a 3 point harness that keeps your baby held safely and the pad is machine washable. Add some batteries to get the seat going.
---
eBay loves: Strengthens legs and will keep baby amused for hours.
Watch out for: Quite large and expensive – make sure you have room, can't be used from birth.
RRP: £99.99

For a full-on, enjoyable experience, the Fisher-Price Rainforest Jumperoo Baby Bouncer has lots and lots going for it and your baby will love playing in this every day. Pop him into the seat and he is held upright with his little legs just able to touch the floor and he can start to push up off his feet to enable the seat to bounce.
When your baby jumps, the music and lights start to activate, giving him a reason to keep bouncing and learning cause and effect. Hiding in their own rainforest over baby's head are a toy frog and parrot, and around the seat - which can turn through 360 degrees - are more toys such as a bobbing elephant, swinging monkey and spinning lizard. The lights and music can be turned on for 4 minutes of continuous play and there are 5 play areas around the seat. The seat has an internal support strap, which can be adjusted through 3 positions to make sure it fits your baby. It can't be used from birth but from when your baby can hold up his head. Once he gets sleepy, you should take him out for a nap.
---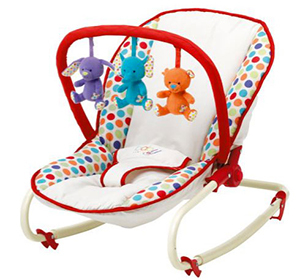 eBay loves: Simple to use and a good price.
Watch out for: No additional features.
RRP: £19.99

Ideal for travelling and for taking with you from room to room, this simple little bouncing chair from Chad Valley Bouncer is a good place to put your baby safely when they want to play or nap. It has brightly coloured spotty fabric and a generously sized 3 point safety harness to keep your little one safely in the seat. Make sure you stop using this seat when your baby can sit up or roll, as they might turn it over by mistake. When your little one moves his arms and legs, the seat will give a nice gentle bounce, thanks to its flexible frame and when they are tired, it's a nice place to nap.
The position of the seat cannot be changed and it raised at the head end, but this does help with babies who suffer from reflux, as the head is held up higher than the stomach. The seat is supportive and will be suitable even for larger babies and can be used from birth to around 5 months or 9 kg in weight. The cover can be completely removed for washing and you can just throw it in the machine.
---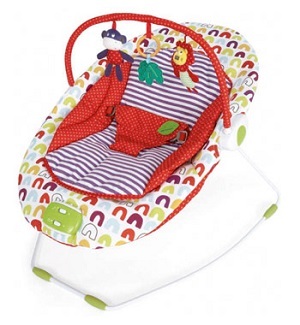 eBay loves: Colourful and well padded.
Watch out for: No music or lullabies.
RRP: £49.95

You can use this seat from birth until your baby is able to sit, or when their weight reaches around 9 kg. Slightly larger and more robust than the simple wire seats you can buy, this has a deeply padded seat cushion and its covers are able to be removed and machine washed, so you will be able to use it again and again. Inside the seat is a head hugger, keeping a small baby's head in the optimal position. As your baby grows, this can simply be removed. Just by moving around and kicking her arms and legs, your baby can make the seat bounce, or you can turn on soothing vibrations to help calm your baby for relaxation time. Your baby can be left in the seat for short naps, though you should try to put her flat in her cot if you know a nap is due.
There are some neat straps to keep your baby safe in the seat and over your baby's head there is a soft arch-shaped play bar, attached to which are two brightly coloured toys, a snail and a butterfly. These will help with your baby's eye coordination and also with fine and gross motor movements as she bats at and grasps the toys, causing them to dance overhead. Batteries are needed to power the vibrating unit.
---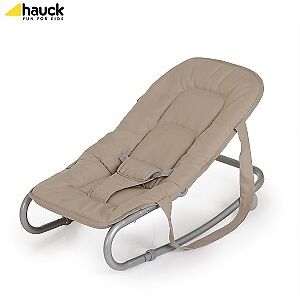 eBay loves: Simple and stylish, well padded.
Watch out for: No additional features like music or vibrations.
RRP: £39.99

Not all baby bouncers need to be made from brightly coloured nursery fabric - sometimes, you want something quite plain and simple to suit your home's décor. The Hauck Lounger Bouncer is a simple and tasteful bouncy chair. It might not have vibrations or music but it's sturdy, well made with a deeply padded seat. It's suitable for babies from birth to around 5 months, although it will be comfortable enough for larger or heavier babies. It can be used for playing, feeding and sleeping and will bounce as your baby kicks his legs and waves his arms.
The backrest can be adjusted through 3 positions, so you can find a comfortable position for your child whatever his age and whatever he is doing at the time – more upright for playtimes, lower down when he is getting sleepy. There is a strap and harness to keep your little one safe in the seat. The bouncer can also be fixed in place when you need to stop the bouncing – perhaps if you want to pay with your baby, show him some toys or give him a feed. It has strong nylon handles, so that you can carry it easily from room to room, though don't do this with your baby in it for safety.
---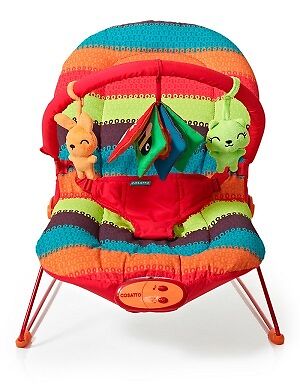 eBay loves: Bright and cheerful, folds for storage.
Watch out for: No recline.
RRP: £54.99

Warm and comfortable, this sweet little seat has a knitted cover made from brightly coloured wool in a striped pattern. The seat is nicely padded with a quilted safety harness to keep your little one firmly in place no matter how much they kick and make the chair bounce. The legs are nice and flexible to give some movement but as a safety feature they have rubber stops on the feet to prevent the chair from moving around smooth floors.
A play arch curves over your baby and features three toys – a kitten, bunny and a soft book that will keep your little one amused. The toys can be removed from the arch to use as little pals around the house. The arch is detachable and can be clipped to a pushchair or car seat. The seat is very easy to assemble and can be folded when not in use. When you want a calm, rather than an active baby, there's a vibration unit to comfort and soothe. There are also lights to amuse your little one. The covers can be removed for washing at 30 degrees and it needs two batteries to get it going.
---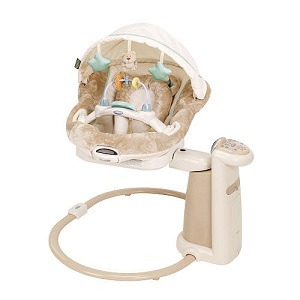 eBay loves: A huge range of features.
Watch out for: Big and cumbersome around the house for something that can only be used for a few months.
RRP: £179.99

Surely the Rolls Royce of baby seats, the Graco Sweetpeace Baby Swing has a range of functions that will help you keep baby entertained while she is feeling full of fun and will soothe when she is tired. The seat is on a large stand, so make sure you have room for this in your home and can be used in a number of ways. Firstly it can be used as a floor rocker suitable from birth and it has a multi position recline, so there's always a comfortable position for your little one.

Powered by the mains or batteries, so suitable for travelling, the seat can also move on the frame, either front to back swinging or side to side. There are 6 speeds and 2 vibration settings, which mimic the motion of a car and can help your baby to sleep. There are toys to amuse and a mirror for her to play peek-a-boo in, plus there's a music function. Either use the chair's own 15 tunes or plug in an MP3 player (not supplied) and play any sounds you like from Mozart to Motorhead.
---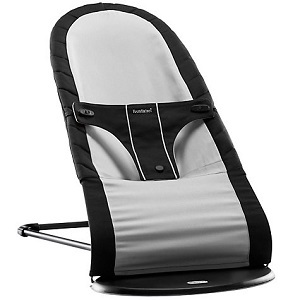 eBay loves: A classy looking object, no batteries needed
Watch out for: No extra functions
RRP: £85.50

Anther seat that scores well on appearance if you object to brightly coloured plastic cluttering up your home, the BabyBjorn Babysitter Balance Bouncer has been developed to offer perfect ergonomic positioning – the seat was designed with the help of paediatricians. It offers support for your baby's hips, head and spine and help you too as you won't be forced to spend hours rocking your baby in your arms. When your baby moves and kicks they will make the seat rock and bounce, which helps develop not only their balance but gross motor skills too. The seat is flexible and your baby's weight is distributed across it so that it remains stable.
It can be used from birth and even tiny babies will be held in a perfect position in comfort. It boasts 3 seat positions, so that your baby can play, rest and sleep and it folds flat for transport. There are two fabrics to choose from: a durable cotton mix or organic cotton which means your baby's delicate skin will not be exposed to the chemicals that commercially grown cotton is exposed to. There are three colour choices, black and silver, black and red or walnut and khaki.
---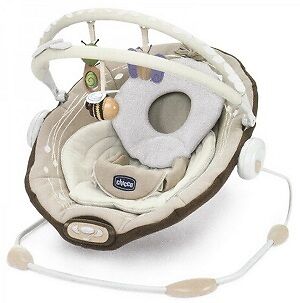 eBay loves: Range of functions, muted colours.
Watch out for: Cover can't be machine washed.
RRP: £99.99

With a natural colour scheme and natural feel, the Chicco Jolie Bouncer has a softly padded fabric seat, plus the addition of a comfort seat pad insert for newborns and a head hugger. Both of these can be removed as your baby grows. The head hugger has different fabric on each side, either knit or smooth and there is a 3 point harness with a soft padded cover to keep your baby safely in the seat.
Over baby's head is a double toy bar that has 3 colourful, removable toys hanging from it. The front electronic panel works a range of sounds, 8 different tunes and soothing vibrations that will entertain or calm your baby and your child's bouncing movements will make the little chair bounce on it bendy legs. It has a 2 position reclining seat. The seat cover can be removed and is cleaned with a sponge and warm soapy water – unfortunately it can't be machine washed.

---

If you're interested in baby bouncers, check out ...

Carriers | Monitors | Car Seats | Changing Units | Cot Beds | Highchairs | Moses Baskets | Travel Cots |
Travel Systems