On this page:
BabyBjorn One Carrier
Caboo NCT Carrier
Ergo Baby Carrier Sport
Moby Wrap
Chicco You and Me Physio
BabyBjorn Miracle
Wilkinet Baby Carrier
Trek Snuggle Carrier
Baba Sling
Tomy Freestyle
A carrier is a handy help for parents of small babies, who love to be held close to their parent. Wearing your baby can enable you to get on with housework or shopping with a child who wants to be picked up all the time, keeping your hands free. It's great for places where a pushchair would be inconvenient, like public transport, over rough ground, or on holiday when you don't want to take lots of gear with you.
There are several styles but broadly they are split into 2 types; carriers where your baby is held upright, or slings which are like a hammock of material. You'll find fans of both kinds but decide what works best for you.
Some carriers last for around a year but others can be used for longer, spreading your baby's weight on your back or hips. Most now have been specially designed to be supportive for your baby's spine, head and hip position – look for the words 'ergonomically designed'. The hips should be slightly splayed like a frog and the head and spine held firmly, yet gently in place.
Our parenting expert is Sally J Hall, Editor
of B Baby Magazine
and Author of Eco Baby.
BabyBjorn One Carrier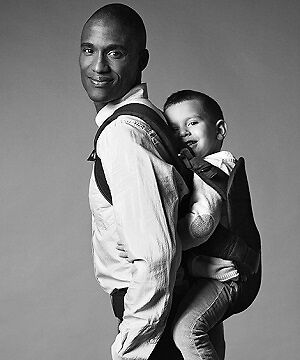 eBay loves: Value for money.
Watch out for: May be tricky to work out at first but fine with practice.
RRP: £119.99

The BabyBjorn One Carrier is one of the most versatile carriers on the market. It carries your baby close to your body from birth (around 3.5 kg) through to 3 years (around 15 kg).
It has been developed with paediatricians to ensure that your little one is always carried in the correct position for his head, hips and spine to develop. When your little one is tiny, they are held facing your chest high up. As they grow and can hold up their head, usually from around 5 months, you can turn the baby around to face the world, a position inquisitive babies love as they can see what's going on around them.
The pouch they sit in is very adjustable and there is a size to suit all babies and adults, as the carrier has multi position padded straps and unique zips that open to allow for more room for your growing child. When they are too heavy for your front, the waist strap drops down to your pelvis and your child is held on your back. It's comfortable enough to wear for long periods and it's easy to put on and take off by yourself. It can be machine washed and all the fabrics used in its construction are free from harmful chemicals and allergens.
---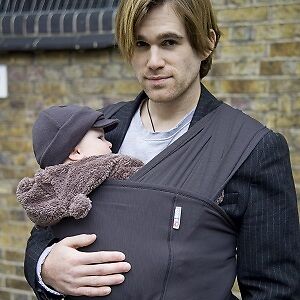 eBay loves: Good position, well priced.
Watch out for: Quite scary to use but improves with practice.
RRP: £44.99

Made in collaboration with the National Childbirth Trust (NCT), the Caboo is an easy to use carrier made from soft 65% cotton and 35% polyester, which is flexible and functional. It adjusts easily, by simply pulling fabric through rings to fit both the parent and the baby. There are 4 positions you can use on your front, including one that can be used for discreet breastfeeding. The shoulder straps are wide and well-padded for comfort and they cross on your back to give great support as your baby gets bigger and heavier. Your baby's hips and spine are supported in the correct position for development and growth and the carrier is lightweight.
To put it on takes some practice and as your baby is held by just a cross-over section of fabric (though there is another strap over the top) it looks a little scary at first; however, once you have mastered it, your little one is held securely to your body and their hips are spread in the frog position. It comes in a little carry bag.

---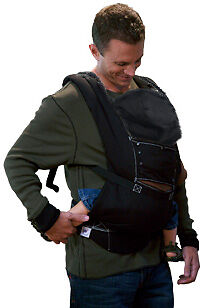 eBay loves: Can take a baby in a number of positions, very comfortable.
Watch out for: Fairly expensive, can't be used from birth
RRP: £90

This carrier has been developed with ergonomics in mind - both for the baby, who can sit in several positions and for the parent, who needs to spread the child's weight in the most comfortable way. It is made from a cotton and polyester blend, which makes a soft yet strong carrier and this model has an extra large waist belt and shoulder straps, so they are ideal for men and for large or tall adults. The straps are well padded to ensure it is comfortable and it has high quality buckles and webbing.
It can be machine washed. It is recommended from 4 months, not from birth, which is a shame but you can use it up to 4 years. There are 4 models in the Ergo Baby range that have the same adjustability and functionality but have a slightly different cut and style, so you can find the most comfortable for you. You can put a tiny baby in the Infant Insert (sold separately), which allows you to carry your baby from birth and keep him close.
---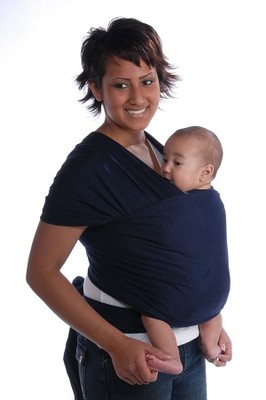 eBay loves: Ideal for very small babies.
Watch out for: Can be tricky to get used to at first.
RRP: £44

This sling is especially good for newborns, very low birth weight babies and even premature babies, as you can use this multi-position wrap to hold your baby in a foetal position on the front of your body.
The fabric is gentle and kind to new skin and the carrier distributes the baby's weight evenly across your body. Because it is a one-size fits all carrier it is suitable for any adult - the fabric simply wraps around you and ties at the back. It may take some getting used to and you will want to make sure you have secured it properly before venturing out with your little one. You simply slip your baby into it. It has wide straps that pass over both shoulders, meaning you can put your baby into the wrap from either side.
As your baby grows, you can have him sitting with more of his head out of the top of the carrier and his legs in the "frog leg" position on either side of your body which is recommended to avoid hip strain, so he can see what's going on around him and eventually you can swap to having him on your hip, meaning you can carry a heavier child. It can be used up to 15 kg, comes in its own storage bag and can be machine washed.


---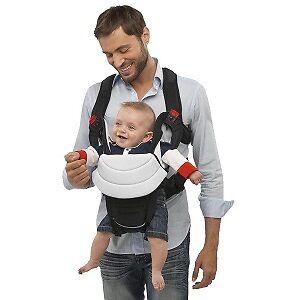 eBay loves: Comfortable for both parent and child, easily adjustable.
Watch out for: Only suitable up to just under one year.
RRP: £59.99

This carrier shows a lot of thought paid to the parent's back and shoulders and was designed in collaboration with the International Ergonomics Association. The shape of the straps means that it will be comfortable for you whatever your size and will spread the load of your baby's weight evenly across your torso, without giving you a strained neck or shoulders.
Lots of care has been paid to the baby's position too. The seat height, width and leg holes are adjustable for the best fit and it will hold a baby from newborn up to around a year old. In the early days, your baby is held facing you but once they are able to support their own head (at around 4 to 5 months), you can turn the carrier to a forward facing position. There's a well-padded seat area inside to support your baby's bottom and hips and you are able to adjust the carrier even while wearing it.
The shape of the carrier allows air to flow around you and your baby, preventing either of you from getting too hot.

---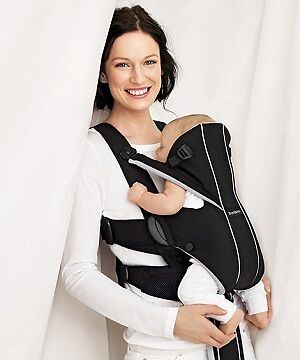 eBay loves: Comfortable and supportive right from birth.
Watch out for: Quite expensive.
RRP: £124.99

The BabyBjorn Miracle is popular and no wonder, as it's one of the most comfortable. With a sturdy back support panel for the parent to help eliminate back strain, this has a cosy, cushioned carrier for baby in which he can face you snugly. It can be used for a newborn as long as they weigh at least 3.5 kg and offers the best support for your baby's developing head, neck, hips and spine. Later on, the front panel can be folded over at the top so that your baby can travel facing forwards.
Adjustable to fit any size of adult wearer, the straps are wide and deeply padded and the waist strap is very thick so that the weight of the baby is spread across your whole torso. You can also alter the carrier to suit you whatever your size and to take more weight across your back, shoulders or hips, as you prefer. The carrier doesn't allow your baby's body to slump down inside the carrier and it also ensures they have a good flow of air around them. It is machine washable at 40 degrees.

---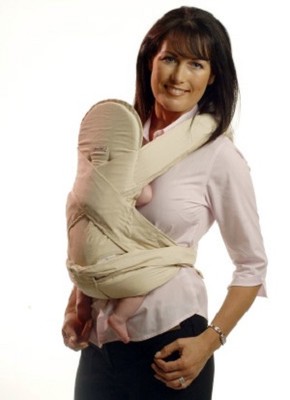 eBay loves: A comfortable carrier for anything from a tiny newborn to a large toddler
Watch out for: Can be fiddly to get on the first few times.
RRP: £43.95

The Wilkinet has been a popular carrier for decades and will comfortably hold a tiny 2.5 kg newborn and yet still be strong enough for toddlers. The baby can be held facing towards you in the early months and keeps your baby's hips flexed for proper development and her weight is drawn in towards you rather than hanging from you.
The carrier has long straps that wrap around you and secure in the most comfortable place, making it easy to find the perfect fit. There is a cushioned back support section for baby that supports her bottom and thighs and also the back and head. There are no rings, clips or buckles to work out. As your baby grows she can turn to face the front from about 4 months on your front, and when she is bigger she can be held on your hip and even on your back. Its well-padded shoulder straps and unique wraparound method of tying mean that baby's weight is evenly distributed and won't cause strain in your neck, shoulders or back. It's strong and will last for more than one baby.
You can choose from organic Fairtrade cotton or twill cotton in a variety of colours and a showerproof rain cape is available separately.
---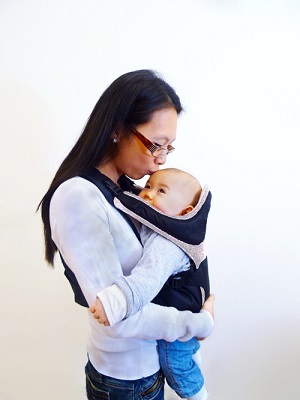 eBay loves: Good for preventing back strain, includes a handy blanket.
Watch out for: Not as easy to get your baby out as on some models.
RRP: £59.99

Slipped over your head and fastened into place with just 2 clips, the Trek Snuggle has been designed by a mum and is approved by Paediatricians. It can be used from newborn, around 3.5 kg to around 10 months or 9 kg and your baby is held close to you, keeping them cosy and helping prevent back strain for you.
This is not as long as many carriers, sadly. It is well padded and extremely light and its high headrest gives good support for your baby's head and neck. Baby can be placed facing you when she is tiny and once she can hold her head up well, you can turn her around to see the world. The fabric is durable and will last well and the straps are fairly easy to adjust, though you might want to get a friend to help you get it right the first time. There is a soft terry cotton blanket in smart grey stowed in a pocket on the front too that can be fastened on to the front of the carrier over your baby (don't cover her head) to keep your baby warm and snug in the colder months. The pocket doubles as a place to store bits and pieces.
---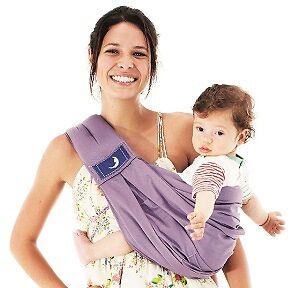 eBay loves:
Very versatile, good price.
Watch out for:
Some find it scary having no straps and are confused by the position your baby sits in.
RRP:
£39.99
Arriving in its own little storage bag, this is a simple, across the body sling in soft cotton. The edges are thicker to provide good support and the shoulder strap is wide and well-padded just where you need it. This can take a tiny baby from birth right up to around 2 years and there are several spine-friendly positions you can put the baby in: lying across your body in a foetal position, sitting upright facing you in front with legs tucked up, the 'koala' positions facing forward, in 2 breast feeding position and for older kids, on your hip.
It's machine washable at 40°C. Because it's just a simple hammock shape, one size fits any adult and any size baby from 3.5 kg right up to 15 kg. The buckle is easily undone and can be unfastened without disturbing a sleeping child, It's made from 100% cotton and is machine washable at 30 degrees though can't be tumble dried.
---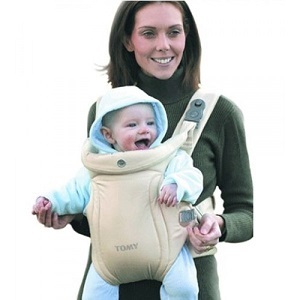 eBay loves: Good price, soft.
Watch out for: May take a while to get used to putting it on, only used up to one year.
RRP: £37.99

For a front carrier that you can use from birth to around one year or 12kg, the Tomy Freestyle is a well-priced item. It's also comfortable due to the attention to detail it has received between Tomy and the Anglo European Chiropractic College (AECC). The unique lumbar support helps avoid back strain and the straps and harness are well padded so it doesn't dig in to your shoulders. It clips on (perhaps try it a few times first) and is easy to adjust.
The baby's area has been ergonomically designed to keep your little one in the perfect position for their growing hips and spine. You can have your baby facing you from birth and when she can hold her head up well, from 4 months up, you can turn her to face the world. It is made from soft 100% cotton, which you can throw in the washing machine and it comes with a dribble bib. You can also add an all-weather cover (available separately) so you can still use it if it's cold or wet outside.

---
If you're interested in baby carriers, check out ...

Bouncers | Monitors | Car Seats | Changing Units | Cot Beds | Highchairs | Moses Baskets | Travel Cots | Travel Systems