On this page
Motorola MBP36 Digital Video Baby Monitor
Tommee Tippee Closer to Nature
Tomy Digital Dect TDV450
Angelcare AC1100
Philips Avent Digital SCD603
Samsung SEW 3036
BT Wireless Digital 1000
iBaby Baby Monitor
BT Smart Audio Baby Monitor
Chicco Top Digital Video Baby Monitor
Monitors have moved on light years since models that were a glorified walkie-talkie. You can now choose a monitor with audio, video, infra-red and even a sensor pad to monitor your baby's breathing – you'll even find versions that communicate with your phone, tablet or computer.
It's important to consider your home and your needs. For a small house or flat, a simple audio monitor may be all you need. If you've a large house look for a model with a good range. If you've lots of electronic equipment in your house, choose a digital unit with plenty of channels, so you don't get digital interference. Finally, look for a portable parent unit with good battery life.
Our parenting expert is Sally J Hall, Editor
of B Baby Magazine
and Author of Eco Baby.
Motorola MBP36 Digital Video Baby Monitor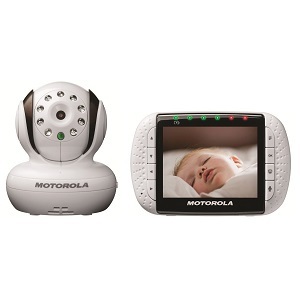 eBay loves: Good sized screen, good picture in day.
Watch out for: inaudible with volume low, range not great outdoors.
RRP: £159.99

This video monitor has lots of functions and a large screen to help you see baby clearly. It has plenty of features such as remote control on the baby unit to move the camera tilt, pan and zoom. The signal is free from interference from other electronic items and the parent unit has six hours of rechargeable battery life. The baby unit is mains powered only.The quality of the sound is good, though the very lowest volume can be inaudible; though if you have it on low volume, you will hear just louder sounds and will avoid panicking at every slight sound baby makes. It can lose signal if you have a large garden or an older house with thick walls.
The picture is good in daytime, less distinct at night, though it does have Infra-red. The baby unit is squat and stable on a hard surface and is unobtrusive and the parent unit is also quite stable. The control buttons are easily accessible and extras include a selection of five lullabies, a nursery temperature display, a timer alarm to remind you of feed times and a two way talkback function to calm your baby without going into the nursery.

Tech Spec: Type: Digital. Video: Yes. Temperature display: Yes. Talkback: Yes. Range: 40-80m

---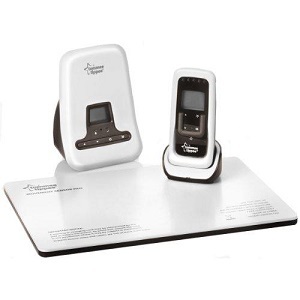 eBay loves: You can monitor baby's breathing, good additional features.
Watch out for: If baby moves off the pad, you may get false alarms.
RRP: £99.99

Parents worry about their baby's breathing when they're tiny and a sensor pad monitor helps give peace of mind. This high-end monitor has a movement sensor pad and several great functions. The quality of the sound is crystal clear and free from interference from electronic devices and works on FHSS digital technology. The sensor pad slips unobtrusively beneath the baby's mattress. There are three settings so that you can turn down the sensitivity as your baby grows. If no sound or movement is detected within 20 seconds, the alarm will sound.
The monitor has a great range of 300 metres, though it may lose some signal if your house has thick walls. Talk to your baby through the parent unit – it's chargeable through a docking station. If you lose it, there's a paging feature to help you find it again. There's a nightlight to allow you to see in baby's room for night time nappy changes and it also displays the temperature in the baby's room.

Tech Spec: Type: Digital with sensor mat. Video: No. Temperature display: Yes. Talkback: Yes. Range: 300m

---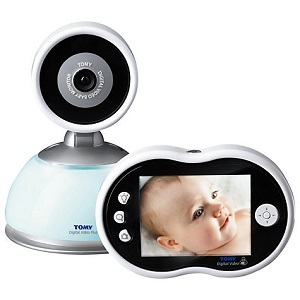 eBay loves: Can use to store and display pictures, good features.
Watch out for: Poor battery life.
RRP: £149.99

Tomy offers a large range of monitors, from simple audio only to this top of the line model. All are easy to use and this has a large 3.5' wide full colour screen, so you can watch your sleeping baby. At night time, the monitor switches to Infra-red so you can see her in the dark. The camera can zoom and you can also use it to take up to 100 pictures and watch them as a slideshow on the parent.
The monitor has interference-free sound, a talkback feature to help you get baby back to sleep and a timer function to keep track of feeds, naps and so on. Though the range is fairly decent, you may find that older buildings and solid walls cause interference. It does have an out-of-range warning however, so this shouldn't cause too much of a problem.
There is a nightlight, which can change colour and a temperature display for the nursery. The parent unit is portable but the battery life is not great, though there is an out of charge warning so best used plugged into the mains. It also has a pager function in case you mislay the parent unit.

Tech Spec: Type: Digital. Video: Yes. Temperature display: Yes. Talkback: Yes. Range: 300m

---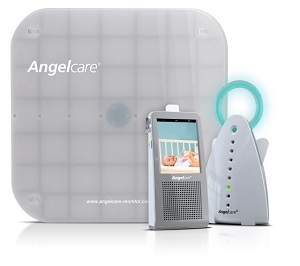 eBay loves: Full range of features, cute nightlight.
Watch out for: Quite pricey.
RRP: £249.99

Angelcare monitors are known for their Halo nightlights, which illuminate the nursery when you need to see at night. This monitor has several high quality functions including a sensor mat that goes beneath baby's mattress – make sure there is a hard base to allow it to work correctly. If no movement is detected after 20 seconds, an alarm will sound.
The baby unit – usually plugged in but it can be used with batteries - has a camera that pans, tilts and zooms, so you can keep an eye on your baby. There is a night vision function to allow you to see your little one in the dark, too. The parent unit has a small but clear screen and is rechargeable with a battery life of an impressive eight hours. It has a range of 200 m and is generally clear indoors (though may not work very well outside or if you have thick walls), a talk-back function and a clever thermometer function which not only displays the temperature of the baby's room but also sounds an alarm if the room is too hot or cold.

Tech Spec: Type: Digital. Video: Yes. Temperature display: Yes. Talkback: Yes. Range: 200m

---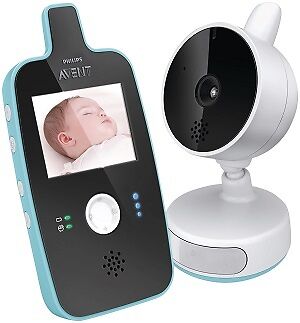 eBay loves: Great quality sound and image, good battery life.
Watch out for: Sound inaudible on low volume settings.
RRP: £180

Philips has a great reputation for electronic equipment and their baby monitors are no exception. This digital monitor has excellent sound quality with no interference, though the volume does not turn up very high – not great if you are watching TV or have guests, as you might not hear baby sounds above louder noises. Both the screen and volume control will react if your baby starts to cry.
The range is average indoors, and better outside than some and it does have the addition of an out-of-range indicator, so you won't go too far inadvertently – there's also an alert if you run out of battery power. It has a clear 2.4 inch screen with good colour balance and you can have the camera on a flat surface such as a chest or you can wall mount it. You can zoom in on your baby and it also has an Infra-red setting which turns on automatically as it gets dark and a nightlight setting and five lullabies which can be selected remotely. The parent unit is cordless, has a belt clip and gives you six hours of use and the baby unit has a battery to back up the power in a power cut, which is handy.

Tech Spec: Type: Digital. Video: Yes. Temperature display: Yes. Talkback: Yes. Range: 150m

---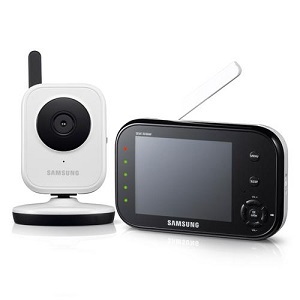 eBay loves: Talkback feature good, nice screen.
Watch out for: Baby unit's battery life poor, range poor in houses with thick walls.
RRP: £159.99

With a crystal clear, high resolution 3.5 inch screen, both the parent and baby unit have microphones and speakers so that you can talk to your baby from another room and hopefully soothe him. The screen wakes from sleep mode when your baby moves – great for saving on energy – and the screen not only delivers full colour in the day but also has Infra-Red LEDs which give you a great view at night. You can stream the image to your TV or PC or via Skype, so you can share moments with relatives. There is a visual volume indicator in case you should not wish to hear your baby's sounds – for example, if you're watching a film – and you can adjust both to make them more or less sensitive. The sound quality is good and won't be disrupted by microwaves or phones.
The rechargeable parent unit can be used up to 4.5 hours, and though the baby unit can be used with batteries it uses power quickly, so you'll want to use it connected to the mains most of the time. The range is fairly good, though suffers out of doors, or in a house with thick walls. You can connect up to four cameras to the parent unit to monitor more than one child or room.

Tech Spec: Type: Digital. Video: Yes. Temperature display: Yes. Talkback: Yes. Range: 25m

---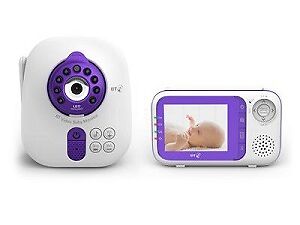 eBay loves: Good range of features including vibration alert.
Watch out for: Instructions quite hard to read.
RRP: £92

A fairly good all-rounder with good visuals and extras, though the instructions are a little tricky to understand. The parent unit has a good sized screen at 2.8 inches and the picture quality is sharp in the daytime. At night it switches automatically to infrared and though the picture is still quite good, the quality may not be as high as in the daytime.
It has a generous 10 hour battery life - one of the longest on trial. The baby unit can be mains powered or work from batteries where it will work for up to 5 hours. It can be placed on a flat surface or wall mounted. The sound quality is also good, as you'd expect from BT and it does not suffer from interference from other devices. There are no lights to use instead of sound alerts, though there is a vibration alert. That in itself is not enough to detract from its other benefits – a room temperature display and a talkback feature, plus five lullabies. It promises a range of 300 m, which is great, though check to see if you lose signal at the end of the garden or if you have a house with several stories. You can add up to four cameras to the unit, allowing you to see several rooms one at a time.

Tech Spec: Type: Digital. Video: Yes. Temperature display: Yes. Talkback: Range: 300m

---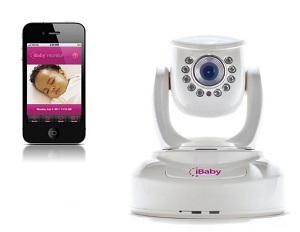 eBay loves: Great for the technology lover.
Watch out for: No extras features such as a nightlight.
RRP: £121.99

Great for the high-tech fan, this monitor makes use of your iPhone, iPod Touch, iPad or PC to help you make sure your baby is sleeping peacefully and you can also use your chosen device to talk to your baby if you need to soothe them back to sleep. The baby unit can pivot and rotate to make sure you get the best image of your baby's room and this can be done from your phone or PC too. It can only be powered from the mains - there's no backup battery.
The picture quality is fine, though surprisingly better in the dark when it switches to infra-red. To operate the device, you download an app to your phone or other device, then you have to connect the camera unit to your router. It will let you know when there are noises or crying coming from the nursery even if you are running other applications. The volume is quite low, so you might miss quieter noises. The range is good inside the house but less good outside, so this is a great one for those who don't have a large garden.
The lack of temperature display, music and a nightlight means this is quite a limited device but if all you want it a monitor and you already use one of these devices, it's probably quite good for you.

Tech Spec: Type: Digital. Video: Yes. Temperature display: No. Talkback: Yes. Range: depends on signal

---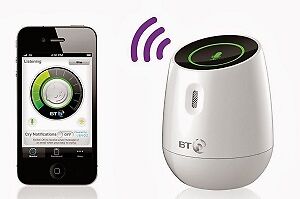 eBay loves: Runs from devices you already own.
Watch out for: Not great if you get a bad phone signal, no extra features.
RRP: £49.99

Another monitor for those who like to make use of the technology they already own, the BT Smart Audio Baby Monitor makes use of an app to bring baby monitoring to your iPhone, iPod or iPad. Download the BT BabyAudio app and you're ready to go in minutes. It uses WiFi, 3G or 4G and it will use your existing mobile network and signal. It is a secure connection between your device and the monitor, so that no one else can listen in and it also cuts out interference.
Grandparents and babysitters can be linked to the network too, so they can use the app when they are looking after your baby and you could have three devices connected at once, so if you move rooms, you can keep an eye on your baby. As well as an audio alert when your baby cries, you can also set it to a visual alert which means you can have a phone conversation or watch TV without being disturbed by the slightest noise and you can use other apps while this runs in the background.
It lacks functions of other monitors like talkback, temperature display or music and it can be a problem if you live in a phone blackspot but for those who have their phone on them constantly, it's ideal.

Tech Spec: Type: Digital. Video: Yes. Temperature display: No. Talkback: No. Range: depends on mobile signal

---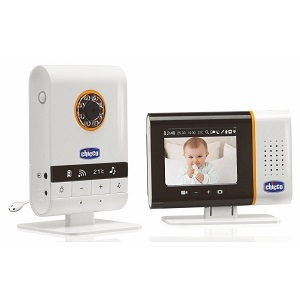 eBay loves: Great all-round device with lots of extra features.
Watch out for: Plain design.
RRP: £199.99

This looks like a fairly basic model and has a plain, square design, yet it has a range of features that make this a good buy. The screen on the parent unit is 3 inches wide – one of the largest on test – and gives a very clear image, connecting instantly with the camera unit the second you turn it on. The image is clear both during the day and in the dark.
The parent unit can be used with rechargeable lithium batteries and can be used as a digital photo frame when you're not using it as a monitor – just save a particularly cute shot as your baby sleeps. It also captures video and it connects via MP3 so that you can stream the images to your computer.
Can't remember where you put the babysitter's phone number? Easy, just store it and other key numbers in the monitor's memory; this is good for the babysitter in an emergency, too, as you can keep emergency numbers there. Both units display the nursery temperature, battery charge and signal strength.
Now those extras – you can set up to 5 alarms, talk to your baby from the parent unit and turn on a night light in the nursery. There is a choice of 6 lullabies, too.

Tech Spec: Type: Digital. Video: Yes. Temperature display: Yes. Talkback: Yes. Range: 150m

---
If you're interested in baby monitors, check out ...
Bouncers
|
Carriers
|
Car Seats
|
Changing Units
|
Cot Beds
|
Highchairs
|
Moses Baskets
|
Travel Cots
|
Travel Systems