6 of the best Bluetooth speakers
No one should have to settle for the audio from laptop speakers these days, or from the tiny speaker in a smartphone. The price of a good-quality Bluetooth speaker is now lower than ever and there's something to suit every taste. David Bayon, Contributing Editor at PC Pro, has everything you need to know before buying a Bluetooth speaker.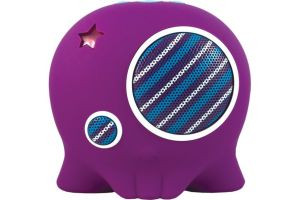 eBay loves:
A water-resistant conversation starter.
Watch out for:
Obviously limited by its tiny size.
Price:
£50
Take your pick from a whole host of wacky designs, and enjoy a compact (but capable)
Boombotix BB2
Bluetooth speaker that's rugged and water-resistant. Whether you use the optional bike mount to strap it to your handlebars, or just stick it in the shower, it's a versatile little thing.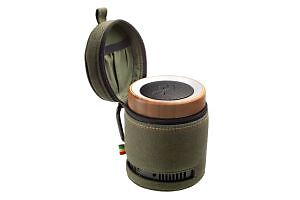 eBay loves:
Compact and built for the road.
Watch out for:
Don't expect amazing audio.
Price:
£50
We won't claim this is the best speaker for audio quality, but it's certainly different. The
Marley Chant
is an eco-friendly device with a six-hour battery that can also charge your phone and an extra 3.5mm input, it's ideal for travellers.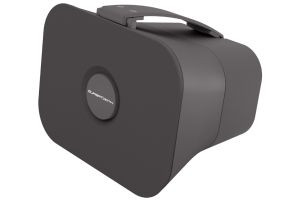 eBay loves:
Easy to carry and weighs just 500g.
Watch out for:
Won't compete with larger speakers.
Price:
£50
For not much money the
SuperTooth Disco 4
Bluetooth speaker offers solid and loud audio and comes with a neat carry handle for listening on the move. When a call comes in, the music fades out and the speakerphone takes over. If you have an NFC phone, a single tap connects it instantly.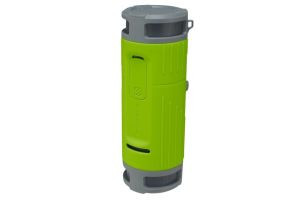 eBay loves:
Designed for real activity.
Watch out for:
Sound quality could be better.
Price:
£120
This unique
Scosche Boombottle
speaker is designed to fit into the water bottle holder of a bike, and is rugged and water-resistant. It has just enough volume to be audible while bouncing down a trail and is far safer than cycling wearing headphones.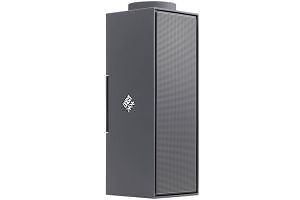 eBay loves:
Imposing and practical design.
Watch out for:
Speakerphone is a bit muffled.
Price:
£120
The
Native Union Switch
squared off speaker can stand up or lie horizontally, and it's a quality piece of kit. It has up to 14 hours battery life, recharges via USB and can also top-up a smartphone. With speakerphone features, too, it's just about worth the high price.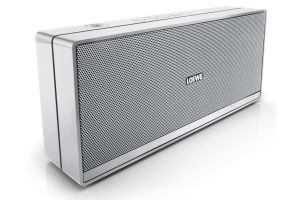 eBay loves:
Superb quality from such a small device.
Watch out for:
Expensive for a portable speaker.
Price:
£200
Not many portable speakers include a subwoofer, but this NFC and Bluetooth-equipped
Loewe
device does just that — and the sound quality is excellent. There's a 3.5mm input and it's a speakerphone, while the battery lasts a solid eight hours.
Bluetooth is a method of short-range communication, most often used for pairing a smartphone, tablet or laptop with a wireless accessory, such as a headset, keyboard — or speaker. The newer your device, the more efficient its version of Bluetooth is likely to be. The latest Bluetooth 4 works at distances up to 10 metres and consumes very little power, so it won't affect battery life too much.

What sort of speakers can I buy?

Most of the Bluetooth speaker market is made up of small, low-power travel sets that are perfect for use in a hotel room or in the garden. Further up the price scale are Bluetooth speakers with a bit more power, capable of outputting good-quality audio in a relatively large room. Built-in batteries can range from a couple of hours to all-day use, and they usually recharge via USB, so you can usually use the same charger as your smartphone when you want to travel light.

What else should I look for?

Bluetooth speakers aren't particularly complex, but some have speakerphone functions for use with a smartphone and others can also act as backup batteries if your smartphone runs low. For added versatility, you might want a speaker that has a standard 3.5mm input, so you can also use it with devices that lack Bluetooth (such as a classic iPod). Some dearer Bluetooth speakers also double up as digital and FM radios, complete with clock-radio alarm functions and touch controls.

Finally, there's design. You really can find whatever you want in this market and speakers range from tiny cylinders barely larger than a mug of coffee, through boxes, bar shapes and even retro radio-style devices. And the bigger the speaker, the more powerful it will almost certainly be — there's a huge difference between the sound you'll get from a 5W and a 20W speaker.