On this page
Maxi-Cosi Pebble
Britax BabySafe
Graco Logico
Recaro Young Profi Plus
Jané Matrix Light 2
Kiddy Evolution Pro
Silver Cross Ventura Plus
Graco Junior Mini
Britax Trifix
Maxi-Cosi Pearl
At the top of the baby essentials list is an infant car seat, which you need from the moment you bring your baby home from the hospital. If you don't have a car seat, baby simply can't travel.
It's easy to feel bewildered by the unfamiliar terminology and specifications that go along with car seats. Some stores talk about your baby's age, while others talk about their weight – and now there's a new piece of legislation that goes by your child's height!
To keep things simple, we've provided a handy guide that shows which seat you need at which stage. Make sure you know your baby's weight or height before moving up to the next size car seat.
Remember:
The safest position for your child to travel is facing the rear. Keep them in this position for as long as possible. As the new iSize law will phase in soon, it makes sense to buy this kind of car seat to last up to four years. It also makes use of the seat fitting system attached to the car's chassis, Isofix, which is a safer way to install a child car seat.
| Type of car seat | Approx. weight or height range | Approx. Age range |
| --- | --- | --- |
| Rear facing infant carrier/baby car seat that goes on a pushchair | Group 0+ for babies up to 13 kg | Birth -12 /15 months |
| iSize rearward facing | Birth to 67 cm | Birth to 6 months |
| Rear and then forward facing seat – stays in car | Group 0+/ Group -1 for babies birth - 18 kg | Birth- 4 years |
| iSize rearward facing | 67 – 105 cm | Six months to four years |
| Forward-facing child seat | Group 1 for children 9-18 kg | 9 months - 4 years |
| High backed booster seat | Group 2 and 3 for children from 15-36 kg | 4 - 12 years |
The British Medical Journal has published findings that indicated rear facing seats are safer than forward facing seats for children under 4 years old. This is how children travel in most Scandinavian countries and the law is changing in the UK too, so it makes sense to invest in a rearward car seat.
| | |
| --- | --- |
| iSize seats can be identified with this logo: | |
Our parenting expert is Sally J Hall, Editor
of B Baby Magazine
and Author of Eco Baby.
Group 0+ Car Seats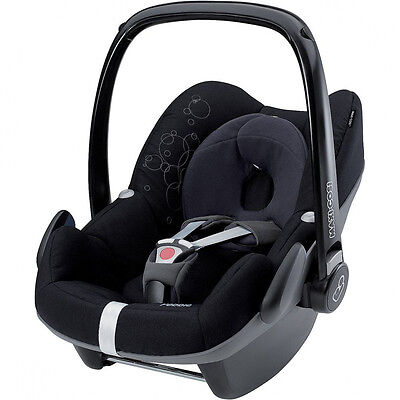 eBay loves: Fits many pushchairs, scores high on safety
Watch out for: Cover is hand wash only, safer using Isofix base which pushes up cost
RRP: £165 (£320 with base)
A popular seat, which fits most Maxi-Cosi and Quinny pushchairs to form a travel system. It's also compatible with lots of other brands of pushchair. Just one push of a button unclips it from the pushchair.
Installation in the car uses either the car's three-point seat belt or you can add the Maxi-Cosi FamilyFix base, which you can also use with the Pearl, suitable up to 4 years.
Clear and easy to find seat belt routing make it simple to fasten the base and it has the additional safety feature of light and sound indicators to let you know that you've installed it safely.
One great feature is a 'stay open' harness, making it a breeze to get your baby in and out. The seat's deep sides offer good impact protection, there's a rocking base, good crotch and shoulder pads and the harness can be tightened with one pull.
As your baby gets bigger, you can adjust headrest and harness in one simple movement. There's a support pillow for tiny babies and a sun canopy too - adjust the handle by pushing two buttons. There's a storage compartment in the base, the covers come off for washing and you can even use it on an aeroplane.
Tech Spec: Used from: Birth to 13 kg. Weighs: 4.1 kg. Fits: with 3 point seatbelt; on Maxi-Cosi FamilyFix base

---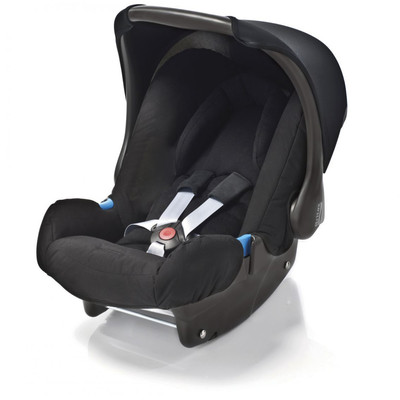 eBay loves: Scores high on safety, good head support
Watch out for: Harness must be unthreaded to adjust
RRP: £129.99 (Isofix base £109.99)
A clever integral headrest and a removable padded insert inside this seat allow your baby to sit in the best position for spinal development. It is one of the safest seats around, scoring high in crash tests and is deeply padded for both safety and comfort.
The integrated adaptors mean you can clip the seat straight onto most Britax pushchairs plus a few other brands to make a neat travel system. It has a 5 point safety harness with chest and crotch pads and can be adjusted through 2 sets of slots, though you do have to unthread the straps to do this.
The handle is soft to the hand and can be easily adjusted and there's a splash-proof sun and wind canopy offering UV protection of SPF 50+. Covers can be removed and machine washed at 30 degrees. The rocking base soothes baby at home.
Tech Spec: Used from: Birth to 13 kg. Weighs: 4.7 kg. Fits: with 3 point seatbelt; on a belted or Isofix base

---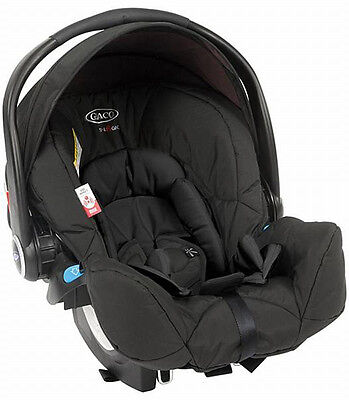 eBay loves: Easy to use and good quality
Watch out for: Doesn't fit on many pushchairs
RRP: £102 (base £51.99)
A neat little car seat that is easy to install, especially with the base. Once that is installed, you just click the car seat on and off and it has very easy to see blue seat belt routing.
Alternatively, you can use the seat alone, which also has clear blue markers to show you where to thread the seat belt. Remember never to place a car seat in a front seat that has an air bag. There's also an indicator on the side of the seat to show you that the seat is in the correct recline position.
This means you know you have done it correctly every time you travel. The seat can be used as a travel system on many of Graco's pushchairs; simply click on and off. It has deep, reinforced sides for great side impact protection, scores highly in European crash tests and has a rigid shell.
The easily adjustable harness is simple to use and the handle can be changed through several positions. It does well on comfort too, as it has a deeply padded head cushion, a removable newborn insert as well as soft shoulder and crotch pads. The canopy offers protection from the sun and wind and the covers can be taken off for machine washing.
Tech Spec: Used from: Birth to 13kg. Weighs: 4.3 kg. Fits: with 3 point seatbelt; on a belted base

---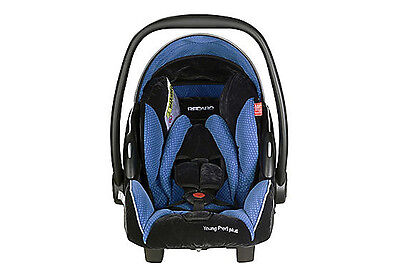 eBay loves: Light and easy to use, especially with base
Watch out for: Doesn't fit many pushchairs and base may not fit all cars
RRP: £115
This neat little car seat with a rocking base is light and well-padded and offers good safety in the car, with a panel made from impact absorbing material that offers improved side and front impact protection as well as good head protection.
It has an ergonomic handle that is easy to adjust. It should fit most cars but check it in yours before buying, especially if you're using the base. You have the choice of fitting it with the car's belt or you can add the Recaro Isofix base, which features a support leg – this may be tricky to fit in your car if it has floor storage space.
Fitting is simple and it clicks onto the base in one movement. The 5 point harness has chest and crotch pads and is easy to adjust from the back as your child grows. The covers are removable and machine washable. There are clever grooves that allow you to slot the car seat onto a shopping trolley, which is ideal for trips with baby to the supermarket.
Tech Spec: Used from: Birth to 13kg. Weighs: 4.2kg. Fits: with 3 point seatbelt; on Isofix base

---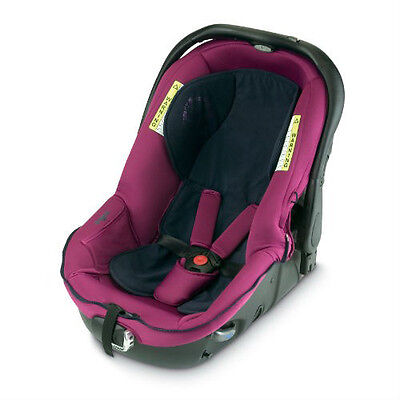 eBay loves: Babies can lie flat on long journeys
Watch out for: Heavier than many small car seats
RRP: £250
The Jané Matrix Light 2 is one of only a handful of car seats that allows you to lay your baby flat as you would in a car-safe carrycot. This makes it a strong contender if you often make long car journeys with baby.
It is possible to secure the seat in one of four positions on a pushchair chassis (it fits on Jané's great pushchairs) or 2 positions in the car, sitting or flat, the latter of which ensures the correct position for spinal and respiratory development in newborns. It can also be used for overnight sleeping if you add the mattress (purchased separately).
The secure 5 point harness is easy to adjust with just one pull and you only need push one button to adjust the fit as your baby grows. It is quite a generous size, which is good for bigger babies. It also allows you to install the seat in the car facing the rear for longer, up to around 18 months, which is a safer way for your baby to travel. It comes with a hood and apron to protect from the weather and the covers are well padded and machine washable.
Tech Spec: Used from: Birth to 13 kg. Weighs: 6 kg. Fits: using car's belts, rearward-facing in sitting mode; when in lie-flat mode, across rear seats.

---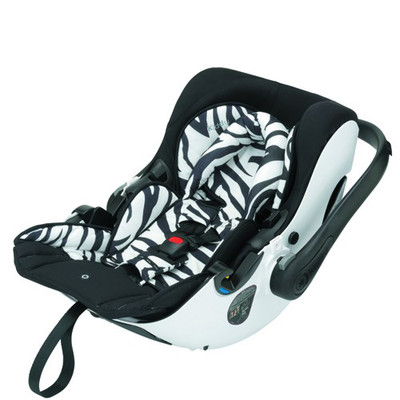 eBay Loves: Seat reclines for best spine position.
Watch out for: The recline feature makes it a bit heavier than some seats
RRP: £150
The Kiddy Evolution Pro car seat has been designed to be used both in the car and on one of Kiddy's pushchairs as a Travel System and has an ingenious feature. When your baby is not in the car, the angle of the seat can be altered by moving the handle backwards.
This allows your baby to lie in a flatter position, much better for his spine than the seated position of most car seats. When the seat is in the car, a safety feature means that the recline cannot be used and so the baby is in the safest position when travelling. There are different sized seat inlays that start with a newborn one and can be removed as your baby grows to get the most comfortable fit all the time.
The harness and headrest are adjusted together from the back of the seat, so the seat grows as your child does. The harness is easy to adjust, with pads for the chest and crotch and it pulls snug with just one movement. It's quick and easy to install in the car as the seat belt guides are brightly coloured in blue and you can also use it with the Kiddy base, available separately.
Tech Spec: Used from: Birth to 18 kg. Weighs: 4.9 kg. Fits: using car's belt or Isofix base

---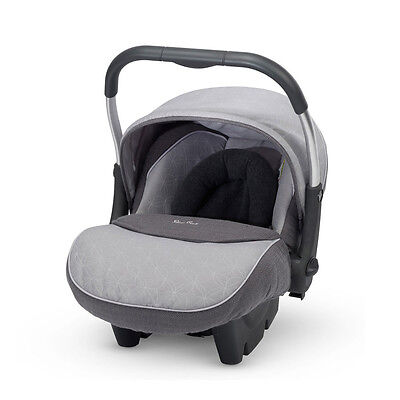 eBay loves: Light, neat and easy to use.
Watch out for: Base pushes up the cost and may not fit your car.
RRP: £125 (base £130)
A small and light seat designed to be safe in the car and to clicks easily on to the Sleepover Elegance, Linear Freeway or 3D prams from Silver Cross to form a Travel System. Its light weight makes it easy for you to carry around, even with your baby in it.
The comfortable to grip handle is easy to adjust and it provides a little bit of extra stability when installed in the car, as it folds down to rest on the seat. There's a canopy and head hugger to provide a good head position for newborns and the harness has padded crotch and chest pads.
It's easy to adjust the harness using just one pull and the belt guides are blue to make them easy to see. The seat is well padded and supportive and has a comfy cushion to hold baby's head in position. You can click the seat onto the Isofix base, which is available separately, which uses both the Isofix fittings in your car and a foot prop.
Make sure you check this will fit your car, as some have storage areas on the floor, which may not be used with this type of car seat base.
Tech Spec: Used from: Birth to 13 kg. Weighs: 3.9 kg. Fits: using car's belt, on Isofix base.

---
Group 0+ and 1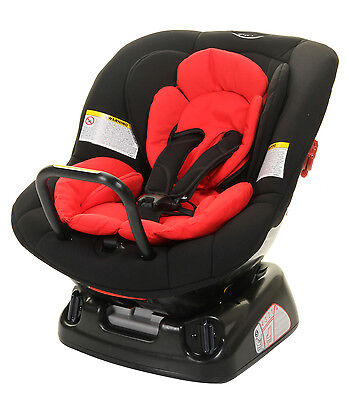 eBay loves: Saves money, safe in crash.
Watch out for: Quite large and heavy if you need to move it to another car.
RRP: £123.99
Great value for money, as your baby can use this from birth right up to 4 years or 18 kg. It is deeply padded with a removable insert to keep a small baby comfortable, that can be removed as your baby grows.
The generous seat will still be fine for quite a big child and the harness and head support are easy to adjust. The seat has an amazing 6 recline positions, so every child will be able to find a comfortable position and you'll want to use the flattest position when your baby is tiny.
It has an anti-rebound bar at the front for added safety and an energy absorbing, non-slip harness to keep baby safe in the event of a crash. Installed using the car's belts, you use it facing the rear from birth up to 9 kg, though the longer you keep your child in this safe position the better.
All belting routes are clearly marked on the seat. From 9 kg, you can turn your baby to face the front. The cover is removable and machine washable.
Tech Spec: Used from: Birth to 18 kg. Weighs: 9.5 kg. Fits: using car's belt
---
Group 1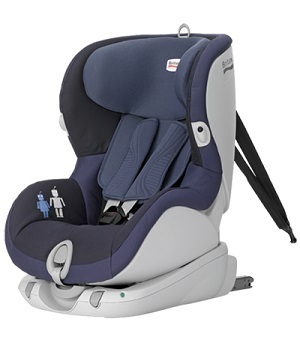 eBay loves: Ultra safe thanks to the Isofic and Top Tether fittings
Watch out for: Quite a heavy seat
RRP: £319.99

This large and safe seat will take your baby from 9 kg to 18 kg, about 9 months to 4 years. This seat uses a system involving both Isofix and a strap at the back called 'V-Tether', which adds additional safety.
To install is quite simple – two prongs at the seat's rear extend and click onto the car's Isofix points. Then a strap is passed over the back of the car's seat and secured to the chassis.
This makes it very secure in the event of a crash and the seat's own 'Pivot Link' system reduces forward motion and channels energy downwards if you should crash. The deep, padded sides have energy-absorbing 'Si-Pad Technology', which means this seat scores well for side impact protection.
It's a lightweight seat for its size and has a carrying handle. The headrest and harness are easy to adjust at the same time, using a lever at the back. It can be reclined through several and the 5 point safety harness has one- pull adjustment, soft chest pads and an easy to remove cover.
Tech Spec: Used from: 9 kg to 18 kg. Weighs: 10.7 kg. Fits: using Isofix points and top tether.

---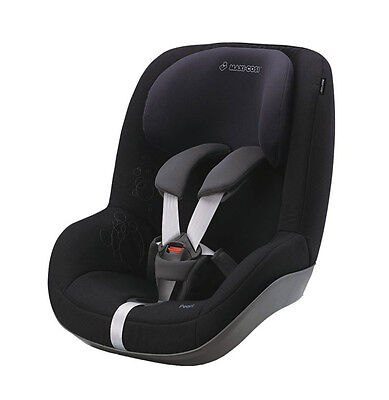 eBay loves: Safe and comfortable, easy to adjust, rearward facing for longer
Watch out for: Base pushes the price up
RRP: £180 (base £165)
A well padded seat that gives your child a comfortable ride, sitting upright when they're awake and reclining through 5 positions when they need a nap.
Remember never to try to recline the seat while you're driving. The harness and headrest are very easy to adjust from the front as your baby grows and this seat can be used rearward facing for longer than many car seats, which is the safest position for baby to travel in. It clicks directly onto the FamilyFix base, also used with the Pebble or Cabriofix Group 0+ car seats, so one base can take you through 4 years.
When you have installed the base, simply click the Pearl onto it and sound and light indicators will tell you it's ready to go. It has deeply padded sides to offer great side impact protection and the harness stays open to help you get a wriggling child in and out easily.
Tech Spec: Used from: 9 kg to 18 kg. Weighs: 6.1 kg. Fits: using the FamilyFix Isofix base

---
If you're interested in car seats, check out ...
Bouncers
|
Carriers
|
Monitors
|
Changing Units
|
Cot Beds
|
Highchairs
|
Moses Baskets
|
Travel Cots
|
Travel Systems