On this page
Stokke Care Changing Unit
Easi Peasi Changer
Saplings Cot Top Changer
Obaby Closed Changing Unit
Mamas and Papas Mia
East Coast Clara
Mamas and Papas Chamberlain
Boori Newport Changer

Tutti Bambini Katie Shelf Changer

Obaby Open Changing Unit
A useful addition to your nursery is a changing unit. There are several styles to select from and what you choose should reflect your needs. If you want to be able to change, bath and dress your baby all in one go, it would be sensible to look for a unit that has a baby bath beneath a changing mat. These units are quite bulky but do allow you to keep everything in one place. The bath needs to be filled, so you can use either a jug or a shower attachment but they do have a handy draining tube, which you can use to empty it into the bath or even the toilet. These units are best left in the bathroom, if you have the space and perhaps their biggest disadvantage is that they are often made from metal and plastic and have no use once your baby no longer needs it. Then there are changing units that do not have a bath and are designed for leaving in the nursery. Generally speaking, these are made from wood and you can choose one to complement your nursery furniture. Some have drawers and cupboards, others simple shelves for storage. Castors are a handy addition, so you can move it around. Finally, you could use a simple cot top changer, a wooden tray with a changing mat on it that sits on top of your cot. This is ideal for small rooms, as it can be stored easily. text for your guide here.
Our parenting expert is Sally J Hall, Editor
of B Baby Magazine
and Author of Eco Baby.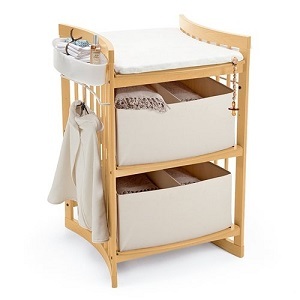 eBay loves: Its height is adjustable.
Watch out for: expensive, though this is off-set by its long life.
RRP: £429
This is a well designed changing unit that, though expensive to buy initially, makes a good choice, as it is useful for your baby up until you start to potty train. Then it can be converted into either a desk or a shelving unit. It is made from beech that will be durable. As a changer, it has been very well thought through; you can slip your feet under it, bringing you closer to your baby and avoiding any back strain and its height, which is adjustable, also means you can avoid bending. There is enough room on the top for your baby to be able to move their arms and feet about but it is not big enough for them to roll over, which would be dangerous. It comes with a water repellent mattress included in the price for comfort. There is plenty of storage space for nappies, wipes, spare clothes etcetera on the shelves below the changer (also adjustable), all of which are easily accessible. Once you no longer need a changing unit, the changer can be transformed into a neat little desk suitable for two children to play at. This has another trick up its sleeve in the form of an extended tabletop for older children; alternatively you could use it in its other guise as a bookshelf, TV table or CD rack, or use it as a book shelf.
Tech Spec: Size: 106 x 75 x 67 cm. Used: Birth to school years or longer

---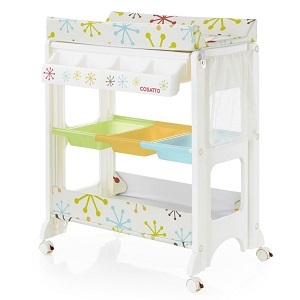 eBay loves: Bright colours and everything is close at hand.
Watch out for: Only used for a few months.
RRP: £135
This neat little metal and plastic unit has everything you need to change and bathe your baby for the first few months of their life. A sturdy frame on wheels, it has a well padded mat on top with high sides to prevent your baby rolling off and it also has plenty of well-thought out bright plastic holders at the front of the unit for wipes, lotions and so on. Below that are shelves and compartments for the storing of clothes and other essential. Lift up the mat and there's a baby bath underneath, with a drainage hose so that you can empty it easily. This means that you don't have to tip it, which is good if you've just had a baby, especially if you had a Caesarean. It puts your baby at a good height to avoid hurting your back or straining your tummy and keeps all you need close at hand. However, it has no use once your baby is old enough to grow out of the baby bath or when they no longer need nappy changes. It has lockable castors to help you move it about in the bathroom and a handy storage bag to pop dirty clothes into.
---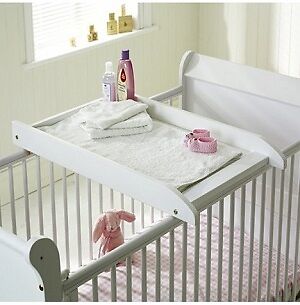 eBay loves: Simple and easy to store.
Watch out for: Difficult to use if the cot is in a corner.
RRP: £48
Sometimes you don't need big, fancy pieces of equipment around the home and something very simple will do just as well. If space is tight in your home or you don't need to buy a dedicated baby bath and changer or a chest of drawers with a top changer, something like this will do perfectly well instead. Fitting on the top of most standard size cots, this gives you a firm base for changing your baby without needing to stoop. Simply pop a plastic covered changing mat on top of it and you can change your baby at any time. Because it is slim, it can be stored in a corner or at the end of the cot when it is not in use and comes in several finishes (Country, Natural and White), so it will coordinate with your chosen cot and other nursery furniture.
Tech Spec: Size: 86 X 51 X 7 cm. Used: Newborn to around one year

---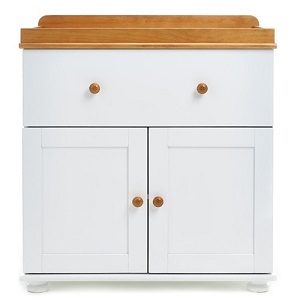 eBay loves: A nice piece of furniture in several finishes.
Watch out for: Cot top changer does not remove as your baby grows up.
RRP: £189.99
Though it does not have a very inspiring name, this chest or cupboard can be used for storage and for changing your baby and it will also have quite a long lifespan as a piece of furniture. It comes in a selection of wood finishes - country pine, white, white with a pine trim and dark wood. It has a large changing area on the top, which is at a comfortable height for you to change your baby without hurting your spine. Beneath this are a single deep drawer and a cupboard with one shelf inside it. You can use it to keep all your baby's items while they are young and for any alternative purpose once they no longer need nappies. All you need is a standard baby changing mat to put on the top. The cot top changing area does not come off as on some units to leave a smooth top, which is a shame but it will stop small items rolling off.
Tech Spec: Size: 89 x 81 x 52 cm. Used: Newborn to around one year

---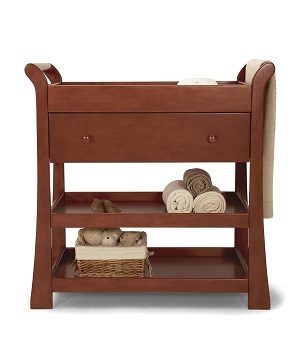 eBay loves:
Coordinating beautifully with other items in the Mamas and Papas nursery range
Watch out for: it is quite a small sized changer
RRP: £149

This changing unit is a very pretty piece of furniture that will be much used in the nursery. On the top is a changing area where your baby can lie whilst you change his clothes or nappies – all you need is to add a nice soft PVC changing mat for comfort, as this is not included in the price. It has two rails at the sides where you can keep a towel or muslins while they dry and beneath that is a wide drawer that can store all the bits and pieces you need for nappy changes – wipes, nappies and nappy sacks – with the advantage that they are hidden away from sight. Below that are two open shelves, creating a handy storage solution. It is quite a small sized changer, so is ideal for smaller nurseries. It comes in a white or walnut finish.
Tech Spec: Size: 43 x 86 x 51 cm. Used: Newborn to around one year.

---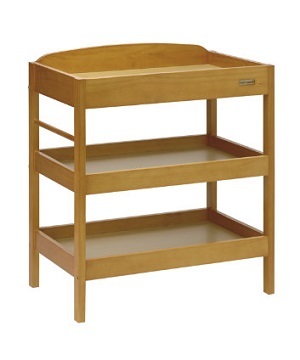 eBay Loves: Sturdy and has a nice design.
Watch Out For: There is no bath.
Well made, sturdy and looking like an expensive piece of furniture, the East Coast Clara Dresser will coordinate with other pieces of nursery furniture such as cots and wardrobes and makes the perfect choice for the nursery. It comes with a towel rail on one side, plus it has a generous sized changing area on the top with raised sides for safety and a wipe clean mat. It does not have a bath in it, so is only for clothes and nappy changes. Beneath the changing area are two large storage shelves where you can keep all your baby's bits and pieces. It has an antique pine finish and will be suitable for either a traditional or contemporary nursery. After you have finished using it as a changing unit, you could continue to use it as a shelving unit. It does requite self assembly, so it's best to buy this if you're handy with a tool or two.
Tech Spec: Size: 93 x 81 x 49 cm. Used: Newborn to around one year

---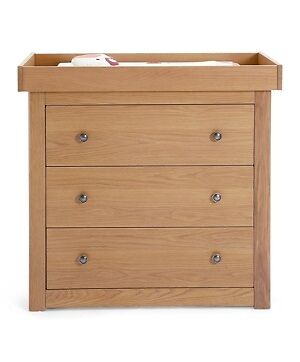 RRP: £575

When buying for the nursery, it's good to remember that your baby will not be small for long and that the nursery will have to be a child's, and then a teenager's bedroom. So buying a piece of quality furniture will not only save you money in the long term but it will mean you have some good pieces that last. This chest of drawers is initially expensive but it is made from top quality oak and oak veneer with solid pewter finish handles. It is sturdy and the three deep, roomy drawers can hold all you need for your baby when changing and bathing. On top of the chest is a changing area with high sides to prevent your baby from wriggling off and all it needs is a padded changing mat, which does not come included. When your baby is potty training, you simply remove the top changer area and the chest carries on being a stylish piece of furniture for years to come. It coordinates with a wardrobe and cot bed and is available in this oak finish or in antique white.

Tech Spec: Size: 95 x 81 x 49 cm. Used: Newborn to around one year

---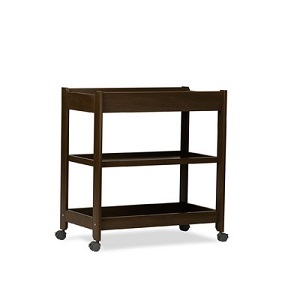 eBay loves: Sturdy and well made, could be used as a trolley later on.
Watch out for: No bath
RRP: £139.99
Alll of Boori's furniture is made from Araucaria timber, a sustainable timber from Queensland in Eastern Australia and you can choose a completely matching look for your nursery with a cot bed, changer, chest of drawers and wardrobe. This changer is a simple piece of furniture, yet its solid manufacture will make it durable and it can be used long after your baby has grown up as a piece of furniture. It could even be used in the dining room as a modern hostess trolley. The Newport comes in an English Oak finish and has fine groove details and elegant trims. Used from birth with the addition of a changing mat (which is not included in the price), it has nice high sides to make it a safe changing area for baby and can be used for around one year. There is a middle shelf below this, which can be pulled out at either side to allow you to access all your baby bits and pieces - toiletries and nappies, plus a lower shelf for clothes and so on. It can be wiped clean and the castors, which allow for easy movement, can be locked in place.
Tech Spec: Size: 96 x 87 x 58 cm. Used: Newborn to around one year

---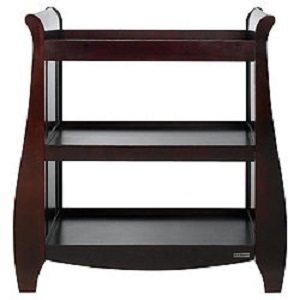 eBay loves: Stylish and luxurious look.
Watch out for: No bath or wheels, mat not included.
RRP: £169
Designed to complement either the Katie or the Lucas cot beds, this changer has the same sleigh styling as those cots and makes a classic piece of furniture for your baby's nursery. Unfortunately, the unit does not have a baby bath but you could place a bath on the top when your baby is very small. It has a good sized changing area on the top which just needs an additional padded PVC changing mat to complete it, and high sides to help you keep a wriggling baby safely in place. The mat is not included in the price but that does mean you can choose from any store to match other décor in the nursery. Beneath the changing area are two shelves where you can keep all you need for nappy and clothing changes, though the addition of some storage baskets would help you to keep everything in place. It comes in either white or espresso finishes.
Tech Spec: Size: 105 x 103 x 54 cm. Used: Newborn to around one year
---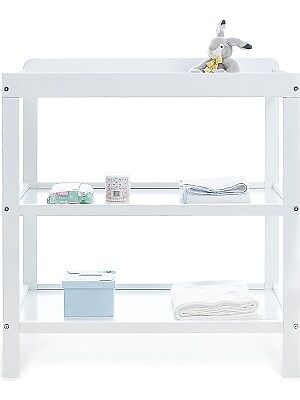 RRP: £69.99

Plain and simple, this open shelf changing unit comes in a choice of pine, oak or white finishes and is made from wood. It can be used for years, first for changing and later on as a storage solution in the nursery or any other room of your home. In a sleek, modern design, it will complement any décor. On top of the unit is a spacious changing area, which is at the perfect height for you to be able to change your baby without straining your back or post-baby tummy. You need a changing mat to complete it (though you could even use a folded towel), which is not included in the price but does allow you to choose any style. Below the changer are two generous storage shelves where you can keep all you need for you baby's changes right at hand. As it has no hidden nooks and corners, it is easy to keep clean. You can use it straight away from birth until your baby grows out of it, which is usually around one year.
Tech Spec: Size: 82 x 80 x 52 cm. Used: Newborn to around one year.


---

If you're interested in changing units, check out ...

Bouncers | Carriers | Monitors | Car Seats | Cot Beds | Highchairs | Moses Baskets | Travel Cots | Travel Systems