Home Multi-Function Printer Buyer's Guide
A multi-function peripheral (MFP) combines a scanner, printer and photocopier into one single box, which makes them ideal for home use. Picking the one that suits you and your family can be tough, but David Ludlow, group editor at Expert Reviews & Know Your Mobile, will help you find the perfect model.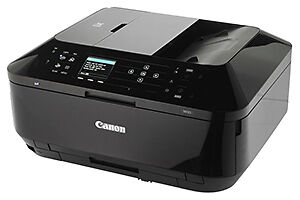 eBay loves:
Tons of interfaces, low running costs, great quality
Watch out for:
It's a little slow to print
RRP:
£130
The
Canon Pixma MX925
is a great inkjet with a ton of features. With Ethernet, USB and Wi-Fi built-in, you'll have no problems printing to it from any device. Thanks to the colour screen and simple controls, you use a lot of the printer's features without even connecting it to a PC. It's even, unusually, got a telephone port if you need to send or receive a fax. Excellent photo and document prints (it also has a duplexer), with low running costs make this a fantastic home document solution.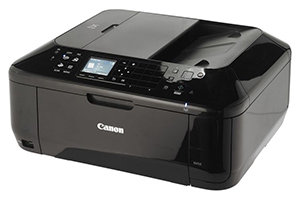 eBay loves:
Excellent choice of interfaces, low cost
Watch out for:
Some scans can look a little soft
RRP:
£69
If you're looking for a decent budget MFP, the
Pixma MX525
could well be the model for you. It's priced keenly, but still has tons of features including USB and Wi-Fi printing, and a telephone port for faxes. Print and scan quality is great for the price, with only small text looking a little fuzzy in scans. Its colour screen and controls even mean that you can use a lot of its features without connecting it to a PC.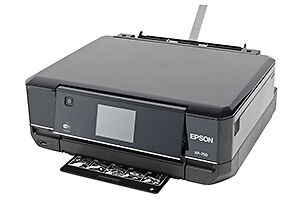 Add a caption
Epson Expression Photo XP-750
Click to Edit caption
Epson Expression Photo XP-750
eBay loves:
Fantastic photo prints, excellent choice of print interfaces
Watch out for:
Relatively expensive for colour prints
RRP:
£149
If you mainly use your printer for photos, the
Epson Expression Photo XP-750
is the model for you. Using the same array of inks as the company's photo-only printers, photos looked amazing, with great detail and rich colours. This comes slightly at the expense of document printing, with small text looking a little fuzzy. Cost is also more of an issue, with a colour page relatively expensive. The scanner is very good and there are USB, Ethernet and Wi-Fi interfaces, giving you plenty of flexibility.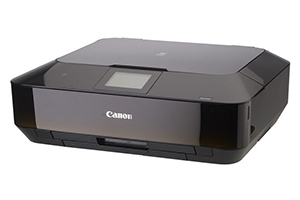 eBay loves:
Great looks, swift mono prints, great quality
Watch out for:
Colour prints are a little slow
RRP:
£100
Most MFPs are rather unappealing, but the
Canon Pixma MG6350
is actually rather stylish. Fortunately, it has the performance to back-up its looks. A swift text printer, it will make short-work of long text documents, delivering high-quality prints. Colour prints are a little slower, but the quality is still very good. With a decent scanner producing sharp results, USB, Wi-Fi and Ethernet interfaces, this MFP has everything that you could need.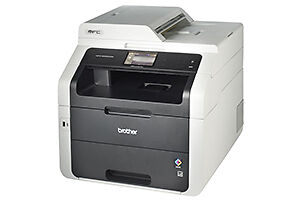 eBay loves:
Great value for a colour laser, very quick to print
Watch out for:
Colour photos looked a little drab
RRP:
£285
Colour laser MFPs can be expensive, but the
Brother MFC-9330CDW
is one of the cheapest. Despite that, it's got a lot of features, including duplex printing, USB, Ethernet and Wi-Fi interfaces. It's very rapid, quoted at 22ppm, letting you churn out high-quality colour documents at real speed. Quality is generally very good, although colour photos didn't look quite as vibrant as we'd have liked. Still, if you want speed over everything else, this it the MFP for you.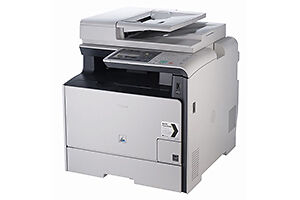 eBay loves:
Fast scanner, high-quality document prints
Watch out for:
Photo prints aren't great
The
Canon i-SENSYS MF8540Cdn
is quite a serious MFP if you need to scan and print a lot of documents. Its scanner has a 50-sheet document feeder, letting you quickly get through lots of scans. Duplex printing helps you save paper. It produced sharp text and excellent graphics at speed. Colour photos were less impressive, though. Likewise, document scans were great, but photo scans lacked the quality of the originals. Its screen lets you control most functions without having to go near a computer, but it takes a little while to learn, as the buttons aren't particularly intuitive.

There are two types of printing technology that MFPs can use: laser and inkjet. Laser printers can either be mono (cheaper) or colour (more expensive); inkjet printers are all colour and tend to be cheaper.

Inkjets create prints by placing thousands of tiny dots over every inch of the page. Printers with higher resolutions – measured in dots per inch (dpi) – can place more dots on the page. This generally leads to higher-quality images, although other factors such as droplet size also play a part. High resolutions are an indicator of good print quality, but they don't guarantee it. We've described each model's print quality in detail in each review.

Laser printers work by charging a light-sensitive surface called an Optical PhotoConductor (OPC) drum with static electricity. A laser then draws an image of the page to be printed onto the surface of the drum, discharging the areas it hits - some printers instead shine tiny coloured LEDs onto their photosensitive surface to reverse the charge.

Toner is then released onto the surface of the drum. The toner is positively charged so attaches itself to the discharged areas that have been drawn by the laser and ignores the positively charged background. The drum then passes across the printer paper, which is given a negative charge strong enough to attract the positively charged toner away from the drum. The paper, with toner clinging to it, is then heated to melt the toner to the page.

Laser printers also have their print resolution listed in dpi. The higher the figure, the more detail there will be in each print. Higher resolutions are important for graphically intense prints or fine lettering.

Inkjets can print on glossy photo paper, letting you print your own high-quality photos at home. If you've got a lot of digital photos, then this is the way to go. Laser MFPs produce fast, sharp prints that could be massively useful if you run a business from home or have students under your roof. Unfortunately, laser printers can also be large, heavy and loud, and they can't print on photo paper.

Speed

Printers vary widely in terms of how quickly they can print, but you should be careful when it comes to interpreting published speed figures. Some speeds are listed in pages per minute (ppm), while others are slower and listed in images per minute (ipm). The old standard for quoting print speeds is ppm. Designed to make products look as fast as possible, it uses low-quality draft settings and ignores the time taken to print the first page. The documents used to produce these speeds aren't standardised, and the figures aren't representative of a printer's true speed.

The newer ipm standard also measures how many pages are printed every minute, but it uses a specific set of documents that includes pages of graphics, tables and formal letters. These are printed at normal quality, in accordance with the criteria of the ISO/IEC 24734 standard, which guarantees that every printer that quotes an ipm figure has been tested in the same way. If speed is important, look for a trustworthy ipm figure.

If you want to save on paper, look out for an MFP that has a duplexer. This lets it automatically print on both sides of a sheet.

Scanner

MFPs have several advantages over the more traditional combination of a separate printer and scanner. They're brilliant if you're short of space, and they make it easy to produce photocopies at home without the need for a computer. Scanners have their resolution quoted in dpi, where the higher the number equals sharper results. Don't expect the scanner built into your MFP to necessarily be the best for creating a permanent digital copy of your favourite slides or photos, but they're all good enough for document scanning, which can help you manage your paperwork more effectively.

Some MFPs have a duplex ADF (automatic document feeder) so they can scan, print and copy double-sided documents. Unless you're doing a lot of scanning at home, this is likely to be an unnecessary expense for home use, not to mention making the MFP a lot bulkier.

Running costs

Running costs are very important for a printer. Manufacturers list the cost per page of their printers, which tells you how much it costs every time you hit print. This figure is important, as you may find that spending more money on a printer up-front will get you lower running costs, which will save you money over time.

There are other costs to be aware of, too. Unlike inkjets, which might at most need an occasional waste ink box replacement or, if something goes wrong, a replacement print head, laser printers can require a host of consumables to function. The simplest models use toner cartridges with an integrated OPC drum. These make the printer easy to maintain, but can result in high print costs. The absence of other user-serviceable parts can also limit your printer's lifespan. Others have separate OPC drums, waste toner bottles and fuser units, which can produce a lot of hidden costs, even if the toner cartridges are cheap. The prices and life spans of these parts vary widely, but they all have to be replaced at some point, so look out for the hidden costs especially if you're a heavy printer.

Network access

The majority of MFPs can connect to your home network by either Ethernet or Wi-Fi. A network connection is useful to share the printer, and vital to print from a smartphone or tablet. Every printer manufacturer how has its own mobile printing app, which you can use to print documents and pictures from your phone or tablet, as long as it's connected to the same network as the printer.

Some manufacturers have gone even further, giving printers email addresses to which you can send documents, as well as support for Google's Cloud Print remote printing service or even the ability to connect the MFP to online storage accounts such as SkyDrive or Google Drive. We're also fans of built-in touchscreen interfaces, which make it easy to scan, copy and even directly print from a USB flash drive or online storage without having to use your PC. Only a few MFPs have a telephone port, which lets you send and receive faxes. Only worry about this if you absolutely need this ability.

Finally, it's important that MFPs have decent controls on the front, so that you can make copies and print from any memory card slots without having to turn on a computer.
| | Canon Pixma MX925 | Canon Pixma MX525 | Epson Expression Photo XP-750 | Canon Pixma MG6350 | Brother MFC-9330CDW | Canon i-SENSYS MF8540Cdn |
| --- | --- | --- | --- | --- | --- | --- |
| Printer type | Colour inkjet | Colour inkjet | Colour inkjet | Colour inkjet | Colour laser | Colour laser |
| Print resolution | 9,600x2,400dpi | 4,800x1,200dpi | 5,760x1,440dpi | 9,600x2,400dpi | 600x600dpi | 600x600dpi |
| Scanner resolution | 2,400x4,800dpi | 1,200x2,400dpi | 1,200x2,400dpi | 2,400x4,800dpi | 1,200x2,400dpi | 600x600dpi |
| Printer interfaces | USB, Ethernet, Wi-Fi | USB, Wi-Fi | USB, Ethernet, Wi-Fi | USB, Ethernet, Wi-Fi | USB, Ethernet, Wi-Fi | USB, Ethernet |
| Memory card reader? | Yes | No | Yes | Yes | No | No |
| Price per colour page | 5.4p | 4.7p | 8.5p | 5.4p | 7.4p | 8.9p |
| Size | 213x491x396mm | 200x458x285mm | 141x341x390mm | 148x466x369mm | 410x410x483mm | 479x430x484mm |