On this page
Mamas and Papas Sola
Graco Evo
Hauck Apollo
Quinny Moodd
Petite Star Kurvi
Cosatto Giggle
Silver Cross Surf
Obaby ZeZu
Micralite Fastfold
Babystyle Oyster
Bugaboo Cameleon3
Stokke Xplory
iCandy Strawberry
Life with a baby in tow is easier if you choose the right pushchair to suit you, your baby and your lifestyle. A Travel System has all you need – the wheels, a seat and a car seat to take your baby seamlessly from car to shops and home. Make sure you choose the correct car seat for your pushchair and watch out for hidden extras that can push the price up. .
Travel System Tips
Check to see what accessories are included - some manufacturers include it all in the price, others charge separately which pushes up the price.
Make sure your travel system fits your lifestyle.
Look for a pushchair that has fabrics you can wash, and choose colours that won't show dirt so much. This will keep it looking better for longer.
Finally, remember not to leave baby in a car seat for too long.
Our parenting expert is Sally J Hall, Editor
of B Baby Magazine
and Author of Eco Baby.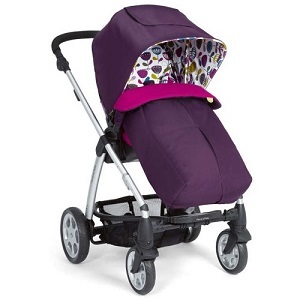 eBay loves:
Suitable from birth, light, a good all-rounder.
Watch out for:
Car seat, adaptors, Cosytoes and carrycot cost extra, handle not adjustable.
RRP:
£199.00
The soft, padded seat unit puts comfort high on the agenda for the Mamas and Papas Sola lightweight, contemporary pushchair. It has a 5 point harness and a 1 handed reclining function which goes fully flat for newborns. The seat faces the front or the parent, has an adjustable footrest and is easy to remove using chunky buttons on each side.
The handle is adjustable to make it suitable for you whatever your height and feels comfortable to the touch. The silver chassis is chunky, durable, with good-sized wheels and great suspension giving a smooth ride over bumpy ground. A shopping basket is included – it's not huge but is easy to access even with the seat reclined. The pushchair folds quite easily, locks together when folded and will stand unaided. The added extras such as a carrycot, which can be used for overnight sleeping, and the car seat can push up the cost, but a raincover and apron are both included.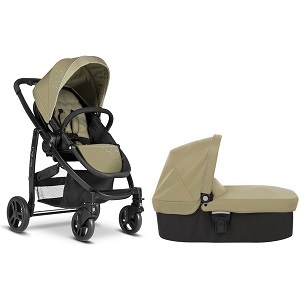 eBay loves:
Easy to use, good price, lots of extras.
Watch out for:
Carrycot and stand cost more.
RRP:
£279.99
Graco pushchairs are always well priced and come with plenty of extras. This stylish model comes with the footmuff and raincover included and you can also add a car seat and a carrycot (purchased separately). The carrycot, which can be used overnight when travelling, comes with an optional stand and has a decent mattress, hood and apron to protect your baby from all weathers. The pushchair's seat can be reclined through 3 positions with a fully flat position that can be used from birth. The seat can face the parent or the front, has a harness for safety and an adjustable calf and foot support.
The Evo has an easy to steer chassis with large wheels and solid tyres - no punctures but the drawback is that the ride over rough ground can be bumpy. The handle isn't adjustable. The frame is easy to fold one-handed (with the seat facing forwards), locks itself and there is a nice large shopping basket, accessible even when the seat is reclined. The brakes press on and flip up to release. To keep your pushchair looking good for longer, the seat liner and the cosytoes can be machine washed and other fabric can be sponge cleaned.
For a budget priced pushchair, you get all you need with the Hauck Apollo package; it includes the pushchair, apron, carrycot, car seat, the raincover and even a matching changing bag. The good-sized carrycot faces the parent and can be used from birth up to around 6 months, clipping easily onto the chassis. It has a removable mattress cover, which can be machine-washed and some clever storage pockets on the hood to store your purse and keys. It also has a wind cover.
The seat only faces the front and has 3 recline positions, including one that is completely flat, so it's great from birth. It has a 5 point harness, a padded bumper bar and its hood also has the handy pockets you find on the carrycot. The chassis is easy to steer around sharp corners in the shops, is lightweight and folds very easily – though you have to use both hands. The infant car seat clicks straight onto the chassis without the need for adaptors, is well padded, and has side impact panels to keep your little one safe in the car.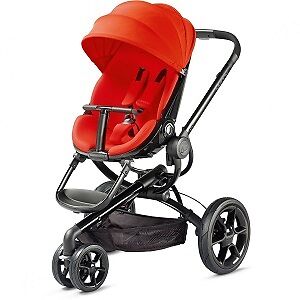 eBay loves:
Frame unfolds itself, modern look, soft fabrics.
Watch out for:
Seat fiddly to get into, the extras increase the price.
RRP:
£599.00
This stylish pushchair has an easy to use automatic unfolding mechanism, working on pneumatics. Just unlock and it springs into place. Folding is easy too; just press 2 buttons on the handle, push forwards and it collapses simply and locks automatically. It folds compactly and you can remove the wheels to make it even smaller. The seat is suitable from 6 months, so you need to use a carrycot for the first few months to allow your baby to lie completely flat. The seat clips easily onto the chassis and all the parts to adjust the pushchair – recline, fold button and seat releases – are a different colour to the chassis, so they're easy to see. The seat has a T-shaped bumper bar which looks good but can be a bit tricky to get a wriggling toddler into; the seat is reversible and reclines into 3 positions facing the front, 2 when facing the parent.
The removable cover is washable and has an adjustable, padded harness and an adjustable handle and footrest. The chassis comes in classic black or stunning white, has good suspension, large back wheels and a double front wheel that can be locked or can swivel for getting round tight corners. A Maxi-Cosi car seat can be added using adaptors.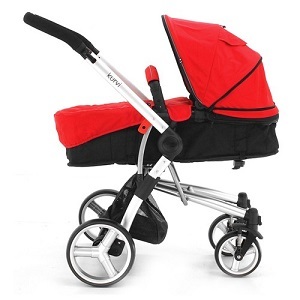 eBay loves:
Very comfy, easy to adjust, great on public transport.
Watch out for:
Basket is small, a little bulky when folded.
RRP:
£425.00
The Petite Star Kurvi is a good package that offers a pram-style option for when baby is tiny, plus a seat that will take your child up to 3 years; there's the option of a car seat, too. It comes with all you need – a footmuff, padded liner, raincover, apron, head hugger and changing bag. You don't need a separate carrycot, as the seat folds down flat and you use a liner and apron to turn the seat into a pramette, suitable from birth – and it really looks like a pram. As your child gets beyond 6 months, remove this and you have a seat unit that faces the front or rear with a padded harness and adjustable footrest and recline for nap time, which is adjusted by a drawstring – easy to lie down but a little more tricky to sit up with the child in it. The generous hood has a mesh section to allow for airflow on hot days.
The chassis is fairly light and has an adjustable handle and generous wheels, though they are fairly solid, so the ride might not be smooth over very bumpy ground. It folds with a scissors action and locks when folded but is quite large – check it fits your car boot. A larger shopping basket would be good.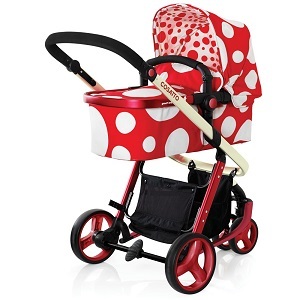 eBay loves:
Comes with lots of extras, lightweight, steers easily.
Watch out for:
Folding with the seat on can be tricky, small front wheels can get stuck in rough ground.
RRP:
£430.00
If you love bright colours, this light travel system is perfect, as it comes in a range of funky designs. Though it has the appearance of a 3-wheeler, its small front wheels mean it's not suitable for really rough terrain, though the large, solid rear wheels give a smooth ride. The chassis is slim and this contributes to its low weight and there's a generous hood and medium sized shopping basket. You might find you catch your foot on the chassis' rear cross-bar, though adjusting the handle should help. The seat is well padded but doesn't recline flat - the seat tilts when baby wants to sleep. Use the carrycot for the first few months to allow your baby to lie flat. The pushchair can be tricky to fold with the seat on (though easier in the forward position) though easy to fold, using two hands. The seat unit, car seat and carrycot simply snap onto the chassis with push-button sockets on each side and the carrycot can be folded for storage when not in use.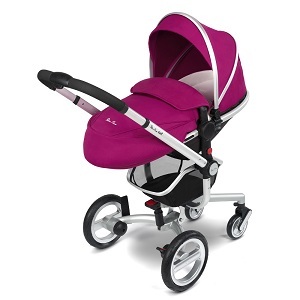 eBay loves:
Comes with lots of extras, good for newborns.
Watch out for:
Have to take seat off to fold it.
RRP:
£650.00
If you want a stylish pushchair that will last several babies, a well built one like the Silver Cross Surf is perfect. It suits a newborn right up to a 3 year old and comes with all you need to make a great pushchair and travel system – a hood, parasol, rain cover, footmuff, baby nest, insect net and apron are all included in the price - just add a car seat. The seat is comfortable and can be placed on the chassis facing the parent or the front and it reclines through 3 positions and has an adjustable harness and footrest. It doesn't have a flat position, so use the newborn support wedge or add a carrycot, which can be used overnight, for the first 6 months. It's easy to click the seat, car seat and carrycot onto the pushchair.
The chassis is chunky without being bulky, has suspension for bumpy ground, plus the smaller front wheels make it easy to manoeuvre around tight spaces. The tyres are pneumatic but are puncture resistant and the handle is adjustable. The brakes click on and off from above, so you won't scuff your shoes. It comes in lots of great colours and there are some lovely accessories too.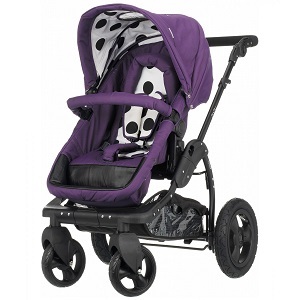 eBay loves:
Well priced package, good for small babies.
Watch out for:
Need to remove seat to fold.
RRP:
£299.99
When you want an all-in-one system for your baby, look for a pramette like the Obaby ZeZu. A pramette transforms the seat unit of the pushchair into a flat carrycot-style bed using a liner and apron, without the need for an additional carrycot. It makes a nice cosy little bed for your newborn for the first few months, and then you can use the seat, with adjustable footrest, facing either the front or the rear. It reclines through several positions using a drawstring on the rear of the seat. Though this means you can alter the seat to any position, it can be tricky to sit it back up with a heavy child in it. It has a strong chassis that is sturdy and well suspended, though it's rather on the heavy side. However, it does have removable anti-puncture pneumatic tyres, which are great on bumpy ground, and a safety wrist strap on the adjustable handle. The hood has a viewing window so you can keep an eye on your little one. When you want a travel system, the seat unit can be removed and the car seat simply clicks onto the chassis.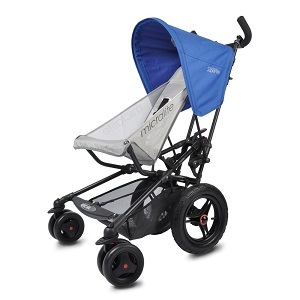 eBay loves:
Very light, folds small, great for holidays.
Watch out for:
Car seat and adaptors cost more, not suitable for babies under 6 months.
RRP:
£199.00
A lightweight stroller that's great around town and for holidays when you want to travel light. It's not ideal to use as your main pushchair, as it doesn't have a lie flat position for small babies and only a two position, hammock-style seat. It's particularly suited for hot weather as the seat is made from mesh - add a liner for colder days.
The hood is small and not very protective, with a viewing window to keep an eye on baby, but there's a rain cover that you could use if it's windy. The chassis is small and lightweight yet has nice chunky pneumatic wheels at the rear, which give a good ride over rough ground, on stairs and over kerbs. You can pull it behind you when folded – great for the check-in queue. It folds quickly and easily using one hand – though you have to practically kneel to do so. Once folded, it locks together and will stand alone.
There's a small storage basket, accessed from the front. A car seat can be clipped to the chassis for babies under 6 months but you shouldn't leave small babies in a car seat for long periods of time.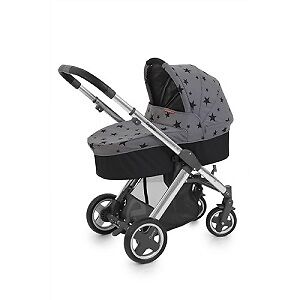 eBay loves:
Comes with all you need, seat faces either way, good ride.
Watch out for:
Recommend to use the carrycot from birth which pushes the price up, quite heavy.
RRP:
£329.00
The Oyster is a good all-round Travel System that comes with plenty of extras and can be personalised with a colour pack (included in the price) which has a bright hood, seat liner, head hugger and changing bag that really brighten up the black pushchair on black chassis. The raincover and footmuff are also included.
The seat is quite generous and well-padded but it doesn't lie fully flat, so you should use a carrycot from birth, purchased separately. The seat faces the parent or the front and can be adjusted through 3 positions, as can the leg rest. It has a chunky chassis with independent suspension on all 4 of the large wheels, giving a smooth ride on most surfaces. The wheels come off for easy storage and the handle adjusts to suit you. The front swivel wheels and its narrow width mean it's great for nipping around the shops.
You can add a car seat to make a convenient travel system but the seat and adaptors need to be bought separately.
Tech Specs:
Used from: birth to 15 kg. Weighs: 11.3 kg. Seat reclines: 3. Size when folded: 40 x 56 x 75 cm. Car seat: Britax SHR Maxi-Cosi Cabriofix
---
Bugaboo Cameleon3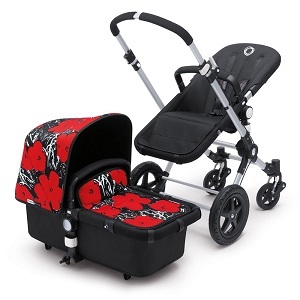 eBay loves:
Add a fabric pack to personalise your Cameleon, fashionable, all covers are machine washable.
Watch out for:
Large when folded, have to remove the seat to fold.
RRP:
£799.00
One of the most fashionable pushchairs around, this is a go-anywhere pushchair that will provide a safe and comfy place for your baby to travel from birth to around 3 years. Choose your base model in a plain fabric at £729, or a special edition fabric like the Viktor and Rolfe, at an eye-watering £1250. Next, add your coloured hood and apron at £70 or a special Andy Warhol print at £149. This includes the chassis, seat, shopping basket, raincover and insect net. The chassis with adjustable suspension has large back wheels and small front ones to navigate small spaces and foam-filled rubber tyres; the big wheels are great for rough ground. You can even partly fold the chassis and pull it on two wheels, ideal for sand or snow.
The carrycot, seat unit and car seat (which needs adaptors, bought separately) can be clicked onto the chassis and the seat faces the front or rear. The carrycot, with aerated mattress, is suitable from birth, has a ventilated base and can be used for overnight sleeping. The seat unit, suitable to 36 months, is a fixed position suitable from six months, has a five point adjustable harness and can be reclined through three positions. There are lots of accessories and the fabric is all machine-washable. The handles can be adjusted to suit all heights.
Tech Spec:
Weighs: 9.6 kg. Used from: birth to 15 kg. Seat reclines: 3. Size when folded: 31 x 90 x 50 cm. Car seat: Maxi Cosi Cabriofix, Maxi Cosi Pebble, Recaro Young Profi Plus with adaptors
---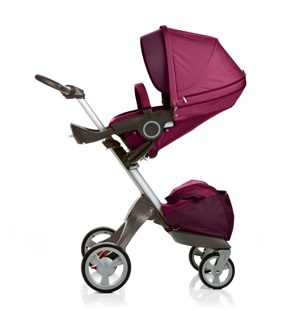 eBay loves:
For the style conscious and those who spend a lot of time in cafés, adjustable handle.
Watch out for:
Large and fairly heavy, difficult to fit in smaller cars, expensive.
RRP:
£829.00
(inc: bag, rain cover, insect net)
One of the most unusual pushchair designs around, this is very distinctive and invokes strong opinions. It lifts your baby up high, so you can interact more easily and it's also the same height as most café tables, so eating out with your baby is a breeze.
Comfy to push and easy to do so one handed with its unique round adjustable handle, it can be used from 6 months with the 5 position reclinable seat unit, which is very easy to attach and remove, either forward or rearward facing. The seat unit does have a padded insert you can use for tiny babies but it is best to add the optional carrycot from birth, which you need to buy separately. The seat is quite narrow so not great for larger children and there are some other obvious drawbacks such as the lack of space for your shopping and the small wheels which mean it is not great on rough ground. However, for urban settings where you want to look good, it comes into its own.
Tech Spec:
Weighs: 12 kg. Used from: birth to 15 kg. Seat reclines: 5. Size when folded: H45 x W108 x D57 cm
Car seat: Stokke® iZi Sleep
---
With iCandy pushchairs, you buy the basic seat unit and add a 'flavour pack' (purchased separately), the seat pad and hood in a bright colour of your choice. The one-handed reclining seat unit, suitable from six months, can face the front or rear and there's a separate carrycot (also bought separately) which can be used from birth and for overnight sleeping. Both have lovely soft fabrics.
The chassis can be folded with the seat unit attached in either direction and it has a memory function that puts the seat back into the same recline position as when you folded it up. You can fold it one-handed and it locks and stands when folded, plus the wheels lock or swivel and it's very easy to steer. The handle is very adjustable with 5 positions, so you should be able to find one that's comfortable for you and your partner. The raincover is included and the storage is good too, as in addition to the basket under the chassis there's a 'punnet' storage area in the seat. Add a set of adaptors and a car seat for a stylish travel system.