Fuel prices seem to go only one way: up. Fuel is a significant and regular expense for many people, so it's no surprise that economy has become the number-one priority for many second-hand car buyers.
Stephen Errity, production editor of Auto Express
chooses 5 models that use a variety of platforms (petrol, diesel and hybrid) to maximise economy and save you money.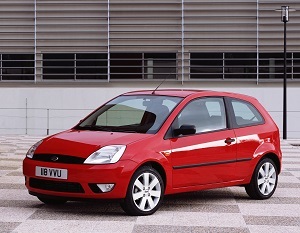 eBay loves: Fun to drive, cheap to maintain
Watch out for: Dated inside, poor boot space

Ford's Fiesta is a household name, and with a diesel engine it's a real fuel-economy champion. Stiffer suspension means it's not as comfortable as some rivals, but the compromise is a more enjoyable driving experience. There's enough room for four adults, too, although a cramped 270-litre boot is disappointing. The Fiesta's popularity means there are many examples around. Not only does this make it easy to find the right car for you, but it also bodes well for long-term maintenance, with parts readily available.

The 1.4-litre TDCi diesel model sits in insurance group four, and its 62mpg economy is very impressive. Just bear in mind that this older fifth-generation model is starting to show its age, particularly inside.
---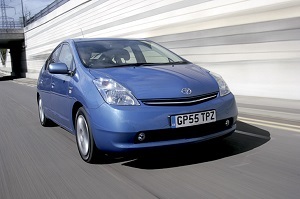 eBay loves: Futuristic looks and urban economy
Watch out for: It's not so frugal on the motorway

The Prius brought eco-friendly motoring into the headlines when it arrived in 2000. Never before had a hybrid family car been available to the public.The second generation Prius arrived in 2003 and upped the game with better looks and improved practicality. All versions feature a 77bhp 1.5-litre petrol engine with an electric motor that provides whisper-quiet urban travel, and there are three trim options – T3, T4 and the flagship T Spirit. One thing to be aware of is that although the Prius is very frugal around town, it isn't the most efficient family motor on long trips. If you rack up the miles, a diesel car makes more sense.

The hybrid system harnesses energy lost through braking, so if you're not in stop-start traffic, only the engine will charge the battery pack. Motorway driving could result in unimpressive fuel returns – this is primarily a car for urban motoring.
---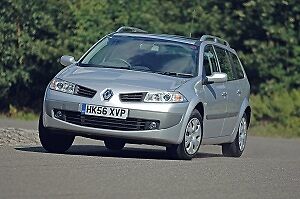 eBay loves: Sharp looks and super economy
Watch out for: Troublesome turbochargers

Renault's dCi diesel engines are renowned for miserly fuel consumption, and the 1.5-litre unit found in this model of the popular Megane is particularly impressive. What's more, most Meganes are well equipped, and you get a choice of stylish three-door, practical five-door or roomy estate versions, so you can pick something that precisely suits your needs. Renaults don't tend to hold their value very well on the used market, so low-mileage, high-specification cars are an absolute steal. Just beware of reliability – these Renault diesels have been know to give trouble, and the electrical systems can act up, too. It's worth getting a trusted mechanic to inspect any potential purchase, and make sure the car you buy has a fully documented service history, too.
---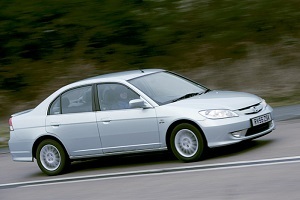 eBay loves: Impressive economy and Honda reliability
Watch out for: Can be hard to find on the used market

Japanese manufacturer Honda has always tended to make economical cars, but it really pushed the boat out with the Civic Hybrid, launched in 2001. Unlike other Civics of this era, it's a saloon, but the boot is quite large, so practicality doesn't suffer. The Civic Hybrid is powered by a 1.4-litre petrol engine boosted by an electric motor, and you should be able to see in the region of 50-60mpg with sensible driving. The Civic will be cheap to insure, too, and tends to hold its value quite well. Honda parts and servicing can be more expensive than most, however, but as this car is so reliable it's unlikely you'll be forking out very often. The Civic Hybrid wasn't a huge seller when new, so it can take a while to track down a good second-hand example, but it's worth holding out for the right one.
---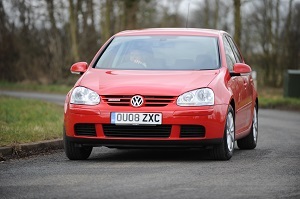 eBay loves: Great economy from a practical family car
Watch out for: Only higher-mileage cars available at this price

Diesel Volkswagens have always been a top choice for drivers who prioritise fuel economy, particularly those who do lots of motorway miles. In 2007, VW introduced a special 'BlueMotion' version of the popular Golf diesel that makes a number of clever tweaks in order to further boost fuel economy. Aerodynamic body trim, low-rolling-resistance tyres, long gear ratios and some weight saving all combine to eke out even more miles from every gallon of diesel, but it doesn't feel like a stripped-out, hairshirt car. You still get the high-quality, comfortable Golf interior, smart styling and desirable badge. On the downside, used values are quite strong, so even early high-mileage cars still command a healthy price – not the best news for keen bargain hunters.
---
More motoring guides
Buying second hand | Top Economical cars | Top Sports cars | Top Family hatchbacks | Top Superminis | Top SUVs