Guide to buying the best keyboard for playing computer games
While buying a new mouse would seem the obvious way to improve your gaming skills, the keyboard can be just as important. With a proper gaming keyboard, you'll get a more responsive experience, more control over your games and a better chance of winning. There are a lot of models available, but with the help of David Ludlow, editor of Expert Reviews, you'll be able to choose the factors that are most important to you.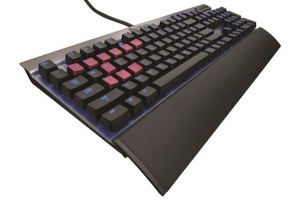 RRP:
£120
eBay loves:
Supremely comfortable, choice of keys
Watch out for:
No macro keys
There's no getting away from the fact that the
Corsair Vengeance K70
is expensive, but it's one of the best. This mechanical keyboard is extremely comfortable to use, with the keys mounted above an aluminium chassis. There are no macro keys, but the keyboard ships with highlighted W-A-S-D and number keys (commonly used in gaming). The shape and texture of these keys makes it easy to feel for them, but if you do have to look down, there's also a backlight. To top it off, the keyboard is available with 'red', 'brown' and 'blue' switch varieties, each with a different feel. Try before you buy to get the right one.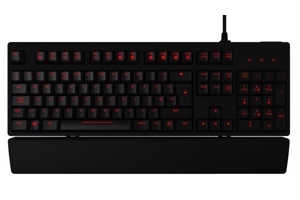 eBay loves:
Simple, mechanical gaming keyboard
Watch out for:
No audio or USB pass-through
RRP:
£75
This no-frills keyboard is designed with gamers in mind. The
Func KB-460
has mechanical keys for the best feedback and responsiveness and there's no ghosting. There's also a backlight to illuminate the keys in the dark. There are five programmable keys, too, with customisable profiles, so you can set this keyboard up to run macros in your favourite games. There's no audio or USB pass-through, which is our only complaint.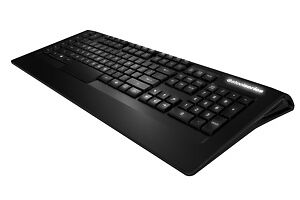 eBay loves:
Great price, tons of macro keys
Watch out for:
Not mechanical
RRP:
£60
If you're not set on having mechanical keys, you can save money by going for a membrane, such as the
SteelSeries Apex Raw
. It certainly doesn't skimp on features, with 19 macro keys that make this perfect for RTS and MMO players.
The entire keyboard is backlit, making it easy to see what's going on in the dark. Other than a double-height space bar and extra cursor keys for leaning around corners in FPS games, the keyboard layout is standard.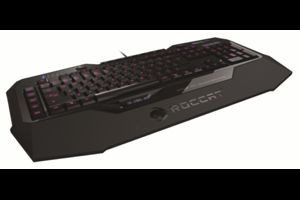 eBay loves:
Tons of macro keys, including ones for your thumb
Watch out for:
Not mechanical
RRP:
£80
The
Roccat Isku FX
is a keyboard designed for people that love using macro keys. As well as the five macro keys on the left of the keyboard, there are three for your thumb, without having to take your fingers off the W-A-S-D keys.
A backlight makes it easy to view keys in a darkened room, while the large wrist-rest makes it comfortable to use. Our only minor complaint is that this keyboard is fairly expensive for one without mechanical keys.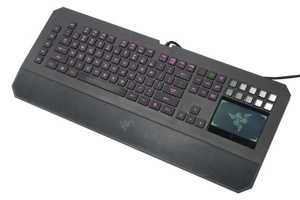 Razer DeathStalker Ultimate
eBay loves:
Ultimate customisation, great looks
Watch out for:
Expensive, membrane keys
RRP:
£220
If you take your gaming keyboards seriously, the
DeathStalker Ultimate
could be the model you've been looking for. It has a 4-inch touchscreen and 10 customisable OLED macro keys, letting you configure commands for your favourite games. It's the supported apps that really show off the keyboard, though, with supported games displaying custom icons on the macro keys. The keyboard uses low-profile laptop-style keys, with control over the backlight colour. They're membrane-based, so may not be as comfortable or as responsive as mechanical keys.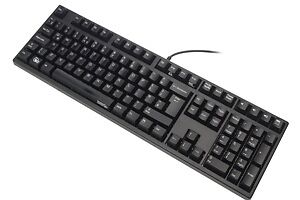 eBay loves:
Great for typing on, brilliant all-rounder
Watch out for:
No macro keys
RRP:
£70
Though not strictly a gaming keyboard, the
Ducky Zero DK2108
is a mechanical keyboard that may prove to be the best of both worlds for occasional gamers. It's extremely comfortable to use, making it the ideal work keyboard. You can get it with a choice of switches, depending on your typing style, so see if you can try before you buy.
When it comes to gaming, the responsive mechanical keys provide plenty of feedback and are a joy to use. There are no macro keys with this model, but it's a good all-rounder for work and play.
Polling speed and anti-ghosting
One of the biggest complaints about a standard keyboard is that it doesn't detect keystrokes fast enough. This is not something you'd notice when typing, but when you're playing a game, it can mean the difference between killing and being killed.

A keyboard with a faster polling rate (500MHz or 1,000MHz) scans for key-presses more often, so it won't miss that important one at the right time. This is better than standard keyboards, which generally poll at 125MHz — gaming keyboards are up to four times faster.

Ghosting occurs when a keyboard can only recognise so many key-presses at once. So if you're pushing buttons to move forwards, strafe to the right and jump all at the same time, it might not recognise another key-press to throw a grenade. While mapping some controls to a mouse can be helpful, anti-ghosting measures let the keyboard recognise more key-presses at once.

Macro keys
Having macro keys can be extremely useful, as you can program a single key-press to perform multiple actions. This is particularly useful in RTS games, where you often have to press a series of keys to do one job. If you need macro keys, look for a minimum of five, with more added in for RTS-specialist keyboards. The ability to store multiple profiles for different games can be really useful.

Mechanical
Mechanical keyboards have a proper switch for each key, giving a rugged feel and a definite click when you press a key. Cheaper desktop keyboards use a soft membrane, which makes it harder to detect when you've hit a key. For that proper feedback, buy a mechanical keyboard.

Other features
Look for backlighting if you want to play in a dark room. There's little practical difference now between wired and wireless models, although it's generally thought that wired USB models are more responsive. Look for a model that has audio and USB pass-through ports, so you can plug your headphones and mouse straight into the keyboard, giving you enough cable flexibility to game comfortably.