For all those keen amateur racing cyclists out there wondering where to find that extra 1 or 2 miles per hour on the straights, here is your solution.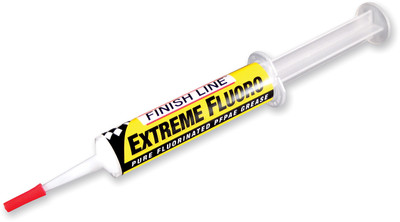 The reason I think why this product works so well is because it wasn't developed for cycling purely in mind, most companies know that keen cyclists have money, they seem to exploit that fact too often, ask any cyclist how much money you can end up parting with if you are not too savvy with your purchasing.
I admit I was not convinced at first, there are a few of these products out on the market with outrageous and bold gains to what they can do, however this product is different because was tested by a third party company, against about 100 other brands of grease in a controlled lab test, this was one of three products that they highly recommend, this is the only one of those three which are easily available to the keen amateur cyclist.
Below is the web page for you to read containing that data, say out loud to get the address
www dot sandsmachine dot com forward slash grease lowerscore t dot htm
When I got my item, i opened up the hubs for my wheels, cleaned out the grease currently used, replaced it with this product, put the hubs back together, put the wheels back on the bike.
Tip : This grease has very little in the way of stickiness to it, so putting your hubs back together will require some skill.
Note : you only need between 1ml to 2ml of grease per bearing, so one syringe should last for years!
However when I went out on the open road and got cycling, I could feel the difference straight away!
Note : I used my work bike which is weighed down with tools, spare parts, food, clothes, waterproof, instruments and suitable racking, it total weight is around 20kgs, it is a 14 speed low slung racer with a steel chassis, this is not an expensive bike!
On a straight piece of road with no wind, my pace at 155bpm was nearly 19mph, before using the product at the same heart rate my speed would have been around 17mph, a gain in nearly 2 miles per hour with no extra work load, to say I was impressed is an understatement.
Whilst coasting to a halt towards slowing traffic, you can feel the difference in the reduced rolling resistance.
Whilst going along at a controlled pace to conserve energy, I was always using an extra gear than i would typically use, previously when I was in high 4 gear, now I am in high 5 gear.
Whilst rolling down a hill I hit a new top speed, which also meant I accidently discovered the maximum stable speed of my bike, it vibrates after 31mph, a speed i was nowhere near hitting previously.
This product my seem expensive, but you only need 2ml to 4ml to do both wheels on your bike, so you will get between 5 to 10 uses out of one syringe, a few pound for such a performance improvement seems pretty cheap to me, beats buying carbon fibre!
highly recommended product for all road racing bike users.