A guide to buying the best bag for your laptop
We spend hundreds — sometimes thousands — of pounds on a laptop, yet all too often we look at the price tag on a good laptop bag and view it separately. It's far too expensive, a waste of money, we say as we slip our portable pride and joy into a spare cranny of an ordinary backpack and carry it gingerly off to work. A month or two later, it's scuffed and scratched if we're lucky — or more seriously damaged, if not. So a good carrying case is almost as vital to any laptop buyer as a power adapter, as David Bayon explains.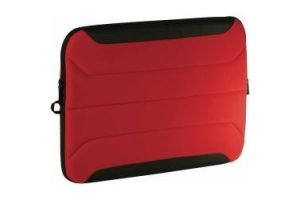 Targus Zamba Laptop Sleeve
eBay loves:
Cheap and very simple to use.
Watch out for:
Won't protect against the biggest knocks.
Price:
£10
A laptop sleeve needn't be expensive, and you can drop it into any normal bag, or pack it in a suitcase. It won't hold a laptop tight like a proper bag, but it's a useful stopgap option and
Targus
is a respected brand.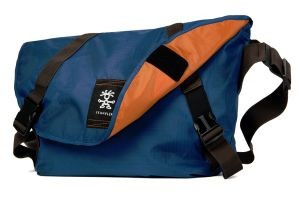 Add a caption
Crumpler Light Delight Messenger
Click to Edit caption
Crumpler Light Delight Messenger
eBay loves:
An effortlessly cool laptop bag brand.
Watch out for:
Keep the strap tight if you're cycling.
Price:
£59
We could have chosen any of
Crumpler's excellent shoulder bags
, but this cyclist's special is a great start. Built for 15-inch laptops, this waterproof messenger bag is full of adjustable pouches and straps, and holds a surprising amount of gear.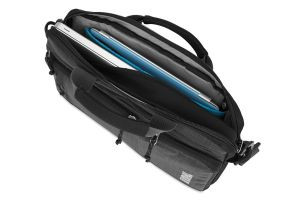 Thule Stravan Deluxe Attache
eBay loves:
Great for people with a laptop and tablet to carry.
Watch out for:
Make sure you buy the right size.
Price:
£70
Popular with MacBook owners, this
Thule Stravan
smart bag offers impressive protection. There's a thick water-resistant outer layer, and foam padding around the edges and corners for not just a MacBook, but also an iPad on top. You can unzip and access the latter pocket without opening the main case, too.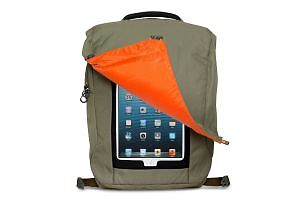 eBay loves:
A bag with a touchscreen tablet window.
Watch out for:
Prodding a bag isn't as much fun as the ads make out.
Price:
£80
It might not be the best all-round bag, but the
Pixel Port
has a special window beneath its main flap, through which you can control your tablet's touchscreen without having to expose it to the elements.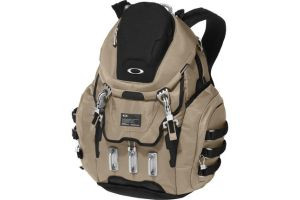 Oakley Kitchen Sink Backpack
eBay loves:
Pockets for everything an adventurer might carry.
Watch out for:
Slight overkill for the work commute.
Price:
£105
As the name suggests, this 30-litre pack features a 17-inch padded laptop sleeve along with loads of compartments, including a moulded pocket for sunglasses and one at the bottom with draining holes for wet clothes. With clips and ties all over the place, the
Oakley
is a real action backpack.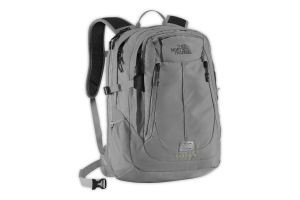 eBay loves:
The bag that charges your smartphone.
Watch out for:
The power pack is removable, so don't forget it.
Price:
£130
It doesn't look special from the outside, but the
North Face Surge II
hiking backpack has a built-in battery for charging your phone several times over when you're out and about. The pockets are designed so cables can be routed to any of them, and the whole thing is ruggedised and water-resistant.
What does a laptop bag do?
A laptop bag is not like a normal backpack or briefcase. A dedicated bag features an area that's meant solely for a laptop, separated from the rest of the contents and protected accordingly. We're not talking "I'll just wrap it in a jumper" protection, either. A proper laptop enclosure is an advanced cocoon for expensive hardware, designed to absorb the little knocks and take the brunt of any serious drops. It's a bit like a bike lock — the higher up the price scale you go, the more advanced the claims of protection tend to get. As you might expect, if you're spending a lot on the computer hardware, you'd be unwise to go for the cheapest bag you can find.

Some bags incorporate this protective cocoon into the design as just another compartment, making it a natural place to slide in a laptop. Others make the cocoon a self-contained component that can often be removed for use as a protective sleeve when you don't need the full bag. Either way, you'll want to keep sharp and potentially dangerous (at least to a laptop bumping against them) accessories in another area of the bag.

Aside from the laptop enclosure, what else a bag is designed for can vary hugely. Some are little more than a laptop cocoon and general compartment, similar to a normal backpack. Others are like a photojournalist's vest, with endless pockets and compartments for chargers, pens, phones, books and anything else you might want to carry.

What size do I need?

It can be tempting to buy a big bag, but bear in mind the protective part is generally scaled to fit a certain laptop size. While dropping your 11-inch laptop into a 15-inch cocoon might not seem a dangerous thing to do, it leaves the laptop with room to slide around inside. The protection works by holding everything tightly in place and absorbing any impact. If the laptop itself is moving around, it can't do its job properly. So try to buy a bag that's a close match for your laptop size.

What about bag types?

Laptop bags are an industry to themselves and, as well as simple backpacks, you can buy brightly coloured bags for teenagers, businesslike bags for busy executives, bags with straps across the body for cyclists and even compact wheeled cases for frequent travellers. Just make sure you get one that's adequately waterproofed, and consider carefully how and where you'll most often use it when deciding what kind suits your needs.