A gaming mouse buying guide
When it comes to getting an advantage in a PC game, the quality of your mouse is incredibly important. Whether it's accurately and quickly putting together a series of commands in a real-time strategy (RTS) game, or firing off a deadly headshot in a first-person shooter (FPS), getting the right mouse is vital. It's important to choose the features that work for the types of game you're using. David Ludlow, editor of Expert Reviews, is here to help you make the right decisions.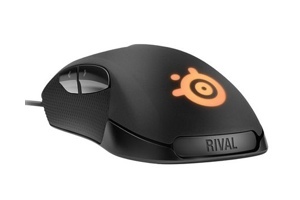 eBay loves:
Great price, very comfortable
Watch out for:
May not be enough buttons for some
Price:
£39
Who said gaming has to be expensive? With the
SteelSeries Rival
, you get pretty much everything you could want from a gaming mouse at a low price. It has a high-resolution of 6,500dpi, a sensitivity selector button and five buttons. With the software that lets you create profiles for each of your favourite games, this mouse does everything you could want.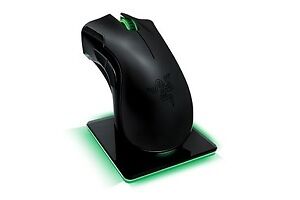 eBay loves:
Neat wireless design, very responsive
Watch out for:
Quite expensive
Price:
£100
Wireless gaming mice aren't that popular, but the
Razer Mamba 4G
might just change your mind. Its wireless has less than a one-millisecond delay, making it perfect for all types of games, while its charging cradle lets you keep it topped up easily. With a huge 8,200dpi sensor, dual side-buttons and three sensitivity levels, it's a great choice for all types of gamer.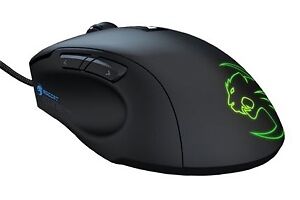 eBay loves:
Clean simple design, high DPI
Watch out for:
A little small
Price:
£60
The
Kone Pure
is a simplified version of Roccat's Kone gaming mouse, but that doesn't mean it's not a good choice gamers. Its rubberised finish makes it very comfortable to hold and the 8,200dpi sensitivity means it will suit even the fastest of players. It has four buttons and a scroll-wheel, but you can assign one of the buttons as an EasyShift button, effectively doubling the number of buttons available for setting actions and macros in software. It's a little small, but should be comfortable enough for most.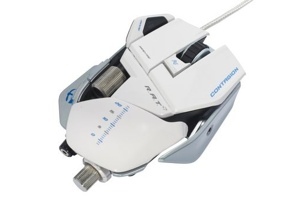 eBay loves:
Hugely customisable, great range of buttons
Watch out for:
Complicated to set up
Price:
£70
Looking like something the terminator might have designed, the
Mad Catz Cyborg R.A.T. 7
is the most customisable mouse that we've ever seen. Its collection of dials and wheels lets you customise the mouse's shape and size to your hand. Plus, there are multiple handgrips and weights in the box. Throw in enough buttons for up to 15 commands and macros, and you've got one of the best gaming mice available.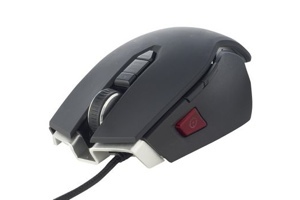 eBay loves:
Low price, sniper button
Watch out for:
A little basic for some
Price:
£60
The
Corsair Vengeance M60
is a simple, to-the-point gaming mouse. Its sensitivity of 5,700dpi is ample for all games, plus there's a sniper button that lowers the resolution for precision aiming. Two buttons let you adjust sensitivity, two side buttons give you extra controls and there are the usual buttons, too. With a metal frame, its build-quality is also excellent.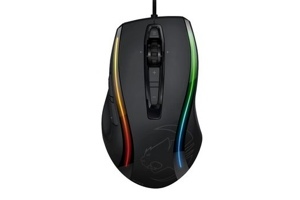 eBay loves:
Lots of buttons, highly sensitive
Watch out for:
Expensive for a wired mouse
Price:
£70
The
Roccat Kone XTD
has a huge 8,200dpi, which is more than most gamers will need. With eight buttons and an EasyShift button, which doubles the number of functions and macros available, you're set-up for any type of game. It's even good to see that the scroll wheel also tilts for an extra level of control. With removable weights and a comfortable right-handed design, it's a great choice for most people.
Mouse sensitivity is measured in terms of dots per inch (DPI) or counts per inch (CPI), although both terms measure the same thing and are interchangeable. In short, the higher the number, the more sensitive the mouse is — and the higher the sensitivity, the less you need to move the mouse less to make the pointer move. That means you can quickly zip a cursor across the screen in an RTS, or turn around more rapidly in an FPS.
Finding the right balance can be tricky, as a mouse with too high a resolution will make small on-screen movements difficult. For that reason, most gaming mice are adjustable, so you can set the sensitivity on the fly. Look for a mouse with a DPI (or CPI) of around 6,000, although expect to lower the sensitivity to suit how you play games.

Acceleration
Acceleration is a feature in some mice that detects how fast you're moving the mouse and adjusts the speed the cursor moves accordingly. For example, if you move the mouse 1cm in two seconds, the cursor may move 150 pixels on-screen, but make the same move in 0.5 seconds and the cursor would move 300 pixels.
It can be a tricky feature to get used to, but acceleration can be useful in FPS shooters for switching between shooting as you move around and sniping. Acceleration can usually be disabled using the software that came with your mouse.
Some also mice have an adjustable weight, so you can control how quickly you can move it. Used in combination with acceleration, you can get the jump on other players, giving you a real advantage.

Buttons
Although every mouse comes with the standard range of buttons (left-click, right-click, scroll), dedicated gaming mice have additional buttons located around the side. These can be used to control other in-game actions, such as throwing grenades. More sophisticated models also have 'macro' modes that let you programme the buttons to perform a sequence of actions in certain games.

Design
Make sure you get a mouse that suits if you're left-handed — many use a right-handed design. General comfort is an important thing and if a mouse looks strange in pictures, it's probably not very comfortable to use in real life.

Wired or wireless?
Most gaming mice are wired USB models, as these usually give the best response. Wireless mice sometimes have latency issues, where it takes a fraction of a second for the movement you make to be reflected on-screen — this can be the difference between life and death in online gaming. That said, some gaming mice use low-latency wireless connections to help prevent this.

If you go for a wired model, look for one that has a braided cable, as these don't tangle or bunch up like plastic-shielded cables.