A guide to buying surround sound amps
If you want the full home cinema experience, you really need to invest in a surround sound system along with a big-screen TV. Sadly, surround sound is often considered an unnecessary extravagance for most living rooms, but it's an essential part of many films and going without means you'll be missing out on enjoyment.

Fortunately, a wise investment now will see you enjoying surround sound for years to come. By watching films in your own home cinema, film fans will also save a fortune on expensive nights out at the local multiplex — which is one way to justify a purchase… So let Expert Reviews contributing editor Ian Morris talk you through what to look out for and recommend six of the best amps to buy.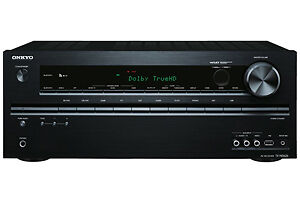 eBay loves:
Great features, lots of inputs and support for every audio format you'd ever want
Watch out for:
Onkyo receivers can take a while to sound their best
RRP:
£500
Onkyo offers a lot of bang for buck, and its surround sound amplifiers are always solidly built and reliable. They also sound amazing. The
Onkyo TX-NR626
supports Ultra HD 4K video pass-through and upscaling, and can play internet radio and Spotify. It also has built in Bluetooth and Wi-Fi for connecting to smartphones and home wireless networks. There are six HDMI inputs and two outputs, which are useful for sending video to another room with some suitable cables.
eBay loves:
Slim design, great steaming support, Ultra HD video support
Watch out for:
Lack of analogue video inputs will thwart some devices
RRP:
£400
Pioneer doesn't make TVs anymore, but it has stuck with audio products. This is a good thing, because when it comes to audio, few companies understand it as well as Pioneer. The
VSX-S510-K
is particularly appealing because it has a slim profile and is around half as high as some of the other amplifiers recommended here.
It has five HDMI inputs and one output, plus optical and coaxial inputs for other digital sources. There are no analogue inputs, but that's really only a problem for older home entertainment equipment that you might want to connect. The amp is Ultra HD 4K video-ready, too, and has Spotify streaming. This one is one to consider carefully.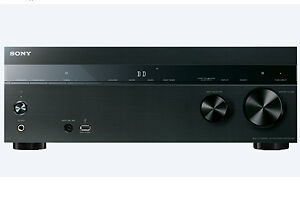 eBay loves:
Stylish, support for all HD codecs, good range of inputs
Watch out for:
Not many extra features
RRP:
£350
Sony used to charge a premium for its surround sound systems, but tough times and competition from Onkyo has meant that it is now more realistic with its prices. That means the cracking
STR-DH750
is just £350 and it's beautifully designed, with solid styling that will look great in your living room.
In terms of extra features, though, it's the weakest here. It also has the fewest inputs, with just four HDMI, three digital audio (two optical, one coaxial) and a pair of standard-definition video jacks. This should be more than enough for most people, though, and you do get Sony's high attention to detail and sound quality.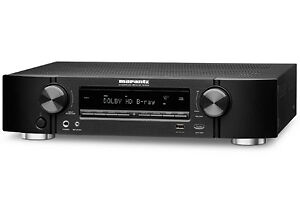 eBay loves:
Great inputs, small and stylish, full HD codec support
Watch out for:
No Napster or Spotify support
RRP:
£750
The
Marantz NR1603
is another slimline amp that won't take up much space in your living room. Despite its compact size, there's little compromise in terms of inputs. It has five for HDMI, two for component video (for analogue HD video) and three for composite video. There are also coaxial and optical digital inputs for those other hardware like games consoles.
There's no Spotify support, but you do get DLNA streaming and support for Apple Airplay. Codec support is also good, with FLAC for music, and Dolby TrueHD and DTS-HD MA for video. It might cost a little bit more, but the NR1603 will appeal to those who like listening to music as much as watching films.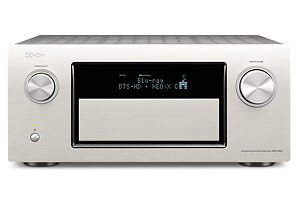 eBay loves:
Every connection you will ever need, peerless sound quality, stylish
Watch out for:
Costly
RRP:
£1,150
The
Denon AVR-4520
is the most expensive amplifier here, but with good reason — it's the one to buy if you want the best sound for movies. Six HDMI inputs mean you can connect pretty much everything you need, plus there are up to three component video inputs, one composite video input and you can also opt to bypass the built-in amp and sent line-level signals to a separate box. There are also two coaxial digital inputs and two optical inputs to finish things off.
There's Ultra HD 4K video upscaling, too, even on the analogue inputs, and every imaginable codec and standard is supported. There's also an iPhone app to control it all and you can stream lossless music via DLNA.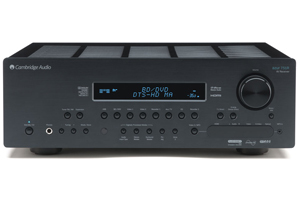 Cambridge Audio Azur 751R
eBay loves:
Sound quality, huge number of inputs, good HD codec support
Watch out for:
No Ultra HD 4K video support, despite the high price
RRP:
£900
The
Azur 751R
looks like a bit of a beast and is probably the least attractive of all the amps here, but none of that matters — the back is laid-out to perfection. There are a lot of inputs, such as five for HDMI, and five each for coaxial and optical. There's a real emphasis on sound quality for music, too, which is something that can sometimes be neglected in home cinema systems.
Sound formats
Any modern AV amplifier will support the main surround sound formats — Dolby Digital and DTS for DVD movies, and Dolby TrueHD and DTS HD for Blu-ray.

Audio channels
Surround sound usually means five speakers (three in front, two behind) and a subwoofer (the '0.1'), and this six-channel audio requires six speaker connections on a home cinema amp. Some amps also support 7.1 surround sound if you have room for four rear speakers, while amps with Dolby Pro Logic IIz support allow two more speakers that sit above you for a truly immersive listening experience. No matter how many speakers an amp supports, though, you can always stick with a 5.1 (or even a 2.1 or 2.0) speaker set-up until you want to add more.

Inputs and outputs
The back of a surround sound amp will make any non-techie a bit nervous. Most have a massive number of sockets and, while these are usually clearly labelled, figuring out what cable to plug in where can be a daunting task.

All surround sound amplifiers have a number of HDMI sockets for connecting video sources, such as a Sky box, DVD or Blu-ray player, games console and so on. These devices usually connect directly to a TV, but a surround cinema amp sits in between and connects to the TV with a single HDMI cable instead.

HDMI sockets carry both video and audio, but since not all video sources support this, surround sound amps also have separate digital audio inputs in the form of coaxial or optical sockets. Most amps also have a selection of legacy sockets for devices like turntables and CD players, so be sure to check if you have specific equipment that you want to connect. And, of course, a surround sound amp will also have outputs for speakers — lots of them.

Some surround sound amplifiers also have some streaming support. This is usually only for audio via services such as Spotify and Apple Airplay, but it needs a wired or wireless home network to work.

HDMI, 4K and 3D
Most surround sound amplifiers will pass 3D video from a source to the TV and some also handle next-generation Ultra HD 4K video. If you have an Ultra HD TV but no Ultra HD material to watch, consider an amp with 4K upscaling, too — it will do a convincing job of converting Full HD video to Ultra HD, although your Ultra HD TV may have this feature built-in.