What are the best smartphones on the market
There hasn't been a quiet year in the phone market for a very long time. Since Apple announced the iPhone every other company has started to run to the same 12-monthly cycle. That's great for those of us who love phones, and want to buy the latest and greatest - it makes the market very dynamic and exciting.

It also makes some aspects of it quite predictable. We know, for example, with some degree of certainty that there will be a new iPhone this year. We have the new Samsung Galaxy S5 and there are strong rumours that there will be an LG G3, to take over from the amazing G2 that launched last year. Other guesses are a bit more abstract, for example, we can assume there will be another Google Nexus, perhaps by LG, or perhaps another company.

In this guide, Expert Reviews contributing editor Ian Morris takes a look at the phones we know are coming, along with the handsets we expect to see as the year goes on.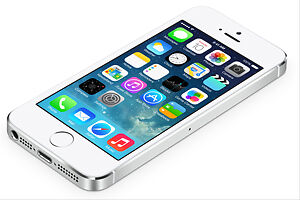 eBay loves:
Fingerprint scanner is perfect, phone is a great size, superbly built
Watch out for:
Costs a lot and lacks the ability to be customised
RRP:
£549
Since Apple first launched the iPhone, it has been clear that it understands phones perfectly. Despite some hefty criticism at times, it has stuck to its guns and has continued to create amazing phones that people aspire to own. The
iPhone 5S
was perhaps not the most exciting evolution, but it still added some great features. The fingerprint scanner is one of those, and while not a new idea the implementation Apple has used is perfect. Compare Apple's scanner to the version in the SGS5, and you'll see how well designed it is.
Aside from that, the latest iOS 7 looks great too, it has taken the whole look of the iPhone and simplified it, removing a lot of the gimmicks and creating a more modern looking interface. While some don't like it, we think it will change how everyone else designs phones from now on.
The hardware and operating system are just one part though. Apple's success comes also thanks to its amazing video, music and app libraries. The iTunes store has pretty much everything you'd ever want, and it continues to make the iPhone an attractive proposition.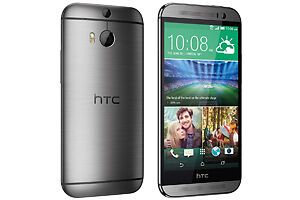 eBay loves:
Beautifully-built hardware and lovely interface design
Watch out for:
Camera quality can be variable
RRP:
£550
The all-new
HTC One M8
is very impressive. Some think HTC has managed to step its game up, and give Samsung a run for its money. Certainly, the new One was announced and sold as Samsung was just telling the world about the Galaxy S5.
The One M8 is one of the most compelling handsets we've seen. It sports a beautiful design, amazing construction and loads of power. It also has an innovative camera that does things differently to other phones, allowing you to re-focus images after they have been taken. It's got enough power to run anything you need it to, and it feels slick and powerful to use.
We also really like some of the accessories, our favourite being the incredibly clever "Dot View" case, which allows the phone to keep you updated on weather, messages and calls through a simple plastic cover. Such things aren't new, but HTC's way of doing it has a lot more style than most cases we've used.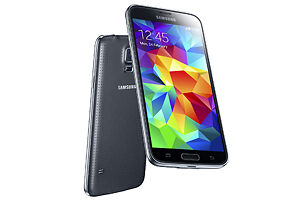 eBay loves:
Waterproof, amazing screen and clever features like heart-rate monitor
Watch out for:
Fingerprint scanner isn't as good as Apple's
RRP:
£560
The
Galaxy S5
is one of the most-hyped handsets of the year, and rightly so. It packs in loads of features like a heart-rate monitor, a stunning OLED screen and a fingerprint scanner. We particularly like the fact that the S5's scanner can be used to authorise payments too – that functionality could be a big deal in the future.
It is not a massive leap forward from the S4 though. There is, for example, no quad-HD screen on this phone, something that's expected on some devices that will launch later on this year. That said, Samsung has improved some important things, the battery life is better and there's a new emergency power mode that claims 24 hours of battery life on just 10 per cent battery charge. Samsung has also redesigned the look of the UI for the new phone, and we have to say we're impressed.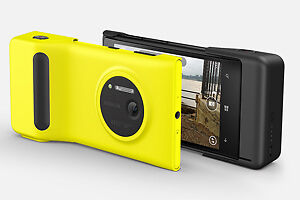 eBay loves:
Amazing design, stunning camera, well-rounded operating system
Watch out for:
Apps aren't as numerous as other platforms, and can be expensive
RRP:
£520
If there was ever a handset to sell Windows Phone on, then it has to be the
Lumia 1020
. It's a big handset, but as with most Nokia phones it's designed to perfection. The plastic used in its construction is incredibly tactile, and the big screen is very vibrant.
Nokia's services remain valuable too. Nokia Music is a great way to access free music and it's brilliantly designed. There are also solid navigation apps for both walking, and driving, and the "Black" update brought some changes that are very welcome indeed. You can now beam your phone screen to a desktop computer, there's a new camera app too that improves the usability of the phone.
While Windows Phone doesn't have the same number of apps as Android or iOS, we honestly don't think it matters that much anymore. Gamers will probably want to avoid it, because the selection isn't as good as the other platforms, but for the most part everything you need is available or just built-in to the OS itself.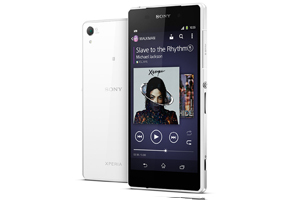 eBay loves:
Amazing build quality, fantastic camera and waterproof too
Watch out for:
Fairly big and heavy, so it won't suit every pocket
RRP:
£560
Following on from the excellent Z1, the
Sony Xperia Z2
adds a load of useful features. It's been given a slight speed boost and more memory to keep things speedy and along with that comes the ability to record 4K video too, something that Sony is no doubt interested in as it rolls out more 4K TVs. There is also a 720p video mode that can shoot at 120 frames per second, which will give you amazing slow-motion video.
The cunning waterproofing remains too, so the phone can be dropped in water and survive. This might not be a feature you use a lot, but on the one occasion you do, you'll be very pleased to have it. Perhaps the only slight disappointment is that in terms of power, the Z2 is not a massive upgrade over the Z1. Still, it's a powerful phone and will be more than enough for most users.
It's a big handset, but one that is a return to form for Sony. It does suffer a little from Sony's desire to have you use its apps for music and video, but this is all optional and you can continue to make use of Google's services, if you've already spent money on music and video from the Play Store.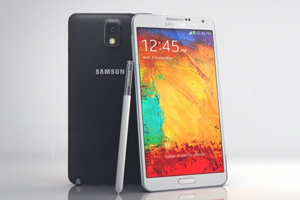 eBay loves:
Screen is amazing, good battery life, S Pen is a genuine asset
Watch out for:
It's simply too big for some people
RRP:
£430
The
Note 3
is a big phone, but it's also incredibly well designed and absolutely perfect for the power user. No other company has got the large phone format quite so spot-on as Samsung. What makes the Note 3 so good is the enormous power it offers. It feels smooth and responsive and has enough grunt to run even the most complicated games and shoot 4K video. And on that note, the camera is very good for still shots too.
The S Pen is also far more useful than you'd ever think. For making notes in meetings, to writing to-do lists, it really is a great idea. We love the ability to take the pen out, scribble down a phone number and have it automatically save into a new contact. And the handwriting recognition is brilliant too, the accuracy surprises everyone we show it to.
The large size means that you get a capacious battery too - normal users might see a couple of days' use, while those who use their phone a lot more will still get through a whole day. The Note 3 isn't just the best large phone there is, as far as we're concerned, it's one of the best phones on the market.
| | Apple iPhone 5S | HTC One M8 | Samsung Galaxy S5 | Nokia Lumia 1020 | Sony Xperia Z2 | Samsung Galaxy Note 3 |
| --- | --- | --- | --- | --- | --- | --- |
| Screen size | 4-inches | 5-inches | 5.1-inches | 4.5-inches | 5.2-inches | 5.7-inches |
| Screen resolution | 640 x 1136 | 1080 x 1920 | 1080 x 1920 | 768 x 1280 | 1080 x 1920 | 1080 x 1920 |
| Processor | Dual-core 1.3GHz | Quad core 2.3GHz | Quad-core 2.5GHz | Dual-core 1.5GHz | Quad-core 2.3GHz | Quad-core 2.3GHz |
| RAM | 1GB | 2GB | 2GB | 2GB | 3GB | 3GB |
| Storage | 16/32/64 | 16/32 | 16/32 | 32/64 | 16 | 16/32/64 |
| Rear camera | 8MP | Dual 4MP | 16MP | 41MP | 20.7MP | 13MP |
| Front camera | 1.2MP | 5MP | 2MP | 1.2MP | 2.2MP | 2MP |
| Battery capacity | 1560mAh | 2600mAh | 2800mAh | 2000mAh | 3200mAh | 3200mAh |
| Weight | 112g | 160g | 145g | 158g | 163g | 168g |
| RRP | £549 | £550 | £560 | £520 | £560 | £430 |