A guide to 6 of the best soundbars to buy
Let's speak frankly for a moment here — you're neglecting your home cinema's sound. The problem here is that most modern TVs are so slim that there's not enough room for a good pair of built-in speakers. So most TVs come out of the box and sound fine for Eastenders, but come Blu-ray movie night and you can barely hear what anyone is saying.
In this guide, Expert Reviews contributing editor Ian Morris looks at what can you do about sound without having speakers hanging from every wall. We're going to visit the world of the soundbar and find out how a compact package can transform the entertainment experience.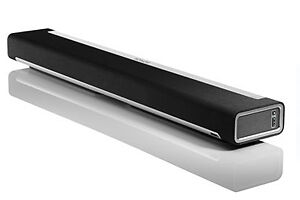 eBay loves:
Works with your Sonos system, sounds amazing, looks great
Watch out for:
No DTS support
RRP:
£600
The
Sonos Playbar
is designed to be nice and simple, but also expanded as you see fit. The biggest problem with it is that when you build a 5.1 system around it, it gets very expensive. You might like to consider adding the subwoofer, though, which costs a further £600.
Because it's supposed to be simple, the only input is an optical connection. The idea is that you connect it to your TV to replace the built-in speakers and handle sounds from any source. That might make it a little inflexible for some, but it means it's a breeze to set up. It's also important to note that the Playbar doesn't support DTS soundtracks.
You can add optional speakers for surround effects, too, but the general idea is about clarity and simplicity — something the Playbar manages with little hassle.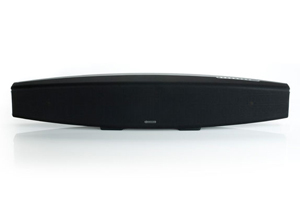 eBay loves:
Sounds stunning, loads of inputs, great for music and movies
Watch out for:
Very expensive
RRP:
£1,000
The
Monitor Audio ASB2
is the most expensive soundbar we're looking at, but one worth considering. The aim of the ASB2 is to provide amazing TV sound, while ensuring that there is no compromise in music quality. We can tell you this has worked, because this speaker sounds amazing. There's loads of detail and bass — it's got the mix just right.
There are three HDMI inputs and one output that goes to your TV. There are also optical and digital coaxial inputs for games consoles, older DVD players and Sky boxes. There's an output to a subwoofer, too, but we honestly don't think you'll need to add one — the system sounds amazing on its own.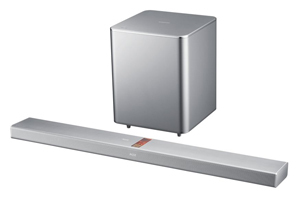 eBay loves:
stylish, powerful sound, good audio format support
Watch out for:
Cramped rear sockets
RRP:
£400
The
Samsung HW-F751
has a unique approach to producing a warm, rich sound — it uses valve amplifiers. While they seem a little quaint these days, audiophiles like them because they apparently sound less harsh than modern amplifiers.
That aside, the style of the HW-F751 is brilliant. A sleek soundbar that looks like it's made from premium materials, it will match most TV designs. It comes with a separate subwoofer, too, which will give you more bass for action movies. It has one HDMI input, one output and an optical connection. There's Bluetooth support, too, and you can use USB memory sticks to play music.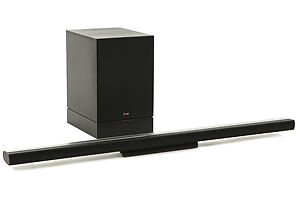 eBay loves:
Great value, decent inputs, Bluetooth included
Watch out for:
Not the best sound quality of all the systems here
RRP:
£230
Another two-box model, the
LG NB4530A
comprises a soundbar that goes near your TV and a subwoofer to place on the floor nearby. This will give you a great sound range and keep dialogue crystal-clear, without compromising explosions and other low-frequency effects.
It looks great, too, and the connectivity options are reasonable. You get one HDMI input and one output, along with one optical input — enough for a games console and a Sky box. There's also Bluetooth for listening to music from a smartphone or tablet.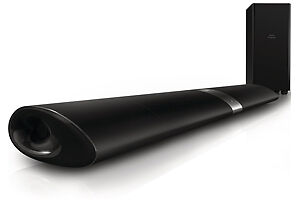 eBay loves:
Good connectivity, superb sound quality
Watch out for:
It's quite big
RRP:
£600
The
Philips Fidelio HTL9100
supports HDMI ARC, which means you can use one HDMI lead to connect it to your TV and it will amplify everything connected to it. The soundbar is stylish to look at and a wireless subwoofer means it sounds great, too.
There are two extra HDMI inputs, one optical and one coaxial digital input. The Philips Fidelio HTL9100 also has Bluetooth for smartphone connections, and both Dolby Digital and DTS sound are supported. The other cunning trick is that you can detach two speakers from the 9100 and place them behind you for genuine surround sound. They're rechargeable, too, so there's no need to plug them into the mains. Together with the subwoofer, that makes this a really flexible solution with a sensible price tag.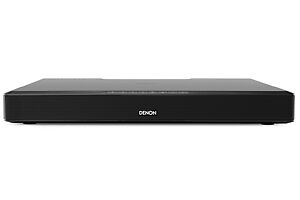 eBay loves:
Sensible price, perfect for smaller TVs, sounds good
Watch out for:
Won't be ideal for larger TVs
RRP:
£250
Technically, the Denon isn't a soundbar — it's designed to have a smaller TV stand on top of it. It sounds amazing and will improve the quality of your sound experience a great deal.
There are a pair of digital inputs, one optical and one coaxial. There's no HDMI, but this is more of an entry-level machine, so that's not a surprise. The
Denon T100
can also accept audio via Bluetooth (handy for smartphone owners) and there's a 3.5mm input — useful if your TV doesn't have a digital output, only a headphone socket.
Inputs
Inputs will be divided into three types. Modern hardware uses HDMI mostly, so you should see a couple of those on your soundbar. Older stuff often uses optical or coaxial inputs. These are also useful for Sky and Virgin boxes, which output surround sound only via these connections.

With HDMI, it's worth checking if it supports ARC — or Audio Return Channel. This means a soundbar can simply replace your TV's speakers with a single cable connection and you can leave your other devices connected to your TV.
You need to check that there are enough inputs for your equipment, too. If you have two games consoles, a Sky box, Blu-ray player and media streamer of some kind, then you're probably going to find most systems don't have enough inputs. That said, if you are simply connecting the bar to your TVs digital output, you'll only need one input on the soundbar. Sonos uses this way of doing things to keep its product simple.

Wall mountable?
If your TV is wall-mounted, you might want to make sure that you can wall-mount your soundbar too. Most can be wall mounted, but some might require and extra bracket. Speaker bases, like the Denon, can't be wall mounted.

External subwoofer or the option to add more speakers?
A soundbar will improve the quality of your home entertainment no end. That said, if you want a much more impressive system, consider either buying a soundbar with a subwoofer included, or one with the option to add one. This will give you more range and, if you're an action movie fan, a much more cinematic experience. A subwoofer will also help the audibility of dialogue by moving low frequencies away from the soundbar and into a separate bass speaker.
Soundbars like the Sonos, for example, allow you to add wireless surround-sound speakers, too. This upgrades your system to being roughly comparable with a 5.1 set-up. It's a nice idea, but it adds cost. If you want a surround sound system, you'd probably be better served just buying one from the start.

Surround sound formats
There are a couple of different formats for surround sound. A good soundbar needs to support both DTS and Dolby Digital. Most won't support the newer, lossless codecs from Blu-ray like DTS HD MA and Dolby TrueHD, but that's less of a problem as Blu-rays also have a Dolby Digital or standard DTS soundtrack.


Sonos Playbar
Monitor
Audio ASB2
Samsung
HW-F751 Soundbar
LG NB4530A
Philips
Fidelio HTL9100
Denon
DHT-T100
HDMI (number)
No
Yes (3)
Yes (1)
Yes (1)
Yes (2)
No
Optical in (number)
Yes (1)

Yes (1)

Yes (1)

Yes (1)

Yes (1)

Yes (1)

Coaxial in (number)
No

Yes (1)

No

No

Yes (1)

Yes (1)

DTS
No
Yes

Yes

Yes

Yes

No
Dolby Digital
Yes

Yes

Yes

Yes

Yes

Yes

External sub
Yes (optional)

Yes (optional)

Yes

Yes

Yes

No
Price
£600

£1,000

£400
£230
£600
£250