Sports watch buyer's guide
Tracking your exercise has never been easier, thanks to all sorts of innovations from simple activity monitors to high-end smartphones with thousands of apps. They're all fine for casual fitness, but if you're a serious athlete it still makes most sense to buy a dedicated sports watch. David Bayon, Contributing Editor at PC Pro, runs through the features to look for and rounds up six of the best to buy.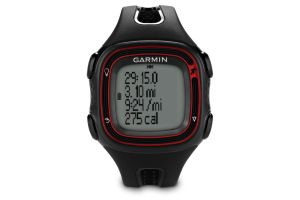 eBay loves:
Affordable and very simple to use.
Watch out for:
You won't find any advanced features.
RRP:
£80
It's one of the best selling sports watches for two reasons: price and simplicity. It tracks the basics – distance, time, pace and calories – and displays them on an LCD screen, and can compare them with your personal records for extra motivation. If you just want to get out there and run, the
Garmin
is a great beginner's choice.
eBay loves:
Good software and an optional sensor for treadmills.
Watch out for:
A bit limited in its customisation options.
RRP:
£129
A bit further up the scale sits
Nike's offering
, and it's a more stylish and useful companion than the Garmin Forerunner 10. It has a clear screen and a simple interface, you can buy an optional £20 sensor to easily track pace and distance on a treadmill or in areas of weak GPS coverage, making it a versatile running choice.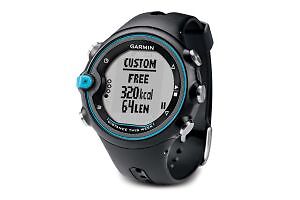 eBay loves:
A full swimming coach on your wrist.
Watch out for:
Remember to tell it the size of the pool before you dive in.
RRP:
£120
This
sleek sports watch
is water-resistant down to 50m, and comes with tracking features specially designed for swimmers: choose your stroke and track your stroke count, perform intervals and drills, and tap the pause button whenever you need to catch your breath. Plus, you might expect it to be a sealed unit, but the battery is easily replaceable.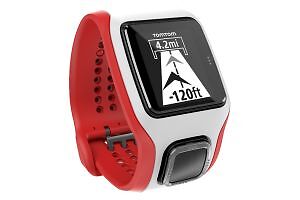 eBay loves:
Track your running, cycling and swimming with one watch.
Watch out for:
The MySports website isn't great – use MapMyFitness instead.
RRP:
£200
A watch that's perfect for budding triathletes, the
TomTom Multi-Sport
is capable of tracking running, cycling and swimming sessions. For running, it tracks location and elevation, for cycling you can add an optional cadence/speed sensor so you can see how fast you're pedalling, and for swimming it's similar in features to the Garmin Swim. There's a lot to fit onto the touch interface, and it can be more confusing than standalone devices, but it's a great all-rounder.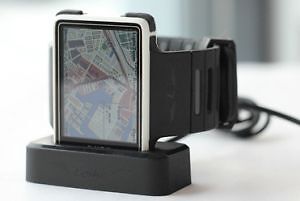 eBay loves:
A fantastic colour screen for information or maps.
Watch out for:
Not the smallest or subtlest device to wear.
RRP:
£257
The prize for craziest design definitely goes to
Leikr
, as this sports watch has a large colour screen that can show maps from OpenStreetMap, routes from Endomondo and a huge range of time and pace information. It has Wi-Fi and cloud integration too, and there's plenty here to justify the high price.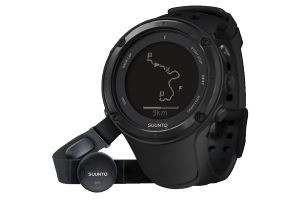 eBay loves:
The watch that does it all – and with some style.
Watch out for:
You need to be serious about running to spend this much.
RRP:
£410
The sleek and stylish
Suunto Ambit2
will cost you the arm you're putting it on, but you get a lot for that money: it can measure heart rate, altitude and weather conditions, and the rugged design will withstand any kind of assault course. You can also download apps for all kinds of sport-specific features and activities.
The simplest reason to choose a watch over an app on your smartphone is size. While there are some very good armbands available, strapping a phone onto your upper arm immediately takes the screen out of commission, and it's unwieldy compared to the simplicity of a watch. Instead of getting instructions at intervals through your headphones, as you do on a smartphone, you can see all the information you need at a glance at any time – and these little displays can pack in more than you might expect.

Most sports watches track your position via GPS, giving you distance and speed data, and the higher up the price scale you go the more likely you are to get an altimeter to measure elevation, a heart rate monitor, the ability to set and measure waypoints and laps, and even to set yourself goals and challenges. The top watches are like a runner's dashboard, with a target minimum and maximum pace, full colour maps to check your route, the ability to track cycling as well as running, and even an option to set meal reminders if you need to stick to a routine.

Stay connected

Then of course there's the digital side of things, as the data is much more useful when you shift it from your wrist to your PC or Mac. You'll need to decide whether a Wi-Fi connection is worth paying extra for, or if plugging in a USB cable is fine given how often you'll need to do it. As well as analysing your data, many manufacturers provide a hub for downloading and customising workouts on the big screen before you head out, and the obligatory social features make it easy to compare your progress with friends.

Watch the weather

This being the UK, the sports watch is just another element of your workout gear that needs to be ready to brace the elements. A good leather or washable strap is essential, while water-resistance varies from splashproofing right up to watches that can dive with you down to 50m or more – yes, you can even get watches that track you as you swim.