If you've read our
TV buyer's guide
, you're ready to lay down some hard cash, but there are so many options to consider it can be a daunting prospect. To help you out, we've rounded up some top-quality TVs in 3 price categories for you to use as a starting point.
Under £500
At this low price point you're looking mainly at 32-inch full-price TVs, although if you look around you'll also find some 40-inch and 42-inch models that have been discounted from their recommended retail price. Even at this price you should expect Freeview HD and Wi-Fi as standard. The big differentiator is picture quality, and that can be hard to judge without seeing it outside a shop environment. Try these under £500 TVs for size and check out our
product summary
, go large with
TVs for under £800
, or extra large with
TVs for under £1200
.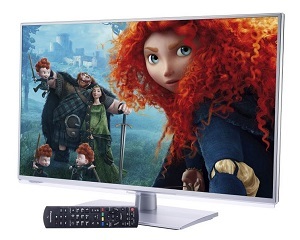 eBay loves: excellent colours and contrast.
Watch out for: not the best at upscaling SD content.
RRP: £369
It might be tempting to squeeze a 40-inch screen out of your budget, but it can really pay off to aim a bit smaller. This 32-inch LED-backlit TV delivers a stunning Full HD picture, a Freeview HD tuner, and built-in Wi-Fi for Panasonic's Smart TV features, all for a very attractive price.
---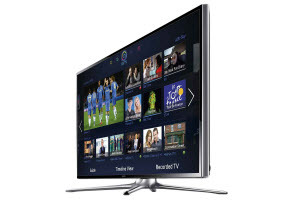 eBay loves: Smart TV and catch-up features.
Watch out for: white levels could be a bit higher for the price.
RRP: £400
This 32-inch LED-backlit screen has a fine Full HD panel that upscales well and even crams in 3D capabilities – although the glasses are a separate purchase.
---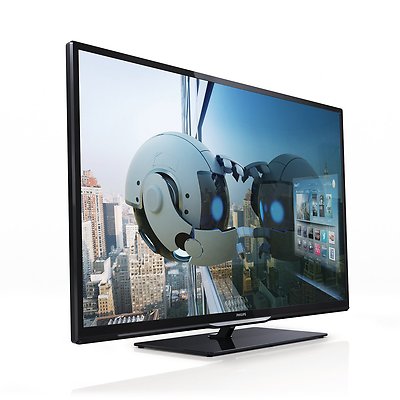 eBay loves: one of the highest-quality 32-inch screens you'll see.
Watch out for: it's expensive for its size.
RRP: £480
At close to £500 this is on the pricey side for a 32-inch Full HD TV, but it has the kind of panel you simply won't find for less. Superb with both HD and particularly upscaled SD content, it has a friendly interface and all the built-in features you'd expect.
---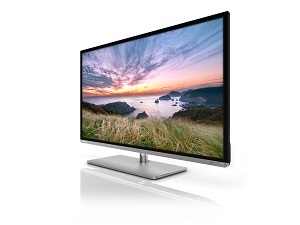 eBay loves: a great choice for linking with smartphones and tablets.
Watch out for: the interface can be sluggish at times.
RRP: £450
Built-in Wi-Fi and smartphone streaming are good features to see on a budget 32-inch screen, and the Full HD panel is very good with HD content. The Smart TV features include plenty of catch-up and content apps, and you can even use your smartphone as a remote.
---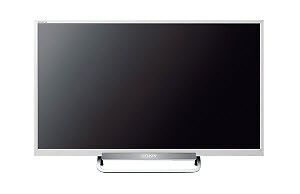 eBay loves: beautiful design and a great all-round picture.
Watch out for: two HDMI inputs is a bit mean at this level.
RRP: £360
Sony's TVs are always well designed and this one is no exception, with its stylish metal stand and thin bezel. A 32-inch Full HD screen produces a good picture from the Freeview HD tuner, and Sony's Entertainment Network smart features are very strong.

---

Under £500 Product Summary
Panasonic
TXL32E6B
Samsung
UE32F6400
Philips
32PFL4258T
Toshiba
32L6353
Sony
KDL32W653A
Screen
32-inch
1,920 x 1,080 LED
32-inch
1,920 x 1,080 LED
32-inch
1,920 x 1,080 LED
32-inch
1,920 x 1,080 LED
32-inch
1,920 x 1,080 LED
HDMI
3
3
3
4
2
3D
No
3D Active
(0 pairs)
No
No
No
Price
£369
£400
£480
£450
£360
Summary
Packs in those features
Excellent screen - and add 3D
Top-of-the-range image quality
Streaming great for smartphone users.
Beautiful design and great picture.
---
Under £800 TVs
As we go up the price scale, the size increases quickly, and you'll find everything from 40-inch models to 50-inch and above. The bezels get thinner, the stands get more stylish, and you'll start to see more added extras such as motion control remotes. Don't just look at the screen size, as going a bit smaller can mean getting more elsewhere for your money. Check out our under £800 product summary.

Philips 42PFL5008T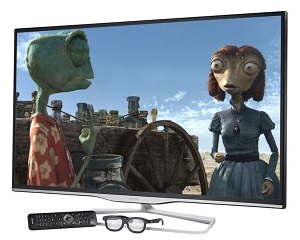 eBay loves: Ambilight makes for much more immersive viewing.
Watch out for: lacks some of the bigger on-demand names.
RRP: £650
A relatively affordable 42-inch Full HD LCD TV, this comes with Philips' lovely Ambilight feature, which uses lights down the left and right edges to match the colour of the wall to what's on the screen. Its Smart TV features are lacking, but the picture quality more than makes up for that.
---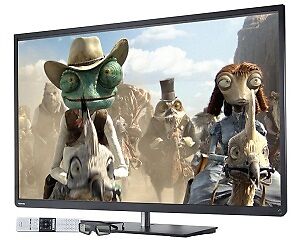 eBay loves: you won't find many better 50-inch screens at this price.
Watch out for: you'll get better picture quality from a cheaper 42-inch.
RRP: £530
Surely you can overlook a lack of features and a chunky bezel if it gets you a 50-inch Full HD TV for a shade over £500? This Toshiba does have Wi-Fi and Smart TV, and decent image and sound quality, but it's that price that makes it hard to resist.
---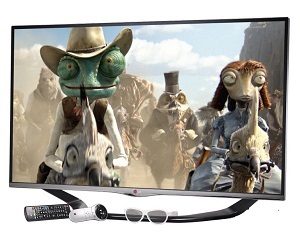 eBay loves: LG's Smart TV content is excellent here.
Watch out for: upscaled SD content can be a bit hit and miss.
RRP: £650
It's nice to see the ultrathin bezels of dearer screens filtering down the price scale, and this 42-inch TV is lovely to look at. Connect the Wi-Fi to your router and you'll appreciate one of the best Smart TV systems out there, and the motion-controlled Magic remote is a neat novelty too. Great value.
---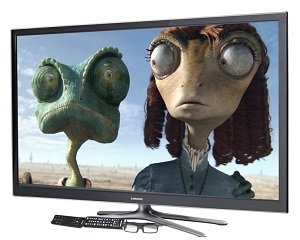 eBay loves: very good 3D performance, with two bundled pairs of active glasses.
Watch out for: the flaky voice control feature is best avoided.
RRP: £700
A 51-inch plasma TV with Wi-Fi and Freeview HD, active 3D, the best Smart TV system on the market right now, amazingly deep black levels and fantastic detail in HD. Its upscaling isn't perfect, and it has a thick, plasticky bezel, but the price compensates.
---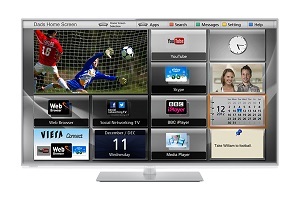 eBay loves: superb black levels and contrast.
Watch out for: lack of 3D is disappointing.
RRP: £700
An solid 50-inch Full HD panel that does everything you'd expect apart from 3D. Built-in Wi-Fi makes Panasonic's Smart TV features easy to access, there's a Freeview HD tuner, and you can use the free Viera Remote app on your smartphone or tablet.

---
Philips
42PFL5008T
Toshiba 50L4353DB
LG
42LA690V
Samsung
PS51F5500
Panasonic
TX-L50E6B
Screen
42-inch
1,920x1,080 LED
50-inch
1,920x1,080 LED
42-inch
1,920x1,080 LED
51-inch
1,920x1,080 LED
50-inch
1,920x1,080 LED
HDMI
3
4
3
3
3
3D
Passive
(2 pairs)
No
3D Passive
(6 pairs)
3D Active
(2 pairs)
No
Price
£650
£530
£650
£700
£700
Summary
Ambilight makes for immersive viewing
Trades features for a huge screen
The 3D family choice
Great value for a big 3D screen
Solid all-rounder but no 3D
---
Under £1200 TVs
Finally, going to a grand and above doesn't always mean huge screens. You can find plenty of normal living room-sized screens with truly stunning Full HD panels – and some of the choices below use plasma technology for incredible contrast and black levels. Check out our under £1200 product summary.

---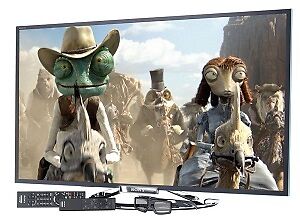 eBay loves: stunning picture quality that runs the best plasma screens close.
Watch out for: it's very expensive for a 40-inch TV.
RRP: £999
Sony's first TV to use its LED Triluminos colour system is a real thing of beauty. As you'd expect, the Full HD 40-inch panel is vibrant and sharp, with superb black levels, and you get four pairs of active 3D glasses in the box.
---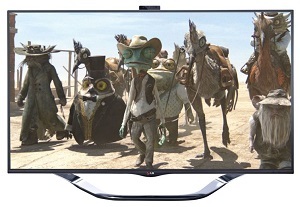 eBay loves: a reasonable price and strong picture quality.
Watch out for: could do with a better catch-up TV selection.
RRP: £900
This is a 47-inch Full HD screen with four HDMI ports, passive 3D glasses and built-in Freeview HD and Wi-Fi. You get an LG Magic Wand remote, and the picture produced by that panel is excellent with HD sources. The Smart TV features are a bit thin on the ground, but that's a small trade-off.
---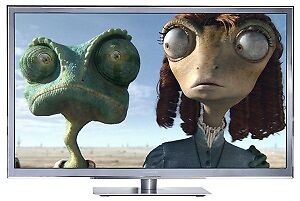 eBay loves: a staggeringly good 42-inch plasma panel.
Watch out for: the touch pen is a bizarrely pointless inclusion.
RRP: £999
Plasma TVs are harder to find these days, but those that do exist show the technology can still produce picture quality that puts LCD to shame. This Panasonic is a Full HD 42-inch TV that includes integrated Wi-Fi, Freeview HD and Freesat HD, along with 3D glasses and an excellent Smart TV system that lets you use a smart-phone as a mic for voice control. And the picture is breathtaking.
---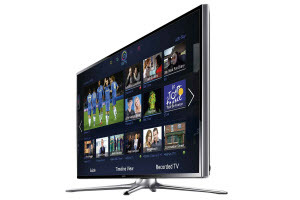 eBay loves: a gorgeous silver stand and easily upgradable electronics.
Watch out for: the price is the only real negative on this excellent TV.
RRP: £1099
A neat design and thin bezel make for an attractive 40-inch LED TV, which includes a pop-out camera at the top of the screen. There's a slot for a Smart Evolution kit, for upgrading the picture performance in the future, not that you need to right now: it's stunning.
---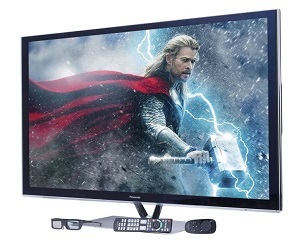 eBay loves: a stunning plasma panel on all levels, from upscaled SD to full 3D.
Watch out for: Smart TV selection could do with a boost.
RRP: £1200
Right at the top of our budget comes this fantastic 50-inch plasma TV with the best picture quality of all the models here. Blacks are perfect, contrast is incredible, and upscaling is very well handled. With Wi-Fi, Freeview HD and 3D glasses thrown in, this is worth every penny of its relatively high price.

---


Under £1200 Product Summary
Sony Bravia KDL40W905
LG
47LA860W
Panasonic TX-P42GT60B
Samsung UE40F7000
Panasonic TX-P50GT60B
Screen
40-inch 1,920 x 1,080 LED
47-inch 1,920 x 1,080 LED
42-inch 1,920 x 1,080 plasma
40-inch 1,920 x 1,080 LED
50-inch 1,920 x 1,080 plasma
HDMI
4
4
3
4
3
3D
Active (4 pairs)
Passive (6 pairs)
Active (2 pairs)
Active (2 pairs)
Active (2 pairs)
Price
£999
£900
£999
£1,099
£1,200
Summary
Amazing picture quality
Good blend of quality, size and price
Breathtaking picture quality
Gorgeous and upgradeable
Shows you get what you pay for